24th - 26th September 2005
P.T.G. Tours
The ALCo Holic 3
| | |
| --- | --- |
| Locos Used | CP : 1460, 1552, 1565, 1943 & 1969 |
Route:
13842/13843 : Porto Campanhã - Setúbal
13871/13870 : Setúbal - Lagos
13873/13872 : Lagos - Porto Sines
13874/13875 : Porto Sines - Porto Campanhã
Date
Loco
Route
24/09
1969

Porto Campanh

ã - Coimbra B - Entroncamento

24/09
1552

Entroncamento - Lisboa Oriente - Entrecampos - Campolide - Coina - Pinhal Novo - Bif. Agualva - Bif. Águas Moura N. - Águas Moura - Praias-Sado - Praca do Quebedo (1) - Setúbal

25/09
1565
Setúbal - Praias-Sado - Águas Moura - Pinheiro - Ermidas-Sado - Funcheira - Tunes
25/09
1565
Tunes - Lagos
25/09
2565
Lagos - Tunes
25/09
2565
Tunes - Funcheira - Bif. Ermidas Sul - Bif. Ermidas Sines - Porto Sines
26/09
1460
Porto Sines - Bif. Ermidas Sines - Ermidas-Sado - Pinheiro - Bif. Águas Moura Sul - Bif Águas Moura N. - Poceirão - Bombel - Coruche - Bif. Setil Vendas Novas - Bif. Setil - Santarém - Entroncamento
26/09
1943
Entroncamento - Coimbra-B - Porto Campanhã
Notes :
(1) Additional stop made here as this station was nearer to the hotel.
Source : Janet Cottrell



Tour Review
(by Janet Cottrell)
24th September
Having not been out to Portugal for over 18 months, it was high time for another visit. The electrification projects on the Algarve and Covilhã lines have brought many changes and seen the demise of a lot of diesel hauled turns, so we needed the "carrot" of a decent tour to entice us back.
This tour, offering a 1401, 1961, 1931 and two 1551's, fitted the bill nicely so the booking was sent off and flights booked which allowed a day on the Douro as well.
Following a pleasant day increasing our 1401 class mileage and admiring the scenery, we took a local electric unit up the hill to Campanhã station for the start of the tour. This duly rolled in with 1969 at the helm as predicted the previous day (it had been seen at Contumil depot being cleaned) so it was a winning start. The plan was for a spin down the electrified main line to Entroncamento where 1969 would be exchanged for a 1551 class (built by MLW, the successors to ALCo, hence the name of the tour).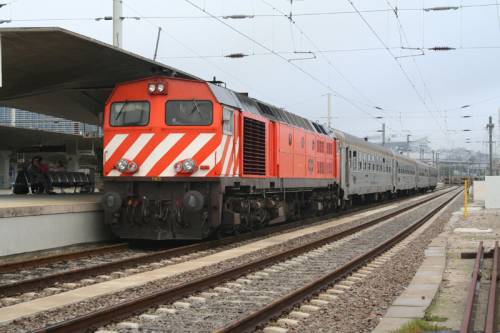 1969 at Porto Campanhã (photo : Janet Cottrell)
Nothing really to report for this leg of the journey - 1969 was loud, as expected, and a few photo stops were enjoyed in the brilliant sunshine. At Entroncamento, 1969 gave way to an equally clean 1552 and we continued south with another photo stop at Santarém as we headed towards the day's highlight, crossing the 25th April Bridge across the river Tagus. A few heads were turned as we noisily negotiated the Lisbon suburbs, but the actual journey across the bridge was rather subdued.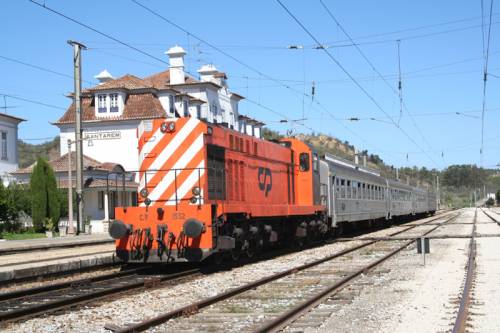 1969 during the photo-stop Santarém (photo : Janet Cottrell)
Today was to finish rather early at 15.07, despite going to Setúbal the long way round via Águas Moura, complete with a photo stop at this closed station with it's one coach dirt platform. I believe that there was a plan was to have a trip to Barreiro with 1805, but this was not possible due to the fact that nobody had ownership of the loco at this time, it is due to be handed over to the National Museum at Entroncamento next month (October).
25th September
This morning started with a brisk walk, our hotel was rather further away from the main station than we had been led to believe. The stock was parked in one of the loops so some of the party (including ourselves) made a beeline for it in order to choose our seats for the mornings aural assault. 1565 turned up as we were getting settled so it was all out again for photographs, before rejoining to scoop in a few hundred extra metres on the shunt move.
Unfortunately 1565 was graffitied on one side in contrast to the two clean engines we had yesterday, but it was hoped that an opportunity would be available to phot the "better" side later. Once we set off, 1565 appeared louder that 1552 to my ears so a good journey down to the Algarve was in prospect. The newly laid track ensured that a smooth and speedy trip, apart from a couple of permanent speed restrictions that could not be ironed out and a stretch near Ermidas Sado which was still recovering from a derailment with many smashed concrete sleepers in evidence. As suspected there were a couple of photo stops which enabled pictures to be taken with the sun shining on the non graffitied side of the loco.
The run round at Tunes took a little longer than booked for some reason. It looked like the driver was having difficulty in parting the loco from the stock, but once this was achieved the rest of the manoeuvre happened quickly then we were off for a couple of hours in Lagos.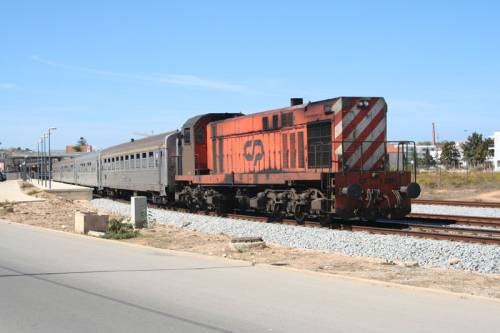 1565 at Lagos (photo : Janet Cottrell)
Tunes station was almost unrecognisable from when I first went there, but once we left the station the line had changed little apart from a resignalling scheme which had dispensed with the "red caps" at the crossing loops. A further change was that there are no 1401's in evidence down here now, all the local trains we crossed were 0600 class units. Lagos station had been moved around two years ago but only now were CP getting round to providing a new station building, which entailed placing a temporary passenger walkway across the tracks protected by sleepers chained to the track. These gave an indication as to the lack of hauled services down here as there was no way that a loco could run round it's stock with these in place, however a man had been dispatched to remove the sleepers so that our engine could run round. Even so it was a tight fit for the MLW, the buffers were about one foot from the walkway with the rear wheels clear of the points.
There were two hours to sample the delights of a very sunny and hot Lagos, made reasonably bearable by a brisk breeze. Sitting on the beach or in one of the harbour front cafés seemed to be the most popular choices, it was rather hot for too much activity.
Back on the train, it was relatively cool on the side away from the sun and even more refreshing travelling along with all the windows open listening to the thrash. 1565 was clearly audible from the back of the train as it tackled the steep gradients on the northbound run, an excellent accompaniment to the dinner being served.
Onto the Sines branch and the loco was still thrashing away and somebody made the comment that "the driver can smell the wine". Whatever the reason for his haste, we arrived at Sines 11 minutes early, at the same time as our coach turned up to take us to the hotel.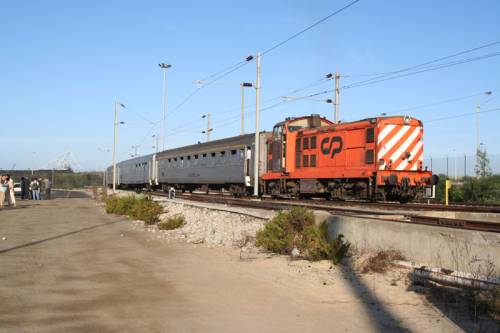 1460 at Port Sines (photo : Janet Cottrell)
26th September
Today's entertainment started before we had even boarded the coach to get back to the train. Whilst waiting at the nominated place a loud bang was heard, which was quickly traced to a dark blue car and white 4x4 which had collided on the main road less than 100 yards from where we were standing. Fortunately there were no injuries but the front of the car was rather battered whilst the 4x4 appeared to be relatively unscathed – there was plenty of conjecture over the cause as nobody in our group had seen exactly what happened and the two vehicles had come to rest in a strange position.
Porto Sines coal loading terminal must rank as one of the more unusual places to board a tour. Imagine an operator applying to Network Rail for a tour to terminate in, say, Avonmouth Docks and the passengers to disembark and be transported away by coach and return again the following morning to rejoin the train…. I think not!
One minor issue this morning was that the train was stabled on a road with a steep ballast shoulder, no problem just shunt it across to another track where it was easier for the less agile members of the party to clamber aboard and no need to detrain those who had already managed to haul themselves into the coaches.
Leaving Sines there is quite a gradient away from the port, but the four coach load was never going to tax 1460 unduly, however it did sound superb despite the 1998 works date and the pronounced droop to the short nose end – no doubt the legacy of a heavy shunt at some stage in the intervening years. Photo stops were taken at São Bartolomeu on the branch and Coruche, but it would have been nice to stop at Poceirão to view the Freight sector's depot where there was a good selection of power on shed, which appeared to make a nonsense of the oft quoted lines that the reason PTG can not have freight sector locos during the week is that there are none available. In fact 1460 is a freight loco so maybe we might just see a change of policy in the future.
Another excellent dinner was taken before we arrived at Entroncamento for our final loco change and a visit to the works and shed or museum. Most people took the opportunity to have a look round the works and shed a short coach journey away, a pity that the works shuttle with the Allan railcar trailer no longer seems to be in use. We were allowed to wander freely round the complex, which was much appreciated and yet again there were a fair few freight sector locos in evidence.
Back at the station 1943 was just backing onto the train. Being passenger sector it was probably dud for most people on board but that was not important, much more relevant was how much noise would this beast produce on the climb into the hills and would we actually make it to Porto non-stop. As there were a few minutes to go still, a quick dash was made over to the museum to view the items parked round the turntable but they were all covered by tarpaulins. In the meantime 1460 was noted trundling round the other side of the station on the breakdown train which duly propelled back into the freight yard to deal with an unseen (to us) derailment, it looked like the Lisbon area would not be getting their loco back straight away then.
1943 did not disappoint on the run northwards, the thrash was excellent and included a couple of bonus speed restrictions to roar away from, these things must surely be the loudest diesel engines in Europe if not the World. Coimbra and Aveiro were passed without stopping but shortly after the latter the driver eased off and it was not long before we started to encounter adverse signals. From being five minutes early at one stage, we gradually dropped back to being on time and then a minute or two late as we rolled along trying not to catch up whatever was in front of us. We did make Porto without stopping but, to be honest, the last stretch was a bit of an anticlimax after the earlier fast and noisy running.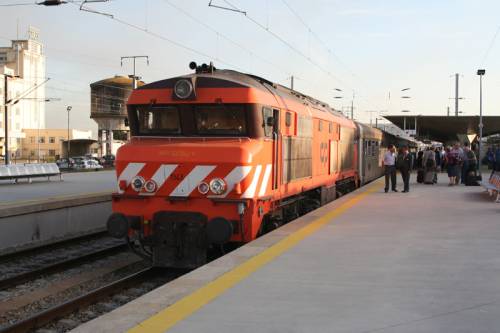 Back at Porto Campanhã, this time with 1943 (photo : Janet Cottrell)
There were a few local enthusiasts to witness the unusual sight of a 1931 at Porto Campanhã, where there was enough time for a couple of photographs and a visit to the ticket office for an IC reservation before joining the 1401 roadshow for a quick leap to Paredes and back to round off an excellent few days.
Janet Cottrell



Timings (Booked & Actual)
(from Janet Cottrell)
24/09
Location

Booked
Actual

Porto Campanhã

09.20d
09.20

General Torres

09/24
?

Gaia

09/24½
09/24

Valadares

09/27½
?

Granja

09/31½
?

Espinho

09/34
09/33

Esmoriz

09/37
?

Ovar

09/43
09/41

Válega

09/45
?

Rm. Amoníaco

09/48½
?

Estarreja

09/50
?

Cacia

09/55
?

Aveiro

09.59a ~ 10.02d
09.59 ~ 10.02

Oiã

10/10
?

Oliveira do Bairro

10/13
?

Mogofores

10/17
?

Mealhada-Norte

10/20½
?

Pampilhosa

10.24a ~ 10.29d
10.27 ~ 10.31

Souselas

10/33½
10/37

Coimbra B

10.40a ~ 10.46d
10.43 ~ 10.46

Taveiro

10/50½
?

Alfarelos

10/57½
10/58

Soure

11/05
?

Pombal

11/13
11/14

Pombal-Resg.

11/14½
?

Vermoil

11/18
?

Albergaria dos Doze

11/24½
?

Caxarias

11/30½
?

C. Maçãs-Fátima

11/36
11/35

Fungalvaz-Resg.

11/40½
?

Lamarosa

11/46½
?

Entroncamento

11.52a ~ 12.18d
11.53 ~ 12.18

Riachos–Torres Novas Gol.

12/21½
?

Mato Miranda

12/26
?

Vale Figueira

12/31
?

Santarém

12.37a ~ 12.42d
12.37 ~ 12.42

Vale Santarém

12/47½
?

S. Cartaxo Resg.

12/49
?

Bif. Setil

12/52
?

Setil

12.53½a ~ 12.58½d
?

Azambuja

13/04
13/05

Carregado

13/09½
?

Vila Franca de Xira

13/14
13/16

Alhandra

13/16½
?

Alverca

13/19
13/22

Bobadela-N

13/23
?

Sacavém/Bobadela-S

13/25½
?

Lisboa Oriente

13.28a ~ 13.33d
13.31 ~ 13.36

Braço de Prata

13/35½
?

Bif. Chelas

13/37½
?

TM. Téc. Chelas

13/38½
?

S24 Roma- Areeiro

13.39a ~ 13.40d
?

Roma-Areeiro

13/43
?

Entrecampos

13/45½
13/45

Sete Rios

13/49
13/50

Campolide (Sul)

13/52½
13/53

Ag. Pte. Santana

13/54
?

Alvito-A

13/56½
?

Pragal

14.02a ~ 14.03d
14.02 ~ 14.03

Corroios

14/09½
?

Fogueteiro

14/14
?

Complexo Coina

14/16½
?

Coina

14/19
14/20

Penalava

14/23
?

Pinhal Novo

14.30a ~ 14.31d
14.31 ~ 14.32

Bif Poceirão Asc.

14/40
?

Bif. Agualva

14/41½
?

Bif. Águas Moura N.

14/42½
?

Águas Moura

14.47a ~ 14.52d
14.47 ~ 14.51

Vale da Rosa

14/59½
?

Praias Sado

15/01½
?

Setúbal-Mar

15/03½
?

Praca do Quebedo

?
15.07a ~ ??.??d

Setúbal

15.07a
?
25/09
Location

Booked
Actual

Setúbal

09.42d
09.42

Setúbal-Mar

09/46
?

Praias Sado

09/48
?

Vale da Rosa

09/49½
?

Águas Moura

09.59a ~ 10.02d
09.57 ~ 09.59

Bif. Águas Moura-S

10/07
?

Pinheiro

10/16½
?

Monte Novo-Palma

10/21½
?

Alcácer do Sal

10/31
?

Vale do Guizo

10/37½
?

Somincor

10/40½
?

Grândola

10/46½
10/44

Canal-Caveira

10.52a ~ 11.01d
10.55 ~ 11.02

Lousal

11/12½
?

Ermidas-Sado

11/15½
11/14

Bif. Ermidas Sul

11/17
?

Bif Torre Vã

11/27½
?

Bif. Funcheira Sul

11/36
?

Funcheira

11/40
11/35

Amoreiras-Odemira

11/47
?

Luzianes

11/59½
?

Santa Clara-Sabóia

12.10a ~ 12.15d
12.08 ~ 12.16

São Marcos

12.32a ~ 12.37d
12.36 ~ 12.40

Messines-Alte

12/47
12/50

Tunes

12.55a ~ 13.10d
12.59 ~ 13.14

Alcantarilha

13/18½
?

Silves

13.26a ~ 13.31d
13.29 ~ 13.34

Estômbar-Lagoa

13.38a ~ 13.43d
13.40 ~ 13.45

Portimão

13.51a ~ 13.59d
13.52 ~ 14.00

Mexilhoeira Grande

14/06½
?

Lagos

14.14a ~ 16.24d
14.14 ~ 16.25

Mexilhoeira Grande

16/32½
?

Portimão

16/39
16/41

Estômbar-Lagoa

16/43½
?

Silves

16.50a ~ 16.55d
16.56 ~ 16.57

Alcantarilha

17/04
?

Tunes

17.14a ~ 17.29d
17.14 ~ 17.33

Messines-Alte

17/40
?

São Marcos

17/50½
17/51

Santa Clara-Sabóia

18/07½
18/07

Luzianes

18/17½
18/17

Amoreiras-Odemira

18/30½
?

Funcheira

18/37½
18/33

Bif. Funcheira Sul

18/41½
?

Bif Torre Vã

18/51
?

Bif. Ermidas Sul

19/04½
18/56

S17 Ermidas-Sado

19.06½a ~ 19.11½d
?

Bif. Ermidas-Sines

19/12
18/58

São Bartholomeu da Serra

19/27½
19/12

Bif. de Sines

19/42
?

Raquete

19/43
?

Km 170,373

19/44
?

Km 174,713

19/47½
?

PK 177,905

19/49½
?

Porto Sines

19.53a
19.42
26/09
Location

Booked
Actual

Porto Sines

09.20d
09.22

PK 177,905

09/22½
?

Km 174,713

09/25
?

Km 170,373

09/28½
?

Raquete

09/28½
?

Bif. de Sines

09/29½
?

São Bartholomeu da Serra

09/30½
09/34

Bif. Ermidas-Sines

10/07
10/11

Ermidas-Sado

10.09½a ~ 10.10½d
10.14 ~ 10.16

Lousal

10/14½
10/20

Canal-Caveira

10/24½
10/29

Grândola

10.32a ~ 10.35d
10.39 ~ 10.40

Somincor

10/42½
10/47

Vale do Guizo

10/45½
?

Alcácer do Sal

10.52½a ~ 10.57½d
10.56 ~ 10.57

Monte Novo-Palma

11/07½
11/06

Pinheiro

11/12½
11/11

Bif. Águas Moura-S

11/20½
11/18

Bif. Águas Moura-N

11/23
11/20

Bif Agualva

11/24
11/22

Poceirão

11/27½
11/26

Pegões

11/37
11/35

Bombel

11/46
11/44

Vidigal

11/51
11/49

Canha

11/58½
11/56

Lavre

12/04
12/01

São Torcato

12/09
12/05

Salgueirinha

12/14
12/10

Quinta Grande

12/18½
?

Coruche

12.23½a ~ 12.28½d
12.17 ~ 12.29

Agolada

12/35
12/37

Desvio KM 19,5

12.42½a ~ 12.49½d
12.43 ~ 12.44

Marinhais

12/55½
12/50

Muge

13.00a ~ 13.05d
12.54 ~ 13.05

Bif. Setil-V.Novas

13/11½
13/12

Bif. Setil

13/14
13/15

Santana Cartaxo Resg.

13/20
13/19

Vale de Santarém

13/23
13/22

Santarém

13.29a ~ 13.33d
13.33 ~ 13.34

Vale Figueira

13/40½
13/41

Mato Miranda

13/46½
13/47

Riachos-Torres Novas-Gol.

13/52
13/54

Entroncamento

13.55½a ~ 15.43½d
13.58 ~ 15.45

Lamarosa

15/50
15/51

Fungalvaz-Resg.

15/55½
15/55

C. Maçãs-Fátima

15/59½
15/59

Caxarias

16/06
16/09

Albergaria dos Doze

16/13
16/16

Vermoil

16/20½
16/22

Pombal-Resg.

16/24½
?

Pombal

16/26½
16/27

Soure

16/35½
16/34

Alfarelos

16/43½
16/44

Taveiro

16/51
16/52

Coimbra B

16/55
16/56

Souselas

17/00½
17/01

Pampilhosa

17/05
17/04

Mealhada-Norte

17/09
17/08

Mogofores

17/13½
17/12

Oliveira Bairro

17/18½
?

Oiã

17/22½
17/18

Aveiro

17/31½
17/26

Cacia

17/36
17/31

Estarreja

17/42
17/37

Rm. Amoníaco

17/44
17/40

Válega

17/47½
17/44

Ovar

17/49½
17/46

Esmoriz

17/59
17/55

Espinho

18/05
18/02

Granja

18/08½
18/05

Valadares

18/13
18/14

Gaia

18/19
18/21

General Torres

18/21
18/22

Porto Campanhã

18.25a
18.27