3rd September 2005
Pathfinder Tours
The Western Heights
| | |
| --- | --- |
| Loco Used | D1015 'Western Champion' |
| Stock Used | 5376+5365+5366+5276+5322+1863+3112+3122+3069+1699+3066+3068+21272 |
Route:
1Z29 : Bristol Temple Meads to Carlisle
1Z30 : Carlisle to Bristol Temple Meads
Loco
Route
D1015
Bristol Temple Meads – Bristol Parkway – Yate – Cheltenham Spa – Bromsgrove –

Kings Norton – Bordesley Jn

– St Andrews Jn – Proof House Jn

– Birmingham New Street – Soho South Jn

– Dudley Port – Wolverhampton –

Bushbury Jn – Stafford – Norton Bridge – Crewe - (via WCML) - Preston

D1015
Preston - Farington Curve Jn - Blackburn - Clitheroe - Hellifield - Settle Jn - (via S&C) - Carlisle
D1015
Carlisle - (via WCML) - Preston - (reverse of outward route) - Bristol Temple Meads
Source : Gary Thornton (joined/left the train at Barnt Green)



Tour Review 1
(from Miggy)
A one word review Superb.
Having sampled 1015 on several tours since its comeback, news of the tour over Lickey, Shap and the Stagger and Crawl was an immediate must book. The only discussion was Cheltenham or Bristol as the joining location.
The week before and the tickets arrived for seats A29-32-front or rear bays of the front coach for part of the day.
My tour participation has decreased significantly in recent years from around 30 tours a year. This was my first trip since 31 May. Because of this I didn't suffer the usual Friday night blues of why am I getting up at stupid o'clock to drive 200 miles south to go 300 miles north etc.
0230 Saturday alarm clock sounds for 0255 departure from Yorkshire to Bristol via Meadowhall. News from Parkway was that A was at the front all day except over the S and C.
1015 arrived and our seats in the front bay of Coach A were located occupied by Mr ''www.preserved-diesels'' Farmer who had joined at Temple Meads.
A fine run followed until a check outside Cheltenham for a sick DMU (they don't build trains like they used to unfortunately). Further members of our party joined at Cheltenham ,which for some reason was a popular joining location. Perhaps it had something to do with Hill 1 aka Lickey. Well load 13 and what hill, with a superb drive from Steve Bates.
We then continued north through the Black Hole of New Street, past the line of once operational now dumped ''preserved'' locos at Crewe LNWR and onto Preston, for a photo stop and run round.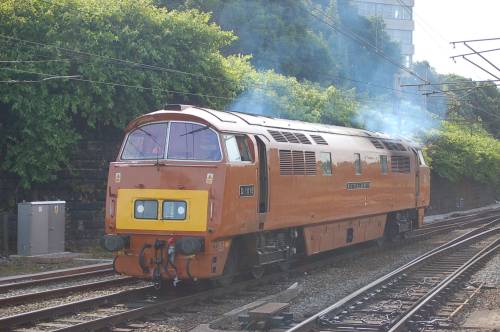 D1015 in process of running round at Preston (photo: Nick Wason)
The noise level having been lowered, I cannot report much of the S and C except travelling over Ribblehead and then past 71000 heading south (sleep time). I'm not sure whether all the photographers were there for 71000 or 1015 or both, but I think the best seats were on 1015.
Carlisle was reached, with time for refreshment (solid and liquid), as by now It felt like evening (I had been up for 12 hours).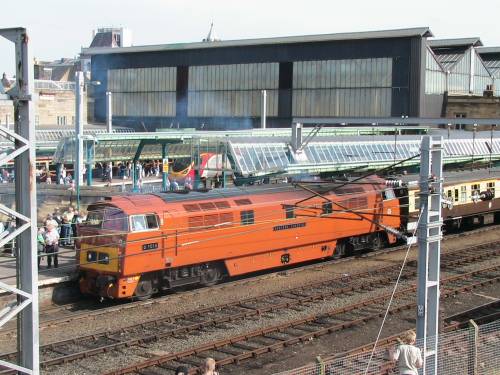 D1015, first ever 'Western' to Carlisle (photo: Gary Thornton)
[Webmasters note: Steve Speck found the following comments in Motive Power Miscellany of the February 1964 issue Modern Railways - "A Western class diesel, No. D1072, undergoing trials, was noted at Preston on December 12 with a seven-coach rake of empty stock; although new and repaired locomotives from Crewe works are often tested between Crewe and Carlisle, the Crewe built "Western" class diesels have not so far been reported north of Crewe on trial runs". So, was this really the first ever visit of a Western to Carlisle...?]
1015 departed Carlisle a few minutes late after refuelling and I was determined to sample the ascent of Shap. Unfortunately, the lack of sleep overcame me again ,and nothing can be reported until 37165 was passed at Carnforth.
A further photo stop, behind various gantries and pillars at Preston followed (we get few photo chances -so how about the few actually being worthwhile please rather than what seem extended pathing stops).
Progress continued and we arrived early into the Black Hole, and departed early! Unfortunately a stagger then ensued for almost the remainder of the journey resulting in an on time arrival back at Parkway.
In summary many thanks to DTG and Pathfinder for a marvellous day out. Its a long time since so many happy faces were seen on a tour.
Now why should I drive to Gerrards Cross in November to get to York -40 miles away - yes, I remember.
Miggy



Tour Review 2
(from Mark Honey)
It had to be done. Just in case you haven't got the gist of this, or you've got your head buried in the 34th reprint of 'Class 66's - the Story so Far' or whatever, I'll say it again. It had to be done. A Western over the S & C and Shap on the menu? All in one sitting? Give me the full a-la-carte service and I've got to have the Special off the board...
In this case the Special was D1015, Champion the Wonder Western, the smokiest, rudest, crudest, noisiest piece of 1960's mobile machinery that you can get. Well, barring your average Deltic's 'White Smoke at the Vatican' impression which means your average Class 55 has elected a new Pope many millions of times. But it's different so you can't compare.
So cue Birmingham New Street and the dumbing down of the fire alarms before she arrived and the great news that Coach A beckoned and it was at the front, behind the Maybach Monster. I unpacked my crowbar, leveraged my way in and bade the driver crank up the volume to full. Which he did and the fumes and the decibels rained down. I also gave my air guitar a fine tuning as we worshipped the hard rock thrash metal machine in front of us. By the way, any of you who are members of the Noise Abatement Society, please refer to Section 52, Paragraph 1015 where you will find an exemptment clause...
Load 13 and a gradual climb out of New Street set the tempo and this continued to Wolverhampton where a slow flypast has a few heads turning and fingers in ears and hands over noses. Warning: do not take Western to relieve congestion, but it is perfectly acceptable to exceed the recommended dosage...
So we sped on via a photo stop at Stafford. Impromptu, but we were running early, the recovery time being more than a open heart surgery patient needs these days. A minute's sort-of-silence was held for the Stafford Arms, once a boarding house, now boarded up.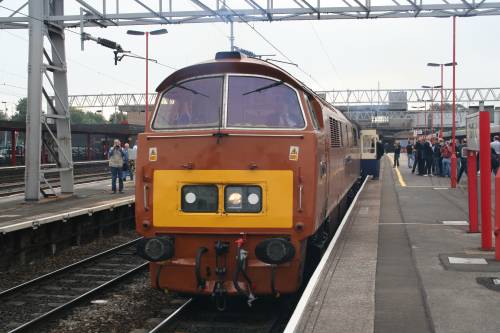 Unexpected photo opportunity at Stafford (photo: Mark Honey)
Then it was time for fun and games as we played leapfrog with 90047 and it's intermodal. 'Champion' let it have a head start, but we still beat it to Crewe.
Arrival at Crewe saw us compete with Jubilee 'Leander' to see who could darken the sky and we powered on in to Virgin territory. Well, Virgin on two counts - Pendolinos and where no Western has gone before. Ram the power handle right over to number 9 on the Richter scale and turn up the amplifiers. We're talking Maybach Turner Overdrive - LET'S ROCK!
Oh, how we stunned the good people of Warrington Bank Quay with our fly past and oh, how the shares in Ariel and Persil rose as we dirtied the white sheets of Wigan with our output. A small price to pay for freeview with no set top box required.
All too soon we arrived into Preston after a cracker of a run - where we were given a break from the music as 1015 ran round.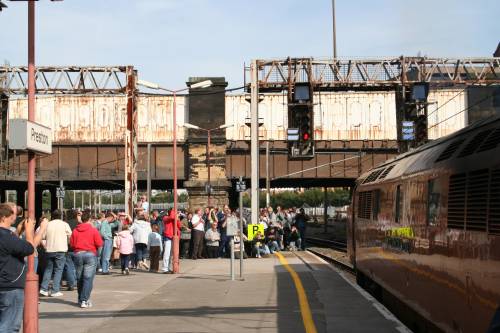 Time for more photos at Preston (photo: Mark Honey)
Cue transfer to camcorder for the Western Watercolour - the backdrop being the S & C. A steady canter from Champion saw us thread our way through Blackburn and Clitheroe, giving our 'Thousand' ample time to take in the new track. A stop at Hellifield for a 20 minute phot-spot meant a straight forward thrash over the S & C with nothing in the way to Carlisle. A chat with the signaller in South Junction 'box revealed a steady procession of GMs heading south. To prove a point, 66180 two-stroked past with a coal train.
And how well it all worked. 'Champion' roared away - she likes banks, having had much practice in Devon and Cornwall over the years so this shouldn't be too taxing. Settle station paid homage to the Golden Ochre and the ranks of photographers rose as the gradients did - until a TPWS brickwall-er at Stainforth Tunnel. Well, we haven't had one yet today.... [Webmasters note: This from Mark Alden of the DTG regarding the rapid stop - It was not a TPWS activation at Stainforth. The problem is that with the fitting of TPWS the loco has had to have the AWS warning horn replaced with an electronic device sounding a warning. This modern device, part of the TPWS system, is designed for sterile cabs enclosed in sound proofing with no opening windows so is much quieter. If the driver has the cab side window open then they could miss AWS warning ramps, such as at the Temporary Speed Restrictions, with the little 'ping' in the corner rather than the loud 'PARP' which older trains have, which is what happened on this occasion.]
She looked superb in the sun crossing Ribblehead, she looked amazing threading through Dent and Garsdale and crossing the Duke of Gloucester powering up towards Ais Gill with an exhaust as black as 'Champion's' meant it was one hell of day at sea. S & C to be precise. And all in glorious Technicolour.
Carlisle. On time and half time and 90 minutes and beer. Back for the second half, retake your seats please and the volume control and amplifiers had been repositioned to their rightful position. 1015 - the Number of the Beast with matching heavy metal output.
And how she did not disappoint - the climb to Shap being loud and proud. Over the summit and urged on by the cries of 'let her go!!!', they went unheeded as we were checked very firmly to stop severe over speeding. It can blow the transmissions apparently. It was the one time I would have liked to be lineside - Oxenholme to be precise, where the unified ceremony of synchronised ear covering took place as we belted through.
A re-water at Preston gave us time to look at the Golden Smoker. The hotter she gets the more smoky she gets - like all grandiose ladies should. A repeat performance at Wigan and Warrington saw us arrive at Crewe to admiring 'we're not worthy' glances from 'The Duke of Gloucester' and her crew. Cheers went up as an overtaking Class 170 saw the guard hanging out of the rear cab with camcorder in hand. Phone cameras at the ready in Stafford box... Your taste is impeccable gentlemen.
In no time at all, 'Champion' approached Birmingham and my last inhalation of fumes at Soho Junction to take home as a momento. In final capitulation, she opened up along platform 2, trying to serenade the watching crowds. So, I watched 'Champion' gallop away, hooting with derision at a soulless Class 323 at the end of a brilliant day. She rocks, guys, don't let anyone tell you otherwise.
Next time you see a Specials Board like this on the menu, take it all - and don't worry about being greedy. I will be having the Fish course with D1015 at the end of September. I suggest you book a place before all the tables for this sitting are taken...
Mark Honey
Footnote: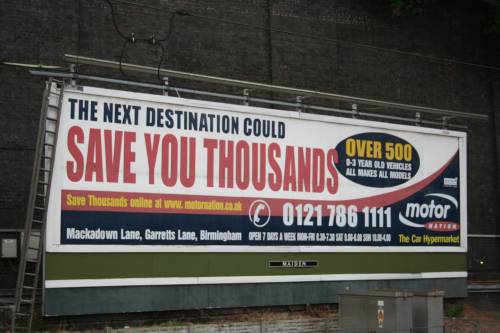 Appropriate advert for a passing Wizzo (or 'thousand')! (photo: Mark Honey)


Timings (Booked & Actual)
(from various including David Bellamy, Janet Cottrell & Gary Thornton)
M.C
Location
Booked
Actual
Booked
Actual
M.C
0.00
Bristol Temple Meads
06.20d
06.25
22.05a
22.03
285.21
0.46
Dr Days Jn
06/22
06/27
22/03
22/00
284.55
4.23
Filton Abbey Wood
06/28
06/33
21/57½
21/57
280.78
5.62
Bristol Parkway
06.32a ~ 06.34d
06.38 ~ 06.41
21.51a ~ 21.53d
21.51 ~ 21.54
279.39
10.32
Westerleigh Jn
06/40
06/47
21/45
21/45
274.69
12.04
Yate
06/46
06/51
21/41
21/41
273.17
18.45
Charfield
06/52
06/57
21/33
21/35
266.56
31.70
Standish Jn
07/03
07/05
21/21
21/19
253.31
38.00
Gloucester Yard Jn
07/11
?
21/15
?
247.21
38.67
Barnwood Jn
07/15
07/14
21/10
21/01
246.34
44.30
Cheltenham Spa
07.21a ~ 07.23d
07.29 ~ 07.33
21.01a ~ 21.03d
20.46 ~ 20.51
240.71
51.41
Ashchurch
07/35
07/42
20/55
20/35
233.60
62.28
Abbotswood Jn
07/43
07/51
20/48
20/27
222.72
73.45
Stoke Works Jn
07/52
08/00
20/40
20/20
211.56
75.58
Bromsgrove
07/54
08/01
20/38
20/18
209.43
79.21
Barnt Green
08.01a ~ 08.03d [ML]
08.07 ~ 08.08
20.31a ~ 20.33d
20.13½ ~ 20.14½
206.00
81.76
Longbridge
08/07
08/12
20/27
20/09½
203.25
84.29
Kings Norton
08/11
08/15½
20/24 [FL]
20/03
200.72
89.44
Bordesley Jn
08/17
08/24
20/12
19/51
195.57
89.70
St Andrews Jn
08/18
08/26
20/03
19/50
195.31
90.67
Proof House Jn
08/21 [DEL]
08/29
20/00
19/46
194.34
91.41
Birmingham New Street
08.24a ~ 08.28d
08.32½ ~ 08.36 [P7]
19.54a ~ 19.57d [DEL]
19.37½ ~ 19.42½ [P2]
193.60
93.42
Soho South Jn
08/33
08/41
19/49
19.31a ~ 19.31½d
191.59
95.20
Galton Jn
08/35
08/44
19/47
19/27½
190.01
98.65
Dudley Port
08/39
08/47½
19/43
19/24
186.36
104.25
Wolverhampton
08/46
08/55
19/36
19/16½
180.76
105.79
Bushbury Jn
08/55
08/58
19/28
19/13½
179.22
119.56
Stafford
09.15a ~ 09.18d [P5]
09.09½ ~ 09.18
19.04a ~ 19.07d [P4]
18.58 ~ 19.00
165.45
125.05
Norton Bridge
09/24
09/24½
18/57
18/47½
160.16
136.07
Madeley
09/33
09/33½
18/39
18/36
149.14
142.29
Basford Hall Jn
09/39
09/39
18/32
18/30½
142.72
144.13
Crewe
09.43a ~ 09.45d [P6] [FL]
09.44 ~ 09.47 [P11]
18.11a ~ 18.24d [P11] [SL]
18.18 ~ 18.27
141.08
144.71
Crewe Coal Yard
09/49
09/50
18/09
18/15
140.30
152.79
Winsford SB
09/55
09/57
18/02
18/06
132.22
160.54
Weaver Jn
10/01
10/03
17/56
17/57
124.47
166.37
Acton Grange Jn
10/05
10/06½
17/49
17/51
118.64
168.24
Warrington Bank Quay
10/07 [P3]
10/07½
17/47 [P2]
17/48
116.77
171.60
Winwick Jn
10/10
10/10½
17/44
17/44
113.41
178.55
Springs Branch Jn
10/17
10/16½
17/36
17/39½
106.46
180.04
Wigan North Western
10/18 [P5]
10/18
17/34 [P4]
17/38
105.17
187.55
Balshaw Lane Jn
10/25
10/26 [FL]
17/27
17/32
97.46
189.58
Euxton Jn
10/27
10/28
17/25
17/29½
95.43
195.14
0.00
Preston
10.34a ~ 11.10d [P6] [SL]
10.36½ ~ 11.13
16.53a ~ 17.18d [P6] [FL]
17.01 ~ 17.21½
90.07
M.C
Location
Booked
Actual
1.49
Farington Curve Jn
11/13
11/17
3.11
Lostock Hall Jn
11/16
11/20
12.11
Blackburn
11/28 [P2]
11/32 [P2]
12.58
Daisyfield Jn
11/29
11/34
23.09
Clitheroe
11/46
11/52
23.29
Horrocksford Jn
11/47
11/52
36.37
Hellifield
12/06
12.12a ~ 12.28d
39.62
Settle Jn
12/10
12/32
52.42
Ribblehead
12/26
12/52
54.47
Blea Moor
12/29
12/55
61.77
Garsdale
12.40a ~ 13.00d
13/07
71.62
Kirkby Stephen
13/11
13/17½
82.44
Appleby
13/22
13/28
87.24
Kirby Thore SB
13/28
13/34
89.77
Culgaith Crossover
13/31
13.38½a ~ 13.40d
104.77
Low House Crossing
13/46
13/57
112.34
Petteril Bridge Jn
13/56
14.07a ~ 14.08d
112.53
London Road Jn
13/57
14/09
113.26
0.00
Carlisle
[P1] 14.00a ~ 15.30d [P1]
[P1] 14.12 ~ 15.42½ [P1]
17.69
Penrith
15/51 [P1]
16/03
36.68
Tebay
16/09
16/20
50.01
Oxenholme
16/19 [P1]
16/29
63.01
Carnforth North Jn
16/28
16/38
67.17
Morecambe South Jn
16/31
16/41
69.09
Lancaster
16/36 [UFL]
16/43
Timings continue in first table.



Back to "The Railtour Files"