29th August 2005
Vintage Trains Limited
The Blackpool Belle
| | |
| --- | --- |
| Loco Used | steam : 5690 'Leander' |
| Stock Used | 9101+5177+5157+99349+99361+99353+35470 |
Route:
1Z56 : Nuneaton to Blackpool North
1Z57 : Blackpool North to Nuneaton
| | |
| --- | --- |
| Loco | Route |
| 5690 | Nuneaton - Stafford - Norton Bridge - Crewe - Warrington bank Quay - Wigan North Western - Preston - Kirkham & Wesham - Poulton-le-Fylde - Blackpool North |
| 5690 | Blackpool North - (reverse of outward route) - Nuneaton |
Sources : Clive Hanley & Mike Spencer



Tour Review
(by Peter Lawrence)
Our day started with a drive over to Nuneaton where as we arrived in the station car park smoke was seen to emerge from under the bonnet, I switched the engine off immediately the car was parked and assured the man next to me that the car was not old enough to smoke. Checked it was not on fire and joined the train which was in on platform 1.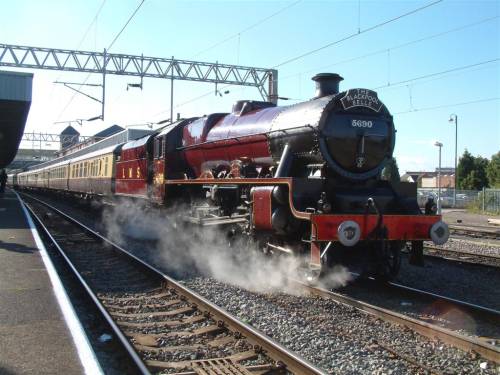 Ready for the "off" at Nuneaton in the morning (photo : Clive Hanley)
Off on time and picked up at Tamworth and Lichfield. After an unscheduled stop for 2 minutes in Stafford we made good speed to Crewe arriving 4 minutes early at exactly the same time as our breakfast. Went for the photo and found we were directly under the bridge, after watering the train set back, presumably for better photo opportunities [Mike Spencer comments: I was told (by a Steward) that this was to clear the smoke from the footbridge].
Left Crewe 2 minutes early and made excellent pace to Preston omitting the operational stop of 13 minutes at Weaver Junction so that we arrived in Preston 42 minutes ahead of time, this meant a stop of 20 minutes to let service trains pass for Blackpool. Arrived Blackpool 27 minutes early to find a glorious afternoon without a cloud in the sky.
Arrived back at the station to find Bradford City had been playing Blackpool, result not known, but the station was busy with holidaymakers, football supporters and police. No one was allowed onto the platforms until the trains were in and ready. Our train appeared almost on time and there was almost a mad rush, we departed 4 minutes late but again made good speed down the main line arriving in Crewe 14 minutes early. We left Crewe 1 minute early and on leaving the station there was much whistling as just down the Shrewsbury line was 76079 having come up from Barmouth. We did not complete a full house as there was no sign of 6201 – Princess Elizabeth due Crewe at 18.18!
The journey back from Crewe was an uneventful dawdle arriving Nuneaton 10 minutes late at 21.48.
What state was the car ? I started it and the noise shattered the peace, it was if someone had thrown a bag full of spanners into the engine, sounded terminal!
Thought about the RAC but at that time of night with almost certainly a recovery home we caught the last Central Train to South Wigston and walked home. Went back the next day, recovered to a local garage who pronounced a belt had come off a pulley, hopefully not a new engine!
Peter Lawrence



Timings (Booked & Actual)
(from various including Peter Lawrence)
| | | | | | |
| --- | --- | --- | --- | --- | --- |
| Location | Booked | Actual | | Booked | Actual |
| Nuneaton | 09.45d | 09.45 | | 21.38a | 21.48 |
| Tamworth LL | 10.03a ~ 10.07d | 10.01 ~ 10.07 | | 21.17a ~ 21.21d | 21.25 ~ 21.27 |
| Lichfield TV LL | 10.15a ~ 10.22d | 10.17 ~ 10.22 | | 20.51a ~ 21.07d | 21.03 ~ 21.12 |
| Armitage Jn | 10/29 | 10/31 | | 20/45 | 20/54 |
| Colwich | 10/35 | 10/36 | | 20/39 | 20/46 |
| Stafford | 10/43 | 10.42a ~ 10.44d | | 10/32 | 20/37 |
| Norton Bridge | 10/51 | 10/50 | | 20/27 | 20/30 |
| Madeley | 11/03 | 11/00 | | 20/15 | 20/16 |
| Basford Hall Jn | 11/12 | 11/07 | | 20/07 | 20/07 |
| Crewe | 11w15a ~ 12w05d [P12] | 11.11 ~ 12.03 | | 19w37a ~ 20w04d [P12] | 19.23 ~ 20.03 |
| Crewe Coal Yard | 12/07 | ? | | 19/33 | ? |
| Winsford | 12/19 | 12/12 | | 19/24 | ? |
| Winsford SB | 12/20 | 12/14 | | 19/24 | 19/08 |
| Weaver Jn | 12*34a ~ 12*47d | 12/21 | | 19/16 | 19/00 |
| Acton Grange Jn | 12/55 | 12/24 | | 19/00 | 18/55 |
| Warrington Bank Quay | 12/57 | 12/26 | | 18/58 | 18/52 |
| Dallam Jn | 12/58 | ? | | 18/56 | ? |
| Winwick Jn | 13/04 | 12/28 | | 18/53 | 18/48 |
| Springs Branch Jn | 13/11 | 12/35 | | 18/45 | 18/38 |
| Wigan South Jn | 13/12 | ? | | 18/44 | ? |
| Wigan North Western | 13/13 | 12/37 | | 18/44 | 18/37 |
| Balshaw Lane | 13/21 | 12/44 | | 18/39 | 18/28 |
| Euxton Jn | 13/29 | 12/45 | | 18/28 | 18/26 |
| Farington Curve Jn | ? | ? | | 18/24 | 18/22 |
| Preston | 13/37 | 12.55a ~ 13.15d | | 18/21 | 18/20 |
| Fylde Jn | 13/39 | ? | | 18/20 | ? |
| Kirkham & Wesham | 13/51 | 13/29 | | 18/07 | 18/10 |
| Poulton-le-Fylde | 13/59 | 13/38 | | 17/58 | 18/02 |
| Blackpool North | 14.12a | 13.45 | | 17.50d | 17.54 |