29th August 2005
Kingfisher Railtours
The Cornish Riviera
| | |
| --- | --- |
| Locos Used | 47854 & steam : 34067 |
| Stock Used | 35518+5239+310+1659+5229+9391+5278+5419+35518 |
Route:
1Z55 : Ealing Broadway to Penzance
1Z56 : Penzance to Ealing Broadway
| | |
| --- | --- |
| Loco | Route |
| 47854 | Ealing Broadway - Slough - Reading - Southcote Jn - Bedwyn - Westbury - Castle Cary - Cogload Jn - Taunton - Exeter St Davids - Dawlish Warren - Newton Abbot - Totnes - Plymouth - St Germans - Lostwithiel - Par - Penzance |
| 34067 | Penzance - (reverse of outward route) - Exeter St Davids |
| 47854 | Exeter St Davids - (reverse of outward route) - Westbury - Trowbridge - Chippenham - Swindon - Didcot Parkway - Reading - (reverse of outward route) - Ealing Broadway |
Notes :
(1) Pathfinder Tours also acted as a ticket agent for this tour.
(2) Train was delayed between Twyford & Maidenhead on the return leg by a track circuit failure.
(3) 35518 only in formation when 34067 was on the train.
Sources : various including Ian Evans, Shaun C, Andy Pullar & John Clifford



Tour Review
(from Andy Pullar)
Whistling Scotsman - superb - brought back lots of memories of days gone by (notably catching 40069 into Bradford on the sleepers from the Cross and walking back to Leeds to get back to London in time for work). 50031 looked real cute surrounded by hanging baskets at Bradford! Not too sure why the train ran through Darlington station non stop in the down direction ( playing to the gallery ?) but running back into Inverness platform 2 from Kyle via a reversal at Welsh's Bridge Jn (rather than as booked into platform 6) was understandable as was running over the down line across the Forth Bridge. I just wish that the tedious pathing stops could be arranged at locations where it would be possible to get out of the train rather than festering in some loop for no other good reason than operators paranoia.
Kyle of Lochalsh filled in a gap in my 40 haulage destinations nicely though I still require the Largs (and the other Clyde ports) , Whitby and Barrow in Furness branches plus Hereford to Newport and most embarrassing of all Skegness ( went for the 20s and 25s - oops) as destinations for BR Adexes and service trains. Hopefully 40145 will venture to some of these places (in some cases again) Notwork Rail permitting.
Either side of this I spent time back in the West Country viewing the remains of the Southern route to Plymouth starting from Basingstoke connecting with the Sunday service from Exeter to Okehampton and the bus to Tavistock to visit relatives and stock up on St.Austell bottled brews for the tedious pathing stops. One regret about my early BR career was the Arm had truly withered before I started train announcing at Waterloo. I would have loved to have deafened passengers with the recital of all stations Atlantic Coast Express. Join the front four coaches for Branksome, Parkstone, Poole................ didn't quite make up for the loss.
40 Railtour over and it was back to the West Country to complete my reflections of the Withered Arm in the best possible way courtesy of Kingfisher Railtours; travel behind a Flat Top from the Atlantic Coast of Cornwall to Exeter though sadly not from Padstow but GW territory further west. The tour (named the Cornish Riviera) started from Ealing Broadway at 0652 diesel hauled to Penzance by way of the Berks and Hants by West Coast donkey 47854 hauling the Wessex Trains set of 5239, Pullman Car 310, 1659, 5229, 9391, 5278 and 5419. I boarded the train at Exeter St. Davids having safely negotiated a Virgin Voyager to bridge the gap between the set down and pick up points for my chosen railtour bashes (though the air conditioning in the coach I was directed to sit in wasn't working for a surprising change). The journey to Penzance was pretty uneventful after the flap at Exeter had been overcome - travelling with wife and minime for a week meant a lot of excess baggage had accumulated and no information was forthcoming from either staff on the station or the station departure indicators about the existence of the train (other than the helpful "it left from platform 6 on Saturday" ). The train arrived early on platform 4 (as decided was the most likely road to use) as I was shooing wife and son out of the buffet on platform 1. In her haste my wife dropped one of the hot drinks she had acquired. Thankfully this was hers and I enjoyed my cup of tea anticipating the kettle on the return. I have learned that on these trips when I book first class it is inevitably the wrong end of the train for the kettle mileage so chose the cheap option and wasn't disappointed.
Departure from Penzance was booked for 14.22 (full timings on the Steam UK website) giving an hour and 40 minutes to take in the sea air, dodge the seagulls, get fed and watered and obtain some photographs to give the illusion that it was May 1964 and 34002 was waiting to return the last BR steam hauled working back to Plymouth. Sadly the sight of tramps littering the station didn't quite convey the atmosphere of 41 years before. 34067 was a BoB not a WC and it was adorned with Golden Arrow paraphernalia including Franco/UK flags. However as 34002 wasn't available it was an acceptable substitute. Given my track record of failed Bulleid kettles it was most gratifying to see Tangmere simmering by the sea wall with support coach 35518 waiting to show the GW what a real steam engine could do.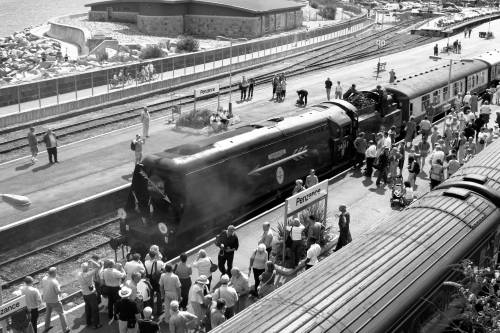 34067 simmers at Penzance (photo: Andy Pullar)
Photography on these charters for those participating usually leaves at lot to be desired with locos off the ends of platforms, obscured by swarms of normals(!) , hiding behind station furniture or (by far the most irritating obstruction to photography for the gricing traveller) those also travelling who feel the need to stand 5 inches (or less) from the loco to take photos and then stand there oblivious to all around. Of course if you don't get all or any of those reasons to prevent photographing what you have paid a minor fortune to enjoy you can guarantee the sun will be in the lens or escaping steam will shroud the loco. This trip was no exception but in order for the 47 to be released to run light back to Exeter a false start was created out of platform 1 up towards Long Rock with Tangmere performing a shunt release. At last some half decent photos to pin on the office wall. Time to photograph from the sea wall, the main road overlooking the station and finally platform 3 or so I thought. As I sauntered up platform 3 I heard much whistling on platform 2, glanced at my watch which said 1412 and decided that it wasn't anything to do with signalling the imminent exit stage right of the Railtour as there was ten minutes to departure and carried on taking photos. I obviously hadn't been on a Kingfisher tour before as it suddenly dawned on me that I was the only one amongst normals and the meerkats had staked out their vantage points and were leaning out of the carriage windows in anticipation of a characteristic Bullied exit.
Don't panic Mr Mainwaring. Half way down platform 3 and I did. Lots of closing doors and more whistling than a Gay Pride March or the referee penalising my football team (enjoy your retirement Mr Collina) and I still had a fair distance to cover (being now only eight coaches long the train hadn't backed all the way under the train shed). How ironic that I was about to be well and truly bowled (not to mention withered) by the sight of the train pulling out of the station before it was due to leave being hauled by a Bulleid Pacific in working order. Thankfully my family pointed out my absence (probably only because of the thought that they'd have to carry the luggage) and I collapsed into the first open door on the train before recovering my composure and sauntering up the train to my seat third coach from the thrash (since the support coach had been attached).
Despite my emulation of Paula Radcliffe in a number of different but related activities the train still left before time but lost this at St. Erth with some sort of apparent signalling fault delaying trains in both directions. However despite being four minutes late at Camborne arrival at Par for the water stop was achieved over a minute early. The water stop meant the Penzance to Swansea service booked to pass the steam charter at Par was re-platformed to the Newquay platform using the rare ( for passenger trains) connection off the up main at the St. Blazey end of the station; fortunately not required. Tangmere had to be detached from the train to reach the road tanker parked by the siding adjacent to the station. So more reasonable photo opportunities for the album. The happy whistleblowers were at it again several minutes before booked departure though I can't for the life of me understand why as the train couldn't leave until the Up Tram had passed. Tram duly out of the way and departure was two minutes behind time but such were the timings that Plymouth's platform 8 was reached 4 minutes early for yet another water stop and Tram run by. This was despite a tortuous approach up the bank into Liskeard where I thought we might stall at any time. At the site of Devonport Jn (and close to my old school) I briefly closed my eyes and imagined I was travelling on a Waterloo to Plymouuth express nearing journeys end.
Sadly I had not been transported back in time with Billie Piper and photo opportunities now reverted to type with platform 8 being conveniently useless for any meaningful photos with the setting sun behind the loco tender and the loco shrouded in rivet counters and a few normals. The whistleblowers were again thwarted in their evil designs to leave with an empty train as departure was once again two minutes late. A somewhat tortuous exit [presumably to make sure the latest Tram fly past got far enough in front not to hold up the kettle) through Mutley Tunnel as far as Lipson Jn (and the site of my Grandma's prefab) was endured before the fireworks started. No Tangmere didn't forget how old it was and turn right towards my home station but began to build up a great head of steam ,not to mention thrash before tearing up Hemerdon Bank in a cloud of black smoke and copious cinders and bits of coal. Even the old boy sitting opposite starting muttering "Absolutely Dreadful" though another scourge of modern photography reared its head in the form of someone bellowing into a mobile phone to someone on the other end " I'm on the train! Can YOU Hear the EEEEEEEngine?". I don't know whether his mate could hear the engine or not but my video camera could hear every blasted word.
Dainton was also stormed to great effect and the train breezed through Newton Abbot and along the Dawlish sea wall giving off the air of a job well done and posturing for the throngs on the beach. Sadly this not being the Med there weren't any typos to view whilst looking out to sea though it had been a warm sunny day unlike the beginning of the week. One final act of anticlimax was being routed into the loop at Dawlish Warren to let a Voyager stagger past. Not being stopped on the platform meant the whistleblowers didn't get to blow their own trumpets to signal our departure 2 and a half minutes (by my watch) early though the saunter into platform 5 at Exeter St. Davids was achieved 5 minutes early. Some 35 minutes was allowed to affect the loco change with 47854 once again heading the train whilst 34067 and its support coach was put to bed by the Goods Shed in the sidings at the west end of platform 6.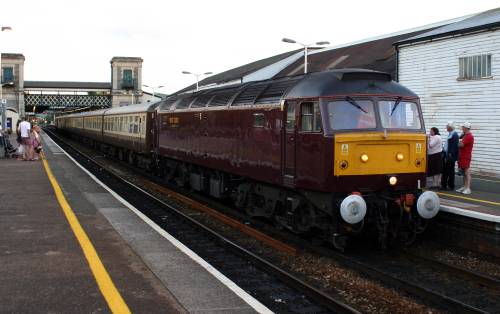 47854 takes over at Exeter St Davids (photo: Andy Pullar)
The train was booked to travel back to London by way of Westbury, Swindon and Didcot with Newbury passengers being bussed back from Didcot because of an engineers possession. The dilemma was do I take the Duff mileage back to Reading and arrive home after midnight (assuming I don't miss the last train home) or 159 it back directly and get home before I turn into a mangle wurzel. No contest and an uneventful journey up the LSW completed a successful Bank Holiday weekend taking in 40s at Kyle and Flat Tops at Penzance. Only one task left and that is to check with the Guinness Book of Records if my time from platform 3 to 2 at Penzance counts as some sort of a World Record. Mind you I might then get tested by the Athletics Doping Agency so on second thoughts where's me stash of Sain Tozzell. Bottoms up to the Whistleblowers.
Andy Pullar



Timings (Booked & Actual)
(from various including John Clifford)
Location
Booked
Actual
Booked
Actual
Ealing Broadway
06.52d
06.54
00.01a
00.21
Southall
06/57
06/58
23/57
00/16
Airport Jn
07/01
07/01
23/54
00/09
Slough
07.09a ~ 07.11d
07.07 ~ 07.11
23.29a ~ 23.43d
23.54 ~ 23.55
Maidenhead
07.18a ~ 07.20d
07.21 ~ 07.22
23.20a ~ 23.22d
23.43 ~ 23.46
Twyford
07/33
07/28
23/13
23/13
Reading
07.38a ~ 07.42d
07.34 ~ 07.42
23.06a ~ 23.08d
23.05 ~ 23.07
Reading West Jn
23/04
23/03
Didcot Parkway
22.48a ~ 22.50d
22.49 ~ 22.51
Wantage Road
22/41
?
Challow
22/38
22/40
Uffington
22/37
22/38
Swindon
22/30
22/31
Wootton Bassett Jn
22/25
22/26
Chippenham
22/16
22/17
Thingley Jn
22/14
22/16
Bradford Jn
22/02
22/04
Southcote Jn
07/46
07/46
Newbury
07.59a ~ 08.01d
07.58 ~ 08.01
Bedwyn
08/13
08/13
Woodborough
08/22
08/23
Lavington
08/29
08/29
Heywood Road Jn
08/35
08/35
Westbury
08.38a ~ 08.40d
08.38 ~ 08.41
21.17a ~ 21.45d
21.08 ~ 21.50
Fairwood Jn
08/43
08/45
21/13
21/05
Clink Road Jn
08/47
08/48
21/09
21/02
Blatchbridge Jn
08/49
08/49
21/07
21/00
Castle Cary
08/58
08/58
20/57
20/52
Cogload Jn
09/20
09/15
20/41
20/36
Taunton
09.25a ~ 09.28d
09.21 ~ 09.28
20.34a ~ 20.36d
20.31 ~ 20.32
Tiverton Parkway
09/41
?
20/21
?
Cowley Bridge Jn
09/53
?
20/09
?
Exeter St Davids
09.56a ~ 10.00d
09.53 ~ 09.59
19L32a ~ 20L07d
19.26 ~ 20.06
Dawlish Warren
10/10
10/09
19.04a ~ 19.16d
19.06 ~ 19.14
Newton Abbot
10/19
10/19
18/50
18/48
Totnes
10/30
10/29
18/39
18/40
Ivybridge
10/44
10/42
18/26
18/27
Hemerdon
10/49
10/47
18/20
18/20
Lipson Jn
10/54
10/52
18/10
18/15
Plymouth
10/56
10/55
17.20a ~ 18.05d
17.16 ~ 18.08
St Budeaux Ferry Jn
11/01
11/00
17/11
17/11
Saltash
11/05
11/04
17/07
17/07
St Germans
11/10
11/10
16/58
17/00
Liskeard
11/19
11/20
16/48
16/48
St Pinnock Viaduct East
11/24
11/25
16/41
16/40
Largin
11/25
11/27
16/40
16/38
Lostwithiel
11/32
11/35
16/27
16/28
Par
11/38
11/40
15.36a ~ 16.15d
15.33 ~ 16.17
St Austell
11/43
11/45
15/28
15/26
Burngullow Jn
11/46
11/47
15/26
15/24
Probus
11/52
11/54
15/17
15/16
Truro
11/59
12/00
15/08
15/10
Penwithers Jn
12/00
12/02
?
?
Camborne
12/18
12/20
14/49
14/54
St Erth
12/30
12/29
14/33
14/40
Long Rock
12/36
12/34
14/27
14/27
Penzance
12.40a
12.37
14.22d
14.22