28th August 2005
Vintage Trains
Shakespeare Express & Bullring Express
| | |
| --- | --- |
| Loco Used | steam: 4965 |
| Stock Used | ????? |
Route:
1S50 : Birmingham Snow Hill to Stratford-upon-Avon
1S51 : Stratford-upon-Avon to Birmingham Snow Hill
1S52 : Birmingham Snow Hill to Stratford-upon-Avon
1S53 : Stratford-upon-Avon to Birmingham Snow Hill
| | |
| --- | --- |
| Loco | Route |
| 4965 | Birmingham Snow Hill - Tyseley - Shirley - Henley-in-Arden - Bearley Jn - Stratford-upon-Avon |
| 4965 | Stratford-upon-Avon - Bearley Jn - Hatton North Jn - Dorridge - Tyseley - Birmingham Snow Hill |
| 4965 | Birmingham Snow Hill - Tyseley - Shirley - Henley-in-Arden - Bearley Jn - Stratford-upon-Avon |
| 4965 | Stratford-upon-Avon - Bearley Jn - Hatton North Jn - Dorridge - Tyseley - Birmingham Snow Hill |
Notes :
(1) Birmingham to Stratford round trips sold as "The Shakespeare Express" and the Stratford to Birmingham round trip sold as "The Bullring Express".
Sources : various including Ian Evans & Clive Hanley



Photo Review
(all photos: Clive Hanley)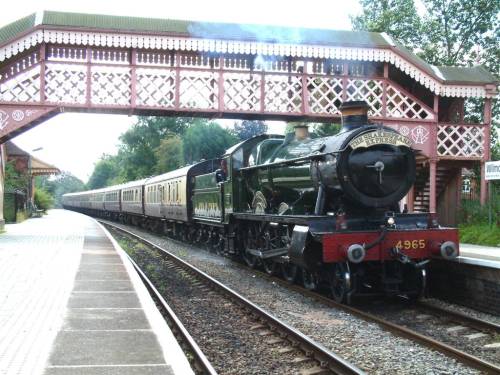 The morning return run at Wilmcote.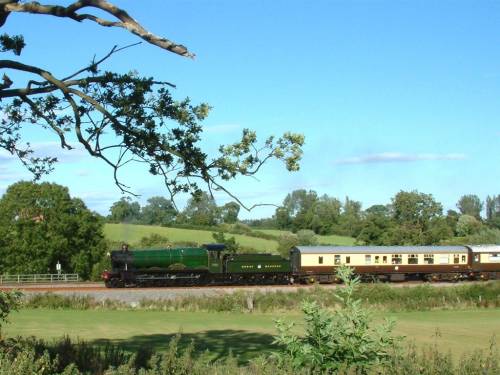 The afternoon return run at Hatton Jn.


Timings (Booked & Actual)
| | | | | | |
| --- | --- | --- | --- | --- | --- |
| Location | Booked | Actual | | Booked | Actual |
| Birmingham Snow Hill | 10.44d | 10.45 | | 15.44d | 15.44 |
| Birmingham Moor Street | 10/47 | 10/47 | | 15/47 | 15/47 |
| Small Heath South Jn | 10/51 | 10/51 | | 15/51 | 15/52 |
| Tyseley | 10.55a ~ 10.57d | 10.53 ~ 10.54 | | 15.55a ~ 15.57d | 15.53 ~ 15.57 |
| Shirley | 11/07 | 11/04 | | 16/07 | 16/06 |
| Bearley Jn | 11/25 | 11/27 | | 16/34 | 16/29 |
| Stratford-upon-Avon | 11.43a ~ 12.04d | 11.33 ~ 12.05 | | 16.43a ~ 17.00d | 16.36 ~ 17.02 |
| Bearley Jn | 12/14 | 12/14 | | 17/10 | 17/11 |
| Hatton West Jn | 12/22 | ? | | 17/18 | ? |
| Hatton North Jn | 12/24 | 12/27 | | 17/22 | 17/26 |
| Dorridge | 12/31 | 12/34 | | 17/29 | 17/34 |
| Tyseley | 12.43a ~ 12.45d | 12.49 ~ 12.50 | | 17.43a ~ 17.45d | 17.49 ~ 17.50 |
| Small Heath South Jn | 12/50 | 12/51 | | 17/50 | 17/51 |
| Birmingham Moor Street | 12.53a ~ 12.55d | 12.55 ~ 13.00 | | 17.53a ~ 17.55d | 17.55 ~ 17.55 |
| Birmingham Snow Hill | 12.58a | 13.02 | | 17.58a | 17.57 |