26th - 28th August 2005
Pathfinder Tours
The Whistling Scotsman
| | |
| --- | --- |
| Locos Used | 50031 & 40145 |
| Stock Used (1) | 21272+3107+3098+1863+5009+4902+5365 |
Route:
1Z40 : Birmingham New Street to Kyle of Lochalsh
1Z45 : Kyle of Lochalsh to Inverness
1Z40 : Inverness to Birmingham New Street
| | | |
| --- | --- | --- |
| Date | Loco | Route |
| 26/08 | 50031 | Birmingham New Street - Soho South Jn - Galton Jn - Dudley Port - Wolverhampton - Bushbury Jn - Stafford - Norton Bridge - Madeley - Crewe - Acton Grange Jn - Warrington Bank Quay - Winwick Jn - Earlestown - Newton-le-Willows - Astley - Manchester Victoria - Thorpes Bridge Jn - Castleton East Jn - Rochdale East Jn - Hall Royd Jn - Hebden Bridge - Milner Royd Jn - Halifax - Bradford Interchange |
| 26/08 | 40145 | Bradford Interchange - Holbeck Jn - Whitehall Jn - Leeds - Cross Gates - Church Fenton - Colton Jn - York - (via ECML & Darlington station) - Edinburgh Waverley - Haymarket - Dalmeny - Inverkeithing - Kirkaldy - Leuchars - Dundee - Carnoustie - Arbroath - Montrose - Stonehaven - Aberdeen |
| 27/08 | 40145 | Aberdeen - Dyce - Elgin - Forres - Millburn Jn - Rose Street - Clachnaharry - Dingwall - Achnasheen - Kyle of Lochalsh |
| 27/08 | 40145 | Kyle of Lochalsh - Achnasheen - Dingwall - Clachnaharry - Rose Street Jn - Welsh's Bridge Jn |
| 27/08 | 40145 (2) | Welsh's Bridge Jn - Inverness |
| 28/08 | 40145 | Inverness - Millburn Jn - Aviemore - Perth - Hilton Jn - Newburgh - Ladybank - (reverse of outward route) - York |
| 28/08 | 50031 | York - Colton Jn - Church Fenton - Cross Gates - Leeds - Whitehall Jn - Morley - Thornhill LNW Jn - Heaton Lodge Jn - Huddersfield - Diggle Jn - Stalybridge - Baguley Fold Jn - Miles Platting - (reverse of outward route) - Birmingham New Street |
Notes :
(1) 3107 was reported originally as 3140 (TRUST error?). From York on 29/08 buffet coach 1842 was in the formation (out of use) on the rear of the train, coupled to 21272, it was removed at Doncaster.
(1) Propelling move.
Sources : various including Paul Bradley, Dave Peacock & Solomon Riley



Tour Review
(from Paul Bradley)
On paper, this tour had a great deal to recommend it; huge mileage behind an English Electric hero, spectacular highland scenery in summer and the company of the legend-in-their-own-compartments, the CFPS. Well after a summer cruelly mauled by a vengeful jet stream, autumn had other ideas. After a Friday of giving summer a vicious kicking, autumn rammed in the dagger with torrential rain across the whole of Scotland. Nevertheless, you don't turn out for a forty because you enjoy sunbathing; you turn out for the thrash and did we ever get it.
Well weak we are, and daft too since a good many appeared at Birmingham New Street at stupid-o'clock for some vintage 50 performance up the WCML. What a way to get kicked off; Hood almost sounded like she was laughing, so easily were the seven six MK1s and one MK2 moving. Time was kept well enough, the gift of having a nervy EWS crew running your train.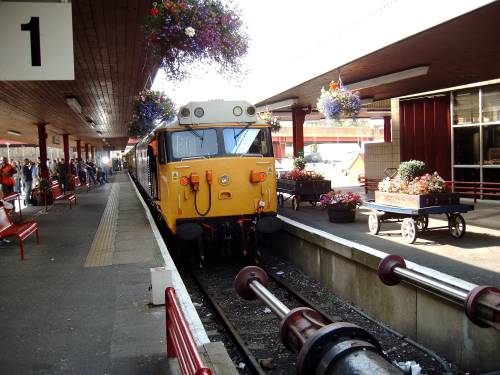 50031 at Bradford Interchange (photo: Andrew Wilsony)
By Bradford, rumours of the thrash to come were reaching fever point and the resultant wedge in coach A will go down in history. If they were excited when we pulled in, my lords they went nuts when we pulled out! 145 erupted like Vesuvius and positively threw us to Leeds. After a quick photo stop in the capital of Yorkshire sophistication, the driver discovers notch seven. As if told she's being scrapped tomorrow, he sets out to break 145 in style. But she simply shrugs and asks if that's all he's got…flying through Church Fenton for example, we thought we were coming off the rails! After reaching York in five minutes (well it felt that quick), we took lunch with a Yorkshire pint or six and caught up wit't Test. We knew we was int' Yorkshire, 'cause everyone int' pub were talking 'bout what great batsman Geoff Boycott were…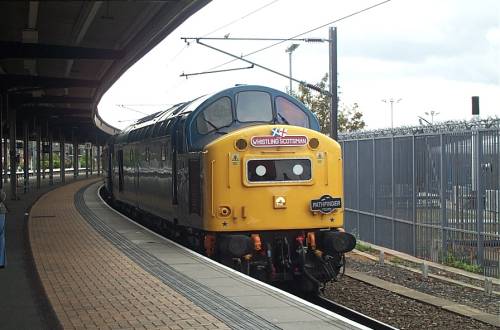 40145 takes a lunch break in York (photo: Steve Cassidy)
Back onboard, a look at the timings to Edinburgh got us quite depressed; the schedule was slacker than a media-studies student yet no time in Edin for a drink! But she moved well enough and Darlington in particular was despatched in dreadful fashion; so by the time of the toon we were nevertheless well satisfied. Meanwhile the remaining CFPS boarded and a group of people who five minutes ago were enthusiasts, morphed into the Barmy Army. So, 145 opened up the thrash was hell, nearly getting us to line speed…what's line speed on the ECML? As one tourer said "as fast as a Deltic wants".
We were indeed denied beer in Edinburgh but still had to sit in a loop for forty minutes. What followed was a disgrace; unit after unit passed us in pathetic style, barely worthy enough to be called trains in our great presence. Ultimately we were forced to follow an all-stations from Dundee to Aberdeen so it was a god job the real ale bar was well managed by the ever cheerful Terry, a wonderful man without whom we would all be sober. However, this was a mere distraction and 145 kept us happy enough to reach our hotels totally clagged out.
By morning, the irony of staying 7 miles out of town, two minutes from a station we would be passing en-route, was not lost on us as we took taxis back into Aberdeen, where Station staff treated us to an hilarious impersonation of customer care. How we laughed. Anyway, we headed off north with a more sedate attitude based on sixty limits and a cold, drizzly Aberdeenshire day. Just before Elgin though, we beheld a site to make even grown men cry. Acre after acre of empty Whiskey barrels, longing for a malt to hold…the sound of wracking sobs only made the rain seem worse...
But by the time we passed Inverness, the rain was falling with a vengeance, making only the very hardiest of photographers venture out of a droplight. So we knew we there was only one place to go…the bar. Again. About fifty people had the same idea though and by Kyle there was very little beer left, which was a shame as the sun had come out and had we been sober the scenery would have been very impressive. Okay, it was still raining, but the sun had come out. So it was with blurred vision and wobbly legs that we arrived at Kyle and ran like demented things for the fish and chip shop. One good meal and a great chardonnay later, all and sundried returned to the station to find a helpful local had laid on a selection of rope swings under the bridge. Which was silly. They knew we'd play on them.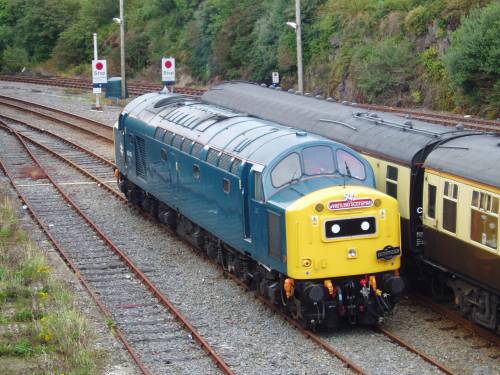 40145 running round at Kyle of Lochalsh (photo: Moggie)
Travelling back to Inbhir Ness in the evening was better than we could have hoped. We managed a good photo stop at Achnasheen, where only a few people fell down the ballast slopes. We noticed at this point a shifty bunch of characters in flash motors, seemingly tracking the train by road. We could only conclude this was MI5, anxious to spot 145 inciting Brush hatred in impressionable 158s. Our worst fears were borne out, as they raced along beside us, pointing cameras and microphones at an obviously very guilty loco. They seemed to arrive everywhere before we did, lining the hills with weapons raised. And just when we thought it couldn't get any weirder, a man seeming to be his own railtour wandered up the train complete with massive steel headboard, offering it to frightened passengers for "fifty pee or the promise of a kiss". Neither was forthcoming, even though a full VAT receipt was promised.
We should say that by this point most aboard were knackered; wrecked, tried and finished. We really needed a stop over so we were begging for Inverness to turn up on time, but instead we drifted past! A helpful Cornishman (we think he was Cornish) told us this was for Operational Reasons – whatever they are. What this meant was an overshoot of the station followed by a perfect Reagan/Carter handbrake turn back…we all thought we'd be gently pushed back but got veritably shoved into platform 2! All still alive though, we alighted and most hobbled down the road to the Black Friar, were Deuchars IPA helped us tolerate a Bruce Springsteen impersonator singing from a stance so heroic, we thought his trousers would surely burst.
Approaching the taxi rank, an illuminated sign offered "Tourist information". It read, "You are Here". Thank God for that, we thought we were lost. Further on a pair of kindly community door supervisors (that's bouncers to you and me) 'helped' a very drunken man into a mini-cab, whilst protesting to the driver that it was "okay, he'd got money mate". Not ****dy likely, mate, came the driver's charitable reply. To cap it all, our intelligence network (Guests at the Whetherspoons lodge) were reporting a ruckus of Glaswegian proportions kicking off, so we all escaped to our billets. Ah, Highland hospitality…
Morning came in yet another downpour and we went south. The very brave and the very stupid (most of us) hit the droplights for some thrash, and were treated to the kind of exfoliation normally only available from boiling tar. But it sounded great, so we suffered for our art and have the videos to prove it. Slochd and Druimuachdar were dispatched with super thrash, but is somehow all seemed muted. Collaring a CFPSnik gave us the answer; a new turbo, fitted in knee-jerktastic style after the last outing, had dramatically improved performance but taken the edge of the engine note. Well, you can't have everything.
Perth gave us some good pictures but we were all really looking forward to the Forth Bridge. Queues for line-side windows had reached theme-park proportions, so imagine our delight when a possession forcing single-line working pushed us against the parapets. Grrr. Ah well, at least we'll have a stop in Edinburgh. Except the possession killed it off and we stopped just long enough to drop off before being away again. Looped at Dunbar we waited for some plastic to overtake us but otherwise enjoyed a very fast run back to the Toon. But no-one cared because we had bowled Australia's 2nd Innings out and needed 129 to win. By York, the weather had dramatically improved but reports of a classic five-wicket collapse reached us, leaving us only four to win with. Once we were convinced of our doom, the entire train invaded the main concourse newsagents, which could not cope and descended into anarchy. Fortunately England didn't and won the test by three wickets.
Our old Friend Hood returned although many of us couldn't remember why she was familiar…Friday seemed such a long time ago. But she did what she does best and positively hammered us back to Birmingham, despite some poor unfortunate at Stalybridge trying to pelt us with slabs (he couldn't pick them up though, so he was bound to fail). Birmingham finally rolled around only six late, after a truly legendary weekend that will be very difficult to follow.
Paul Bradley



Timings (Booked & Actual)
Location
Booked
Actual
Booked
Actual
Birmingham New Street
06.55d [P2]
07.06
22.28a
22.26
Soho South Jn
07/00
07/11
22/23½
22/21
Galton Jn
07/02
?
22/22
22/19
Dudley Port
07/05½
07/16
22/18½
22/16
Wolverhampton
07.13a ~ 07.15½d [P1]
07.23 ~ 07.24
22.10a ~ 22.12d [P4]
22.07 ~ 22.08
Wolverhampton North Jn
07/17
?
22/08
22/05
Bushbury Jn
07/18½
07/28
22/06
22/03
Stafford No.4
07/30 [SL]
?
21/55
?
Stafford
07.31a ~ 07.38d [P3]
07.40 ~ 07.43
21.52a ~ 21.54d [FL]
21.50 ~ 21.51
Stafford No.5
07/39
?
21/51 [SL]
?
Norton Bridge
07/44
07/49
21/47
21/42
Madeley
07/53
07/59
21/39
21/35
Basford Hall Jn
07/59
?
21/35
?
Crewe
08.03a ~ 08.18d [P12] [FL]
08.13 ~ 08.21
21.27a ~ 21.30d [P5]
21.23 ~ 21.26
Crewe Coal Yard
08/22½
?
21/25
?
Winsford SB
08/28½
?
21/16
?
Weaver Jn SB
08/34
08/37
21/10
21/05
Acton Grange Jn
08/38
08/40
21/06
21/00
Warrington Bank Quay
08.41a ~ 08.43d [P4] [SL]
08.43 ~ 08.44
20.59a ~ 21.02d [P2]
20.56 ~ 20.58
Dallam Jn
?
?
20/57½
?
Winwick Jn
08/49
?
20/54½ [FL]
20/50
Earlestown
08/51½
08/52
20/50
20/45
Newton-le-Willows
08/53½
08/53
20/48
20/43
Astley
08/59
09/00
20/42
20/37
Eccles
09/04
09/04
20/37½
20/33
Ordsall Lane Jn
09/09
09/09
20/33½
?
Deal Street
09/13 [FL]
?
20/31½
?
Manchester Victoria
09.15a ~ 09.18d [P5]
09.14 ~ 09.20
20.27a ~ 20.30d [P4]
20.21 ~ 20.24
Miles Platting Jn
09/22
09/23
20/24 [SL]
20/19
Philips Park West Jn
20/23
20/18
Baguley Fold Jn
20/20
20/17
Ashton Moss North Jn
20/16
?
Stalybridge
20/10
20/07
Greenfield
20/04
19/58
Diggle Jn
20/02
19/56
Marsden
19/58
19/52
Huddersfield
19.45a ~ 19.47d [P1]
19.41 ~ 19.42
Heaton Lodge Jn
19/38½
19/34
Mirfield East Jn
19/36½
?
Thornhill LNW Jn
19/36
?
Morley
19/30
19/26
Thorpes Bridge Jn
09/23½
09/24
Vitriol Works
09/27
09/27
Castleton East Jn
09/32
?
Rochdale East Jn
09/35
?
Littleborough
09/39
09/43
Hall Royd Jn
09/51
09/50
Hebden Bridge
09/56
09/58
Milner Royd Jn
10/03
?
Halifax
10/10
10/12
Mill Lane Jn
10/21
?
Bradford Interchange
10L23a ~ 10L53d [P2]
10.29 ~ 10.53
Mill Lane Jn
10/55
?
Holbeck Jn
11/16
?
Whitehall Jn
11/17 [Line C]
11/15
19/24½
19/21
Leeds West Jn
11/17½
?
19/24
?
Leeds
11.19a ~ 11.30d [P8]
11.19 ~ 11.30
19.18a ~ 19.23d [P11] [line D]
19.10 ~ 19.20
Neville Hill West Jn
11/33½
11/32
19/14
?
Cross Gates
11/38
11/36
19/10
19/05
Micklefield
11/43
11/40
19/05
19/00
Church Fenton
11/47 [LSL]
11/44
18/57
18/55
Colton Jn
11/53
11/50
18/53
18/51
York
12.02a ~ 14.07d [P11]
12.02 ~ 14.07
18L18a ~ 18L46d [P10] [LSL]
18.01 ~ 18.45
Skelton Jn
14/10½
14/10
18/13
17/57
Tollerton Jn
14/18
14/17
18/05
17/51
Thirsk
14/29
14/26
17/45 [SL]
17/43
Northallerton
14/37
14/32
17/38
17/37
Darlington
14/51 [DML]
14/44
17/26 [UML]
17/25
Ferryhill South Jn
15/01
14/56
17/15
17/14
Tursdale Jn
15/03
?
17/13
?
Durham
15/08½ [P2]
15/03
17/07
17/06
Birtley Jn
15/18
15/12
16/57
16/56
King Edward Bridge South Jn
15/21
15/16
16/50
16/50
Newcastle
15.25a ~ 15.28d [P2] [SL]
15.19 ~ 15.28
16.41a ~ 16.48d [P3]
16.46 ~ 16.49
Heaton South Jn
15/46
15/33
16/37
16/42
Morpeth
16/01
15/46
16/23
16/29
Alnmouth
16/16
16/10
16/09
15/58
Belford LC
16/29
16/21
15/56
15/43
Crag Mill Loop
16.32a ~ 16.40d
?
15.39a ~ 15.53d
?
Berwick-upon-Tweed
16.56a ~ 16.58d [P2]
16.33 ~ 16.35
15.22½a ~ 15.24d
15.31 ~ ??.??
Reston Signal EG403 // EG402
17/04
?
15/19
?
Reston
17/11
?
15/13
?
Grantshouse
17/17
17/01
15/08
15/18
Dunbar
17/26
17/13
14.42a ~ 14.53d
14.46 ~ 15.05
Drem
17/35
17/31
14/32
14/36
Monktonhall Jn
17/49
17/46
14/23
14/27
Portobello Jn
17/52
17/50
14/21
14/25
Edinburgh Waverley
17.57a ~ 18.05d [P11]
17.59 ~ 18.07
14.02a ~ 14.17d [P19]
14.16 ~ 14.20
Haymarket
18/09
18/10
13/59
14/13
Haymarket West Jn
18/11
18/12
13/58
14/11
Dalmeny Jn
18/19
18/19
13/49
14/04
Dalmeny DPL
18*21a ~ 19*01d
?
Inverkeithing
19/08
19/04
13/40
13/39
Burntisland
19/18
19/14
13/31
13/26
Kirkaldy
19/26
19/21
13/24
13/16
Thornton South Jn
19/30
19/26
13/19
13/06
Thornton North Jn
19/31
?
13/18
?
Ladybank
19/40
19/40
12.51a ~ 13.11d
12.53 ~ 12.53
Newburgh
12/40
?
Hilton Jn
12/30
?
Perth
12.15a ~ 12.25d [P4]
12.18 ~ 12.28
Stanley
12/07
?
Dunkeld & Birnam
11/55
?
Pitlochry
11/43
11/46
Blair Atholl
11.27a ~ 11.34d
?
Dalwhinnie
11/04
?
Kingussie
10/50
?
Kincraig
10/44
?
Aviemore
10/37
10/35
Carrbridge
10/31
?
Slochd
10/26
?
Tomatin
10/19
?
Moy
10/14
?
Culloden Moor
10/00
?
Cupar
19/46
?
Leuchars
19/52
?
Tay Bridge South
20/00
?
Dundee Central Jn
20/05
?
Dundee
20.06a ~ 20.32d [DTL]
20.04 ~ 20.32
Camperdown Jn
20/35
?
Carnoustie
20/46
20/51
Arbroath
20/52
?
Usan
21/06
21/12
Montrose
21/08½
21/13
Laurencekirk
21/20
21/25
Carmont
21/28
21/32
Stonehaven
21/34
?
Aberdeen
[P7] 21.55a ~ 10.30d [P7N]
21.55 ~ 10.30
Dyce
10/41 [UDV]
10.44 ~ 10.45
Inverurie
10.54a ~ 10.55d
?
Insch
11.07a ~ 11.08d
11.07 ~ 11.08
Kennethmont
11/15
?
Huntly
11.24a ~ 11.37d [UDV]
?
Keith Loop
11.52a ~ 11.56d
?
Keith
11.57a ~ 11.58d
11/54
Elgin
12.22a ~ 12.23d
12.22 ~ 12.23
Elgin SB
12.24a ~ 12.42d
?
Forres Loop
12.42a ~ 12.50d
?
Forres
12.51a ~ 15.52d
?
Nairn
13.04a ~ 13.05d
13.10 ~ 13.10
Millburn Jn
13/21
?
09/50
?
Inverness
[P6] 21.06a ~ 09.48d [P1]
21.25 ~ 09.48
Rose Street
13.24a ~ 13.26d
?
21/06
?
Clachnaharry
13/30
?
21/01
?
Clunes IB
13/37
?
20/54
?
Muir of Ord
13.42a ~ 13.43d
?
20.44a ~ 20.45d
?
Dingwall
13.51a ~ 14.02d
14.20 ~ 14.22
20.36a ~ 20.37d
20.45 ~ 20.46
Garve
14.26a ~ 14.27d
?
20.15a ~ 20.16d
?
Achnasheen
14.57a ~ 15.12d
15.09 ~ 15.18
19.25a ~ 19.45d
19.25 ~ 19.45
Strathcarron
15.43a ~ 16.01d
?
18.52a ~ 18.53d
18.52 ~ 18.53
Plockton
16/25
?
?
?
Kyle of Lochalsh
16.36a
16.40
18.10d
18.10