21st August 2005
ÖBB
Knappentour
| | |
| --- | --- |
| Loco Used | ÖBB 1040 013 |
| Stock Used | ????? |
| DMU Used | ex-ÖBB 5081.562 + 5081.563 + 5081.564 + 5081.565 |
Route:
16463 : Selzthal to Eisenerz
91150 : Eisenerz to Vordernberg
01430 : Vordernberg - Eisenerz
16462 : Eisenerz - Selzthal
| | |
| --- | --- |
| Traction | Route |
| 1040 013 | Selzthal – Admont – Hieflau – Hieflau Verschiebebhnhof – Eisenerz |
| 5081.565 + 5081.564 + 5081.563 | Eisenerz – Erzberg – Vordernberg Markt |
| 5081.563 + 5081.565 + 5081.562 | Vordernberg Markt – Erzberg - Eisenerz |
| 1040 013 | Eisenerz – Hieflau Verschiebebhnhof – Hieflau – Admont –Selzthal |
Notes :
(1) Tour was originally booked to be worked by 1080.01 but 1040 013 substituted due to non-availability.
Source : Janet & John Cottrell (on the train throughout)



Tour Review
(from Janet Cottrell)
Since our visit to Austria last June we had been full of good intentions to return and cane in some more of the excellent Erlebnis Bahn & Schiff tours, but for various reasons, it took us over a year to do so.
One change from last year was that the "Heritage" arm of ÖBB (EBS) has taken over the running of all the seasonal tourist and "Rad Tramper" (bike) trains many of which run every weekend or even daily during the summer months. This meant that we covered many of their trains during our stay but, as the latter type appear in the main time table and normal tickets are valid, it means that that they can't be described as rail tours.
The "Knappentour" appealed to us straight away. An easy day out with a heritage electric loco, freight only track and a trip on a private railway which would otherwise be awkward to get to. In fact there was also a rateable tour to Bohinjska Bistrica from Schwarzach St. Veit with a class 1245 electric and Slovenian Railways 664 (very loud GM product) on the same day but it is not possible to be in two places at once.
Having previously mentioned that "pay on the day" is not usually a problem on these tours, it was noted that this particular tour was advertised as being 1st class only with a meal on the train included so it was thought best to try and book in advance. An e-mail was sent using the link on the bottom of the web page, but there was no response other than a standard automated reply.
Some three months later there was still no news when it was noticed that ÖBB at Selzthal had their own website for the locally based trains at http://members.aon.at/bachlerrudolf/ . By clicking on "kontakt" a booking form popped up and was duly filled in one Saturday afternoon. By Monday afternoon a reply had been received to the effect that there were two tickets reserved for us in the booking office at Selzthal, very efficient.
We had decided to stay in Linz and travel to Selzthal from there, although not far away in distance (around 65 miles) the journey took nearly two hours as most lines in Austria are not laid out for speed. The weather was dull and promising rain, luckily it was still dry when we arrived. The booking office was quickly found and the tickets picked up and paid for. In fact the main EBS office did eventually get in touch but only to say that they had reserved two seats for us on the train and that we were to pay the guard.
As we walked down the platform, 1040 013 appeared shunting it's own train and providing an opportunity for some photographs. The booked loco was to have been 1080.01 but a note on the local Selzthal website explained that the 1040 would substitute "for technical reasons". This might have been due to the size and weight of the train (six coaches) as the 1080 is rather ancient (only 81 years old) and, like most OAPs, does not want to do anything too strenuous. No matter, the 1040 was a winner, a new class for us in fact, and we made our way to our reserved seats which were indicated by a tastefully made up sheet of A4 paper saying reserved for Frau Cottrell.
Departure was on time and we made our way sedately to Admont for a 15 minute pause which I can only presume was a photographic stop as we did not cross anything. The loading dock provided a good vantage point and it was here that we met the other four other British cranks that we knew were also coming on the trip. It was just starting to rain at this point so we hurried back to the train where dinner was being served, a rather Austro-Caribbean mixture of schnitzel with rice and peas. All the catering was provided by a local caterer who also runs a hotel in nearby Liezen. There did not appear to be any means of cooking on the train so the food must have been prepared beforehand and loaded on, it was rather better than an "airline meal" though.
We left Admont and steadily climbed towards Hieflau with a pause on a bridge over a raging torrent to which the rain was now adding to with a vengeance. This area of Austria is designated a National Park and has some outstanding scenery, a shame that we could not see much of it due to the low clouds.
At Hieflau we turned right onto the freight only line which serves the massive open cast iron ore mines around Eisenerz, the passenger service on this section ended in May 1999. It was still raining heavily when we arrived so we leapt hastily onto the waiting DMU's ready to sample this interesting "tourist line" (www.erzbergbahn.at/ ).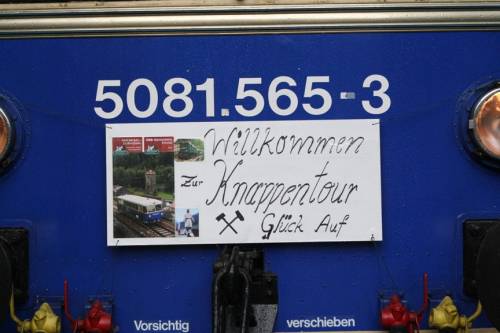 Tour headboard on the "tourist line" (photo: Janet Cottrell)
The line onwards to Vordernberg Markt used to be rack worked until 1978 which will give some idea of the gradients on the line. It was closed to passengers in 1988 and taken over by a group who run it as a tourist railway using four of the 5081 single rail cars that were specially adapted for the line by ÖBB. Although trains run every Sunday throughout the summer, the line is not easy to get to since the withdrawal of passenger services between Leoben and Vordernberg Markt in 2001.
Despite being unit only, this line is well worth doing and in fact the open plan design of the German Railways 798 type DMU's allow a better appreciation of the line than hauled stock would. The line started climbing straight from the station but this was a mere prelude to the main part of the ascent. Up and up we crawled, all three units flat out and doing no more than 15 – 20 mph, if only the weather was better so that we could see some of the fantastic scenery.
At Erzberg (literally "iron mountain") we drew to a halt in the station where there was a buffet in one room and a shop selling souvenirs in another. Most people braved the rain to alight and have a look round and the shop was doing quite a brisk trade. We purchased a DVD about the line including archive footage which was unusual in that the programme can be viewed with German or English commentary.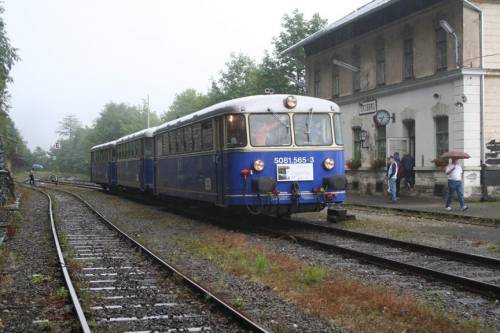 The tour at Erzberg (photo: Janet Cottrell)
On leaving Eisenerz, we continued to climb steeply for another 10 minutes or so to Präbichl before dropping just as steeply down the other side of the mountain, the units were still thrashing away in low gear though – running away on a gradient like this would soon lead to disaster.
We reached Vordernberg Markt where there was still no sign of the groups operating base, this was further down the mountain at Vordernberg itself and the units were going down there for fuel and service, much more interesting for six British cranks than a ski museum and an Alpine village in the rain. Our request was readily granted so we bailed on the front unit, hotly pursued by three or four Austrian passengers who obviously shared our thoughts on the merits of sheds versus museums.
The shed itself was a half roundhouse with five roads, one for each unit and one for the two motorised inspection units based here. Access was via a head shunt and a turntable and the units had to split up as only one could get on the turntable at a time. Fortuitously it had stopped raining so we all leapt off, cameras at the ready with lots of opportunities for photographs as the units were manoeuvred one by one into the shed. Also present were two "Kleinloks" (small diesel shunters) parked outside, we did enquire as to their availability but were told that it was not possible to keep these running as well as the four railcars.
Just as the third unit entered the shed, it started raining heavily so we dived into the shed after them for shelter. At this point we surmised that all four units were going to used for the return journey including 5081 562 so we promptly boarded that one whilst it was in the shed. Needless to say, we were not evicted when the time came to go, so one of the shed roads and the turntable were scratched in (desperate or what !). 562 would be the rear unit for the return journey so a dash in the rain to the front ensued in order to bag the seats with a view. This didn't really work out as back at Vordernberg Markt more people crammed in the front unit than the second (the rear one was actually the service train for "normal" passengers – i.e. not those from the tour) causing some passengers to crowd round the driver and block the view from the front.
On the way back we stopped at Erzberg again for 20 minutes, where we noticed one of the units was missing. It must have been detached from the rear and left in the depot head shunt at Vordernberg, strange why it was not just left it in the shed in the dry. The rain had eased off slightly at Eisenerz and once everybody had alighted from the units, they were drawn up alongside the 1040 for photographs with the local landmark of the ore mountain in the background just visible through the clouds.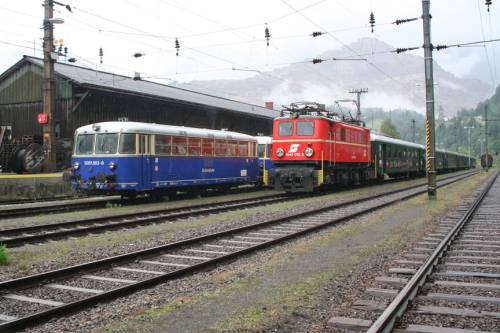 The two sets of stock alongside each other (photo: Janet Cottrell)
A gentle run back through a rather wet National Park saw a slightly early arrival at Selzthal and enough time for a quick leap to Liezen before our train back to Linz.
Conclusion, another excellent tour in this most sociable of countries. We shall be watching the EBS website (www.erlebnis-bahn-schiff.at/english/index_eng.htm) with interest later on in the year to see what delights have been lined up for 2006.
Janet Cottrell



Timings (Booked & Actual)
(from Janet Cottrell)
Location
Booked
Actual

Selzthal

10.30d
10.30

Frauenberg

10/39
10/39

Admont

10.47a ~ 11.02d
10.46 ~ 11.02

Gesäuse-Eingang

11/11
11/11

Johnsbach

11/14
11/14

Gstatterboden

11/17
11/17

Hieflau

11/31
11/31

Eisenerz

11.55a ~ 12.05d
11.52 ~ 12.09

Erzberg

??.??a ~ 12.41d
12.30 ~ 12.42

Präbichl

12/59
12/52

Vordernberg Markt

13.35a
13.11

Erzbergbahn times (actual) were 13.20d ~ 14.20a

Vordernberg Markt

14.30d
14.30

Erzberg

14.59a ~ 15.24d
15.00 ~ 15.26

Eisenerz

15.55a ~ 16.05d
15.48 ~ 16.05

Hieflau

?
16/23

Admont

16.47a ~ 16.49d
16.48 ~ 16.50

Selzthal

17.10a
17.04