20th August 2005
Hertfordshire Rail Tours
The Jolly Fisherman
| | |
| --- | --- |
| Locos Used | 67014 & 67015 |
| Stock Used | ????? |
Route:
1Z50 : Kings Cross to Cleethorpes
1Z?? Cleethorpes to Kings Cross
| | |
| --- | --- |
| Loco | Route |
| 67014 | London Kings Cross - (via ECML) - Newark Northgate - Lincoln - Cleethorpes |
| 67015 | Cleethorpes - (reverse of outward route) - London Kings Cross |
Notes :
(1) 67015 on rear.
(2) 67014 on rear.
Sources : Gary Sherman & Solomon Riley



Tour Review
(from Gary Sherman)
I Booked this tour as I fancied a day out in Skeggy but It was swapped to Cleethorpes a few months ago due to Loco hauled trains been banned down there.
The day started as most Hertfordshire tours do from London. So finishing work at 03:00 getting home and ready for a 30 minute walk to Diss station for the 05:47 to London which was 90009. I already knew from gen that dud 67014 & 67015 were on the ECS from Old oak to Kings X. so knew I would get one if not both as the Skeggy Train was due to be top n tail mode then perhaps this would. Sure enough both Locos were at Kings X Platform 1 and in top no tail mode. I still need 67011,12,24,25,30. We left bang on time at 08:18 and most of the outward journey was a blank due to me getting some much needed sleep. We arrived in Cleethorpes at noon and I set of in search of a pub to watch the football. I had a wonder round and ended up in an Irish bar without the football on but stuck with this for a couple of hours and some Guinness/food. Looking at the pub it was nice and While I sat there I was thinking this time next week I will be in Ireland sampling some more GM machines.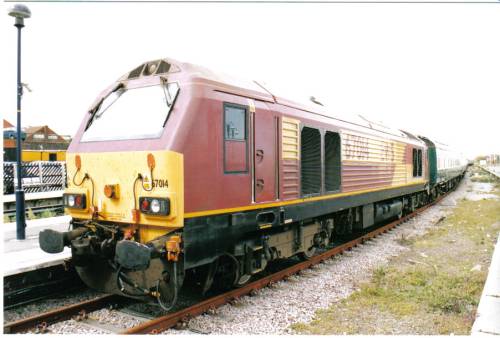 Two photos courtesy of Gary Sherman - 67014 above & 67015 below.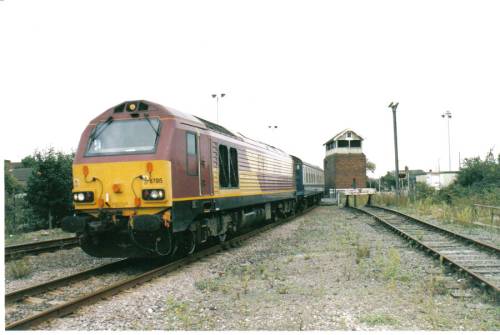 On The return journey I did a 153 unit to Grimsby Town so I could photo the tour coming in. We left there on time at 17:25 and I stood at the front window all the way to London. We had a good run pausing at Lincoln for a minute then outside Newark for 15 Minutes. We left Retford at 18:58 and put in a storming run down to Peterborough yard where we waited for a GNER 91 to pass and got the road through platform 2 without stopping there. Outside Peterborough we were stopped again for a Hull trains unit and a stopping unit but this was soon overtaken again. This 67 (015) seemed to be quite loud and clagged well too. After dropping of passengers at Stevenage and Potters bar we arrived in Kings X at 21:01 compared to the 21:20 in the tour booklet and 21:07 on other reports. Still Only 123 minutes covering the 120 miles from Newark. A quick bus saw me on the 21:30 From London back to Diss 90012.
Verdict an excellent tour and traction an easy day out.
I wish there could be more tours like this. This was a bargain £27.50
Gary Sherman



Timings (Booked Only)
(from Solomon Riley)
| | | |
| --- | --- | --- |
| Location | Booked (out) | Booked (rtn) |
| Kings Cross | 08.18d | 21.07a |
| Belle Isle | 08/20 | ? |
| Finsbury Park | 08/22 | ? |
| Alexandra Palace | 08/24 | ? |
| Potters Bar | 08.29a ~ 09.32d | 20.51a ~ 20.54d |
| Welwyn Garden City | 08/41 | ? |
| Digswell Jn | 08*43a ~ 08*51d | ? |
| Woolmer Green | 08/54 | ? |
| Stevenage | 08.57a ~ 08.59d | 20.34a ~ 20.37d |
| Hitchin | 09/03 | ? |
| Sandy | 09/11 | ? |
| Huntingdon | 09/25 | ? |
| Holme LC | 09/32 | ? |
| Peterborough | 09/39 | ? |
| Helpston Jn | 09/46 | ? |
| Tallington Jn | 09/52 | ? |
| Stoke Tunnel | 10/08 | ? |
| Grantham | 10/13 | ? |
| Barkston South Jn | 10/17 | ? |
| Newark Northgate | 10.28a ~ 10.32d | 18.58a ~ 19.00d |
| Newark Crossing East Jn | 10/34 | ? |
| Boultham Jn | 10/49 | ? |
| West Holmes Jn | 10/50 | ? |
| Lincoln Central | 10.55a ~ 10.57d | 18.26a ~ 18.30d |
| Pelham Street | 10/59 | ? |
| Langworth | 11/08 | ? |
| Wickenby | 11/12 | ? |
| Holton-le-Moor | 11/22 | ? |
| Wrawby Jn | 11/32 | ? |
| Barnetby | 11/33 | ? |
| Brocklesby Jn | 11/39 | ? |
| Habrough | 11/41 | ? |
| Grimsby Town | 11.50a ~ 11.53d | 17.21a ~ 17.25d |
| Cleethorpes | 12.00a | 17.15d |