14th August 2005
???
(Football Special)
| | |
| --- | --- |
| Locos Used | 47812 & 47853 |
| Stock Used | 17056+5986+5987+1683+6054+5984+5963 |
Route:
1Z40 : Euston to Wigan North Western
1Z41 : Wigan North Western to Euston
| | |
| --- | --- |
| Loco(s) | Route |
| 47853 (1) | London Euston - (via WCML, Northampton & Trent Valley) - Wigan North Western |
| 47853 + 47812 (2) | Wigan North Western - (via WCML) - Crewe |
| 47853 (3) | Crewe - (via WCML, Trent Valley & Weedon) - London Euston |
Notes :
(1) 47812 on rear.
(2) 47812 worked the ECS from Preston with 47853 on the rear but developed a lighting fault so 47853 ran-round at Wigan North Western to lead the train. 47853 & 47812 worked in tandem as far as Crewe after which 47812 was shut down.
(3) Plus 47812 dead-in-tow.
(4) Route confirmation required (above is booked route). Ran for the Premiership Chelsea v. Wigan Athletic match.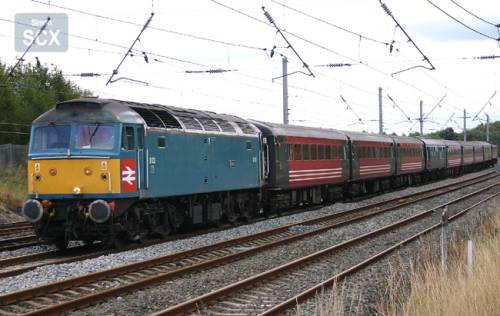 47853 is seen passing Springs Branch on the way to Wigan....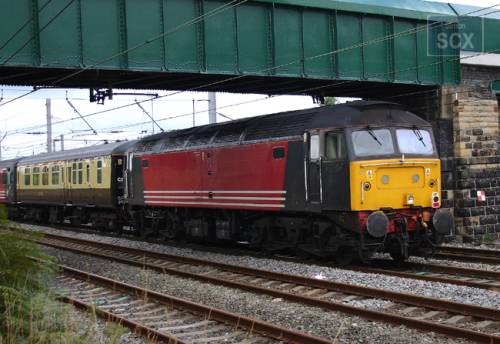 ...with 47812 bringing up the rear (photos: Simon Cross)
Sources : Simon Cross, Dave Peacock & Mark Honey



Timings (Booked Only)
| | | |
| --- | --- | --- |
| Location | Booked (out) | Booked (rtn) |
| Euston | 10.05d | 22.55a |
| Camden South Jn | 10/08 | 22/52 |
| Camden Jn | 10/09 | 22/51 |
| Willesden WL Jn | 10/12 | 22/45 |
| Wembley Central | 10/15 | 22/43 |
| Harrow & Wealdstone | 10/19 | 22/38 |
| Watford Junction | 10/26 | 22/30 |
| Bourne End Jn | 10/33 | 22/12 |
| Tring | 10/46 | 22/06 |
| Ledburn Jn | 10/56 | 21/54 |
| Bletchley | 11/04 | 21/45 |
| Milton Keynes Central | 11/12 | 21/40 |
| Hanslope Jn | 11/18 | 21/33 |
| Weedon | - | 21/23 |
| Northampton | 11/31 | - |
| Long Buckby | 11/42 | - |
| Hillmorton Jn | 11/51 | 21/14 |
| Rugby | 11/53 | 21/13 |
| Trent Valley Jn | 11/56 | 21/09 |
| Nuneaton | 12/08 | 20/49 |
| Tamworth LL | 12/29 | 20/31 |
| Lichfield TV LL | 12/36 | 20/26 |
| Armitage Jn | 12/40 | 20/22 |
| Colwich | 12/46 | 20/17 |
| Stafford | 12/55 | 20/12 |
| Norton Bridge | 12/59 | 20/07 |
| Madeley | 13/13 | 19/57 |
| Crewe | 13/23 | 19.43a ~ 19.46d |
| Crewe Coal Yard SB | 13/24 | 19/37 |
| Winsford SB | 13/32 | 19/27 |
| Weaver Jn | 13/39 | 19/21 |
| Acton Grange Jn | 13/43 | 19/14 |
| Warrington Bank Quay | 13/45 | 19/12 |
| Winwick Jn | 13/50 | 19/09 |
| Springs Branch Jn | 13/58 | 19/01 |
| Wigan Station Jn | 13/58 | 19/00 |
| Wigan North Western | 14.00a | 18.58d |