30th July 2005
Pathfinder Tours
Snowdonian II
| | |
| --- | --- |
| Locos Used | 37401 & 37427 |
| Stock Used | 5365+5040+5009+1863+3107+3112+3140+3122+21272 |
Route:
1Z37 : Bristol Temple Meads to Pwllheli
1Z38 : Pwllheli to Bristol Temple Meads
Loco(s)
Route
37427 + 37401
Bristol Temple Meads – Bristol Parkway – Yate – Cheltenham – Bromsgrove –

Kings Norton – Bordesley Jn – Proof House Jn – Birmingham New Street – Dudley Port – Wolverhampton – Wellington – Abbey Foregate Jn – Sutton Bridge Jn – Welshpool – Machynlleth MH2 signal

37401

Machynlleth MH2 signal -

Machynlleth

- Tywyn – Barmouth – Porthmadog – Pwllheli
37401
Pwllheli – Porthmadog – Barmouth – Tywyn – Machynlleth
37427 + 37401
Machynlleth – (reverse of outwards route) – Bristol Temple Meads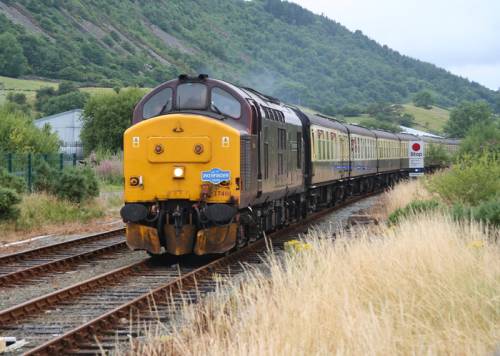 37401 is seen arriving at Porthmadog on the return leg (photo: Janet Cottrell)
Source : Janet Cottrell



Tour Review
(by Janet Cottrell)
0420 on a Saturday morning, I'm not due at work for 0600 today so what's going on? Correct it's Railtour time again, the only other reason for my being in the land of the living at this obscene time in the morning – at least one gets paid for work.
Today would hopefully bring my first trip to Pwllheli since June 1992 (31146 & 31147 if anybody out there is interested). Ever since the announcement that the Barmouth Bridge had been cleared for loco haulage a trip down here went straight on the "must do" list, the only minor problem being to decide which one as none of the dates coincided with any of my four-weekly Saturdays off.
Following previous debacles of postponements due to line closures (landslides) and diversions to Blackpool (poorly engines), there was a certain amount of praying that nothing else would go wrong, although to be fair Past Time Rail had successfully completed a visit way back in January and managed to repeat the feat two weeks previously to this tour.
One hurried car journey to Barnt Green later (made more fraught by a road closure en route) and we arrived with enough time to visit the local shop beforehand, which had been transformed into a Tesco local store since our last visit. The sign outside said that it was open from 0600, but it was now 0625 with still no sign of life so our money (along with many other peoples) was spent in the local store a short distance away instead.
There were a lot of people waiting on the platform and the thought that they were not all Pwllheli bound proved correct when 67030 rolled into the station with a Past Time Railtour to Edinburgh.
The train with the "real" power on the front was not far behind and coach A was leading, so there would be no catching up on lost sleep until the return journey, 37401 & 427 certainly ensured that. En route to Wales, the remains of Codsall's footbridge was noted dumped near the station, it was recently demolished accidentally by a rail – mounted crane…… oops!
We had gradually started gaining time along the stretch to Shrewsbury and the rare station avoiding line was negotiated without delay which meant that we arrived at Welshpool ten minutes early, this was in addition to a booked stand of nine minutes to cross a unit. This prolonged stop gave plenty of opportunities for photographs, but we were not helped by the leading engine being rather too close to the stop board for easy photting. Eventually a "Ginsters" class 158 turned up so it was back on board to continue westwards to Machynlleth where the train stopped at the home signal to detach 37427, the Barmouth Bridge only being deemed strong enough to suffer one class 37 at a time over it.
The run along the coast was most enjoyable, the weather was reasonable and 401 was very entertaining. All the way down the line there were plenty of normals who stopped what they were doing to gawp and wave at us and this only for a diesel, imagine what it will be like when the kettle specials run next month.
At Tywyn we exchanged greetings with a Tal-y-llyn train, likewise with a Welsh Highland train at Porthmadog. There was a half hour pause here so we had time to walk back for a quick bellow at the ex Polish Railways narrow gauge diesel in the platform there. Two friends were on the narrow gauge train who said that this was the first time that this particular engine had worked passenger trains on the line, there was just enough time to wave them off before rejoining the larger train for the run to Pwllheli. After coming all this way, there was no way that we were going to flag the last few miles.
With due respect to the place, Pwllheli is not the most exiting destination on earth, an hour here gave just enough time to wander round to the siding and take some phots of our train after it had run round and return to catch the 1322 departure back to Porthmadog. Thanks, by the way to the person who had left the plastic garden chair opposite the siding, it was just the right height to stand on and see over the fence to take pictures.
Quite a few others also caught the unit and we were soon back in Porthmadog to scoop in the PKP diesel and have a chat to our two friends that we had briefly seen earlier.
It started raining quite heavily whilst we were at the far end of the line and that, coupled with the need to eat made us opt for a walk down the High Street after one return journey. Suitably fed, and the rain having ceased, we then walked down to the Festiniog Railway station just in time to view a departure before wandering back to the other side of town. There was no need to rush, although our train turned up on time, the unit we were due to cross was rather late so we had to wait. No problem, we were booked 16 minutes at Barmouth but that unit was late as well so we were now some 25 minutes behind time with virtually no opportunity to make it up, a fact which was causing a fellow railtourer some grief as he needed to be on the last London train from Birmingham booked 22 minutes behind the tour. Despite the prompt addition of 37427 back at Machynlleth, we dropped some more minutes and approached Shrewsbury praying that the all stations service would not be allowed out in front of us. Fortunately we got to Abbey Foregate with about three minutes to spare and were allowed to go first but, in spite of a good run, we got to Wolverhampton just in time to see the tail-lights of the last London slip out of the station ahead of us.
Perversely, we then proceeded to pick up a few minutes south of Birmingham but it was too late for our friend. He had failed to find any alternative means of getting to London so the only option left was for us to give him a lift to Milton Keynes for the 0010 bus to Euston, enjoy!
Apart from the delay on the return journey (which did not really affect us but it does show up the problem of trying to get to and from these tours using public transport) it was an excellent day out and one that I hope can be repeated numerous times given the amount of off train possibilities in that area of Wales.
Janet Cottrell



Timings (Booked & Actual)
(from Janet Cottrell)
| | | | | | |
| --- | --- | --- | --- | --- | --- |
| Location | Booked | Actual | | Booked | Actual |
| Bristol Temple Meads | 05.08d | 05.08 | | 23.22a | 23.44 |
| Dr Days Jn | 05/11 | 05/10 | | 23/20 | 23/41 |
| Stapleton Road | 05/12 | 05/10 | | 23/19 | 23/39 |
| Filton Abbey Wood | 05/18 | 05/15 | | 23/15 | 23/37 |
| Bristol Parkway | 05.22a ~ 05.24d | 05.21 ~ 05.25 | | 23.10a ~ 23.12d | 23.32 ~ 23.35 |
| Westerleigh Jn | 05/30 | 05/30 | | 23/04 | 23/27 |
| Yate | 05/32 | 05/34 | | 23/02 | 23/23 |
| Charfield | 05/38 | 05/40 | | 22/55 | 23/20 |
| Cam & Dursley | 05.45a ~ 05.47d | 05.45 ~ 05.48 | | 22.45a ~ 22.47d | 23.10 ~ 23.13 |
| Standish Jn | 05/53 | 05/54 | | 22/41 | 23/04 |
| Barnwood Jn | 05/59 | 05/59 | | 22/34 | 22/59 |
| Cheltenham Spa | 06.05a ~ 06.08d | 06.05 ~ 06.08 | | 22.26a ~ 22.28d | 22.50 ~ 22.53 |
| Ashchurch | 06/16 | 06/15 | | 22/20 | 22/45 |
| Abbotswood Jn | 06/24 | 06/24 | | 22/14 | 22/36 |
| Stoke Works Jn | 06/33 | 06/33 | | 22/07 | 22/27 |
| Bromsgrove | 06/35 | 06/34 | | 22/05 | 22/26 |
| Barnt Green | 06.42a ~ 06.45d | ??.?? ~ 06.46 | | 21.59a ~ 22.01d | 22.20 ~ 22.20 |
| Longbridge | 06/49 | 06/49 | | 21/56 | 22/17 |
| Kings Norton | 06/53 | 06/53 | | 21/53 | 22/13 |
| Bordesley Jn | 09/59 | 07/00 | | 21/35 | 22/05 |
| St Andrews Jn | 07/02 | 07/01 | | 21/32 | 22/04 |
| Proof House Jn | 07/06 | 07/05 | | 21/29 | 22/01 |
| Birmingham New Street | 07.12a ~ 07.15d | 07.12 ~ 07.16 | | 21.22a ~ 21.27d | 21.56 ~ 21.58 |
| Soho South Jn | 07/20 | 07/21 | | 21/17 | 21/51 |
| Galton Jn | 07/22 | 07/23 | | 21/15 | 21/48 |
| Dudley Port | 07/26 | 07/26 | | 21/10 | 21/41 |
| Wolverhampton | 07.34a ~ 07.36d | 07.34 ~ 07.36 | | 20.59a ~ 21.02d | 21.27 ~ 21.31 |
| Wolverhampton North Jn | 07/38 | 07/37 | | 20/56 | 21/24 |
| Cosford | 07/47 | 07/46 | | 20/47 | 21/16 |
| Madeley Jn | 07/52 | 07/52 | | ? | ? |
| Wellington | 08/03 | 07/54 | | 20/34 | 21/06 |
| Abbey Foregate Jn | 08/20 | 08/08 | | 20/22 | 20/57 |
| Sutton Bridge Jn | 08.25a ~ 08.26d | 08.12 ~ 08.13 | | 20/18 | 20/53 |
| Welshpool | 08.48a ~ 08.57d | 08.35 ~ 08.57 | | 19.55a ~ 19.58d | 20.32 ~ 20.32 |
| Newton | 09.16a ~ 09.17d | 09/13 | | 19.34a ~ 19.35d | 20.04 ~ 20.13 |
| Caersws | 09/25 | 09/22 | | 19/26 | 20/04 |
| Talerdigg | 09.35a ~ 09.36d | 09/34 | | 19.15a ~ 19.16d | 19.52 ~ 19.53 |
| Machynlleth | 09.53a ~ 10.04d | 09.51 ~ 10.01 | | 18.45a ~ 18.57d | 19.21 ~ 19.32 |
| Dovey Junction | 10.10a ~ 10.11d | 10/07 | | 18.37a ~ 18.38d | 19/10 |
| Aberdovey | ? | ? | | 18/26 | 18/57 |
| Tywyn | 10.28a ~ 10.29d | 10.26 ~ 10.27 | | 18.19a ~ 18.20d | 18.50 ~ 18.51 |
| Llwyngwril | 10/37 | 10/37 | | ? | ? |
| Fairbourne | 10/43 | 10/43 | | ? | ? |
| Barmouth | 10.51a ~ 10.53d | 10.48 ~ 10.53 | | 17.42a ~ 17.58d | 17.56 ~ 18.24 |
| Harlech | 11.13a ~ 11.14d | 11/10 | | 17.20a ~ 17.22d | 17.34 ~ 17.36 |
| Talsarnau | 11/18 | 11/15 | | ? | ? |
| Penrhyndeudraeth | 11/20 | 11/19 | | 17/04 | 17/25 |
| Minffordd | 11.24a ~ 11.27d | 11.22 ~ 11.24 | | 16.57a ~ 16.58d | 17.20 ~ 17.22 |
| Porthmadog | 11.33a ~ 12.03d | 11.32 ~ 12.01 | | 16.49a ~ 16.51d | 16.49 ~ 17.15 |
| Pwllheli | 12.22a | 12.22 | | 16.30d | 16.30 |