23rd July 2005
Past Time Rail
The Royal Duchy
| | |
| --- | --- |
| Loco Used | D1015 'Western Champion' |
| Stock Used (1) | 3132+3131+1671+3110+3100+3144+1813+4996+5008+4949+21245 |
Route:
1Z52 : Paddington to Penzance
1Z53 : Penzance to Paddington
| | |
| --- | --- |
| Loco | Route |
| D1015 | London Paddington - Slough - Reading - Southcote Jn - Bedwyn - Westbury - Castle Cary - Exeter St Davids - Plymouth - Penzance |
| D1015 | Penzance - (reverse of outward route) - London Paddington |
Notes :
(1) 21245 at rear of train in both outward and return directions.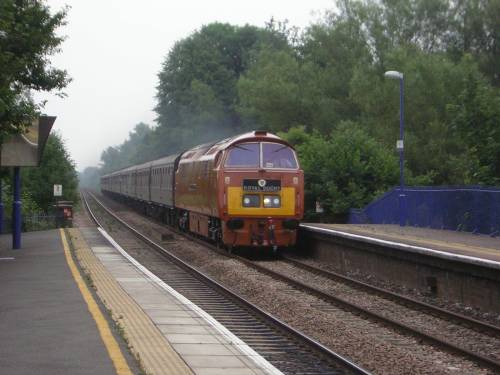 D1015 passing through Kintbury on the outward leg (photo: Nick Wason)
Sources : various including Tim Young & Janet Cottrell



Tour Review
(by Dan Augood)
It hasn't rained for months in London - well, at least, not so as you'd notice. There's been the odd desultory shower, even the occasional thunderstorm, but basically, we're in drought conditions here, and something needs to be done. Well, cometh the hour, cometh the man, or at least, the locomotive - so to speak. If the weather won't come to you, you must go to the weather, or something. Who better than good old D1015 to take us to some proper British summer weather?
I should point out at this stage that my opinion of this day out would always be coloured by the fact that I was on the first running of this tour (or version 1.0, as we say in the trade) two years ago. A tour memorably run on the second hottest day of the hottest summer, ever. A tour which was also my first time with a Western - and you never forget your first time, do you? A tour, the second half of which was spent in the airtight hell-hole that was the ale car in temperatures well to the north of 100F. A truly memorable day out - there's nowhere on earth I'd rather have been.
So how about last Saturday then? 05:15, befuddled by five light and bitters on the Friday night followed by, oh I don't know, about four hours sleep. Not a great start. Stock late into Padders, and a start about a quarter of an hour down. Not really a problem, given the usual sluggish timings to Reading, so we settled into a nice pootle down to the West Country, notable only really for another episode in my long running history of getting the seat next to one of the more, well let's just say 'generously proportioned' members of the railtouring community. It would be more of a cross to bear, but I commute daily on South West Trains, so I'm used to it. (Anybody one the High Peaks Hustler in February? That's right, I was the one in coach C with his face pressed to the glass with blue lips, bulging eyes and whose ribcage made those entertaining cracking noises every time we went over a set of points). It's normally Pathfinder who do this to me, they must have been talking to past-time.
West of Westbury, (I'm sure there's a novel in there somewhere), it's what the Americans like to call 'hammer time'. Some very entertaining running down to Exeter, with top speed (confirmed via the GPS supplied by one of the people at the next table - I'm totally getting one of those for Christmas) attained somewhere en route, let's say, Tiverton, although to be honest, I wasn't paying that much attention.
After that, all the good stuff you come to expect from a trip to this part of the world, the sea wall, Dainton, Rattery, a nice view of Truro, and there we were at Penzance, arriving at about the same time as the weather, although from opposite directions. Now the last time I did this, I strolled up towards long-rock, and cooled my feet in the ocean while waiting for the stock-reversing photo-opportunity. Yesterday, this would would have been enough of a feat given that the tide was out, but, as I keep saying, so was the weather. Now I've alluded to the weather a lot, so here's the low-down. Drizzle was just making the transition to serious rain as we left the station. Like a baby gearing up for a good cry it just got worse and worse and worse. In the week I'd been cursing Notwork Rail for robbing me of the advertised three hour break in sunny Penzance - A break I'd mentally undressed in great detail, maybe spending a couple of hours under a parasol on the terrace of some nice, uncomplicated seafront tratoria, with some locally caught seafood and a nice bottle of chilled Chablis, or perhaps a crisp Loire Valley Sauvignon Blanc. Very Comfortable. An hour into our stay and I'm cursing them for not being able to turn us around quicker as I watch rivers of water run down the main drag, from inside a dismal pub, listening to the distant rumble of thunder (or was it the distant rumble of England's batting collapsing back whence we'd come).
The walk back to the station was through the real-deal, full-on, lashing, coruscating rain, driving from all angles, soaking everything. I suppose there are ways that this experience could have been more different to two years ago, but none that don't involve pole dancing. Back to the station, and a wave of the wand from the farce-fairy sees D1015 head back to Long Rock for what's known in the trade as a 'Splash and Dash'. I got that last nugget from a fellow passenger who responded to my 'So we'll be here for a while yet then' remark with an unbearably smug 'That would appear to be the logical deduction', delivered in his best Simpsons 'comic book guy' tone of voice. Well really. Some people - Why do I always get them?
I'm not good on keeping railtour timings, but departure was fairly late (about half an hour?) in a train that was powerfully reminiscent of wet dog. Cornwall was uneventful, whilst Plymouth was punctuated by the sighting of an HST car called 'The Black Horse' with a Lloyds Bank crest above it. Oh, for the love of god! Surely this is a new low (Comfortably Surpassing 'Mum in a Million 2002, Doreen Scanlon"). Years of crap like "Stourbridge Industrial Fastenings - 20 years of Quality Mark(TM) Assured Excellence" has been bad enough, but this is just an advert. When I was a kid, Locomotives had names with things like 'Wolf' in them. Names that implied power and mystery, names of things that could destroy a whole city on a whim (Conqueror, anyone?). Names that said, "Don't mess with me, I'm a hundred or so tonnes of slavering beast", straining at the leash. God, who thinks of this stuff? Modern life is rubbish.
But anyway, ten minutes or so of fulminating about 'the Black Horse', punctuated by a spirited assault on Hemmerdon Bank, and my critical facilities began to noticeably diminish. I was on the slide. A couple in the bar-car on the way into Penzance, and one in the pub, and all of the last few days excesses began to catch me up with interest. Up late every night last week, five light and bitters in the Spring Grove on the Friday - My sins had found me out. Blood sugar through the floor, that pasty I had in Penzance sitting like half a brick in my stomach (I only ate half the pasty), I'd become a two-pot screamer. Sliding into oblivion, we hit the sea wall, I just hit the wall. What followed was viewed through that fog of tiredness that usually only follows a severe bout of jet-lag. unable to get comfortable enough to get to sleep, I just had to put up with it. Leaving Exeter, we uncorked a bottle of 1962 vintage chateau de thrashage and set out for the desert. But around Westbury, it became apparent that this bottle was corked. Sluggish exit from Westbury, slow(ish) running, and absence of the usual pall of smoke from the starboard side indicated lack of an engine. What was left was gratifyingly noisy, and having outrun the Penzance-soaking weather front, we now enjoyed the best weather of the day, glorious late evening summer sunshine, and the Kennet and Avon canal - glorious.
Reading, a noisy departure from Slough, In pursuit of my engine theory, I timed us off a milepost at 72 miles per hour at post 24. Paddington was achieved about fifty minutes down. A chat with the thrash waiter at Padders (Okay, the wine/thrash analogy wasn't very good to start off with, and I'm just scraping the bottom of the barrel with that last remark - so we'll just say "man I met on the platform" instead) confirmed my engine fears. And then I went home - I feel I should say more, but there's not much to add really. Oh, alright then, Bakerloo line to waterloo, SWT 22:42 to Basingstoke as far as Surbiton. What you want more details? OK - worked by 450102.
And there we are, good fun, all things being equal. If I'm implying that this wasn't quite as good as two years ago, that's basically because the former was an incredibly hard act to follow. All concerned did well yesterday, especially PTR, an organisation for whom I've a lot of love, my only complaint is that they don't do enough Diesel tours right now. So come on chaps, lets do it again - real soon.
Dan Augood



Timings (Booked & Actual)
| | | | | | |
| --- | --- | --- | --- | --- | --- |
| Location | Booked | Actual | | Booked | Actual |
| Paddington | 07.16d | 07.25 | | 21/14a | 21.59 |
| Ladbroke Grove | 07/19 | 07/30 | | 21/10½ | 21/56 |
| Acton West | 07/22½ | 07/33 | | 21/06½ | ? |
| Southall | 07/26½ | 07/39 | | 21/01 | 21/45 |
| Airport Jn | 07/31 | 07/43 | | 20/59 | 21/43 |
| Slough | 07.38½a ~ 07.40½d | 07.49 ~ 07.51 | | 20.48½a ~ 20.50½d | 21.31 ~ 21.33 |
| Maidenhead | 07/47½ | 07/58 | | 20/40 | 21/25 |
| Twyford | 07/53½ | 08/03 | | 20/35 | 21/19 |
| Reading | 08.01½a ~ 08.04½d | 08.08 ~ 08.12 | | 20.27a ~ 20.30d | 21.07 ~ 21.11 |
| Southcote Jn | 08/08½ | 08/16 | | 20/23 | 20/58 |
| Newbury | 08/22½ | 08/30 | | 20/06 | 20/41 |
| Bedwyn | 08/37 | 08/43 | | 19/55 | 20/30 |
| Woodborough | 08/48 | 08/54 | | 19/44 | 20/19 |
| Lavington | 08/54 | 08/58 | | 19/36 | 20/10 |
| Heywood Road Jn | 09/01 | 09/04 | | 19/30 | 20/04 |
| Westbury | 09.04a ~ 09.15d | 09.07 ~ 09.16 | | 19.23a ~ 19.27d | 19.56 ~ 19.59 |
| Fairwood Jn | 09/20 | 09/24 | | 19/20 | 19/53 |
| Clink Road Jn | 09/24 | 09/27 | | 19/16 | 19/51 |
| Blatchbridge Jn | 09/26 | 09/29 | | 19/14 | 19/49 |
| Castle Cary | 09/38 | 09.39a ~ 09.39d | | 19/02 | 19/39 |
| Cogload Jn | 09/56 | 09/56 | | 18/43 | 19/23 |
| Taunton | 10/00 | 09/58 | | 18/38 | 19/18 |
| Tiverton Parkway | 10/13 | 10/11 | | 18/26 | 18/56 |
| Cowley Bridge Jn | 10/26 | 10/21 | | 18/12 | 18/43 |
| Exeter St Davids | 10.28a ~ 10.30d | 10.25 ~ 10.29 | | 18.06a ~ 18.09d | 18.36 ~ 18.40 |
| Dawlish Warren | 10/41½ | 10/41 | | 17/52 | 18/27 |
| Newton Abbot | 10/51 | 10/53 | | 17/35 | 18/17 |
| Totnes | 11/05 | 11/04 | | 17/23 | 18/08 |
| Ivybridge | 11/22 | 11/22 | | 17/10 | 17/56 |
| Hemerdon | 11/27 | 11/27 | | 17/05 | 17/50 |
| Lipson Jn | 11/32 | 11/31 | | 16/57 | 17/45 |
| Plymouth | 11.35a ~ 11.37d | 11.35 ~ 11.38 | | 16.52a ~ 16.54d | 17.39 ~ 17.41 |
| St Budeaux Jn | 11/44 | 11/45 | | 16/47 | 17/35 |
| Saltash | 11/48 | 11/48 | | 16/43 | 17/30 |
| St Germans | 11/54 | 11/54 | | 16/36 | 17/24 |
| Liskeard | 12/05 | 12/04 | | 16/27 | 17/15 |
| St Pinnock Viaduct East | 12/10 | 12/10 | | 16/21 | 17/07 |
| Largin | 12/11 | 12/11 | | 16/20 | 17/06 |
| Lostwithiel | 12/19 | 12/20 | | 16/12 | 16/56 |
| Par | 12/26 | 12/26 | | 16/06½ | 16/50 |
| Burngullow Jn | 12/33 | 12/35 | | 15/59 | 16/43 |
| Probus | 12/40 | ? | | 15/51 | 16/35 |
| Truro | 12/47 | 12/48 | | 15/43 | 16/29 |
| Penwithers Jn | 12/48½ | ? | | ? | ? |
| Camborne | 13/12 | 13/11 | | 15/29 | 16/12 |
| St Erth | 13/25 | 13/23 | | 15/19 | 15/56 |
| Long Rock | 13/32 | 13/28 | | 15/14 | 15/49 |
| Penzance | 13.36a | 13.31 | | 15.10d | 15.44 |