23rd July 2005
A1 Steam Locomotive Trust
The Talisman
| | |
| --- | --- |
| Loco Used | steam : 6233 |
| Stock Used | 13 coaches |
Route:
1Z60 : Kings Cross to Darlington
1Z61 : Darlington to Kings Cross
| | |
| --- | --- |
| Loco | Route |
| 6233 | London Kings Cross - (via ECML) - Peterborough - Peterborough West Yard - Helpston Jn - (via ECML) - Loversall Carr Jn - Doncaster RMT - Doncaster - (via ECML) - Darlington |
| 6233 | Darlington - (reverse of outward route) - London Kings Cross |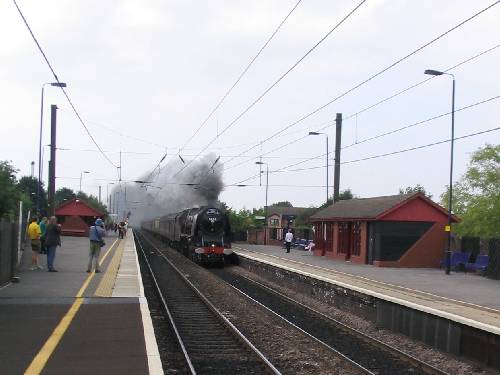 6233 heads south through Northallerton (photo: Guy Carr)
Sources : various including Sean Emmett



Tour Review
(by Sean Emmett)
I've been travelling on railtours since the 1970s, and steam since 1986, and this must rank as one of the best if not the best for sustained performance. A wonderful day out!
A remarkably tough schedule, fast lines all the way except Peterborough to Stoke in both directions. Nice clean start from the 'Cross and full reg up to Potters Bar, except for a slight easing for a TSR warning. When I saw the schedule I thought 14 mins to Potters Bar for the first 12 3/4 miles was always going to be "interesting" and so it proved, but we soon clawed back the lost time. Pity about the 75 mph limit, (strictly observed) as we could easily have reached 90 or so at Arlesey.
Checked into Peterborough behind the unit which left before us at 06.21 and then waiting for a Central Trains Turbo to clear the platform. Still, we achieved even time (75 min 36 sec) inclusive of 3 mile dawdle and 2 minute stop.
Schedule appeared to suggest we'd be turned out onto the fast at Tallington after the 08.00 Kings Cross - Edinburgh, but ahead of the 08.10 KX - Leeds which was booked to call Grantham & Newark. But the 08.00 was late so we continued up Stoke bank on the slow line at 60 mph or so with seemingly very little effort, before waiting for over 5 minutes at Stoke summit for the tardy 08.00. Then away we went, running the 54 1/2 miles from post 99 1/2 to Donny RMT (approx post 154) in under even time (52min 55 sec), inclusive of a short signal stop.
Ready to go on time from RMT but thwarted by signals and a late running Leeds Eurostar - so away 10 late. Enjoyed nice race with said Eurostar as we both left Doncaster. TSR near Shaftholme Jn prevented us from making up time to York.
York to Darlington in 38 mins would have required 70 mph start to stop. An initial slip, but then superb start out of York. But 75 limit and cautious approach meant time of 41 min 23 sec, and 16 late at Darlington.
One minute late leaving Darlington on the return with a new crew. Weather had brightened up. Only cloud was a late running GNER approx 20 mins behind us which could have meant a diversion to the slow line, but happily spirited running on the fast after a steady start saw us into York in 40 min 03 sec. Still no sign of the late GNER so we continued with a smart run to Doncaster, spoiled by TSR at Shaftholme Jn and severe signal check approaching Donny to cross over to the RMT.
Away 2 mins early from water stop, which proved useful on the tightly-timed stretch to rejoin ECML at Loversall Carr Jn right time, then super run all the way through Retford, Newark & Grantham and up to Stoke, but alas turned slow line as booked. A Central 170 caught us up near Tallington and slowly eased past us.
After watering in the yard and pulling into the station the final stretch from Peterborough promised a 68 min run at an average of 67.4 mph. Sadly not to be, as only hint of trouble all day was a slow restart and only moderate climb to Leys (MP 62), engine possibly priming a little? More worries about being turfed onto the slow but once through Huntingdon 9 late at a full 75 mph we never looked back and congrats to Network Rail for having the confidence to keep us on the fast where we didn't disappoint. Minimum on the long 1:200 up to Stevenage approx 63 mph. Triumphal final arrival KX platform 7, in 77 min 37 sec.
Sean Emmett



Timings (Booked & Actual)
(from Sean Emmett)
M.C
Location
Booked
Actual
Booked
Actual
M.C
0.00
Kings Cross
06.30d
06.30
21.42a
21.52
76.29
0.55
Belle Isle
06/32
06/32
21/40
21/49
75.54
2.41
Finsbury Park
06/35
06/37
21/35
21/45
73.68
4.78
Alexandra Palace
06/37
06/40
21/33
21/43
73.68
12.57
Potters Bar
06/44
06/48
21/27
21/36
63.52
20.25
Welwyn Garden City
06/51
06/54
21/21
21/30
56.04
21.20
Digswell Jn
06/52
06/55
?
?
?
23.68
Woolmer Green Jn
06/54
06/57
21/18
21/27
52.41
27.45
Stevenage
06/57
07/00
21/15
21/24
48.64
31.74
Hitchin
07/00
07/03
21/11
21/20
44.35
44.10
Sandy
07/10
07/12
21/01
21/10
32.19
58.70
Huntingdon
07/25
07/24
20/49
20/58
17.39
-
Connington South Jn
20/41
20/48
9.26
69.12
Holme Jn
07/33
07/33
76.29
0.00
Peterborough
07.40a ~ 07.42d
07.46 ~ 07.49
20.32a ~ 20.34d
20.27 ~ 20.35
0.00
1.00
1.00
0.00
Peterborough West Yard
07w47a ~ 08w27d
07.52 ~ 08.28
19w47a ~ 20w27d
19.45 ~ 20.22
0.00
76.48
?
New England North Jn
?
?
19/43
19/41
75.71
4.27
Helpston Jn
08/36
08/42
?
?
?
7.41
Tallington Jn
08/56
08/47
19/33
19/31
69.07
22.32
Stoke Jn
09/07
09/11
19/18
19/18
54.16
28.09
Grantham
09/11
09/17
19/13
19/13
48.39
32.27
Barkston South Jn
09/15
09/20
19/09
19/09
44.21
42.59
Newark Northgate
09/23
09/28
19/00
19/01
33.69
61.20
Retford
09/38
09/43
18/44
18/46
15.28
74.51
Loversall Carr Jn
09/50
09/54
18/33
18/33
1.77
76.48
0.00
Doncaster RMT
09w55a ~ 10w35d
10.02 ~ 10.45
17w48a ~ 18w28d
17.49 ~ 18.26
0.00
34.49
2.06
Doncaster
10/45
10/55
17/38
17/41
32.43
6.25
Shaftholme Jn
10/48
10/59
17/34
17/34
28.24
15.25
Temple Hirst Jn
10/58
11/06
17/25
17/26
19.24
21.04
Hambleton North Jn
11/01
11/10
17/20
17/22
13.45
29.08
Colton Jn
11/08
11/17
17/13
17/15
5.41
34.49
0.00
York
11.13a ~ 11.15d
11.25 ~ 11.28
17.05a ~ 17.07d
17.01 ~ 17.07
0.00
44.10
1.50
Skelton Jn
11/17
11/32
17/02
16/58
42.40
9.49
Tollerton Jn
11/23
11/39
16/54
16/52
34.41
22.16
Thirsk
11/33
11/49
16/42
16/42
21.74
29.76
Northallerton
11/39
11/55
16/35
16/36
14.14
44.10
Darlington
11.53a
12.09
16.20d
16.21
0.00