15th - 16th July 2005
Pathfinder Tours
The Celtic Freighter
| | |
| --- | --- |
| Locos Used | 37029, 37229, 66036, 66045, 66232 & 92027 |
| Stock Used | 21272+3146+3121+3148+3140+3112+3107+1863+5009+4927+5040+5365 |
Route:
1Z66 : Birmingham International to York
1Z67 : York to Glasgow Central
1Z20 : Glasgow Central to Birmingham International
| | | |
| --- | --- | --- |
| Date | Loco(s) | Route |
| 15/07 | 66036 | Birmingham International - Stechford - Proof House Jn - Birmingham New Street - Soho South Jn - Soho North Jn - Dudley Port - Wolverhampton - Bushbury Jn - Stafford - Norton bridge - Crewe - Wilmslow - Stockport - Guide Bridge - Stalybridge - Huddersfield - Wakefield Kirkgate - Castleford - Milford Jn - Church Fenton - York |
| 16/07 | 37229 + 37029 | York - (via ECML) - Monktonhall Jn - Millerhill Yard Jn - Niddrie West Jn - Craiglockhart Jn - Slateford Jn - Midcalder Jn - Shotts - Mossend East Jn - Mossend North Jn - Whifflet South Jn - Sunnyside Jn - Easterhouse - High Street Jn - Shields Jn - Cardonald Jn - Deanside Loop |
| 16/07 | 37029 + 37229 | Deanside Loop - Cardonald Jn - Shields Jn - (via Through Siding) - Bridge Street Jn - Glasgow Central |
| 16/07 | 66045 (1) | Glasgow Central - Eglinton Jn - Larkfield Jn - Polmadie Clydesdale Loop |
| 16/07 | 37029 + 37229 (2) | Polmadie Clydesdale Loop - Larkfield Jn - Muirhouse South Jn - Barrhead - Kilmarnock - Riccarton |
| 16/07 | 66045 (1) | Riccarton - Kilmarnock |
| 16/07 | 37029 + 37229 (2) | Kilmarnock - Mauchline Jn - Bank Jn - Knockshinnoch Washery |
| 16/07 | 66045 (1) | Knockshinnoch Washery - Bank Jn (3) - Mauchline Jn |
| 16/07 | 37029 + 37229 (4) | Mauchline Jn - Bank Jn - Dumfries - Carlisle |
| 16/07 | 92027 | Carlisle - (via WCML) - Crewe |
| 16/07 | 66232 | Crewe - Stafford - Bushbury Jn - Wolverhampton - Dudley Port - Birmingham New Street - Stechford - Birmingham International |
Notes :
(1) 37029 + 37229 on rear.
(2) 66045 on rear.
(3) Booked reversal point was Bank Jn but for reasons unexplained EWS were unable to reverse there.
(4) 66045 on rear, shut-down.
Source : Gary Thornton (on the train throughout)



Tour Review
(from Gary Thornton)
How many of the passengers on this tour I wonder were heard to say at some stage "I'm getting too old to do overnights"? Quite a few I'll guess...at various stages I was one of them! With past history of railtours such as this which begin life advertising a number of freight branches but turn into something far less interesting by the time of running I, like some others, was a little reluctant to book immediately however the prospect of 24 hours in standard class meant a booking was put in to ensure first class seating was obtained.
Amazingly when the tickets were sent out it was confirmed the tour would run as advertised i.e. all the advertised branches making it through the planning and timetabling process! Only significant change was the loss of EWS 37's in favour of a DRS pair...again, with past history knocking on our door that wasn't a bad thing - we didn't want to end up having the tour messed about by having locos incapable of making it to the end of the journey.
Having been on holiday I planned to make a day of the Friday and travel up by rail and do a Centro Daytripper during the day then drop back to Birmingham International for the evening departure. When I checked for train times home from Birmingham International on Saturday however I realised it was a bus to Rugby so what would probably be a long and frustrating journey which would be the last thing I wanted after 24-36 hours out and about. Plan B: Lift organised with a friend who would be passing by on the M1. Arrival into International was early enough to permit a wander over to the airport and a look in the Ian Allan shop - not much available in the way of railway books but still interesting.
We arrived onto the station just before 66036 rolled in with the train.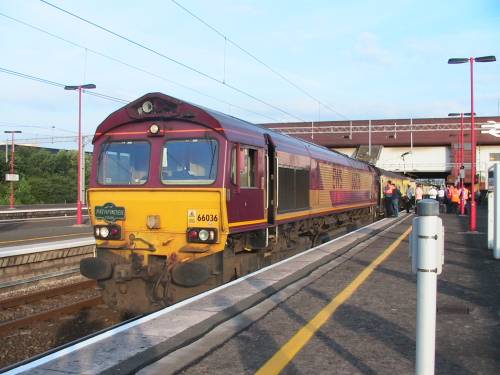 66036 waits time at the start of the tour at Birmingham International.
We took our seats in the leading first class coach (second in formation behind the staff/brake coach) and settled in for the journey northwards. Occasionally the 66 could be heard but, as is the norm, they are just a number to underline for haulage rather than an enjoyable thrash. Various travelling companions joined us as we headed to York via Birmingham New Street, Wolverhampton, Stafford, Crewe and the Pennines. We pulled into York a few minutes early and just before midnight. Four of us went out armed with the gen on food places still open and got "something" (being the appropriate word) to eat at a kebab shop round from the Maltings pub. Have to say it's the first kebab shop I've come upon with a security guard on the door!
Back to the station suitably refuelled and the DRS 37's were noted to still be sat in the Harrogate loop bay platform where we'd seen them on departing the station about half an hour earlier. At least the 66 was off the train. The 37's duly appeared and were hooked on....then unhooked individually and run off the train again. Huh? Turned out the drivers door on 37029 was locked and no-one had a key! Suitably re-marshalled we set off into the night between 15 & 20 minutes down but under no illusions we would soon catch that back with the timings we had!
Not much to say about the night thrash over the north end of the ECML...37's certainly performed well. I awoke at Millerhill to find us almost an hour early, though much festering in the Millerhill area got rid of most of it. I was awake to see my first bit of required track, Whifflet South Jn to Sunnyside Jn, with some extra value as we were held at the latter junction (still running early!). After threading our way through the Glasgow suburbs we arrived at our first freight branch - Deanside. A slow run down and hopes of seeing any of the shunters there were dashed, only one EWS 08 being seen and even then the number was not visible (n.b. from Website sources listing current 08 locations it was probably 08698). At the end of the line down the 37's ran round and we set off back along the branch, with more pausing to stop us gaining time on the slack schedule.
At Shields Junction we were routed along the very rare "through siding" to Bridge Street Jn on the approach to Glasgow Central High Level. A rather rapid stop on the approach to the line however (at what was reported to be a green signal) caused much discussion. Those nearer the front commented there was a ground signal which was at first in our favour then subsequently not. Driver not passed for route...change of mind...? I was later told the low morning sun had made it almost impossible to verify the signal aspect, making it appear "off" as we approached whereas this was not actually the case. Whatever, the situation was soon resolved and we duly set off over the "through siding" route into Glasgow Central.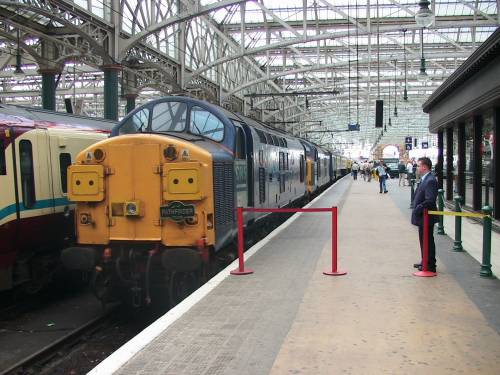 37029 & 37229 at Glasgow Central next to the worlds most pointless platform grip!
Quite a few of us headed over to Glasgow Queen Street to do some Turbostar spotting, the station staff there being kind enough to allow us all onto the platform (though a couple of suited bods did come along and queried some of our number as to what was going on). After scoring a few new ones it was back over to Central to find 66045 duly bolted to the front of our train and ready to get us re-started.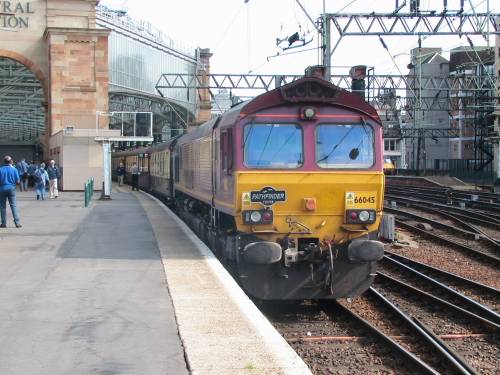 66045 at Glasgow Central, assisting engine for our next two branches.
66045's first run was only as far as Polmadie where we reversed to then thread our way through the maze of junctions south of Central and gain the line to Kilmarnock. Shortly after passing through Kilmarnock we took the freight line to Riccarton, making it to the gates of the oil terminal at the end. Re-tracing our steps to Kilmarnock station we then reversed and headed for our last freight branch of the day, Knockshinnoch Washery. This was also duly done, making it to a level crossing just short of the Washery. Much interest was shown on the way down as there is a brand-new branch going off this one - the tour brochure confirming that went to the Greenbank Open Cast loading site....apparently not cleared for passenger trains :-(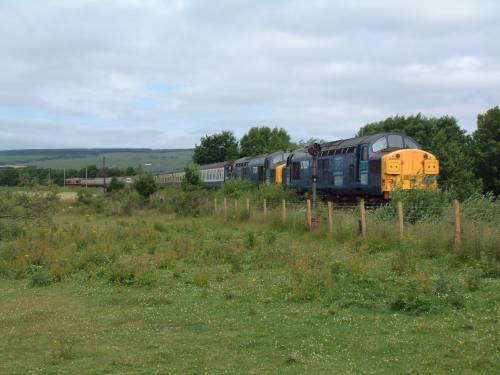 Our train on the Knockshinnoch Washery branch (photo: Rab Jacobs).
Re-tracing our steps we arrived at Bank Junction to reverse....but carried straight past. Apparently, though timed to reverse at the junction this was not possible so we headed about 10 miles back to Mauchline Jn to reverse. This manoeuvre put us about 15 late but once again it was not a concern looking at the timetabling homewards.
A canny run to Carlisle where the 37's were dropped in favour of a rather loud 92027 - another winner, my third of the day with just the 37's being had for haulage in the past.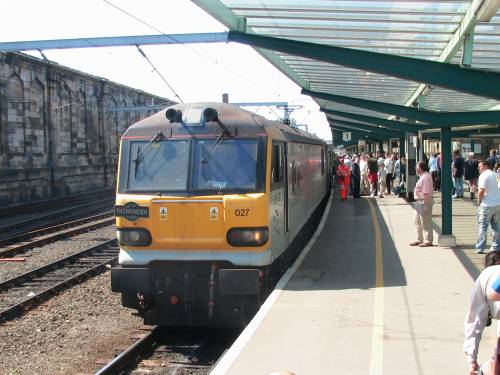 92027 is hooked on at Carlisle.
The 92 made very light work of our train and we arrived into Crewe about 15 early where we swapped to 66232, yet another winner. The shed kept up the pace and arrival home at Birmingham International was a whopping 34 early - quite a rare event for an enthusiasts railtour!
Verdict : Superb tour, well done to all involved for making it happen "as advertised", the exchange of 37's from EWS to DRS not spoiling it (in fact, many scored 37229 so it added to their day I'm sure)! Thanks to Steve also for being my chauffeur between Northampton & Birmingham!
Gary Thornton.



Timings (Booked & Actual)
(from Gary Thornton, Alan Sheppard, Martyn Brailsford, Rob Fraser & Alan Vickers)
M.C
Location
Booked (retimed)
Actual
0.00
Birmingham International
20.03d
20.04 [P1]
4.33
Stechford
20/08 (20/07)
20/09½
7.44
Proof House Jn
20/16
20/15
8.18
Birmingham New Street
20.19a ~ 20.27d
20.18 ~ 20.29½ [P8]
10.19
Soho South Jn
20/32
20/35
11.77
Galton Jn
20/34
20/37
15.42
Dudley Port
20/38 (20/37)
20/40
21.02
Wolverhampton
20.46a ~ 20.54d
20.47 ~ 20.54½ [P2]
21.45
Wolverhampton North Jn
20/56 (20/55)
20/57
36.33
Stafford
21.08a ~ 21.10d
21.11 ~ 21.13 [P5]
41.62
Norton Bridge
21/16
21/19
52.64
Madeley
21/25
21/28
59.06
Basford Hall Jn
21/30
21/34
60.70
Crewe
21.33a ~ 21.35d
21.39½ ~ 21.42½ [P5]
61.66
Sydney Bridge Jn
21/38
21/43½
65.40
Sandbach
21/43
21/47
78.11
Alderley Edge
21/57
21/58
79.55
Wilmslow
21/59
21/59
83.50
Cheadle Hulme
22/03
22/04½
84.45
Adswood Road Jn
22/04
22/06½
85.35
Edgeley Jn No.1
22/06 (22/05)
22/07½
86.00
Stockport
22c07a ~ 22c09d
22.09 ~ 22.11
86.55
Heaton Norris North Jn
22/11
22/13
87.37
Ash Bridge Jn
22/12
22/14
90.68
Denton Jn
22/24
22/20
91.55
Guide Bridge
22/28
22/29
93.78
Stalybridge
22/33
22/32
98.72
Greenfield
22/39
22/37
101.05
Diggle Jn
22/42
22/39
105.00
Marsden
22/46
22/43
112.06
Huddersfield
22/54
22/50½
116.20
Heaton Lodge East Jn
22/59
22/54
117.79
Mirfield East Jn
23/01
22/57
118.45
Thornhill LNW Jn
23/02
22/58
124.08
Horbury Jn
23/09
23/04
126.32
Wakefield Kirkgate
23/11
23/09½
130.25
Altofts Jn
23/16
23/12
133.03
Castleford
23/19
23/17
138.75
Milford Jn
23/26
23/26½
143.24
Church Fenton
23/31
23/32½
148.41
Colton Jn
23/41
23/34½
154.02
0.00
York
23L50a ~ 00L50d
23.42 ~ 01.07½ [P10]
1.51
Skelton Jn
00/56
01/1
9.40
Tollerton Jn
01/05
01/17
22.16
Thirsk
01/16
01/27
28.71
Longlands Jn
01/30
01/32
29.76
Northallerton
01/32
01/33
44.10
Darlington
01/46
01/44
56.17
Ferryhill South Jn
01/58
01/53
58.73
Tursdale Jn
02/01
01/55
66.13
Durham
02/08
02/00
75.29
Birtley Jn
02/25
02/06
79.42
King Edward Bridge South Jn
02/28
02/13
80.16
Newcastle
02/31
02/16
82.10
Heaton South Jn
02/36
02/20
96.66
Morpeth
02/50
02/32
115.05
Alnmouth
03/06
02/47
131.61
Belford LC
03/21
02/59
147.16
Berwick-upon-Tweed
03/35
03/12
150.03
Reston sig EG403
03/39
03/15
157.38
Reston
03/46
03/22
163.38
Grantshouse
03/51
03/26
175.47
Dunbar
04/01
03/35
186.72
Drem
04/09
03/44
198.37
Monktonhall Jn
04/43
03/56
200.23
Millerhill Yard Jn
?
04.01a ~ 04.22d
200.44
Millerhill S.S.
04c51a ~ 04c53d
04.28 ~ 04.31
201.40
Niddrie South Jn
04/57
04/36
202.15
Niddrie West Jn
04/59
04/38
207.28
Craiglockhart Jn
05/12
04/47½
207.76
Slateford Jn
05/14
04/49
217.25
Midcalder Jn
05/26
05/01
229.26
Benhar Jn
05/40
05/16
232.07
Shotts
05/48
05/20
239.02
Holytown Jn
06/02
05/30
239.79
Mossend East Jn
06/03
05/32
240.34
Mossend North Jn
06/04
05/32½
242.58
Whifflet South Jn
06/09
05/46½
244.00
Sunnyside Jn
06/13
05.52a ~ 06.01d
249.23
Shettleston
06/19
06/12
251.73
Bellgrove
06/23
06/16
252.11
High Street Jn
06/25
06/17
254.51
Shields Jn
06/43
06.27½a ~ 06.39
256.79
Cardonald Jn
06/47
06/45
257.35
Cardonald North Jn
06.52a ~ 07.12d
06.47 ~ 06.49
258.55
0.00
Deanside Loop
07.27a ~ 07.47d
07.03½ ~ 07.30½
1.20
Cardonald North Jn
08/02
07/44
1.56
Cardonald Jn
08/04
07.46½a ~ 07.53d
4.04
Shields Jn
08/07
08.00a ~ 08.29d
5.55
0.00
Glasgow Central
08.19a ~ 10.18d
[P11] 08.36a ~ 10.21 [P11]
0.68
Eglinton Street Jn
10/21
10/25
1.26
Larkfield Jn
10/23
10/27
2.23
0.00
Polmadie Clydesdale Loop
10.25a ~ 10.36d
10.32 ~ 10.35
0.77
Larkfield Jn
10/38
10/40
1.51
Muirhouse South Jn
10/40
10/41½
3.50
Busby Jn
10/43
10/44½
7.29
Barrhead
10/47
10/48
14.03
Lugton
10*55a ~ 11*10d
11.00 ~ 11.08
24.11
Kilmarnock
11/20
11/23
26.24
0.00
Riccarton
11.35a ~ 11.50d
11.39½ ~ 11.42
2.13
0.00
Kilmarnock
12.05a ~ 12.10d
(12.04a ~ 12.09d)
12.05 ~ 12.15 [P4]
9.23
Mauchline
12/22 (12/21)
12/30
13.61
Auchinleck
12/26
12/33
20.27
Bank Jn
12/35
12/42
21.66
0.00
Knockshinnoch Washery
12.48a ~ 12.56d
12.46 ~ 12.52
1.39
Bank Jn
13.11a ~ 13.19d
12/56
DIV
Auchinleck
DIV (13/08)
13/03
DIV
Mauchline Jn
DIV (13.13a ~ 13.19d)
13.11a ~ 13.15½d
DIV
Auchinleck
DIV (13/26)
13/22
0.00
Bank Jn
DIV
13/34
0.69
New Cumnock
13/21 (13/33)
13.35a ~ 13.35½d
?
New Cumnock Adv. Starter
?
13.37a ~ 13.41d
8.25
Kirkonnel
13/33 (13/41)
13/48
23.52
Thornhill
13/48
14/04
34.25
Holywood
13/59
14/16
37.57
Dumfries
14/04 (14/10)
14/19½
53.06
Annan
14/19
17.37½a ~ 14.42½d
62.07
Gretna Jn
14/28 (14/34)
14/54
70.64
0.00
Carlisle
14L41a ~ 15L30d
(14L47 ~ 15L30d)
15.05½ ~ 15.41 [P1]
17.69
Penrith
15/47
15/57
36.68
Tebay
16/06
16/10
50.01
Oxenholme
16/19
16/23
63.01
Carnforth North Jn
16/32
16/34
67.17
Morecambe South Jn
16/36
16/38½
69.09
Lancaster
16/38
16/40½
90.07
Preston
16.59a ~ 17.02d
16.57½a ~ 17.00d [P6]
95.43
Euxton Jn
17/08
17/06
97.46
Balshaw Lane Jn
17/10
17/07
105.17
Wigan North Western
17/18
17/15½
105.53
Wigan South Jn
17/19
17/16
106.36
Springs Branch Jn
17/20
17/17
113.31
Winwick Jn
17/26
17/21½
115.58
Dallam Jn
17/29
17/24
116.67
Warrington Bank Quay
17/30
17/26
118.54
Acton Grange Jn
17/32
17/29
124.37
Weaver Jn SB
17/39
17/32½
126.40
Acton Bridge
17/42
17/34½
128.23
Hartford Jn
17/49
17/36
132.12
Winsford SB
17/53
17/39
140.20
Crewe Coal Yard SB
18/01
17/46½
140.78
0.00
Crewe
18L03a ~ 18L23d
17.49 ~ 18.15½ [P12]
1.64
Basford Hall Jn
18/26
18/19½
8.06
Madeley
18/33
18/25
19.08
Norton Bridge
18/46
18/34
24.37
Stafford
18.55a ~ 19.05d
18.39½ ~ 18.41 [P4]
39.25
Wolverhampton North Jn
19/25
?
39.68
Wolverhampton
19.27a ~ 19.38d
18.57 ~ 19.01 [P4]
45.28
Dudley Port
19/46
19/09
48.73
Galton Jn
19/49
19/14
50.51
Soho South Jn
19/51
19/16
52.52
Birmingham New Street
19.56a ~ 20.04d
(19.56 ~ 20.07)
19.22 ~ 19.31½ [P7]
53.26
Proof House Jn
20/06½ (20/09½)
19/34½
56.37
Stechford
20/11 (20/14)
19/38
60.70
Birmingham International
20.17a (20.20a)
19/44 [P5]