9th July 2005
Worksop Open Day Committee
Worksop Cambrian Coast Express
| | |
| --- | --- |
| Locos Used | 37406 & 37416 |
| Stock Used | 3223+3240+3127+5023+5007+4986+4925+1832+5027+4996+17015 |
Route:
1Z56 : Worksop to Aberystwyth
1Z57 : Aberystwyth to Worksop
| | |
| --- | --- |
| Locos | Route |
| 37406 + 37416 | Worksop - Brancliffe East Jn - Nunnery Main Line Jn - Sheffield - Dore Station Jn - Chesterfield - Ambergate Jn - Derby - Stenson Jn - Burton-on-Trent - Wichnor Jn - Tamworth HL - Kingsbury Jn - Water Orton - Landor Street Jn - Proof Hosue Jn - Birmingham New Street - Soho South Jn - Galton Jn - Dudley Port - Wolverhampton - Telford Central - Abbey Foregate Jn - Sutton Bridge Jn - Welshpool - Newtown - Machynlleth - Dovey Junction - Aberystwyth |
| 37406 + 37416 | Aberystwyth - (reverse of outward route) - Water Orton - Whitacre Jn - Kingsbury Jn - (reverse of outward route) - Worksop |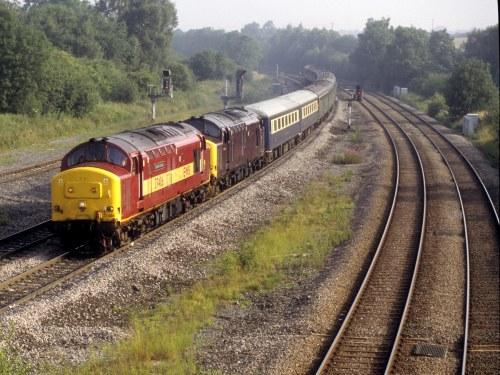 37406 & 37416 pass Clay Cross on the outward leg (photo: Roger Geach)
Sources : various including Rob Fraser & Solomon Riley



Tour Review
(by Solomon Riley)
The empty stock ran from Old Oak Common on time and ran round.
The 06.40 start time at Worksop was not on time and left 06.45 and went to Sheffield and pick up at 07.40 on platform 6!
The railtour ran on time with non-stop between Sheffield and Birmingham New Street has been done on both way!
During non-stop run, saw Vintage Trains 'The Yorkshireman' railtour hauled by steam 4936 'Kinlett Hall' being stopping at Derby on platform 2 while the 37/4s ran through platform 4 at same time at 08.18 which was on time.
10 minutes stop at Birmingham New Street (09.03-09.13), platform 7, for crew change.
Then non-stop again from Birmingham New Street to English Bridge Jct.
At Machylleth, Arriva Trains Wales services are all late running! 158819+840 arrived on time from 09.42 Pwllheli but 158825 from 11.32 Aberystwyth was 45 mins late, the railtour had to wait for 158's arrival, then left at 12.52 and went on to Aberystwyth that arrived 13.21!
On return, left on time at 16.05 then went through Machylleth without stop and very slow for allowing Network Rail signaller drop off that who used to work at Aberystwyth using ground frame during run round, then went on to Talerdigg Bank climb up and stop for the same 158s - 158840+819 on 14.33 Birmingham New Street, one hour late!
Next stop at Welshpool was waiting for next 158 service at 17.55 from 16.33 Birmingham-Aberstwyth, 158845 came 5 mins late, then fast to Sutton Bridge Jct then stop at English Bridge Jct, then signal given and lovely to see the 37/4s on the Abbey Foregate curve with giant Shrewsbury signalbox and went non-stop to Birmingham New Street, seeing the plenty of 87s, 390s with 57/3 drags and 47316/714 at Oxley Sidings and went through Wolverhampton new platform 4 and finally arrived at 19.26 on platform 1, half hour early due to slack 19 minutes pathing stop at Wolverhampton that has been ignored!
Stayed until 19.59 departure, photos took place while 57313 took 390040 on 19.18 Wolverhampton-London Euston through platform 3 at 19.41-44, railtour left at 20.00 then used via Whitarce Jct to allow 20.03 Voyager XC pass on main line, non stop to Sheffield while we saw steam 4936 again at Tapton Jct, north of Chesterfield!
After set down at Sheffield on platform 2, non-stop to Worksop and arrived on time at 21.54!
After set-down passengers finished, then the 37/4s pushed into Worksop Yard and switched off for the night.
Verdict:- I enjoyed the day out and pleased with 37406 is full ok following chaos on Pathfinder ' The Snowdonian I' on June 18th. Hot day throughout!
Solomon Riley



Timings (Booked Only)
| | | |
| --- | --- | --- |
| Location | Booked (out) | Booked (rtn) |
| Worksop | 06.40d | 21.54a |
| Shireoaks East Jn | 06/45 | 21/52 |
| Brancliffe East Jn | 06/51 | 21/50 |
| Kiveton Park | 06/57 | ? |
| Woodhouse Jn | 07/12 | 21/43 |
| Woodburn Jn | 07/27 | 21/37 |
| Nunnery Main Line Jn | 07/32 | 21/34 |
| Sheffield | 07.34a ~ 07.40d | 21.29a ~ 21.32d |
| Dore Station Jn | 07/47 | 21/23 |
| Chesterfield | 07/56 | 21/15 |
| Clay Cross South Jn | 08/00 | 21/12 |
| Ambergate Jn | 08/08 | 21/02 |
| Derby | 08/18 | 20/52 |
| Stenson Jn | 08/25 | 20/48 |
| North Stafford Jn | 08/26 | 20/47 |
| Burton-on-Trent | 08/31 | 20/39 |
| Wichnor Jn | 08/36 | 20/33 |
| Tamworth HL | 08/43 | 20/28 |
| Kingsbury Jn | 08/48 | 20/21 |
| Whitacre Jn | - | 20/15 |
| Water Orton | 08/52 | 20/10 |
| Landor Street Jn | 08/58 | 20/03 |
| Proof House Jn | 09/00 | 20/01 |
| Birmingham New Street | 09.03a ~ 09.13d | 19.56a ~ 19.59d |
| Soho South Jn | 09/17 | 19/51 |
| Galton Jn | 09/19 | 19/49 |
| Dudley Port | 09/25 | 19/45 |
| Wolverhampton | 09/33 | 19.19a ~ 19.38d |
| Wolverhampton North Jn | 09/36 | 19/16 |
| Cosford | 09/44 | 18/58 |
| Madeley Jn | 09/51 | 18/53 |
| Telford Central | 09/56 | ? |
| Wellington | 10/00 | 18/46 |
| Abbey Foregate Jn | 10/23 | 18/35 |
| Sutton Bridge Jn | 10.28a ~ 10.29d | 18.30a ~ 18.32d |
| Welshpool | 10.52a ~ 11.02d | 17.50a ~ 18.00d |
| Newtown | 11.23a ~ 11.24d | 17.32a ~ 17.32d |
| Caersws | 11/32 | 17/26 |
| Talerddig | 11.43a ~ 11.44d | 17.14a ~ 17.14d |
| Machynlleth | 12.05a ~ 12.09d | 16.43a ~ 16.52d |
| Dovey Junction | 12.16a ~ 12.17d | 16.35a ~ 16.36d |
| Borth | 12.30a ~ 12.31d | 16.19a ~ 16.20d |
| Aberystwyth | 12.45a | 16.05d |