9th July 2005
Steam Dreams
Sunny South Special
| | |
| --- | --- |
| Locos Used | 33202 & steam: 71000 'Duke of Gloucester' |
| Stock Used | 35329+5222+5216+1840+5171+13474+9392+5237+1961+5236+5249 |
Route:
1Z91 : Kensington Olympia to Weymouth
1Z92 : Weymouth to Kensington Olympia
| | |
| --- | --- |
| Loco(s) | Route |
| 71000 | Kensington Olympia - Clapham Junction - Balham - Tooting - Wimbledon - Surbiton - Woking - Basingstoke - Winchester City - Eastleigh - Southampton Central - Brockenhurst - Bournemouth Central - Poole - Wareham - Dorchester South - Weymouth |
| 71000 (1) | Weymouth - (reverse of outward route) - Kensington Olympia |
Notes :
(1) 33202 on rear.
(2) John Clifford offers the following reasons for delays on the day:
(a) at Kensington Olympia awaiting a pilotman,
(b) by a bridge hit at Walton-on-Thames &
(c) a trespassing photographer at New Milton.
(d) on the return the engine arrived late back at Weymouth following servicing due to the late arrival in Weymouth earlier.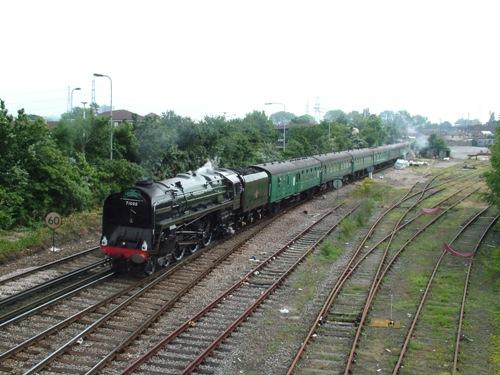 71000 passing Totton en-route to Weymouth (photo: Nick Bartlett)
Sources : various including Rob Fraser & John Clifford



Timings (Booked & Actual)
(from John Clifford & Solomon Riley)
| | | | | | |
| --- | --- | --- | --- | --- | --- |
| Location | Booked | Actual | | Booked | Actual |
| Kensington Olympia | 07.33d | 07.59½ | | 22.29a | ? |
| Latchmere Jn | 07/39 | 08/07½ | | 22/23 | ? |
| Clapham Junction | 07.42a ~ 07.47d | 08.10 ~ 08.13½ | | 22/21 | 22.38½a ~ ??.??d |
| Balham | 07/52 | 08/19½ | | ? | 22/28 |
| Streatham North Jn | 07/55 | 08/23 | | ? | 22/24 |
| Streatham South Jn | 07/56 | 08/24 | | ? | 22/22 |
| Wimbledon | 08.03a ~ 08.05d | 09.29½ ~ 08.31½ | | 22.03a ~ 22.04d | 22.14½ ~ 22.16½ |
| Wimbledon West Jn | 08/08 | 08/34 | | ? | 22.10a ~ 22.11d |
| Raynes Park | 08/11 | 08/35½ | | ? | 22/07½ |
| New Malden | 08/13 | 08/38 | | 21/59 | 22/05½ |
| Surbiton | 08/17 | 08/44 | | 21/57 | 22/03½ |
| Hampton Court Jn | 08/26 | 08/46 | | 21/55 | 22/02½ |
| Woking | 08.38a ~ 08.40d | 09.17 ~ 09.17½ | | 21.40a ~ 21.41d | 21.47½ ~ 21.50 |
| Woking Jn | 08/41 | 09/21½ | | 21/39 | 21/45½ |
| Farnborough | 08/51 | 09/33½ | | 21/30 | 21/39 |
| Winchfield | 09.00a ~ 09.12d | 09.42½ ~ 09.56½ | | 21.09a ~ 21.22d | 21.21½ ~ 21.31 |
| Basingstoke | 09/28 | 10/15 | | 20/57 | 21/12 |
| Worting Jn | 09/32 | 10/19 | | 20/52 | 21/09 |
| Winchester | 09/49 | 10/32½ | | 20/34 | 20/48 |
| Shawford Jn | 09/52 | 10/34½ | | ? | ? |
| Shawford | ? | ? | | 20/29 | 20/42½ |
| Eastleigh | 09.59a ~ 10.06d | 10.40½ ~ 10.41½ | | 20.16a ~ 20.21d | 20.32 ~ 20.33½ |
| St Denys | 10/13 | 10/49 | | 20/09 | 20/24½ |
| Northam Jn | 10/15 | 10/51½ | | 20/07 | 20/22½ |
| Southampton Central | 10/19 | 10/53½ | | 20/05 | 20/20 |
| Redbridge | 10/23½ | 10/57½ | | 20/00 | 20/14½ |
| Brockenhurst | 10.37a ~ 10.49d | 11.14 ~ 11.58 | | 19.30a ~ 19.46d | 19.45½ ~ 19.58 |
| Bournemouth Central | 11.09a ~ 11.13d | 12.25½ ~ 12.30½ | | 19.08a ~ 19.11d | 19.19½ ~ 19.21 |
| Branksome | 11/18 | 12/35½ | | 19/03 | 19/14 |
| Poole | 11.24a ~ 11.25d | 12.43 ~ 12.44½ | | 18.54a ~ 18.56d | 19.07 ~ 19.08 |
| Wareham | 11.37a ~ 11.39d | 13.01½ ~ 13.03 | | 18.41a ~ 18.43d | 18.54½ ~ 18.55 |
| Wool | 11/46 | 13/10 | | 18/34 | 18/48½ |
| Moreton | 11/52 | 13/14½ | | 18/29 | 18/45 |
| Dorchester South | 11.59a ~ 12.01d | 13.22½ ~ 13.23½ | | 18.20a ~ 18.21 | 18.36½ ~ 18.37½ |
| Weymouth | 12.14a | 13.34½ | | 18.05d | 18.21½ |