2nd July 2005
Deltic Preservation Society
(Mainline Railtour)
| | |
| --- | --- |
| Loco Used | 55019 |
| Stock Used | 17077+3066+3069+1683+3068+3127+5322+5276+5292+5366+5365 |
Route:
1Z55 : Preston to Salisbury
1Z95 : Salisbury to Preston
| | |
| --- | --- |
| Loco | Route |
| 55019 | Preston - (via WCML, via Trent Valley & Northampton) - Willesden West London Jn - Mitre Bridge Jn - Kensington Olympia - Clapham Junction - Balham - Streatham North Jn - (via slow spur) - Streatham South Jn - Tooting - Wimbledon - Surbiton - Woking - Guildford - Haslemere - Havant - Cosham - Fareham - Sholing - St Denys - Northam Jn - Southampton Central - Redbridge - Romsey - Salisbury |
| 55019 | Salisbury - (reverse of outward route) - Havant - Barnham - Ford - Arundel - Horsham - Three Bridges - Redhill - Purley - East Croydon - (via Down Victoria Slow) - Selhurst - Streatham Common - Streatham North Jn - (reverse of outward route) - Willesden West London Jn - (via Willesden Relief Line) - Sudbury Jn - (reverse of outward route) - Preston |
Notes :
(1) Tour was originally advertised to Portsmouth (to visit the "Festival of the Sea") with a mini-tour to Yeovil using a class 50 but lack of paths to Portsmouth Harbour meant the train had to drop passengers off at Havant. To permit sufficient time to service the loco the destination of the mini-tour became Salisbury.
Source : Gary Thornton (joined/left train at Nuneaton)



Tour Review
(by Gary Thornton)
Having missed the April tour to Edinburgh I was not planning to miss this, the second outing for 55019 in 2005 and what would be my first mainline Deltic run since the Freedom of Scotland in 2003! The planning like many railtours was not a smooth and trouble free as the organisers would have liked. It was planned as a run to Portsmouth to allow people to visit the "Festival of the Sea" event with a mini-tour (using a class 50) to Yeovil as an alternative entertainment. With no paths into Portsmouth being available for charters it became a Napier flypast with a set-down at Havant (board your plastic here for Portsmouth...) and the mini-tour was to end up at Salisbury to give sufficient time to service/re-fuel 55019. The originally advised 06.50 departure time from Preston also materialised into 05.20 which meant a still quite early start for me joining at Nuneaton.
Things almost went horribly wrong for me on the evening before the tour - I was in Brussels at a conference and booked home on the 18.40 SN Brussels Airline flight to Birmingham...or at least I was until 20 minutes before booked departure when the 100 or so of us at the final departure gate watched the gate staff quietly slip away, just after which the flight vanished off the board. A look at the main departure screen confirmed what was occurring - SN2047: CANCELLED! Thankfully it appears we were simply a victim of some dodgy re-planning on account of low bookings - we were all re-allocated to the following 19.45 departure to Birmingham, including our plane which was an Airbus 319 rather than the more "normal" and smaller Avro RJ's I'm used to seeing on the route. I am guessing the two flights together were loaded such that it was more economical to simply put us all together and make one round trip rather than the two as advertised! Only cost me an hour or so in the end, maybe less as the traffic on the motorway home was probably lighter as a result of the later arrival.
Myself & travelling companion Nige were at Nuneaton in good time to see 55019 arrive pretty well bang on schedule. With 10 minutes to wait it gave the chance for those on board to get some photos whilst those of us joining went to find our seats...in my case in the very rear bay (so of course a quiet journey out would be rather louder on the way back!).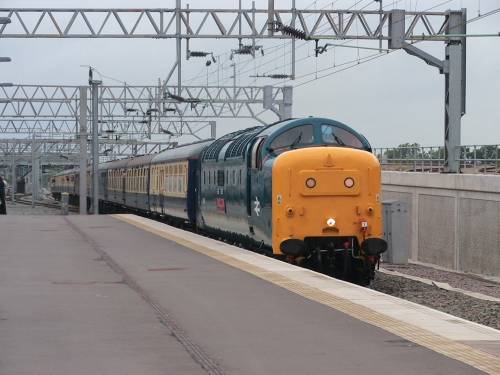 55019 pulls into Nuneaton's platform 5 (photo: Gary Thornton)
The run along the WCML was not the most thrilling and it was probably a little frustrating to be booked via my home town of Northampton as as we'd left there over two hours earlier! A few familiar faces were seen photographing us passing through (copies gratefully accepted for potential use on the Website!).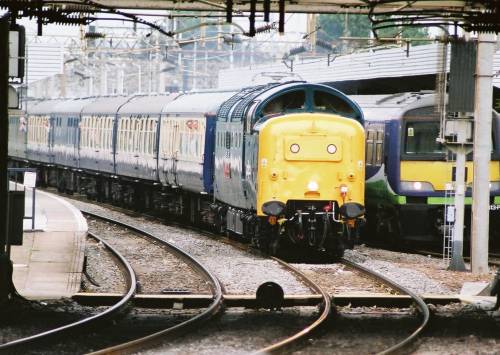 ...and Steve Goulden duly obliged - many thanks Steve!
The run through London was also fairly laid-back and it wasn't until after Guildford that we finally got some decent speed up again. Pretty soon and we were at Havant where we said goodbye to those not doing the mini-tour and hello to those doing just the mini-tour. Whilst we headed off to sample the delights of Salisbury our colleagues mostly went into Portsmouth where, if you knew where to look, could be found more Deltic power-units than on offer to those of us still on board!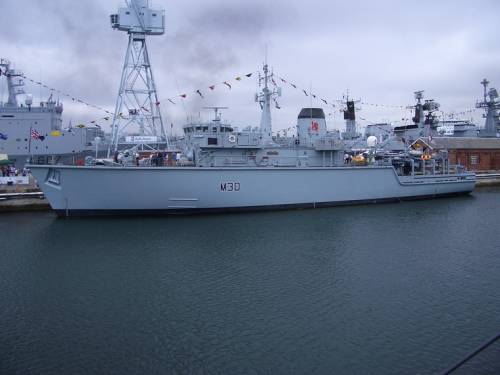 Hunt Class MCMV (Mine Counter Measures Vessel) M30 HMS Ledbury,
complete with three 9-cylinder Deltic engines! (photo: Nige Paine)
Once at Salisbury I stayed on to watch RHF shunt the stock into the sidings to the east of the station then head onto depot for fuelling. At this point an explore of Salisbury was on the cards and the Cathedral area was duly visited after which we headed for the pub advertised in the tour brochure as selling Deltic Diesel beer...only problem was that we got there to find it had sold out :-(
Next bar along was pretty quiet, well at least it was except for the African Grey Parrot which went quiet when you approached it but started whistling etc when you walked away. One of our group went up to it and did the classic "who's a pretty boy then?" and got what sounded very much like ****-off! back - what a top bird!
Retired to another bar en-route back to the station then dropped back in with time enough to head over to the other platform to get a shot of 55019 at the head of the train. Photo was however not possible due to member of station staff who had no manners at all and simply went into maximum rant-mode at myself plus mate for stepping just onto the start of the platform end-ramp. "Oi! Back! Can't you see the yellow line - what do you think it's there for?". Well - as it had people standing on it, sorry no, we didn't! As with other reports seen on Websites and in the railway press, once again a TOC has in my opinion let itself down through the downright rude attitude of one of it's staff where there is really no justification. A polite request not to go past the line we couldn't see/move off the ramp would have been perfectly sufficient...
Anyway, enough of my moaning. Now seated at the front it was to prove a very enjoyable ride back to Nuneaton.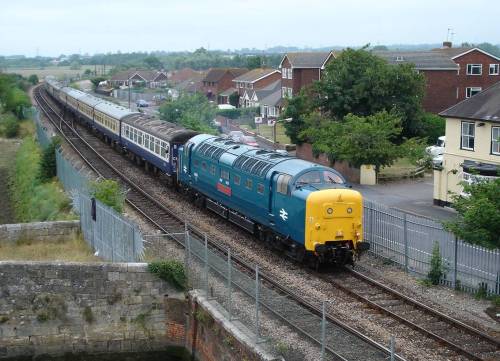 55019 makes a fine sight near Redbridge (photo: Ian Knight)
Point to point timings were not exactly tight and a considerable time was allowed for the run through London (all of which was used!) but at least it meant a lot of on-off power to enjoy. After a stop at Havant dropping off/picking-up we took a different route back to London, via Ford, Arundel, Crawley and Gatwick Airport. By East Croydon we began to stagger and this continued off-and-on to Sudbury Junction on the WCML (which we reached via the goods lines underpass from Willesden West London Jn).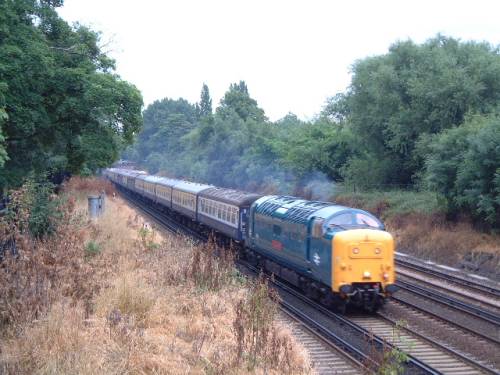 Passing Wandsworth Common (photo: LASERman)
Once onto the WCML, and routed to the fast lines north of Wembley Central, we finally got a sustained bout of "decent" speed - though by Watford Junction we had caught something up and carried on most of the way to Bletchley following on double-yellows so the speed and power were pegged-back. Being sat at the front there was some discussion about a bit of a "scream" that seemed to be present when at speed and under power, not something I'd heard before with 55019 and hopefully nothing of any significance - it certainly didn't seem to slow 19 when we were on straight greens. A fast transition back to the slow lines at Hanslope Junction and Northampton was once again viewed, though this time with the added interest of the Hertfordshire Railtours trip sitting at the main southbound platform with 90034 in charge. All too soon (for me at any rate) Nuneaton was reached and it was time to say goodbye to those on board and also 55019 which made a nice departure northwards into the gathering gloom of evening.
Verdict: Another brilliant tour, at one point I was unsure how good it would prove to be but I shouldn't have had any doubts. After 55019's little technical issue on the April tour I'm pleased to say she performed faultlessly on this occasion. After over two years without a mainline Deltic bash I'm now eager to get some more miles under my belt. A big well-done once again to all involved in the organisation and execution of Saturdays tour.
Gary Thornton



Timings (Booked & Actual)
(from Gary Thornton)
Location
Booked
Actual
Booked
Actual
Preston
05.20d
?
23.13a
?
Euxton Jn
05/27
?
23/07
?
Balshaw Lane
05/29
?
23/04
?
Wigan North Western
05/37
?
22/59
?
Wigan South Jn
05/37½
?
22/59
?
Springs Branch Jn
05/38
?
22/58
?
Golborne Jn
05/44½
?
22/53
?
Winwick Jn
05/47½
?
22/48
?
Dallam Jn
05/50½
?
22/46
?
Warrington Bank Quay
05.52a ~ 05.55d
?
22.41a ~ 22.44d
?
Acton Grange Jn
05/59½
?
22/39
?
Weaver Jn SB
06/05
?
22/36
?
Winsford SB
06/13
?
22/31
?
Crewe Coal Yard SB
06/22
?
22/26
?
Crewe
06.24a ~ 06.27d
?
22.21a ~ 22.24d
?
Basford Hall Jn
06/33½
?
22/17
?
Madeley
06/37½
?
22/12
?
Norton Bridge
06/47
?
22/03
?
Stafford
06/50½
?
21/57
?
Colwich
06/55½
?
21/53
?
Armitage
07/00
?
21/45
?
Lichfield TV
07/04
?
21/40
?
Tamworth LL
07/09½
?
21/33
?
Nuneaton
07.25a ~ 07.34d
07.24½ ~ 07.35 [P5]
21.21a ~ 21.24d
21.25 ~ 21.28
Trent Valley Jn
08/02½
07/47
21/08
21/14
Rugby
08/04
07.49½a ~ 08.06d
21/06
21/13
Hilmorton Jn
08/06½
08/08
21/04
21/11
Long Buckby
08/16½
08/17
20/57
21/03
Northampton
08/26
08/30½
20/49
20/51½
Hanslope Jn
08/35
08/39½
20/36
20/42
Milton Keynes Central
08/42
08/46
20/28
20/36½
Bletchley
08/45
08/49½
20/26
20/34½
Ledburn Jn
08/53
?
20/20
?
Tring
08/59
09/03
20/16
20/22
Bourne End Jn
09/04
?
20/11
20/13
Watford Junction
09/10
09.19½a ~ 09.20½d
20/00
20/01
Harrow & Wealdstone
09/14
09/26
19/54
19/56
Wembley Central
09/16
19/28½
19/50
19/51½
Willesden WL Jn
09/18
09/33
19/48
19/43
Mitre Bridge Jn
09/19
09/34
19/45
19/41
North Pole Jn
09/24
09/35
19/38
19/39
Kensington Olympia
09/28
09/37
19/33
19/36
Latchmere Jn
09/34
09/43
19/27
19/31
Clapham Junction
09*37
09.45 ~ 09.45½
19/24
19.25a ~ 19.27d
Balham
09/52½
09/49
19/20
19/20
Streatham North Jn
09/55
09/54
Streatham South Jn
09/56½
09/55½
Wimbledon (C)
10/01½
10/01
Wimbledon West Jn
10/08
10.02½a ~ 10.12d
Raynes Park
10/11
10/14
New Malden
10/13½
10/15
Surbiton
10/16
10/17
Hampton Court Jn
10/17
10/18
Woking
10/27
10/28½
Woking Jn
10/28½
10/29½
Guildford
10/38
10/38 [P2]
Shalford Jn
10/41½
10/40½
Farncombe
10/44
10/43
Haslemere
10/58½
10/57
Petersfield
11/15½
Streatham Common
19/11
19/11½
Selhurst
19/04
19/04
Windmill Bridge Jn
18/58
18/59½
East Croydon
18/57
18/58½
Purley
18/52
18/54
Stoats Nest Jn
18/50½
18/52
Redhill
18/41
18/43
Earlswood
18/36
18/37
Gatwick Airport
18/26
18/31
Three Bridges
18/21
18/26½
Crawley
18/18
18/24
Horsham
18/07
18/16
Billingshurst
17/57½
18/07
Pulborough
17/52
18/00½
Arundel
17/39
17/47
Arundel Jn
17/36½
17/45
Ford
17/35
17/44
Barnham
17/32½
17/36
Chichester
17/26
17/29½
Havant
11.33a ~ 11.35d
11.25 ~ 11.34
17.14a ~ 17.17d
17.11½ ~ 17.17½
Farlington Jn
11/42
11.39½a ~ 11.44d
17/09½
17/06
Cosham Jn
11/43½
11/45
17/08
?
Cosham
11/44½
11/47
17/07
17/04½
Fareham
11/53
11/56
16/54
16/54
St Denys
12/10½
12/15
16/30
16/31½
Northam Jn
12/14½
12/18
16/26½
16/26
Southampton Central
12/19½
12/21
16/24
16/24
Redbridge
12/23
12/25½
16/20½
16/20
Romsey
12/30½
12/34
16/13½
16/13
Dean
12/38
12/40
16/07
16/06
Tunnel Jn
12/47½
12/48
15/56
15/57
Salisbury
12.51a
12.58
15.53d
15.53