25th June 2005
P.F.T.
(Haven van Antwerpen)
Locos Used
ex-SNCB 5166 & 5941
Stock Used
Passenger: 32037+32143+31113+39025
Freight: 80 88 393 6 541-4 + 40 88 503 3 194-8 + 80 88 982 1 138-4 + 80 88 982 0 711-9
Route:
Z18429 : Brussel Zuid to Verbinging Merksem
Z18430 : Verbinging Merksem to Wilmarsdonk
Z18431 : Wilmarsdonk to Alaska
Z18432 : Alaska to Oudendijk
Z18433 : Oudendijk to Antwerpen Nord BN
Z18434 : Antwerpen Nord BN to K Wijkspoor
Z18435 : K Wijkspoor to Brussel Zuid
| | | |
| --- | --- | --- |
| Loco(s) | Formation | Route |
| 5941 | (a) | Brussel Zuid - Brussel Centraal - Brussel Noord - Schaarbeek - Y Haren Nord - Y Machelen - Vilvoorde - Mechelen - Hove - Y Krijgsbaan - Antwerpen Berchem - Antwerpen Ost - Antwerpen Schijnpoort - Luchtbal - Antwerpen Noorderdokken - Y Dreihoekstraat - Y Schijn - Y Ekerse Dijk - Y Noordeplaan - Y Ford - Belgische Basis - Far West (1) |
| 5166 | (b) | Far West - Straatsburgdok (2) |
| 5941 | (c) | Straatsburgdok - Far West - Belgische Basis - Y Ford - Y Leopold - Wilmarsdonk (south end of yard) (3) |
| 5941 | (a) | Wilmarsdonk (south end of yard) - Wilmarsdonk (north end of yard) |
| 5166 | (d) | Wilmarsdonk (north end of yard) - Y Leopold - (4) - Y Noordeplaan - Y Ekerse Dijk - Y Muisbroek - Y Oorderen - Antwerpen Noord Bl. G9/H9 - Y Beriwal - Lillobrug (5) - Y Lillobrug - Y Witte Molen (6) - (7) - Y Oudendijk - (via line 223) - Y Predenk - X Buitenschoor - X Noordland - Y Stabroek - Bl. 10 - Antwerpen Noord BZ - Westertak - Antwerpen Noord BN (8) |
| 5166 | (e) | Antwerpen Noord BN - Y Schijn - Y Dreihoekstraat - Y Sint Mariaburg - Kapellen - K Wijkspoor |
| 5941 | (a) | K Wijkspoor - Kapellen - Y Sint Mariaburg - Antwerpen Noorderdokken - (reverse of outward route) - Brussel Zuid |
Notes :
(1) 5166 on demonstration freight, ran along 3de Havenhook for photography purposes, railtourers walking from train to dock and back to the train.
(2) Train stopped alongside dock & adjacent to retail park on Straats-Burgdok-Noord-Kaii on the line to Merksem. Train split, 5166 & freight wagons ran forward about 200m to just short of the main-road overbridge to permit photos to be taken from the bridge. 5166 plus freight wagons then propelled back and re-coupled to the train.
(3) At the south end of Wilmarsdonk yard 5166 & the freight wagons were split from the rest of the train. 5941 took the train forward through the yard to the end and was then uncoupled and ran light engine forward onto Churchilldok. Whilst the moves with 5941 took place 5166 was run to the points at the south end of the yard then propelled the freight wagons through the yard past the passenger coaches and onto Churchilldok to allow photography of both 5941 & 5166 with the freight train. This photostop took considerably longer than planned resulting in a late departure and subsequent re-routing to catch-back time.
(4) Booked route was: Y Leopold - Y Ford - Oosterweelbrug - Alaska (reverse & photostop) - Oosterweelbrug - Y Ford - Y Noordeplaan but this was omitted due to late running.
(5) Train was delayed on approach to Lillobrug as the bridge was open to canal traffic. Once lowered the train moved onto the bridge and a photostop was taken with 5166 & freight wagons just off the main bridge, first with the train combined then 5166 and the freight wagons were uncoupled and moved forward to permit 5941 and the passenger coaches to roll forward to the same spot. After photos were taken 5941 rolled forward to be re-coupled to 5166 plus the freight wagons.
(6) About 100m after Y Witte Molen a photostop was taken. 5166 and the freight wagons were split from 5941 and the passenger coaches and moved forward. After this was photographed it moved further forward to allow 5941 and the passenger coaches to come forward for photos. Upon completion 5941 took the train forward and was re-coupled to 5166 and the freight wagons.
(7) On the approach to Berendrechtsluis the train was stopped (at km 8.9 short of Y Oudendijk) as the bridge across Berendrechtsluis & Zandvletsluis was open to canal traffic. The train was held for 70 minutes until passage was possible. It had been indicated the train was to reverse at Oudendijk and retrace earlier steps via Lillobrug & Y Beriwal to Antwerpen Noord rather than continuing round the loop via line 223a, line 223 and line 11 to Antwerpen Noord, "due to technical difficulties" (n.b. booked timings actually showed it going round the loop). In the event it is assumed the late running reversed the decision as the loop route was traversed, which included the sharp 180 degree swing from line 11 to enter Antwerpen Noord Yard and approach the depot from the "south end"!
(8) For depot visit. 5166 ran-round the passenger stock and the freight wagons were removed here. During this time SNCB museum locomotive 201.010 was run round the yard and posed on the track next to 5941.
(9) 5941 ran through station at Kappelen into an adjacent siding. On the track alongside was posed an ex-WW2 German type V36 diesel shunter.
Stock Formations:
(a) 5941 + passenger coaches
(b) 5166 + freight wagons + passenger coaches + 5941
(c) 5941 + passenger coaches + freight wagons + 5166
(d) 5166 + freight wagons + 5941 + passenger coaches
(e) 5166 + passenger coaches + 5941
n.b. Whilst in formations (d) & (e) 5941 did not provide traction.
Source : Gary Thornton (on the train throughout)



Tour Review
(by Gary Thornton)
Photos by myself unless otherwise stated.
With the prospect of countless photo-stops and 13 hours sat on wooden seats in 1930's stock...I must be mad! Nonetheless 7.30am found me on Brussel Zuid station awaiting the arrival of 5941 and its train. The days plan was to run up to Antwerpen Noord docks where we would join up with 5166 for a run round part of the docks complex.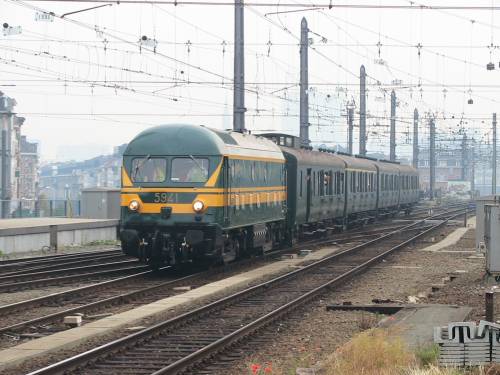 5941 brings the stock into Brussel Zuid station.
We were still unsure what the day would bring in terms of weather, some forecasts suggested thunderstorms whilst others suggested hot and dry with just a minor risk of rain. With plenty of photostops and walking in prospect either would have its disadvantages!
Not a particularly fast run to Mechelen, where a photostop was taken.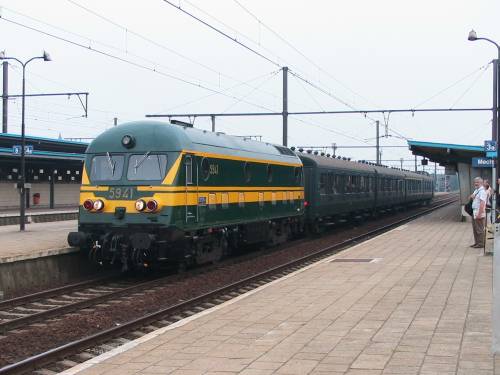 5941 at Mechelen, attracting attention from many on the station.
The onward journey to Antwerpen Berchem was not much more rapid, here we collected out last passengers before heading a little further north on the passenger network before striking off and onto the docks complex. We met up with 5166 which was waiting for us at Far West, a small yard en-route to Merkesem. It was a case of all de-train whilst 5166 was run along one of the nearby dock tracks. Any vantage point was taken, with loads of photographers scaling grounded containers to get some extra altitude!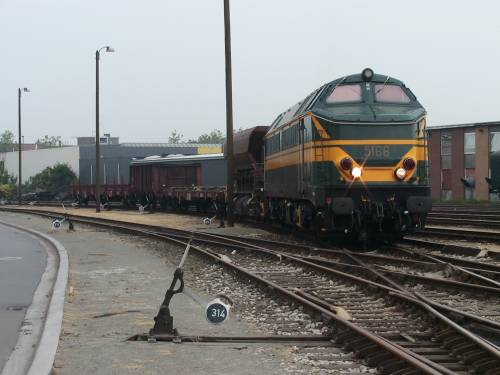 5166 on a short freight in Far West yard.
After the photographic session 5166 came back to Far West and was then hooked onto the front of our train so the formation became: 5166 + freight stock + passenger stock + 5941!
We then set off towards Merksem though only made it a relatively short way where we stopped, the freight train consist was split off and we all walked a few hundred metres to a suitable vantage point to photograph 5166 with its freight.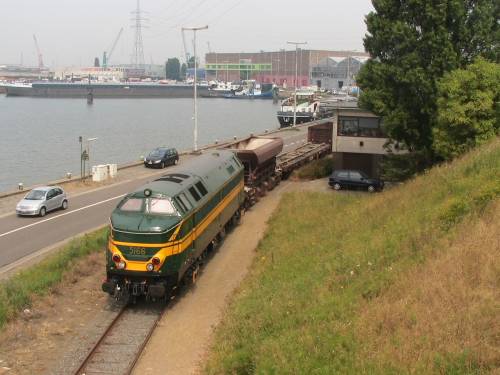 Straatsburgdok, en-route to Merksem...but as far as the freight got.
Rejoining to the passenger train and it was off back from the direction we had come, but heading off to another yard, Wilmersdonk. Here we stopped at the south end to split-off the freight, we then ran to the north end where 5941 was uncoupled. 5166, 5941 & the freight then went into Churchilldok for another photographic session.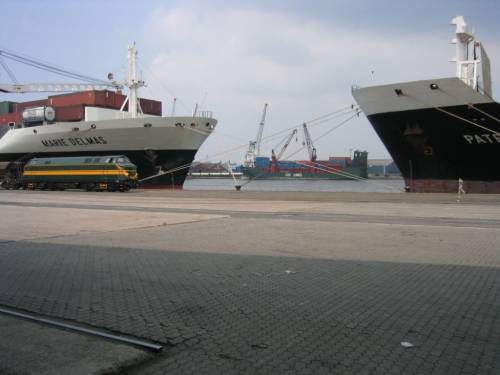 Toy trainset? No, 5166 alongside Churchilldok (photo: Iain Sturch).
Unfortunately this photostop took way longer than planned and, as a result, when we finally set off (now formed 5166 + freight stock + 5941 + passenger stock!) we missed out the planned run to Alaska (another yard within the docks complex, not the country!!) instead heading away to the north part of the complex. Whilst we were still running about 30 minutes late even after missing out a chunk of the advertised route, stagger-timings soon had us back on time. We however only made it as far as the approach to our next photostop at Lillobrug when we had to wait as the bridge concerned was lifted to allow docks traffic to flow rather than rail.
We eventually got our turn, a reasonably lengthy photostop being made on the bridge. As became the norm, the 51 was first photographed with the freight, it was then uncoupled and run forward for 5941 plus the passenger stock to get itself positioned for photos.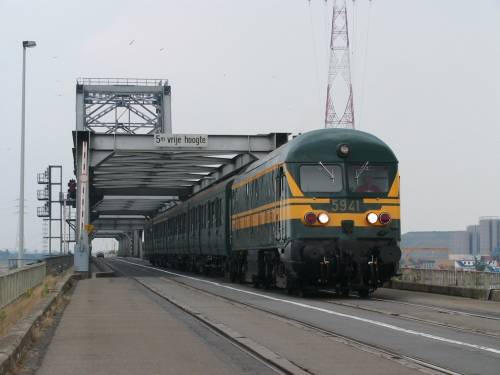 5941 on Lillobrug, after we had to wait for the bridge to be lowered for us!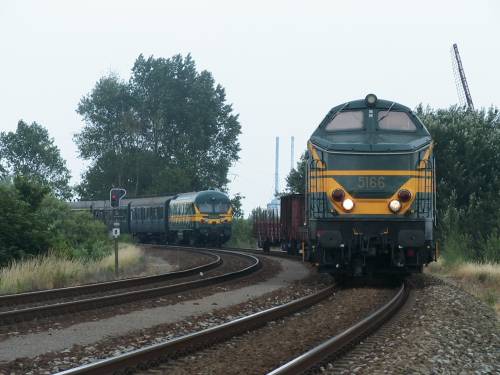 Just past Y Witte Molen - the trains are caught being split.
Approaching Oudendijk we again fell foul of an open bridge, this time it was for 70 minutes so an impromptu photostop was taken. Here's also where things went a bit strange. The original booked route was to take us round line 223 (past Noordseeterminal) to line 11 and onwards to Antwerpen Noord main yard via the big loop that exists. The tour blurb however said this couldn't happen because of technical difficulties. In the event, with our late running, we did it! After heading through the main yards past Antwerpen Noord depot the line then swings through a full 180 degrees to drop you into the yard adjacent to the depot. The 15 minutes here was extended as SNCB's preserved 59 (201.010) put in an appearance and was posed next to 5941.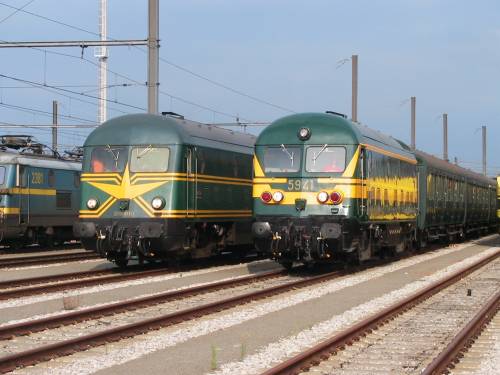 201.010 & 5941 in the yard at Antwerpen Noord.
Now less our freight wagons, we set off out of the yard with 5166 on the front and 5941 on the rear. Turning left onto the mainline towards Holland we only went the short distance to Kapellen where we turned into a siding alongside the mainline where we had out last photostop - next to a 1940-built German shunter, specially turned out for the occasion!

For the record, the two lines on the left of the picture form the main
Netherlands to Belgium mainline route! Stewards keep a wary eye for
any approaching trains whilst we get our photos!!!
During this stop 5166 was dropped off, leaving 5941 to take us back to Brussels. All in all a very good day out. We always take the proverbial at PFT for their many photostops but it has to be said it is far better as we get the chance to photograph the train we paid to make happen, unlike the UK these days where it is those who don't pay towards the train running that get the best photos!
Gary Thornton



Timings (Booked & Actual)
(from Gary Thornton)
Location
Booked
Actual
Booked
Actual
Brussel Zuid
08.20d [P6]
08.24 [P6]
21.09a
21.10 [P7]
Brussel Centraal
??/??
??/??
??/??
??.??a ~ ??.??d [P2]
Brussel Noord
08.27a ~ 08.32d
08.30 ~ 08.33 [P5]
20.57a ~ 21.00d
21.00 ~ 21.02
Schaarbeek
08/39
08.37a ~ 08.38d [P7]
20/52
20/57 [P7]
Y Haren Nord
08/46
08/40
20/44
20/51½
Y Machelen
08/48
08/43
20/42
20/50
Vilvoorde
08/50
08/45 [P3]
20/40 [L27]
20/48
Y Weerde
08/55
08/51
-
-
Mechelen
09p00a ~ 09p10d
09.01 ~ 09.11 [P4]
20.26a ~ 20.31d [L25]
20.21 ~ 20.35
Y Otterbeek
09/14
09/15
20/22
20/18
Y Duffel
09/20
09/22
20/16
20/09
Kontich
?
?
20/15
20/08
Y Liersteenweg
09/25 [L27A]
09/28
20/10
20/04
Y Krijgsbaan
09/26
09/29
?
?
Y Drabstraat
-
-
20/08
20/03
Y Stadion
-
-
20/06
20/01
Y Zuid Groenenhoek (out)
Y Noord Groenenhoek (rtn)
09/29
09/32
20/05
20/00
Antwerpen Berchem
09.30a ~ 09.31d
09.33 ~ 09.36
[L27] 20.02a ~ 20.04d
19.56 ~ 19.59 [P1]
Y Oost Berchem
09/33
09/37
19/59 [L27/1]
19/54
Antwerpen Schijnpoort
09/35
09/40
19/57
19/52
Y Holland
09/37
09/42
19/54
19/51
Luchtbal Bl.8
09/43
09/43
19/48
19/49
Location
Booked
Actual
Y Driehoekstraat
09/47
09/48
Y Schijn
09/49
09.49a ~ 09.50d
Y Ekerse Dijk
09/54
09/55
Y Noorderlaan
10/04 [L220]
09/58
Y Ford
10/06
09/58½
Belgische Basis
10/16
10/02
(10.03a ~ 10.04d end of yard)
Far West
10L26a ~ 11L00d
10.16 ~ 11.14
Verbinding Merksem
11.20a ~ 11.30d
11.30 ~ 11.59
Far West
11/50 [L220]
12.12a ~ 12.20d
Belgische Basis
12/00
12/24
Y Ford
12/10 [L220/1]
12/33
Y Leopold
12/14 [L27A/5]
12/35
Wilmarsdonk (south end of yard)
?
12.41a ~ 12.45d
(5166 + freight vehicles off)
Wilmarsdonk
12.20a ~ 13.05d [L27A/5]
12.47 ~ 14.14
Y Leopold
? [L220/1]
14/23
Y Ford
? [L221]
DIV
Oosterweelbrug
13/20
DIV
Alaska
13.25a ~ 13.40d [L221]
DIV
Y Ford
13/45
DIV
Y Noorderlaan
13/50 [L27A]
14/25
Y Ekerse Dijk
14/00 [L27C]
14/27
Y Muisbroek
14/04
14/28
Y Oorderen
14/24 [L27C1]
? (through yard)
Antwerpen Noord Bl. G9/H9
14.30a ~ 14.40d [L223]
14/30
Y Beriwal
14/44
14/34
on L223 approaching Lillobrug
??/??
14.35a ~ 15.00d
Lillobrug
14p50a ~ 15p00d
15.03 ~ 15.32
Y Lillobrug
15/05
15/34
Y Witte Molen
15p15a ~ 15p30d
15.35 ~ 16.05
km 8.9
??/??
16.14a ~ 17.24d
Oudendijk
15.45a ~ 16.00d [L223]
17/29
Noordseeterminal
16p10a ~ 16p20d
17.46 ~ 17.50
(on X Buttenschoor, by yard exit at north end)
X Noordland
16.45a ~ 17.00d [L11]
18/01
Blok 10
17/30
18/12
Antwerpen Noord BZ
17/40
18/18
Westertak
17/43
18/21
Antwerpen Noord BN
18L00a ~ 18L26d
18.23 ~ 19.03
Y Schijn
18/36 [L27A]
19/06
Y Driehoekstraat
18/41
19/08
Y Sint Mariaburg
18/43 [L12]
19.09a ~ 19.12d
Kapellen
18.46a ~ 18.50d
19/16
K Wijkspoor
18L52a ~ 19L32d
19.17 ~ 19.42
Kapellen
19.35a ~ 19.42d [L12]
19/43
Y Sint Mariaburg
19/44
19/46
Timings continue in first table.



Back to "The Railtour Files"