25th June 2005
Green Express Railtours
The Whitehaven Maritime Express
Route:
1Z?? : Rochdale to Workington
1Z41 : Workington to Rochdale
| | |
| --- | --- |
| Loco(s) | Route |
| 47826 (1) | Rochdale - Milnrow - Oldham Mumps - Thorpes Bridge Jn - Brewery Sidings Jn - Ashton Branch Sidings Jn - Baguley Fold Jn - Ashton under Lyne - Stalybridge - Huddersfield - Bradley Jn - Bradley Wood Jn - Sowerby Bridge - Hedben Bridge - Hall Royd Jn - Copy Pit - Gannow Jn - Blackburn - Lostock Hall Jn - Farington Jn - Preston - Morecambe South Jn - Carnforth - Dalton Jn - ??? - Park South Jn - Ravenglass - Whitehaven - Workington |
| 47851 (2) | Workington - (?reverse of outward route?) - Rochdale |
Notes :
(1) 47851 on rear.
(2) 47826 on rear.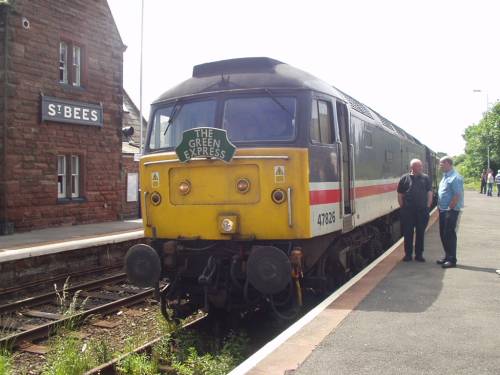 47826 leads at St Bees (photo: Steve Perryman)
Sources : various including Steve Perryman (joined/left train at Hebden Bridge)



Tour Review
(by Steve Perryman)
My very first loco-hauled tour 33 years ago(06/07/72 for anyone who wants to look it up) was a Merrymaker. It ran from what was then my local station to a seaside destination and the prime motive power was what we then knew as a "Brush 4" (47478).
Loco hauled trains where I live now are as rare as hens teeth and usually go to Edinburgh where I have also lived so it is not a fave destination for me, the Green Parties jaunt to Whitehaven seemed like an interesting change. It also fulfilled the same criterion as my first tour. From my home station to the seaside, loco hauled, and on the day produced the same motive power now known as spoons 47826 and 47851.
Of course, following the nautical theme the tour really should have been called the pieces of eight as Whitehaven's excellent festival featured a Pirate theme and the tour set of by following a sinuous route which would be the envy of many a B.L.S. member.
Starting at Rochdale the tour traversed the Oldham Loop then Brewery Sidings curve before calling at Ashton and Huddersfield. It then turned back on itself through Brighouse and Hebden Bridge before taking the Copy Pit route to Preston. The result of all these machinations was a departure time from Hebden two hours after the time from Milnrow and arrival home two and a half hours later. 33 years ago I guess I would have walked down to Milnrow for the rare route and the extra 106 loco hauled miles. Nowadays a more leisurely approach is appropriate so I drove to Hebden Bridge.
Advertised times were:
Out Return
Rochdale 06.03 23.28
Milnrow 06.08 23.19
Shaw and Crompton 06.18 23.09
Oldham Mumps 06.30 22.56
Ashton Under Lyme 06.53 22.20
Huddersfield 07.23 21.49
Brighouse 07.37 21.20
Sowerby Bridge 07.58 21.06
Hebden Bridge 08.09 20.55
Ravenglass 11.00 17.50
Whitehaven 11.52 17.11
Workington 12.11 16.45
The train ran OK with regards to time, Network rail always seem to build lots of recovery time into Green tours so arrivals and departures were within 10 mins of booked although point to points varied. Locos performed competently on these low speed routes although 47851 seemed to toil on the way back going up to Copy Pit summit.
All in all it did what it said on the tin, "seaside, sunshine and a little bit of making merry".