18th June 2005
South West Trains
The Seaside Slammer
Route:
1Z81 : Waterloo to Weymouth
1Z82 : Weymouth to Waterloo
| | |
| --- | --- |
| EMUs | Route |
| 3417 + 1497 | London Waterloo - Clapham Junction - Wimbledon - Surbiton - Hampton Court Jn - Effingham Junction - Guildford - Shalford Jn - Haslemere - Havant - Farlington Jn - Cosham - Fareham - St Denys - Southampton Central - Redbridge - Brockenhurst - Bournemouth Central - Poole - Weymouth |
| 1497 + 3417 | Weymouth - (reverse of outward route) - St Denys - Eastleigh - Basingstoke - Woking - Hampton Court Jn - (reverse of outward route) - London Waterloo |
Notes :
(1) Run in the aid of funds for a new hospital under construction in Lymington.
Sources : Pete Turtle & Mark Grimes



Tour Review
(from Pete Turtle)
Over the years we have seen various farewell tours arranged for this and that, some types of traction in fact has not lasted that long. We have seen the Western hydraulics vanish after only ten years service, the Delticís after only twenty, and my personal loss, the REPís vanished without trace also after just twenty years of pounding the South western main line. Its amazing that there replacements (442), have been with us for 15 years already. Living in Eastleigh during the 1960s I remember too well my first sight of Southern EMU working, on Wednesday 17th August 1966, 4TC no 402 being propelled down through Eastleigh by green Crompton D6580. The following spring we saw the juice turned on, the 4TC fleet had increased in size dramatically, there were a few 4REP coaches around but most were totally misformed, and then we had this odd thing arriving on the scene that was all doors. I donít believe that the VEPs have ever had many fans, but over the next ten years they became the backbone of the Southern people mover system. I should point out that whilst many people appreciate the CIG type I find it difficult to associate with them, west of Woking during the 1970s there was a daily working 1742 SX Waterloo to Eastleigh formed 12CIG which returned empty to Basingstoke for a morning up working, and then on summer Saturdays was the 0957 Waterloo to Lymington Pier and return formed 8CIG (whatís all this fuss about three coach trains on the branch).
Having travelled on the 1135 Waterloo to Bournemouth on the 26th May with the last scheduled slam on the South Western, the final run had to be sampled. I must say that in the intervening weeks I have made several trips over old Central and South Eastern routes savouring these trains that I remember being introduced to traffic only too well. However, it has to be said that one thing which is not right is being at Waterloo without the sound of slamming doors echoing around the station.
Back to the day in question, of course a rehearsal was run the week before with the green CIG 1498 paired with Gordon the blue VEP 3417 to the same timings. This week we had the blue VEP leading the blue and grey CIG 1497, very splendid they looked too, ok people have commented on changes that look out of place, to me the only thing missing was the gold curtains (yes VEPs had gold curtains at every seating bay, indeed so did the express stock). Departure at 09.02 following the 09.00 fast to Portsmouth saw us on our way with spirited running through the suburbs before turning off down the Guildford New Line. We encountered a short stop at Clandon (originally advertised as a photographic shop, but removed from the dayís schedules), where one gentleman alighted complete with cameras and tripod (I think he had been filming from the cab, but canít be sure). On we went to encounter a short stop before Guildford and into the station to allow the pilot crews to alight; apart from this section Bournemouth crews were in charge all day. Some sprightly running then brought us into Haslemere for our first official photo stop of the day, where we were routed into Platform 2 to maximize the photographic potential. Prior to our departure saw the arrival of 73201 in Platform 1 to increase the photo opportunities. I have not established whether this was planned, but well done to South West Trains for this, previously I have only encountered things like this in continental Europe.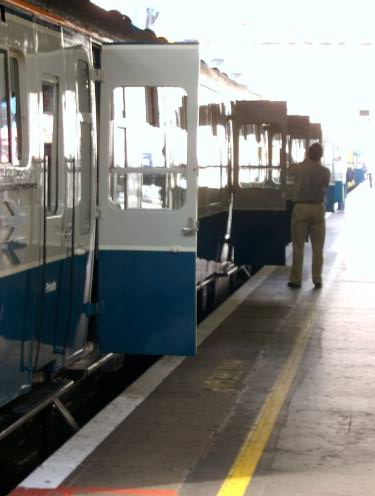 History in the making (photo: Terry Wong Min)
Departure at 10.15 saw us on our way, and for me this was the best bit, I have always liked the Portsmouth Direct with its long sweeping reverse curves configured for high speed running, and must be one of the most characteristic main lines in the country. Having allowed the previous stopper to get well in front whilst we were at Haslemere we didnít get a whiff of it. A highly spirited run down to Havant ensued (worth every penny!), where everyone on board were expecting problems, we were all aware that an earlier points problem at Hilsea was causing havoc in the area, indeed a hoped for run through the down through at Havant was thwarted by the Southern 377 that had obviously been terminated and berthed in the middle. However, on we went until Cosham where we were not allowed across the level crossing, the driver very sensibly stopping the train before the platform to avoid Ďnormalí passengers attempting to join. Coming across Cosham Junction we noted the 10.36 Portsmouth to Southampton stopping service awaiting our clearance, and could have caused us some nasty damage had we got stuck behind that. In front of us obviously was the 10.24 Portsmouth to Cardiff Sprinter, which on this hot summer morning was not faring so well. It seemed to be taking ages to clear sections, although its only intermediate call was Fareham. This unfortunately turned a right time passing Farlington Junction to 16 late at Southampton, which put us in right behind the 10.05 Waterloo to Poole, which is all stations after Brockenhurst. Departing from Southampton we noted the sight of 158963 in the down goods loop, could this have been the 10.24 which had terminated at Southampton, personally I think so. Having experienced an excellent run down to Havant we were now to experience the other end of the spectrum, a stop at what seemed to be every signal between Southampton, and Bournemouth. We did however spend a little time at Brockenhurst (arriving 23 late) awaiting the return of 1498 from the branch. Photos taken on we went, but didnít really start to get going until after Poole, lateness being reduced to 14 minutes by Weymouth, but I could not really say I alighted at Dorchester and went home.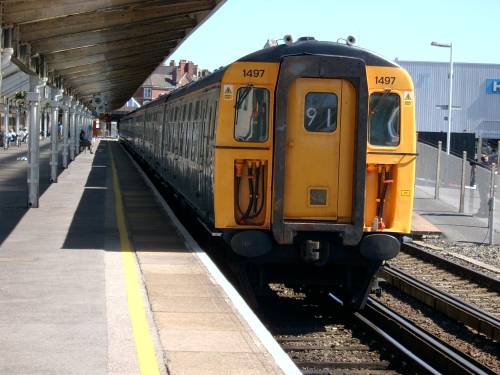 Waiting to depart Weymouth for Waterloo (photo: Terry Wong Min)
Returning to Poole in the late afternoon for the up run, I was disappointed to see the 17.00 off Weymouth arriving 6 late, whilst this was not to cause a problem to the slammer in the earlier stages of the journey, it was scheduled into Waterloo only two minutes in front of us. The slam in fact had left Weymouth a little late, but had experienced a check at Dorchester obviously waiting for the previous fast to clear the single line at Moreton; however all of this time had been recovered by Poole. So leaving Bournemouth right time with the fast a good eight to ten minutes in front of us, we were hoping for a spirited non stop run to Waterloo, however it was not to be. Passing trough Southampton at barely more than crawling pace, onto Eastleigh, where the 17.51 from Portsmouth was allowed out in front of us, and then put on the slow line at Allbrook. Yellow then became the order of the day as were getting close behind the 17.00 off Weymouth which of course now calls Winchester and Woking. Whilst passing through Woking the sight of 34067 Tangmere on the southbound Royal Wessex brought a few memories (another carefully planned photo opportunity?), but on air cons surely not. (In the morning I had seen 6024 on the Southern green Mk 2 set that might have been more appropriate!)
So an 11 late arrival into Waterloo was to be the finish, listen to those doors, however if you wanted photos be quick, the empties were out of Waterloo before the 20.05 departure, 1498 was in trouble on the branch, and 1497 was required urgently.
All in all, if 40 years ago someone had suggested that I would be out on a rail tour on a VEP unit, in my local area, I would have thought that they needed locking up, but here we are an end of an era, an excellent day, the weather was perfect, the train was excellent, the organisation brilliant, and faultless atmosphere. South West Trains have now organized two excellent events with their farewells (not including the staff run last week), both Southern, and Southeastern have a tough act to follow!
Pete Turtle



Timings (Booked & Actual)
(from Pete Turtle)
Location
Booked
Actual
Booked
Actual
Waterloo
09.02d
09.02
19.51a
20.02
Clapham Junction
09/08
09/08
19/41
19/52
Wimbledon
09/11
09/11
19/37
19/45
New Malden
09/13
09/14
19/35
19/42
Surbiton
09/15
09/15
19/33
19/40
Hampton Court Jn
09/18
09/17
19/32
19/38
Effingham Junction
09/27
09/26
Guildford
09.43a ~ 09.43d
09.42 ~ 09.43
Shalford Jn
09/45
09/45
Farncombe
09/47
09/46
Haslemere
09.58a ~ 10.15d
09.57 ~ 10.15
Petersfield
10/24
10/24
Havant
10/35
10/36
Farlington Jn
10/41
10/41
Cosham Jn
10/42
10/43
Cosham
10/44
10/48
Fareham
10.52a ~ 10.52d
10.58 ~ 10.59
Woking
19/23
19/30
Woking Jn
19/22
19/28
Farnborough
19/16
19/21
Basingstoke
19/07
19/11
Worting Jn
19/05
19/09
Winchester
18/50
18/55
Eastleigh
18/45
18/47
St Denys
11/09
11/23
18/39
18/42
Southampton Central
11.12a ~ 11.13d
11.27 ~ 11.29
18/36
18/38
Redbridge
11/17
11/33
18/33
18/34
Brockenhurst
11.27a ~ 11.37d
11.50 ~ 11.57
18/24
18/24
Bournemouth Central
11.53a ~ 11.57d
12.14 ~ 12.16
18.03a ~ 18.10d
18.03 ~ 18.10
Branksome
12/01
12/22
17/59
17/59
Poole
12.05a ~ 12.13d
12.28 ~ 12.29
17.52a ~ 17.54d
17.53 ~ 17.54
Wareham
12.23a ~ 12.24d
12.38 ~ 12.38
17.38a ~ 17.43d
17.42 ~ 17.43
Wool
12/29
12/43
17/32
17/35
Dorchester South
12.39a ~ 12.40d
12.52 ~ 12.53
17.18a ~ 17.20d
17.19 ~ 17.26
Weymouth
12.49a
13.03
17.08d
17.10