18th June 2005
Pathfinder Tours
The Snowdonian I
| | |
| --- | --- |
| Loco Used | 37406 |
| Stock Used | 21272+3124+3127+3148+1863+5322+5276+5292+5365 |
Route:
1Z56 : Sheffield to Blackpool North (1)
1Z57 : Blackpool North to Sheffield (1)
| | |
| --- | --- |
| Loco | Route |
| 37406 (2) | Sheffield [P8] - Chesterfield - Derby - Burton-on-Trent - Tamworth High Level - Birmingham New Street [P6] - Dudley Port - Wolverhampton - Oxley DGL - Telford Central - Wellington (Down Through Line) - Abbey Foregate Curve - (3) (4) - Shrewsbury (5) - Wem - Crewe [P11] - Acton Grange Jn - Walton Old Jn - Warrington Bank Quay [P4] (6) - Preston - Blackpool North |
| 37406 | Blackpool North - (reverse of outward route) - Crewe - (7) - Stafford - (7) Wolverhampton - (reverse of outward route) - Sheffield |
Notes :
(1) Booked destination for this railtour was Pwllheli, but changed on the day for the reasons given below.
(2) 37406 having problems before arrival in Sheffield with the stock and which continued throughout journey until Oxley. Apparently the loco had shut down twice on the ECS, then it happened again between Burton and Tamworth, Tamworth and New Street (train reported to have coasted for about 3-4 miles on that occasion!), and New Street and Wolves (a particularly fine piece of driving reported...406 shut down around about Coseley and stopped in just the right place in Platform 2 at Wolverhampton!!). After fitters attention at Wolverhampton, the problem was identified to be a lack of cooling water so the train called at Oxley to be filled (and again during the layover at Blackpool). Other reports however suggest the problem was more likely electrical as the water was reported to have been checked on at least three occasions durign the day and it was OK each time checked.
(3) As there was no contingency plans in case of further problems, NR would not allow the train to travel along Cambrian Lines, so the tour was diverted to Blackpool as an alternative destination.
(4) Booked route from Abbey Foregate Jn was: English Bridge Jn - Sutton Bridge Jn - Welshpool - Machynlleth - Dovey Junction - Tywyn - Fairbourne - Barmouth - Minffordd - Porthmadog - Pwllheli
(5) NR had wanted everyone to de-train at Shrewsbury, departing at 20:15 for booked return path. This was refused by Pathfinder.
(5) Delayed at Warrington Bank Quay awaiting driver.
(6) At Warrington Bank Quay, the news was that the tour would leave Blackpool North at 16:00. As the tour was delayed at Preston, the departure time was changed to 18:45!! The delay at Preston was due to Network Rail "refusing to allow the train to go to Blackpool, as there wasn't a Brake Vehicle at both ends (apparently a specific requirement at Blackpool North in a sectional appendix). Although various options were offered (e.g. use of radios for shunt move at Blackpool, agreeing to a one-off exception etc), the train was finally allowed to proceed when it was agreed to bring a loco up from Warrington to shunt-release the stock. This was achieved through the good will of the driver of the SRPS ECS at Preston, who had completed his turn, but agreed to travel down to collect a loco to do this. Thus, 67020 came up all the way from Warrington to drag the ECS back into the siding, and then run all the way back down again (it was not needed for the shunt back into the station as the brake vehicle was now at the rear)".
(7) Booked route was reverse of outward but Telford passengers returned via a coach connection from Wolverhampton.
Sources : Alan Sheppard, Martyn Brailsford, Kevin Law, David Russell & Steve Cassidy



Tour Review
(from Andrew Wilson a.k.a. Brillo)
There are farces and then there are farces – and this one was the full monty!!
After arriving at Sheffield at 06.25, the TV screens at Sheffield were showing that the Sheffield – Wales (can't anybody in Sheffield spell Pwllheli?) charter was leaving from Platform 4. I got in position at the end of the booked platform to get some early morning shots as the tour ECS was due in shortly. There surely could not be any problems as Sheffield was relatively dead at that time in the morning.
Wrong!! Incorrect gen!!
The Rolling Riot trolley dollies had taken the mountains of food and drink over to the booked platform on platform trolleys and they were not best pleased when an announcement bellowed out that the booked platform had now changed to Platform 8. I then heard that the 37406 had failed twice, but then restarted, on its journey up with the ECS. I then had a premonition that it was going to be one of them days!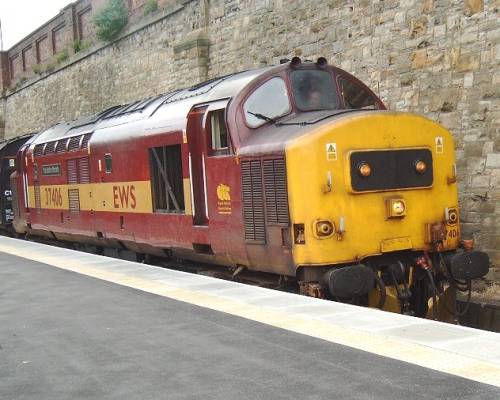 37406 at the start of the day at Sheffield (photo: Andrew Wilson)
Various people were huddled round 37406 presumably having a meeting on the best course of action as I had heard that the driver had failed 37406 when it shut down for the second time on the ECS. The only available engine in the area was one of those plastic Canadian shed monstrosities (number totally irrelevant). Obviously if we got re-engined EWS would have to find a Class 37 from somewhere as those plastic Canadian shed monstrosities were not passed for the line to Pwllheli . A friend told me that the nearest spare Class 37 was 37405 at Cardiff, but this had failed, and the next nearest one was at Mossend - so not too far away then! To cut a long story short 37406 was left on and we departed 14 down at 07.20. There didn't seem to be any problems now with 406 after the attention at Sheffield and everyone on the train was now hopeful that 406 would get us to Pwllheli and back again in the booked times.
Wrong!! Incorrect gen!!
It was now oppressively humid and people now hoped for a good run to get some air into the roasting stock but alas 406 shut down again between Burton and Tamworth, Tamworth and the Black Hole (train reported to have coasted for about 3-4 miles on that occasion!), and the Black Hole and Wolverhampton. Fitters at Wolverhampton deduced that the problem was that the engine hadn't been filled with coolant, or was losing it therefore a special stop was arranged at Oxley to solve the problem. At about an hour late we had lost our original path on the single line to Pwhelli so everyone hoped that NR could hastily arrange another path.
Wrong!! Incorrect gen!!
After picking up a few poor, misguided, genless souls at Telford we finally reached Shrewsbury one hour and a quarter down. Pathfinder then did their raffle on the theme of "What happens next"? with the winner receiving a year's free daily travel to Pwhelli behind poorly maintained EWS Class 37's. The obligatory veg rumours were circulating at this point such as 1) Train caped at Shrewsbury, everyone to make their own way home. 2) Train forward to another destination using alternative power. 3) The train could stay at Shrewsbury for nine hours and go back in its booked return path. 4) Train forward to another destination using 37406. NR had at this point totally refused the train access to Pwllheli due to the unreliability of the engine and pathing difficulties. In the end everyone was told to get back on the train as option 4) had been decided by all concerned. We were to run to Crewe where further instructions would be given. A steward said we were going to Llandudno but a Class 57 had failed on a Pendolino so that option was now down the toilet. At Crewe we were then told that we were going to Blackpool and would leave Blackpool at 16.00 so an early arrival back at Sheffield was expected – My Lords!! – if I had known this at the start I could have flagged the tour and got to Blackpool in two hours from my home!
We managed to make it to Warrington but stopped in the platform at 12.55 and we were told that the forward driver wouldn't be here until 14.00 so yet another opportunity to stretch to stretch the legs, take phots. The general consensus of opinion of bashers on board was one of hilarity at such utter disorganisation and chaos between NR and EWS, but I didn't know how the Bert & Ada's were taking it.
Everyone now sat back for the non-stop run to Blackpool and the sandwiches, beers and wine appeared in great numbers and most people seemed happy enough despite the sweltering conditions.
Wrong!! Incorrect gen!!
We arrived at Preston and noticed people leaving the train and walking up to the front therefore something else must have gone wrong, if it was just a pathing stop we would have been told to stay on the train. Gen came down the grapevine that NR had now refused access to Blackpool as the train would have to be shunted into the sidings to shunt release 37406 however local instructions dictated that there had to be a brake vehicle at both ends of the train (which we didn't have) to perform this manoeuvre!! I understand various options were put to NR such as using two-way radios to perform the shunt or permitting the move on a 'once only' basis but NR refused point blank. There was now a huddle gathering around Peter Watts and Chris Brooks and raised voices and pointing fingers could be seen and heard. I overheard one railtourer saying that he hadn't been kept informed at all on what was happening from the start of the trip.
Some normals by this time were walking up onto the overbridge at Preston and launching themselves down onto the tracks – I suppose they would rather put themselves out of any future misery there and then!!
After a long fester in the heat it was decided that we would continue to Blackpool and an assisting engine would follow us up to perform the shunt. This was achieved through the good will of the driver of the SRPS ECS at Preston, who had completed his turn, but agreed to travel down to collect a loco to do this. Thus, 67020 came up all the way from Warrington to drag the ECS back into the siding, and then run all the way back down again (it was not needed for the shunt back into the station as the brake vehicle was now at the rear).
FINALLY we actually made it to the seaside and everyone got out their buckets and spades and various blow-up devices! ready for the beach. The hurrays turned to groans as it was announced that the charter would now depart at 18.45, which in effect meant that the charter would get back LATER than the booked timings and we had only gone to Blackpool.
By this time I had had enough and bought a ticket for a service train (wonder if I can claim this back from NR?) back to Bradford as I was going to the KWVR diesel gala next day and if there were any more problems on the charter on the way back then I may not have got home at all. I attempted to get back onto the platform at Blackpool to phot 67020 which had come from Warrington to shunt the stock but the Gestapo Securicor security wouldn't let me on the platform even though I had a charter piece AND a normal piece! When a train dispatches it's load they get everyone off the platform and then lock all the doors and only let new passengers on 10 minutes before their train leaves, all tickets are studied vigorously, and you must only walk up that platform, if you wander to another platform you are called back and presumably taken to a dark corner and shot.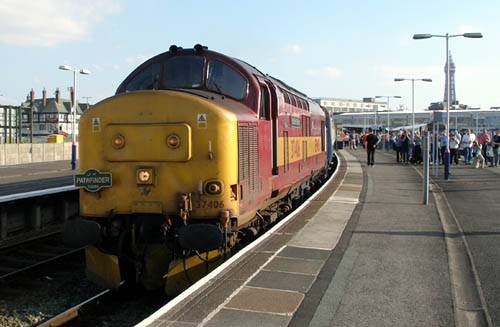 The new Pwllheli Tower forms the backdrop to 37406? (photo: Kevin Law)
I understand the Gestapo caused some problems with some returning charter passengers, which meant the train was slightly delayed leaving Blackpool. I was now looking forward to my two-hour journey home on a speedy 158 with full air conditioning with ample time then to derancify and eat before an early bedtime ready for the KWVR gala on the next day.
Wrong!! Incorrect gen!!
The small side windows were opened on the 158, which usually means the air-con has packed up which was indeed the case. When Bert came for the tickets he said that the temperature inside the unit was 37 degrees C but the unit only required gassing (whatever that is) [maybe he meant the passengers required gassing - Webmaster] but there was no slack in the day's timetable to get it back to Neville Hill. With hindsight I should have asked him why he didn't just fail the unit and that would bring about some action from the TP management. Where are the HSE when you need them – oh yes I forgot, they are far too busy putting secondary locks on Mark 1 charter train doors or hiding in trees and bushes at preserved railways with radar speed guns.
Verdict
A complete 10/10 shambles/fiasco/farce whatever you want to call it.
Points to note:
We pay a lot of money out for charter tickets and the least that you can expect is a working PA system in EVERY coach to cater for on the day problems. This is totally unacceptable with today's technology and Pathfinder should push Riviera Trains strongly to make this happen. Stewards were walking down the coaches regularly keeping us updated but there is always someone that doesn't hear it and if they miss an earlier departure announcement then that's their day truly stuffed if they get left behind. [A reply from David Peacock of Riviera Trains: "
I would like to confirm that the PA 'failure' on this train was most likely to the inter-vehicle RCH cables not being connected, we have a problem with this at EWS Old Oak and I will brief our train managers to carry out a special check on train preparation in the future.
We also have a problem when we have to borrow vehicles from EWS as they have incompatible PA systems, this will be the case this weekend behind the Western, this is due to one of our vehicles being damaged in a shunting accident at Old Oak"....and from Steve Cassidy, steward with Pathfinder: "we did have the three RCS Mk1 FOs in the formation on Saturday, hence lack of PA (checking the RCH cables are connected is one of the things Pathfinder always confirms). Unfortunately, I was stewarding 2 of the FOs, and thus had to do each announcement about 8 times... of which there were of course a considerable number to do!!"]
There were people ranting at Pathfinder but in no way could the sorry chain of events be put down to them. They were kept short of information from EWS/NR and can't make announcements if there is nothing to announce! To their credit they kept the charter running whereas NR wanted to cape the tour at Shrewsbury.
I don't know if there is any truth behind this but the driver for the ECS supposedly took 37406 without prepping it. If he had prepped it correctly he would have noticed the lack of coolant. If this is indeed the case then he should be made to pay for the cost of a free re-run. Another tale claimed that the engine had a coolant leak but again this in unsubstantiated. [Webmasters note: gen received from one of the days EWS drivers suggest the water level was OK when checked on three separate occasions by three different drivers, so there may have been a problem with contactors or suchlike causing the shutdowns].
EWS should have had a serviceable back-up Class 37 somewhere en route or sent a pair down, 37406 had just come off repair without any serious running in and they knew that if 37406 failed with no back-up engine then Pwllheli would be off the agenda. Did they not learn from the Workington experience?
Andrew Wilson (a.k.a. Brillo)



Tour Timings (Booked & Actual)
(from Alan Sheppard & Kevin Law)
M.C
Location
Booked
Actual
Booked
Actual
M.C
0.00
Sheffield
07.06d
07.20d
23.01a
?
(238.38)
3.70
Dore Station Jn
07/13
07/28
22/55
?
(234.48)
12.20
Chesterfield
07.28a ~ 07.33d
07.38 ~ 07.40
22.41a ~ 22.44d
23.18 ~ 23.20
(226.18)
16.30
Clay Cross South Jn
07/39
07/46
22/37
?
(222.08)
26.38
Ambergate Jn
07/48
07/55
22/27
?
(212.00)
36.31
Derby
07.58a ~ 08.00d
08.06 ~ 08.12
22.13a ~ 22.16d
?
(202.07)
41.15
Stenson Jn
08/07
08/18
22/07
?
(197.23)
41.59
North Stafford Jn
08/07
08/19
22/07
?
(196.59)
47.32
Burton-on-Trent
08.13a ~ 08.15d
08.25 ~ 08.26
21.57a ~ 22.00d
?
(191.06)
52.75
Wichnor Jn
08/22
08/33
21/54
?
(185.43)
60.23
Tamworth High Level
08.28a ~ 08.30d
08.41 ~ 08.42
21.44a ~ 21.47d
?
(178.15)
66.04
Kingsbury Jn
08/37
08/52
21/38
?
(172.34)
69.79
Water Orton
08/40
08/55
21/35
?
(168.39)
76.05
Landor Street Jn
08/45
09/05
21/28
?
(162.33)
76.76
Proof House Jn
08/47
09.07 ~ 09.07
21/26
?
(161.42)
77.50
Birmingham New Street
08.49a ~ 08.52d
09.12 ~ 09.15
21.21a ~ 21.24d
21.58 ~ ??.??
(160.68)
79.51
Soho South Jn
08/57
09/21
21/16
?
(158.67)
81.29
Galton Jn
08/59
09/23
21/13
?
(157.09)
84.74
Dudley Port
09/03
09/27
21/07
?
(153.44)
90.34
Wolverhampton
09.09a ~ 09.21d
09.36 ~ 10.07
20.58a ~ 21.01d
?
(148.04)
90.77
Wolverhampton North Jn
09/23
10/09
20/55
?
(147.41)
91.50
Oxley
09/24
10.14 DGL 10.28
20/54
DIV
(146.68)
99.37
Cosford
09/31
10/41
20/47
DIV
(139.01)
104.74
Madeley Jn
09/36
10/46
20/42
DIV
(133.44)
106.08
Telford Central
09.37a ~ 09.39d
10.48 ~ 10.55
20.37a ~ 20.40d
DIV
(132.30)
109.69
Wellington
09/45
11/00
20/32
DIV
(128.49)
119.63
Abbey Foregate Jn
09/56
11/11
20/21
DIV
(118.55)
(120.48)
Sutton Bridge Jn
10.01 ~ 10.01
DIV
20/18
DIV
(117.70)
(139.38)
Welshpool
10.21 ~ 10.21
DIV
19.55 ~ 19.59
DIV
(99.00)
(153.26)
Newtown
10.41 ~ 10.51
DIV
19/41
DIV
(85.12)
(158.79)
Caersws
10/59
DIV
19/37
DIV
(79.39)
(166.74)
Talerddig
11.11 ~ 11.11
DIV
19/29
DIV
(71.44)
(180.52)
Machynlleth
11.29 ~ 11.35
DIV
19.09 ~ 19.11
DIV
(57.66)
(184.51)
Dovey Junction
11.41 ~ 11.41
DIV
19.02 ~ 19.02
DIV
(53.67)
(190.50)
Aberdovey
11/51
DIV
18/41
DIV
(47.68)
(194.24)
Tywyn
12.13 ~ 12.13
DIV
18.29 ~ 18.29
DIV
(44.14)
(200.67)
Llwyngwril
12/21
DIV
-
DIV
(37.51)
(203.40)
Fairbourne
12/28
DIV
18/07
DIV
(34.78)
(206.11)
Barmouth
12.38 ~ 12.52
DIV
17.53 ~ 17.59
DIV
(32.27)
(216.55)
Harlech
13.12 ~ 13.13
DIV
17.21 ~ 17.21
DIV
(21.63)
(220.10)
Talsarnau
13/18
DIV
-
DIV
(18.28)
(222.15)
Penrhyndeudraeth
13/21
DIV
17/05
DIV
(16.23)
(223.26)
Minffordd
13.26a ~ 13.29d
DIV
16.57a ~ 17.00d
DIV
(15.12)
(225.41)
Porthmadog
13.35a ~ 13.45d
DIV
16.48a ~ 16.51d
DIV
(12.77)
(230.42)
Criccieth
-
DIV
16/38
DIV
(7.76)
(234.77)
Penychain
13/56
DIV
16/34
DIV
(3.41)
(238.38)
Pwllheli
14.05a
DIV
16.28d
DIV
(0.00)
120.14
Shrewsbury
DIV
11.12a ~ 11.28d
120.52
Crewe Bank
DIV
11/29
130.74
Wem
DIV
11/41
139.16
Whitchurch
DIV
11/49
143.69
Wrenbury
DIV
11/55
148.32
Nantwich
DIV
11/59
152.18
Gresty Lane Jn
DIV
12/06
-
Bushbury Jn
DIV
21/26
?
-
Stafford
DIV
?
?
-
Norton Bridge
DIV
?
?
-
Madeley
DIV
?
?
-
Basford Hall Jn
DIV
?
?
152.71
Crewe
DIV
12.08a ~ 12.09d
DIV
20.21a ~ 20.36d
?
167.29
Acton Bridge
DIV
12/23
DIV
?
?
170.11
Weaver Jn
DIV
12/25
DIV
?
?
175.35
Acton Grange Jn
DIV
12/33
DIV
?
?
176.39
Walton Old Jn
DIV
12/36
177.12
Warrington South Jn
DIV
12.37a ~ 12.54d
DIV
?
?
177.27
Warrington Bank Quay
DIV
12.57a ~ 13.55d
DIV
?
?
189.07
Wigan North Western
DIV
?
DIV
?
?
204.17
Preston
DIV
14.27a ~ 15.46d
DIV
19/17
?
221.66
Blackpool North (6)
DIV
16.15a
DIV (18.45d)
18.49d
0.00
Mileages amended for the outward journey with booked mileages to Pwllheli in brackets.
The return mileages shown are for BOOKED ROUTE ONLY.



Back to "The Railtour Files"