30th May 2005
Pathfinder Tours
The Multi-Coloured Swap Shop
| | |
| --- | --- |
| Locos Used | 59206, 60088, 66608, 66951 & 92010 |
| Stock Used | 5365+5292+5366+5276+5322+1842+21272+3107+3140+3148+6310 |
Route:
1Z37 : Reading to Preston
1Z38 : Preston to Reading
| | |
| --- | --- |
| Loco(s) | Route |
| 59206 | Reading - Didcot East Jn - Didcot Parkway - Didcot North Jn - Oxford - Banbury - Leamington Spa (1) - Coventry - Birmingham International [P1] - Stechford - Aston - Perry Barr North Jn - Bescot U/DGL |
| 92010 | Bescot U/ DGL - Bescot Stadium - Darlaston Jn - Portobello Jn - Bushbury Jn - Stafford - Norton Bridge - Madeley - Basford Hall Jn - Basford Hall |
| 66608 | Basford Hall - (2) (via WCML) - Farington Jn - Lostock Hall Jn - Cherry Tree - (2) Blackburn - Clitheroe - Hellifield - Settle Jn - Carnforth - Carnforth No.1 UDGL |
| 66608 (3) | Carnforth No.1 UDGL - Hest Bank Jn - Morecambe |
| 66951 (4) | Morecambe - Heysham |
| 66608 (3) | Heysham - Morecambe |
| 66951 (4) | Morecambe - Morecambe South Jn - Lancaster - Preston [P6] |
| 66608 + 66951 | Preston - Wigan North Western - Crow Nest Jn - Walkden - Salford Crescent - Deansgate - Manchester Piccadilly - Ardwick Jn - Stockport - Cheadle Hulme - Macclesfield - Kidsgrove - Stoke-on-Trent - Stone - Norton Bridge - Stafford [P4] |
| 60088 | Stafford - (reverse of outward route) - Birmingham International [P5] |
| 59206 | Birmingham International - (reverse of outward route) - Reading |
Notes :
(1) Delayed at Leamington Spa waiting a pilotman/replacement crew (reported that the booked crew/pilotman did not sign the road north of Leamington Spa). Further delayed at Bescot (problems between 92010 & the stock) and at Stafford for signalling problems.
(2) Diverted to catch-back time (booked route was: Basford Hall - Salop Goods Jn - Sydeney Bridge Jn - Sandbach - Alderley Edge - Wilmslow - Cheadle Hulme - Stockport - Heaton Norris Jn - Denton Jn - Ashton Moss North Jn - Philips Park West Jn - Miles Platting - Manchester Victoria - Ordsall Lane Jn - Salford Crescent - Bolton - Darwen - Blackburn - Clitheroe - Hellifield).
(3) 66951 on rear.
(2) 66608 on rear.
Alan Sheppard provided the folowing comment about the tour name: The original concept was for an example of each sub class of 66's....EWS, GBRF, FL and DRS, hence the "Multi-Coloured", but as the locos dwindled off the plan, it gave rise to the unofficial title "Multi-Coloured Shed Swap".
Sources : various including Mark Honey, Simon Cross & Daniel Bound



Tour Review 1
(from Daniel Bound)
Woke up, got out of bed (at 03:25), dragged a comb across my head, made my way downstairs and had a smoke, somebody spoke and I went into a dream; and this dream was a railtour that ran on time, had the correct traction and didn't have any problems.
Then I woke up at Leamington spa at 7:15 on a railtour that had 59206 on the front, with a driver and pilotman neither of which signed the road to Coventry. The date was the 30th of May, the tour was the Multi-Coloured Swap Shop, Pathfinder was the operator and the farce had begun!!
Rewind a couple of hours. I picked up PRAR at some ungodly hour and we made our way via the M25, M3 and the A329 to Reading. After receiving a blue coin from the parking machine, that will somehow calculate how long I have parked there, we made our way to platform 8. A few pictures of 59206, winner number 1, at the head of our train and we found a bay of seats in coach B and prepared for departure.
At precisely 5:40, we departed. Pickup's from Didcot, Oxford and Banbury came and went without incident. We then approached Leamington Spa, but instead of turning onto the Coventry line we stopped. We waited, and waited, and waited.. The tannoy burst into life, but the news was not good. The driver did not sign the road, and neither did the pilotman who EWS had provided!!
How EWS managed to assign a pilotman to a road he did not sign will go down in railtour folklore, but they did.
Another pilotman had to be sent from Bescot. He arrived and at 7:51 we finally departed for Coventry, only 45 minutes down! We were looped in platform 1 at Birmingham International for a Pendolino to pass us, finally we arrived in the up and down goods loop at Bescot. The people who joined at Tame Bridge must have been a bit miserable by now as the rain was falling quite heavily, emulating the mood of the tour participants to a 't'.
Here we were booked our first loco change, 59206 to 92010. Winner number 2!
The long line of withdrawn 37's in several obsolete liveries was a stark reminder of the past, and the radical change that has happened to British freight trains over the last decade.
However, further problems connecting the 92 to the stock saw us depart Bescot over an hour late. 92010 powered us through the West Midlands until we approached Stafford, where we slowed, then stopped. We then crossed onto the down fast where we stopped adjacent to a Liverpool bound Pendolino.
Stafford had signalling problems to further compound our days misery!!
We waited more than 20 minutes to depart the station and despite some spirited running we entered Basford Hall yard on the down fast independent almost 90 minutes late.
Due to the late running, announcements were made that our booked route through the Manchester suburbs was to be cancelled. By the time 66608, winner number 3, had backed on and coupled up our route we now saw us heading up the west coast to Farington junction and across to Blackburn to rejoin our route. This enabled Morecambe and Heysham to remain on the itinerary.
Crewe yard was it's usual busy self, with 66581 notable among a handful of freds, 86s and 90s. The DRS compound had 20301 and 309, 37259, 606 and 609 and 47298 all resplendent in blue, so maybe the freight scene isn't so bad after all.
Shortly after noon we turned left at Farington Junction and headed back towards our booked route at Blackburn. A crew change on platform 3 saw us leave 2 minutes before our booked time - the correct decision having been taken at Crewe. Then the sun came out, and all was once again right with the world! The sun made the scenery through the Ribble Valley all the more beautiful. Our train crossing Whalley viaduct would have made a beautiful photograph.
We continued on through the lovely Lancastrian countryside. We passed through Hellifield over 10 minutes early, as we briefly touched on the settle and Carlisle line, before turning left at Settle Junction, towards the delightfully named Giggleswick, and on towards Carnforth and our next loco change.
Carnforth was passed just after 13:45 and we proceeded into the up and down goods line number 1, passing our next loco behind the station, 66951. This was the first passenger working of the 66/9 sub class, and was, for many onboard the highlight of the day. Obviously winner number 4!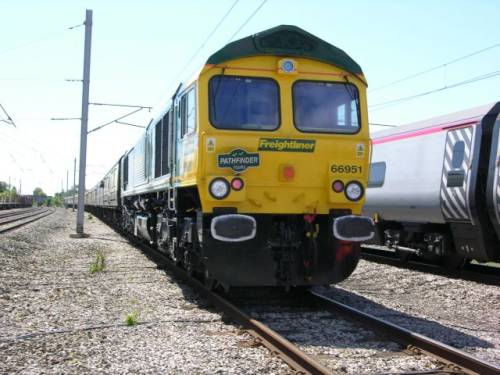 66951 in UDGL No.1 at Carnforth (photo: Rob Fraser)
Once coupled on the back we headed south, now running on time, the short distance to Hest Bank Junction. We diverged right past Hest Bank signal box and onto the left of the two single lines which lead from Bare Lane Junction into Morecambe.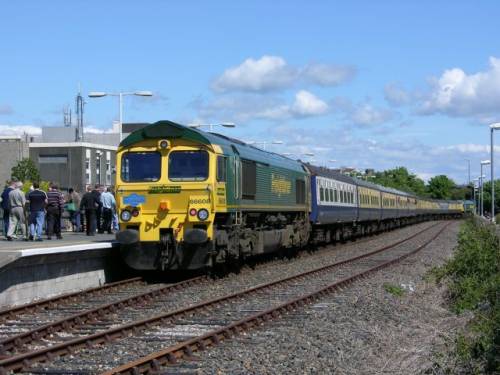 66608 in the sunshine at Morecambe (photo: Rob Fraser)
Here some photos were taken of our 66s, before we reversed to head down the 4 mile branch line to Heysham sea terminal, where yet more bad photos were taken. None of them will win any awards! Well, apart from maybe best elbow in shot award.
Before long the excitement was all over and we reversed back to Morecambe where 66951 took over again for the run down the west coast main line and into platform 6 at Preston.
A KFC move took place in the 45 minute layover, with the poor shop overrun with tour participants: it looked like the buffet car when they announce a new beer. When I returned to the station 66608 had been run-around and multied up with 66951 for our return south.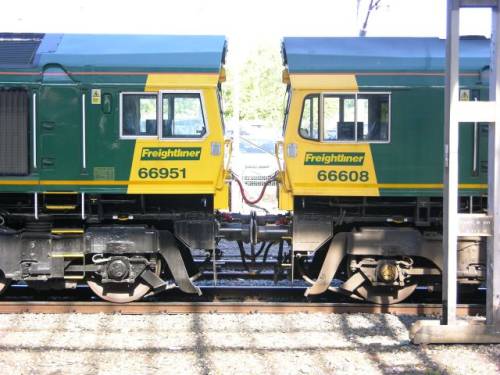 66608 & 66951 ready to depart Preston in multiple (photo: Rob Fraser)
A prompt departure saw a sprightly run to Wigan, where we crossed onto the up Hindley line towards Manchester. The stagger began when we caught up a stopping service soon after crow nest junction. We eventually sauntered through Salfords before stopping briefly in platform 13 now running approximately 8 down.
A chase with a Pendolino was momentarily won until it went into second gear, then a good run was had down towards Stockport, although by now we were over 10 minutes late. We then had to wait for a voyager to pass us before we could cross Lady Bridge viaduct, then turn right towards Stoke-on-Trent.
Leaving the sprawling Manchester conurbation behind, our gallant pair of 66s sped through the countryside. But, by the time Stoke was reached we were now 14 minutes late, although this had improved slightly by the time Stafford was reached where our final new loco of the day 60088 was waiting. You've guessed it winner number 5! ('088 previously had worked on the Scratching Santa back in 1999.)
A fast loco change at Stafford and we departed 10 minutes late, for the relatively short journey to Birmingham International. A combination of good running and very slack timings saw us arrive at Birmingham International a few minutes late. 59206 was waiting on the other side of the station, and our tour blocked international for about 5 minutes as the signaller let 60088 out and across and 59206 to do the same in reverse. A late running unit saw us depart 8 minutes late, and as the sun began to set reflections of a long day began. Full of hope at the beginning, followed by deep despair by the incompetence of EWS, joy at having 66951 for haulage and satisfaction of having 5 new scratches. Full marks to Pathfinder for achieving lots in the face of adversity, a tour well done. And as I started to drift away into a dream, I swear I can hear 59206 humming away.... Someone wake me at Reading please.....
Daniel Bound



Tour Review 2
(from David Clark)
This tour like many others were due to run towards the end of last year but due to ground staff complications EWS could not guarantee a full set of staff to make sure the tour ran properly.
So, here we are now in May 2005, driving down the motorway to Hampton in Arden with the weather unpredictable. A text from a mate said that "59206" was at the helm. Marvellous! My last 59/2 required for haulage. A nice start to the day. At Hampton in Arden the heaven's opened and 390029 sped through with an up express.
321427 rolled in and we took that to Birmingham international and joined up with a couple of friends. Here came bad news. The driver did not know Leamington to Coventry (via Kenilworth). Doh! So Bescot were sending down a pilotman / driver to carry out the tour to Bescot. The lateness of the tour came known as 44mins.
At 0825 the tour arrived with 59206 at the helm. And we departed at 0833 (53 late) for Bescot. But we followed the stopping service to Stechford and then took the line to Aston, Tame Bridge Parkway (pick up) and arrived in to Bescot Up and Down Goods to await the 92.
This was attached to the train with it being 92010. However, there were a few problems encountered before we were in a position to depart from the yard. We finally departed at 0939 70 late for Bushbury Jn. We came in to Stafford No4, crossed over on to the down main and joined a station which hosted 2 390s. Now there was a signalling problem! Could the day get any worse?
Once the Pendolino departed to Liverpool, we were soon on our way. We departed and took the WCML to Crewe BH Jn. We arrived via the Down Fast Independent. Here we were greeted with good news that we were not going to have a 66/5. However, we were to get 66951.
The really bad news was that due to lateness of the tour (90 late) we were going to miss out Manchester / Bolton / Blackburn) and go up via the WCML to Farrington Curve Jn and take the line to Blackburn to hopefully have gained all lost time.
66608 was attached to the front. 66951 was going to be attached later at Carnforth. We set off merrily via the Indepents passing the remains of Crewe DMD, the DRS loco compound with at least 5 locos visible and joined the WCML at Crewe Coal Yard with a EWS Coal train stopped to allow us to depart.
So we passed through Warrington Bank Quay with quite a few loco's in and around the station, and then carried on passing Wigan Dump (a massive graveyard for former EWS locos until they found out they can lease them to Spain and gane lots of money). At Farrington Curve Jn we crossed over and took the curve. Marvellous. A bit of required track.
We approached Blackburn at 1224 and we were two early. Yes the missing out of slow track and replacing with fast track had worked. We carried out a crew change at Blackburn before heading out to Clitheroe. I'd traversed this line once before with 47709 on a WCML diversion to Carlisle.
BY Hellifield we were 13 early and took the S&C line to Settle Jn. And then we took the line across the Pennine's to Carnforth. The scenery and weather were totally gorgeous. It makes the journey a lot more pleasurable. This was the first time I'd took the route from Settle Jn to Carnforth in over 20 years. I'd done this route quite a few times with steam engines from the NRM stable and also the Steamtown Carnforth depot (Sir Nigel Gresley, Flying Scotsman, Midland Compound 1000 and Hardwicke to name a few).
The curve in to Carnforth was quite tight and we passed through 12 early at 1346 and took the No1 Up and Down Goods. Here 66951 was waiting to attach to the rear.
In the opposite goods loop was 66203 on an engineers train.
We departed there at 1421 and headed down to Hest Bank Curve (required) and came in to Bare Lane and arrived in to Morecambe at 1437. Time for quick photo's before we headed down to Heysham Harbour.
Heysham Harbour, gateway for the Isle of Man, Heysham Power Station. Another of these British institutions which puts a train station next to the port. How long before it becomes a Dover Western Docks, Newhaven Harbour, Folkestone Harbour and joins the closed list.
We departed heysham at 1536, arrived at Morecambe at 1549, departed at 1554 and took the WCML down to Preston. We arrived there at 1630.
Here we took a short break which allowed people to wander, get some food, take photo's, view the trains. While all this were happening, 66608 ran round the train and joined 66951 at the helm for the journey to Stafford.
Just before we were due to depart (at 1718) we wre informed Preston North End has lost to West Ham. No sooner than this happened, police sirens were heard around the city. Nice!
We departed right time, took the fast lines to Balshaw Lane Jn, Wigan North Western and took the chord line taking us on to the commuter lines in and out of Wigan Wallgate. It became evident we were following a slow moving service as we staggered for most of the way down to Salford Crescent (7 late), Manchester Piccadilly 7 late, and took the slow lines down to Slade Lane Jn getting involved in a cat and mouse chase with a Virgin pendolino.
Outside stockport we were held for a voyager, and again at Adswood Road Jn. Here we took the line to Stoke on Trent (14 late), Stone and came down in to Stafford at 1936 ll late. Here 60088 was waiting. The sheds were ripped off, the 60 attached and we waited again.
Stafford was departed at 2001 8 late, and took the line to Bushbury Jn, Bescot Stadium, and were early before we got to Stechford and were regulated for a 323 down to Coventry. And a Virgin Pendolino too.
We finally arrived at Birmingham International at 2100 (4 late). Here 60088 was taken off, and 59206 was attached.
While this were happening my dad and I took ourselves to try out the light rail system from Birmingham International station to the Aircraft terminal. However, only one side were working. And so we returned and saw the tour still sat in the platform.
Our train arrived with 323222, and alighted at Hampton in Arden to witness the tour pass through quickly.
We departed Hampton at 2135 and arrived in to Scunthorpe at 2330.
Verdict: A good day out, good weather, company and a nice interesting route. Well done to all who made sure that the tour ran well on the day.
David Clark (2005)



Timings (Booked & Actual)
(from various including Alan Sheppard, Nigel Benning & Melvin Teale)
M.C
Location
Booked
Actual
Booked
Actual
M.C
0.00
Reading
05.40d
?
23.17a
?
90.37
0.78
Reading West Jn
05/42
?
23/16
?
89.39
16.68
Didcot East Jn
05/56
?
22/58
?
73.49
17.12
Didcot Parkway
05.57a ~ 06.00d
??.?? ~ 06.01
22.54a ~ 22.57d
23.01 ~ 23.03
73.25
17.76
Didcot North Jn
06/03
?
22/52
22/58
72.41
25.10
Kennington Jn
06/10
?
22/44
22/52
65.27
27.43
Oxford
06.13a ~ 06.16d
06.14 ~ 06.17
22.38a ~ 22.41d
22.48 ~ 22.49
62.74
30.34
Wolvercot Jn
06/21
?
22/35
22/43
60.03
39.23
Heyford
06/30
?
22/28
22/33
51.14
45.14
Aynho Jn
06/37
?
22/22
22/27
45.23
50.18
Banbury
06.45a ~ 06.48d
06.43 ~ 06.48
22.14a ~ 22.17d
22.19 ~ 22.22
40.19
58.78
Fenny Compton
06/57
-
22/05
22/12
31.39
70.27
Leamington Spa
07/07
07.09 ~ 07.51
21/53
21/59
20.10
71.33
Milverton Jn
?
?
21/50
21/56
19.04
75.01
Kenilworth
?
?
21/44
21/51
15.36
79.03
Coventry Park Jn
?
?
21/38
21/46
11.34
79.61
Coventry
07.21a ~ 07.24d
08.07a ~ 08.08d
21.33a ~ 21.36d
21.43a ~ 21.45d
10.56
90.37
Birmingham International
07.37a ~ 07.40d
08.26a ~ 08.33d
20L56a ~ 21L19d
21L01a ~ 21L27d
0.00
34.47
94.70
Stechford
07/44
08/42
20/47
20.46 ~ 20.50
30.14
97.63
Aston
07/51
08/48
20/35
20/39
27.21
100.05
Perry Barr North Jn
07/59
08/50
20/27
20/36
24.79
103.43
Tame Bridge Parkway
08.02a ~ 08.05d
08.57a ~ 08.59d
20.18a ~ 20.23d
20.29a ~ 20.31d
21.41
103.54
Newton Jn
08/06
09/00
?
20/29
21.30
104.23
0.00
Bescot U&DGL
08L09a ~ 08L29d
09L03 ~ 09L42
Stadium 20/15
20/27
20.42
0.22
Bescot Jn
08/31
09/43
?
20/27
20.39
1.37
Darlaston Jn
08/32
09/44
20/14
20/26
19.24
4.36
Portobello Jn
08/34
09/47
20/11
20/23
16.25
7.04
Bushbury Jn
08/37
09/52
20/06
20/19
13.57
20.50
Stafford No.4
08/47
10/08
19/54
20/03
0.11
20.61
Stafford
08/47
10.12 ~ 10.24
19L25a ~ 19L53d
19L36 ~ 20L02
0.00
87.19
26.10
Norton Bridge
08/54
10/30
19/16
19/29
81.70
M.C
Location
Booked
Actual
37.12
Madeley Jn
09/09
10/39
43.34
Basford Hall Jn
09/19
10/46
44.42
0.00
Basford Hall S.S.N. (44.27)
09L25a ~ 09L45d
10L50 ~ 11L07
0.40
Salop Goods Jn (0.37)
09/50
11/10
(1.60)
Sydney Bridge Jn
09/54
DIV
(5.34)
Sandbach
10/03
DIV
(18.05)
Alderley Edge
10/18
DIV
(19.49)
Wilmslow
10/20
DIV
(23.44)
Cheadle Hulme
10/25
DIV
(24.30)
Adswood Road
10/26
DIV
(25.20)
Edgeley Jn No.1
10/28
DIV
(25.65)
Stockport
10/28
DIV
(26.40)
Heaton Norris Jn
10/30
DIV
(27.20)
Ash Bridge Jn
10/31
DIV
(30.50)
Denton Jn
10/37
DIV
(33.71)
Ashton Moss North Jn
10/53
DIV
(36.73)
Baguley Fold Jn
10/57
DIV
(37.56)
Philips Park West Jn
10/58
DIV
(38.02)
Miles Platting Station Jn
11/01
DIV
(39.32)
Manchester Victoria
11/05
DIV
(39.70)
Deal Street Jn
11/07
DIV
(40.44)
Ordsall Lane Jn
11/15
DIV
(41.16)
Salford Crescent
11/17
DIV
(50.05)
Bolton
11c29 ~ 11c34
DIV
(53.02)
Bromley Cross
11/47
DIV
(59.62)
Darwen
12*04 ~ 12*10
DIV
1.25
Crewe Coal Yard
DIV
11/18
8.08
Winsford S.B.
DIV
11/26
17.67
Weaver Jn
DIV
11/34
22.71
Acton Grange Jn
DIV
11/39
24.58
Warrington Bank Quay
DIV
11/40
28.14
Winwick Jn
DIV
11/44
36.38
Wigan North Western
DIV
11/53
46.12
Euxton Jn
DIV
12/02
48.68
Farington Jn
DIV
12/07
49.65
Lostock Hall Jn
DIV
12/11
50.55
Bamber Bridge
DIV
12/13
58.65
Blackburn (63.74)
12/26
12c23 ~ 12c24
59.32
Daisyfield Jn (64.41)
12/27
12/26
69.63
Clitheroe (74.72)
12/47
12/43
70.03
Horrocksford Jn (75.12)
12/48
12/43˝
83.11
Hellifield (88.20)
13/18
13/04
86.36
Settle Jn (91.45)
13/23
13/10
111.02
Carnforth (116.11)
13/57
13/45
111.14
Carnforth North Jn
13/58
13/46
111.46
Carnforth Up & Down Goods (116.53)
14L00 ~ 14L20
13L48 ~ 14L21
114.12
Hest Bank Jn (119.18)
14/25
14/28
115.52
Bare Lane [P2] (120.62)
14*30 ~ 14*32
14.33 ~ 14.35
117.09
0.00
Morecambe [P2] (122.14)
14.36a ~ 14.56d
14p40 ~ 14p55
0.19
Morecambe Jn G.F.
14*57 ~ 14*59
14/56
4.20
0.00
Heysham Harbour
15.10a ~ 15.30d
15p09 ~ 15p29
4.20
0.00
Morecambe [P2]
15.42a ~ 15.47d
15.41 ~ 15.55
1.33
Bare Lane [P2]
15*52 ~ 15*54
15.59 ~ 15.59˝
2.10
Morecambe South Jn
15/58
16/03
4.02
Lancaster
16/00
16/08
25.00
0.00
Preston [P6]
16L21a ~ 17L18d
16.30 ~ 17.18
5.36
Euxton Jn
17/25
17/24
7.39
Balshaw Lane Jn
17/27
17/26
15.10
Wigan North Western
17/34
17.37 ~ 17.38
15.24
Wigan Station Jn
17/36
17/39
18.04
Crow Nest Jn
17/43
17/44
25.35
Walkden
17/51
18/01
31.07
Salford Crescent
18/03
18/10
31.59
Ordsall Lane Jn
18/04
18/12
32.20
Castlefield Jn
18/08
18/14
32.30
Deansgate
18/10
18/14˝
32.59
Manchester Oxford Road
18/11
18/15
33.22
Manchester Piccadilly
18/14
18.20 ~ 18.22
34.06
Ardwick Jn
18/17
18/24
35.47
Slade Lane Jn
18/21
18/28
38.37
Heaton Norris Jn
18/24
18/32
39.12
Stockport
18/25
18/36
39.57
Edgeley Jn No.1
18/26
18/37
40.47
Adswood Road
18/30
18.40 ~ 18.42
41.33
Cheadle Hulme
18/31
18/44
51.09
Macclesfield
18/42
18/54
59.01
Congleton
18/50
19/01
64.55
Kidsgrove
18/55
19/06
71.06
Stoke-on-Trent
19/02
19/16
71.39
Stoke Jn
19/03
19/17
78.14
Stone
19/11
19/24
Figures in brackets are booked mileages before amendments.
Timings continue in first table.
Alan Sheppard comments: Basford Hall & Diversion mileages checked against "Mile by Mile", However, "Mile by Mile" has Denton Jn to Ashton Moss South Jn as 2m 61ch, then another 40 chains to North Jn, Quail shows mileage as 1m 28ch Denton Jn to (site of) Crowthorne Jn, then 46 chains to (site of) Ashton Moss South Jn and finally 40 chains to North Jn. Thus, tour booklet had 3m 21ch, Mile by Mile has 3m 31ch and Quail has 2m 34ch, (good job we didn't go that way!).



Back to "The Railtour Files"