28th May 2005
Past Time Rail
The Riviera Express
| | |
| --- | --- |
| Loco Used | D1015 |
| Stock Used | 17015+3127+3124+1696+3131+3132+1832+5027+5023+4925+17077 |
Route:
1C52 : Paddington to Kingswear
1A52 : Kingswear to Paddington
| | |
| --- | --- |
| Loco | Route |
| D1015 | London Paddington - Slough - Reading - Didcot Parkway - Swindon - Wootton Bassett Jn - Chippenham - Trowbridge - Westbury - Clink Road Jn - (1) - Blatchbridge Jn - Castle Cary - Cogload Jn - Taunton - Exeter St Davids - Dawlish Warren - Newton Abbot - Paignton - Kingswear |
| D1015 | Kingswear - (reverse of outward route) - Cogload Jn - Bridgwater - Bristol Temple Meads - (2) Stapleton Road - Filton Abbey Wood - Bristol Parkway - Westerleigh Jn - Wootton Bassett Jn (2) - (reverse of outward route) - London Paddington |
Notes :
(1) Was booked through Frome but went via the avoiding line.
(2) Booked Route was Bristol Temple Meads - North Somerset Jn - Bath Spa - Chippenham - Swindon.
Sources : various including Richard Rooker



Tour Review
(by Chris Morley)
In my mind a Western hauled excursion to Devon is always a good idea. Two years ago Past Time ran an excellent tour with D1015 from Paddington to Paignton. This tour promised to go one better, all the way to Kingswear for £20 less! A big bonus was the civilised 08.46 start time from London. Arriving some 20 minutes before departure we spied 67028 and a rake of green Mk1s in the gloom of platform 10. There was time for a couple of quick photos at the sharp end despite the best efforts of a stroppy train dispatcher who seemed determined to treat me like an idiot just because I had walked past a sign (obscured by another railwayman standing in front of it). Where do these FGW representatives get their lamentable inter-personal skills?
Anyway, it was obvious that there seemed to be an excessive amount of smoke belching out of Western Championís exhaust portal. As we pulled away from Paddington a huge clag cloud obscured the entire station throat. The Westerns were smoky in BR days but this seemed to be far worse than anything I remember. Adverse signals meant it took 4 minutes to pass under the A40 and the slow acceleration afterwards made several of us wonder if there was a problem with the loco. I didnít expect much thrash on the first leg to Reading as a 53-minute timing seemed to imply a slow line stagger so I took my seat in coach C (unfortunately in the middle of the 11-coach train). There was at least the sight of classic traction to look at in the shape of 37601, 603 & 604 on North Pole depot plus the 31s and 47s on the scrap line at Old Oak. All of this will be history within a few years. On the Heathrow Express depot at least one of the new Heathrow Desiros could be seen. Passing the Tarmac sidings at Hayes 60025 was seen slowly drawing a rake of 4-wheel stone hoppers through the unloading shed. After trundling through Slough (no time for a stop!) I was surprised to see that we were routed onto the fast lines. At last we were able to get moving and the 86mph maximum at Sonning seemed to prove that there wasnít that much wrong with the Western. Unfortunately then we met signals and were put back on the slow line. Passing Scours lane junction I noticed 3 shiny Ďfredsí and some impressive looking p-way kit in the newly re-laid sidings. I wonder what happened to all the old stock including the dismantled PWM shunter that sat rotting there for so many years? Turned into razor blades I guess.
We remained on the slow line until Didcot to allow a HST to pass. I guess we caught it up later because we crawled through Swindon and didnít go that well afterwards. The sight of much of Swindon works turned into new executive flats wasnít pleasant to see and the site of the six derelict Mk1s at Thingly Jcn irritated me as well Ė what a waste! After 82 minutes running time we arrived at Westbury and sat there for some 10 minutes, much to the bemusement of the normals waiting for a plastic train. We were about 15 minutes late when we left and caught sight of 08526 and 60500 in the sidings. No sign of the Fragonset 31s that were, I believe working on service trains to Weymouth. We had been given a rather slack 85 minutes to cover the 78 miles to Exeter and I hoped the deficit could be reduced. I wasnít disappointed as D1015 was taken up to 90mph several times and averaged an excellent 87.8 mph between Castle Cary and Taunton (passed at 85mph). I couldnít fault the climb to Whiteball summit either with a minimum of about 58mph. After racing the Motorway traffic in the high eighties & a slow approach we arrived at Exeter 6 minutes early! Time for an extended photo stop and to secure a droplight for the seawall. And what a superb run it was, even though the sun kept hiding behind the clouds. Certainly the holidaymakers at Dawlish realised that this was no ordinary train as it thrashed past. We were quickly through Newton Abbot and into Paignton a few minutes early where DVR prairie 4555 was seen on a service train. After a few minutes we set off onto the DVR metals, passing various plastic trains in the sidings at Goodrington. I noticed that these were well used but the extended sidings to the South (used for the stock of BR adexís in the 70s) were blocked off & looked very rusty. The twisting climb up to Churston didnít seem to tax D1015 too much. Parked in the sidings at this station were 6435 (Pannier Tank) and black Ď03í no. D2192. After this the line is downhill and I admired the view of the Dart estuary from a droplight. Arrival at Kingswear was a couple of minutes early and after the photos of the Western under the train shed our attention turned to the DVR timetable. Yes, we could get 4555 on a round trip to Paignton but this meant flagging a pub lunch as it was a one train service! Oh well, Iíll get 4555 in the book one dayÖ..
I must be getting old Ė the Dartmouth ferry was only 50p the last time I used it and now itís a whole pound! After a few pints and fishíníchips we got back to Kingswear in time to see 4555 depart with the 17.00 and listen to the Western starting up. We left a couple of minutes late but this was made up before we arrived in Paignton where the DVRís D3014 was noted in well-weathered BR blue. The run to Exeter was spirited and D1015 thrashed away well from St. Davids Ė however I noticed it seemed to ease off between about 20 & 40-45 mph so I guess there was some kind of technical issue. On my last trip D1015 had been very strong in this speed range - however it had no problem at higher speeds and made 80mph past Tiverton Parkway on the climb to Whiteball. A 50mph TSR at the top spoilt things somewhat and the driver didnít seem keen to get up to 90mph so I gave up timing at this point. Even so the 75.5 miles to Temple Meads only took 63 minutes & 26 seconds and we stopped there for a few minutes. From here we were supposed to veer right and go via Bath & Chippenham. Instead we headed straight on up the hill to Filton. At Barton Hill three unidentified class 37s were outside the shed. None of them had numbers Ė the first being in grey primer, the second in very faded Transrail grey and the third in Mainline blue. As this had a split box front I guess that it was 37077?
The timing via Bath to stop at Swindon was a pedestrian 51 minutes. Instead we took a shade under 40 minutes and so enjoyed a 15-minute photo-stop while the 20.29 and 20.33 up HSTs called.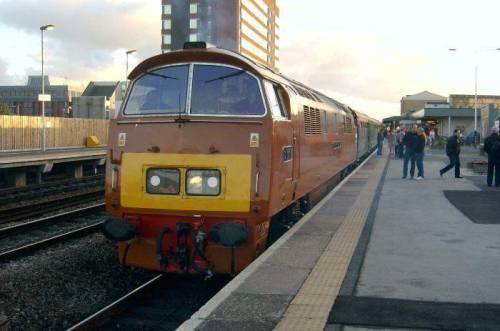 D1015 during the pause at Swindon (photo: Chris Morley)
Setting off after the 20.33 we seemed to have the same slow acceleration issue. Again the running was somewhat conservative, cruising between 85 and 89mph until checked near Goring, probably by the 20.33. However we only lost 14 seconds to Reading despite the slow approach, so higher speeds were unnecessary. Departure from Platform 5 was on time and I hoped that we could gain some time on the lax 51-minute schedule to Paddington so I could catch the 22.08 Turbo. No chance Ė brakes on before Twyford and a good view of the down slow at Ruscombe being dug up, with numerous men & machines plus 66212 in attendance. After another quick spurt of speed before the anchors went on again at Burnham and then onto the slow line at Dolphin Jcn. After more trackwork (on the fast lines at Hayes and Harlington) we were routed back on the fast and made another 80mph+ dash. After running parallel with 67028 near Royal Oak we pulled into platform 9 dead on time at 22.08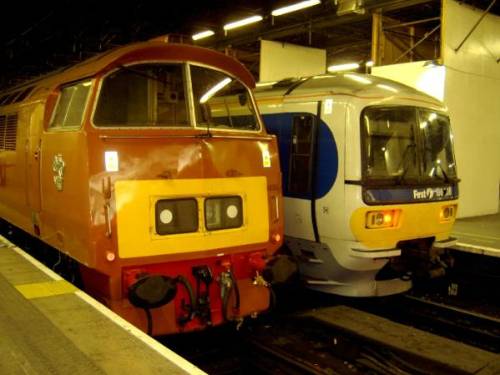 D1015 at the stops, Paddington (photo: Chris Morley)
All in all an excellent day out, good weather & scenery on a classic Western route for a very reasonable fare. Itís a shame we didnít spend more time at 90mph but then the timings didnít really require it and D1015 easily gained time whenever it was given a clear run. The day could have been improved I guess with front coach action and the loco & stock in BR blue as I remember them but you canít have everything! In fact we were lucky that D1015 didnít have a problem as there are so few locos around nowadays on the modern railway to help out Ė in fact we went more than 7 hours and travelled 208 miles between Fairwood jcn, Paignton & Bristol without seeing any other locos (DVR excepted).
Chris Morley



Timings (Booked & Actual)
(from various including PRAR)
Location
Booked
Actual
Booked
Actual
London Paddington
08.46d
08.50
22.08a
22.07
Ladbroke Grove
08/49
08/55
22/04
22/03
Acton West
08/53
08/59
21/58
21/59
Southall
08/57
09/08
21/55
21/57
Airport Jn
09/02
09/12
21/52
21/53
Slough
09/12
09/19
21.34a ~ 21.42d
21/38
Maidenhead
09/18
09/26
21/27
21/31
Twyford
09/24
09/31
21/22
21/23
Reading
09.39a ~ 09.42d
09.44 ~ 09.47
21.14a ~ 21.17d
21.15 ~ 21.17
Reading West Jn
09/44
09/48
21/12
?
Didcot Parkway
09/59
10/06
20/58
20/57
Foxhall Jn
10/02
10/07
?
?
Wantage Road
10/09
10/22
20/52
20/52
Challow
10/12
10/25
20/49
20/50
Uffington
10/14
10/30
20/47
20/48
Swindon
10/24
10/35
20.33a ~ 20.37d
20.21 ~ 20.38
Wootton Bassett Jn
10/29
10/40
20/23
20/13
Hulavington
DIV
20/04
Westerleigh Jn
DIV
19/54
Bristol Parkway
DIV
19/50
Filton Abbey Wood
DIV
19/49
Stapleton Road
DIV
19/44
Dr Days Jn
DIV
19/43
Chippenham
10/38
10/48
20/06
DIV
Thingley Jn
10/40
10/51
20/05
DIV
Bathampton Jn
19/56
DIV
Bath Spa
19/53
DIV
North Somerset Jn
19/44
DIV
Bristol East Jn
19/43
DIV
Bristol Temple Meads
19/42
19.40a ~ 19.41d
Parson Street
19/39
19/35
Worle Jn
19/26
19/23
Uphill Jn
19/24
19/21
Highbridge & Burnham
19/18
19/15
Bridgwater
19/13
19/10
Bradford West Jn
10/52
11/01
Westbury
11.01a ~ 11.03d
11.09 ~ 11.15
Fairwood Jn
11/06
11/19
Clink Road Jn
11/10
11/23
Frome
11.13a ~ 11.13d
DIV
Blatchbridge Jn
11/24
11/24
Castle Cary
11/37
11/33
Cogload Jn
11/55
11/49
19/07
19/05
Taunton
11/59
11/52
19/04
19/02
Tiverton Parkway
12/12
12/04
18/52
18/50
Cowley Bridge Jn
12/25
12/14
18/37
18/38
Exeter St Davids
12.28a ~ 12.52d
12.17 ~ 12.52
18.32a ~ 18.35d
18.29 ~ 18.35
Dawlish Warren
13/04
13/04
18/16
18/19
Newton Abbot
13/17
13/16
18/05
18/09
Paignton
13.40a ~ 13.45d
13.30 ~ 13.41
17.45a ~ 17.50d
17.52 ~ 17.55
Paignton SGF
13/47
13/43
17/43
17.47a ~ 17.50d
Kingswear
14.15a
14.04
17.15d
17.20