2nd May 2005
Green Express Railtours
The Devonian
| | |
| --- | --- |
| Locos Used | 47854 & 57601 |
| Stock Used | 99329+99317+99328+1861+5035+4960+21206+99121+3136+3143+99125+99673 |
Route:
1Z66 : Leeds to Dawlish
1Z67 : Dawlish to Leeds
| | |
| --- | --- |
| Loco(s) | Route |
| 57601 (1) | Leeds - Whitehall Jn - Morley - Dewsbury - Thornhill LNW Jn - Mirfield East Jn - Huddersfield - Diggle Jn - Stalybridge - Guide Bridge - Ash Bridge Jn - Heaton Norris Jn - Stockport - Wilmslow - Crewe - Wem - Whitchurch - Shrewsbury - Craven Arms - Leominster - Hereford - Abergavenny - Severn Tunnel Junction - Patchway - Dr Days Jn - Bristol Temple Meads - Bridgewater - Taunton - Exeter St Davids - Dawlish |
| 47854 (2) | Dawlish - (reverse of outward route) - Leeds |
Notes :
(1) 47854 on rear.
(2) 57601 on rear.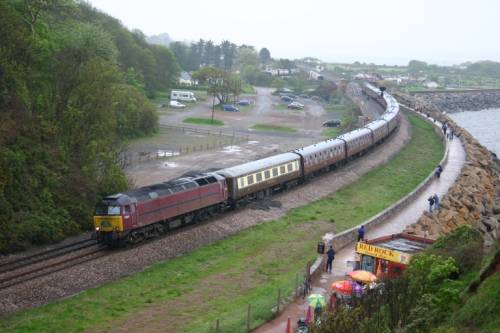 The tour passes between Dalwish Warren & Dawlish (photo : David Russell)
Sources : Richard Rooker, Andrew Mitchell & Warren Coppack



Tour Review
(by Steve Perryman)
OK. Lets get this straight, Green Express do not run railtours. I know that because their trips do not appear in Gary's column in Rail Express so this must be a Merrymaker or Adex (Webmasters comment: Actually they do run railtours - but their Website went dormant last year since when none of their future tours have been advertised in Cyberspace, hence I have not been aware of them). The loco selection is limited, tied to West coast you get 47854 or 57601 or perm any combination or both, but hey guys this is 2005. Your usual choice is 220XXX or 170XXX or 158XXX.
So, at least they do use locos and stock and cater to the older generation with a point to point trip to a destination of some interest. Thus it was that despite advice from my elders and betters and donning my cardy and cape I boarded The Devonian in Stockport. And what a stonking trip it turned out to be!
An easy spec on paper the train ran from Leeds 05.27 via Stalybridge to Stockport (07.48) then Wilmslow for a run down "the Marches", turn left at Newport and "bobs your auntie", to Bristol. Scheduled arrival at Exeter was 12.01 and Dawlish 12.34 with a layover at the Warren to allow an HST and a Voyager to pass (don't worry the sea was calm).
We worked out that stock, dead trailing loco and passengers amounted to around 560 tons. Heavy by today's standards and certainly taxing for 57601 which seems to struggle when getting away from rest and as soon as it goes up a hill. (Reminiscent of a kettle really). Anyway following delays to Crewe an exciting ride down the Marches followed with the bogies and suspension tested at times on our Mark1 saloon 3766 allegedly the oldest vehicle in passenger service on the main line today having been built in 1953.
Arrival in Exeter was around 10 down but with the recess in Dawlish Warren where the photters had time to climb Langstone rock we eventually arrived just 2 down.
For the ride home we were two coaches behind 47854. Suffice to say that I find the arguments between Spoon goons and Non-spoon goons tedious against a background of "sod all else to do". From my perspective I was two coaches behind and able to shove my head into the slipstream of an engine that was worked bloody hard for at least three out of the five-hour return. It is a long time since I have witnessed such sustained thrash enough to bring out a huge grin and turn what little hair I still possess black with bits and pieces. Line and stock limits were regularly reached and although '854 toiled at the banks it was clear that the driver was "on a mission".
The result: arrival back at Stockport at 20.49 5 hours 19 minutes out of Dawlish and 30 minutes ahead of the advertised time. Her indoors is happy 'cos we are home early, I'm happy 'cos I saw me Mum (who lives in Dawlish) and got 520 loco hauled miles into the bargain. And all for around 40 quid.
What else can you do on a Bank Holiday?
"Old Father Time".



Timings (Booked Only)
(from David Russell)
| | | |
| --- | --- | --- |
| Location | Booked (out) | Booked (rtn) |
| Leeds | 05.27d | 22.21a |
| Leeds West Jn | 05/28 | 22/19 |
| Whitehall Jn | 05/28 | 22/19 |
| Morley | 05/36 | 22/10 |
| Dewsbury | 05.41a ~ 05.43d | 22.02a ~ 22.04d |
| Thornhill LNW Jn | 05/47 | 21/58 |
| Heaton Lodge Jn | 05/49 | 21/56 |
| Huddersfield | 05.55a ~ 05.57d | 21.43a ~ 21.51d |
| Marsden | 06/12 | 21/34 |
| Diggle Jn | 06/17 | 21/30 |
| Greenfield | 06/20 | 21/26 |
| Stalybridge | 06.30a ~ 06.32d | 21.16a ~ 21.18d |
| Guide Bridge | 06/38 | 21/10 |
| Denton Jn | 06/40 | 21/08 |
| Heaton Norris Jn | 06/46 | 20/52 |
| Stockport | 06.48a ~ 06.50d | 20.49a ~ 20.51d |
| Edgeley No.1 | 06/51 | 20/48 |
| Adswood Road Jn | 06/52 | 20/47 |
| Cheadle Hulme | 06/54 | 20/46 |
| Wilmslow | 07.08a ~ 07.10d | 20.37a ~ 20.39d |
| Alderley Edge | 07/14 | 20/35 |
| Sandbach | 07/26 | 20/22 |
| Sydney Bridge Jn | 07/35 | 20/18 |
| Crewe | 07/40 | 20/16 |
| Gresty Lane Jn | 07/44 | 20/14 |
| Nantwich | 07/48 | 20/02 |
| Wrenbury | 07/59 | 19/58 |
| Prees | 08/12 | 19/49 |
| Wem | 08/16 | 19/42 |
| Harlescott Crossing | 08/26 | 19/33 |
| Shrewsbury | 08/29 | 19/29 |
| Sutton Bridge Jn | 08/31 | 19/26 |
| Dorrington | 08/38 | 19/18 |
| Marsh Brook LC | 08/47 | 19/09 |
| Craven Arms | 08/51 | 19/03 |
| Bromfield | 08/54 | 18/59 |
| Ludlow | 08/58 | 18/55 |
| Wooferton | 09/08 | 18/51 |
| Leominster | 09/08 | 18/46 |
| Shelwick Jn | 09/20 | 18/36 |
| Hereford | 09/24 | 18/33 |
| Tram Inn | 09/32 | 18/24 |
| Pontrilas | 09/37 | 18/19 |
| Abergaveny | 09/48 | 18/08 |
| Little Mill Jn | 09/55 | 18/01 |
| Maindee North Jn | 10/08 | 17/47 |
| Maindee East Jn | 10/10 | 17/45 |
| Severn Tunnel Junction | 10/19 | 17/35 |
| Severn Tunnel UTG | 10/20 | 17/34 |
| Pilning | 10/25 | 17/26 |
| Patchway | 10/32 | 17/21 |
| Filton Abbey Wood | 10/35 | 17/13 |
| Stapleton Road | 10/40 | 17/07 |
| Dr Days Jn | 10/41 | 17/06 |
| Bristol East Jn | 10/42 | 17/05 |
| Bristol Temple Meads | 10.44a ~ 10.47d | 16.53a ~ 17.04d |
| Worle Jn | 11/05 | 16/37 |
| Uphill Jn | 11/07 | 16/35 |
| Highbridge Jn | 11/12 | 16/29 |
| Bridgwater | 11/18 | 16/24 |
| Cogload Jn | 11/24 | 16/19 |
| Taunton | 11/28 | 16/16 |
| Tiverton Parkway | 11/44 | 16/04 |
| Cowley Bridge Jn | 11/59 | 15/49 |
| Exeter St Davids | 12.01a ~ 12.04d | 15.44a ~ 15.47d |
| Dawlish Warren | 12*16a ~ 12*30d | 15/33 |
| Dawlish | 12.34a | 15.30d |