23rd April 2005
Mercia Charters Limited
The Heart of Stone
Locos Used
SNCB: 2351 & 2623
TUC Rail: 5307 & 5320
Stock Used
21023+21008+21127
Route:
E18226 : Gent Sint Pieters to Leuven M
Z18337 : Leuven M to Charleroi Sud Q
Z18338 : Charleroi Sud Q to Mariembourg
Z18339 : Mariembourg to Vilvoorde
Z18340 : Vilvoorde to Gent Sint Pieters
| | |
| --- | --- |
| Loco(s) | Route |
| 2623 (4) | Gent Sint Pieters - (via line 50A) (2) (3) - Brussel Zuid - Brussel Centraal - Brussel Noord - Schaerbeek - (via line 27) - Vilvoorde - Y Weerde - Y Hever - Haacht - Y Dijlberg - Leuven (5) |
| 5320 (6) | Leuven - Leuven yard |
| 5307 (7) | Leuven yard - Leuven - Sint-Joris Weert - Ottignies - Gembloux [P2] - Mazy - Jemeppe-sur-Sambre - Tamines - Châtelet - Couillet - Charleroi Sud Quai (depot) - Charleroi Sud - Jamioulx - Walcourt - Mariembourg |
| 5320 (6) | Mariembourg - Walcourt - Jamioulx - Marchienne-au-Pont - Roux - Luttre [P4] - Nivelles - Y Linkebeek (8) - Y Forest Est - Y Curegem - Brussel West - Y Pannenhuis - Y Bockstael - Y Zennebrug - (8) Schaerbeek [P12] - (via line 27) - Vilvoorde |
| 5307 (7) | Vilvoorde - (via line 27) - Schaerbeek |
| 2351 | Schaerbeek - Brussel Noord - Brussel Centraal - Brussel Zuid [P13] - (via line 50A) - Gent Sint Pieters |
Notes :
(1) Advertised but not achieved (not informed by SNCB until two weeks before tour);
(a) Mariembourg to Couvin - due to engineering works
(b) Line 286 from Mariembourg - due to state of track
(c) Les Petons : due to presence of freight train at same time and no signals controlling the move onto the line from Line 132 so was deemed unsafe for a passenger train
(2) Was advertised to run Gent St Pieters – Merelbeke – Y Melle – Y Meulewijk – Line 50A – Y Welle – Denderleeuw but (for reasons not explained by SNCB) was booked and ran direct to Brussels on line 50A.
(3) Was advertised to run Denderleeuw – Line 50 – Jette – Y Jette – Y Pannenhuis – Line 28 – Brussel Zuid but unable to do so due to engineering works.
(4) Plus 5307 (ticking over, not crewed or powering) and 5320 on rear.
(5) Was shown as running straight to Leuven Museum but reversed at station (dropping off 2623 in the process) then went into Leuven yard from where passengers walked to the museum building for a visit.
(6) 5307 on rear.
(7) 5320 on rear.
(8) Was booked to run Linkebeek - (via line 26) - Etterbeek - Brussel Luxembourg - Y Josaphat - Schaerbeek but two days before the tour SNCB advised this was not possible to do hence the train went via Brussel West.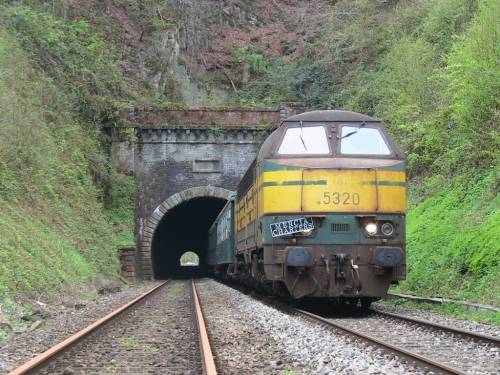 A "real" photostop at the tunnel south of Jamioulx (photo: Gary Thornton)
Source : Gary Thornton (on the train throughout)



Tour Review
(by Janet Cottrell)
Belgium was the first foreign country that I explored (unless you count Ireland as being "abroad") so I have long since moved onto pastures new after exhausting most of the possibilities there. Despite this there are still a few locos and freight only lines available and there is the beer of course, so any tours advertised are always of interest.
This tour as originally advertised would yield two new lines, a first visit to the depot at Charleroi Sud Quai and the possibility of up to four new engines – the only snag being trying to get the time off work. Fortunately leave was granted, the booking was sent off… and then the problems started. Two weeks before the tour, SNCB advised that neither of the two freight lines would be available (one due to state of track, the other due to lack of signalling from the main line), the line to Couvin was closed by engineering works (not required, but it would have been nice to go to the end) and there would be no museum loco available (no great loss personally as I only need 5166 and it was unlikely to be that). Brief thoughts along the lines of "why do I bother to do these tours" flitted through the grey matter, but what the hell – everything was booked up and I could hardly turn round and cancel the leave after pestering the roster clerk, so why not just get on with it and enjoy the day.
En route to Brussels on Friday afternoon, gen had come through that 2623 was on the 1509 FO Brussels – Arlon, just typical when we had decided to go over after work rather that having another day off, however a quick check of the piffle revealed that it was in fact dud. In any case, it did not matter as guess what was the first engine on the tour and it had worked on a Mercia tour before (see The Unnatural Selection of 8th March 2003) - a real "bowl out" although I would not be very surprised if one or two people did score it.
Much more interesting were the two Nohabs (5307 and 5320) which arrived at Gent already attached to the coaches and were to be the main power for the day, an excellent choice which enabled at least two people to clear the class.
For some reason our route was straight down line 50A, the main line rather than the more circuitous route via Line 50, but beyond Brussels we did take the scenic route via Vilvoorde and Hever. The timing sheet showed us to call at Leuven museum but we sailed straight down the main line, past the reception committee and into the station where the class 26 was detached. How were we going to get to the Museum now - walk, or was there a somehow a way back through the decimated point work to reach our goal? Within a few minutes we had the answer after the electric was rapidly detached and 5320 was started up to drag us back past the museum and into the yard. Even though there was a platform of sorts adjacent to the museum we alighted in the yard and had to walk the couple of hundred yards to meet the welcoming committee. This did have the advantage of enabling us to get some good photographs of our train as well as the three "TGV" rescue engines stabled nearby.
The museum is housed in the old engine shed which is not ideal for displaying the various items – in fact it was virtually impossible to get decent pictures of some of the exhibits, the worst case being diesel 211 006 which was hidden away behind a partition and could only be identified by squinting through a crack in the door. Once everybody's curiosity had been satisfied we all trooped back to the train ready for the journey south, but we only got as far as the platform at Leuven before stopping in front of some puzzled passengers who were eyeing up our train with suspicion (well the board did say we were the Local train to Aarschot and Hasselt). It was only a short pause though and we were soon on our way, but despite being at the front there was hardly any thrash from 5307, if it wasn't for the fact there was only one driver I would almost have said that we were being pushed. Other people a bit further back said that the loco could be heard and it did not help that hardly any of the windows in our section could be opened but it did appear that 5307 was a rather poor specimen or maybe the driver was being gentle with it.
Even though we left Leuven late, we still lost time en route to Charleroi and that, coupled with a dead stand for a few minutes at Couillet meant that we arrived at Charleroi Sud Quai depot some 30 minutes late. Following a quick discussion on the platform we were told to be back on the train at 12.20, giving us 20 minutes to go round the depot, I think most people managed to get round in the time but it was a bit of a rush.
We left the depot 10 minutes down and headed for Mariembourg via the centre through line at Charleroi Sud station. The weather, which had been bright and sunny, was now threatening rain as we had a photo stop at Jamioulx, managing to wither the locals in the process. The reason – there is a level crossing immediately south of the platforms and for the entire eight minutes or so that we were there snapping away, the barriers were down, the bells were ringing and the cars were waiting! There was a repeat performance at Cour sur Heure with more motorists being held up. By now we were still about 10 minutes down so it was decided that we should cross the service train at Walcourt rather than Phillipeville, quite a good move as it turned out as there was plenty of time to cross to the other platform to photograph both ends of the train and there was a pair of class 77's to view as well.
En route southwards, we passed the new quarry line and another reason for our not being able to cover it was apparent, there was a train in there which was why the two class 77's were waiting at Walcourt. It was also obvious why we could not do Line 286 either, there were two small trees growing in the four-foot at the start of the line, so goodness knows what it was like further along. Mariembourg itself had seen better days, but the preserved CF3V could be seen in the distance making use of part of the former yard – it even looked as if they might be operating today using an ex SNCB class 44 or 45 railcar.
On the return journey, it was announced that there would be a photo stop just outside one of the tunnels north of Walcourt and anybody wishing to avail themselves of this opportunity should make their way to the front of the train. Whilst waiting at the other end of the train it was noted that 5320 sounded far louder than 5307 had, so at least we couldn't blame the driver. Once through the tunnel, we all bailed off and lined up for the shot of our train "bursting out of the tunnel" with the sound of bells ringing. Yes there was another level crossing a short distance ahead, the barriers were down and, despite the rural area, there were cars waiting!
Once everybody had got their "master shot" it was back onto the train and head for Brussels through the intermittent rain showers, we were lucky that the rain stopped or was only very light at all of our stops, especially the one outside the tunnel.
A further change from the booked route saw us heading via Line 28, past Schaarbeek to Vilvoorde where we reversed and retraced our steps to Schaarbeek station. All rather pointless but if we had gone via Line 26 we would have to had gone to Vilvoorde to reverse so I can only assume that the extra mileage was a leftover from the original request. As we went past the depot there were no class 23's in sight, 2606 was standing open which would be nice, but as the two Nohabs prepared to return to the shed, 2351 appeared round the corner. At last, my first new 23 for nearly four years and that is not for the want of trying either. It only remained for the loco to be coupled up and a fairly mundane trundle straight back down line 50A before we arrived back at Gent with plenty of time for a meal and a beer.
In conclusion, despite the changes I did enjoy the tour – three out of four new engines can't be sneezed at although it would have been nice to have got some new freight lines in the book as well. Roll on next October.
Janet Cottrell



Timings (Booked & Actual)
(from Gary Thornton & Janet Cottrell)
km
Location
Booked
Actual
0.00
Gent Sint Pieters
07.40d
07.40
9.10
Y Meulewijk
07/45
?
28.20
Y Welle
07/59
08/01
34.30
Y St Katherina Lombeke
08/03
?
48.90
Y Brussel PI/KE
08/13
08/16
51.80
Brussels Midi/Zuid
08.16a ~ 08.19d
08.20 ~ 08.21
55.60
Brussels Nord
08/26
08/30
57.90
Schaerbeek
08/30
08.35a ~ 08.39d
62.20
Y Haren Nord
08/35
08/43
63.60
Y Machelen
08/36
08/44
65.10
Vilvoorde
08*38a ~ 08*44d
08/45
71.30
Y Weerde
08/49
08/50
75.40
Y Prinsenhoek
08/52
08/54
76.70
Y Hever
08/54
08.55a ~ 09.01d
93.10
Y Dijleburg
09/07
09/13
95.20
Leuven Museum
09L10a
DIV
-
Leuven
DIV
09L16a ~ 09L23d
-
Leuven Yard
DIV
09.26 ~ 10.12
0.00
Leuven Museum
10L03d [09L57d]
DIV
0.50
Leuven
10/05 [10.01a ~ 10.05d]
10.16 ~ 10.19
2.20
Y Parkbrug
10/07
10/21
12.00
Sint Joris Weert
10/19
10/30
24.00
Wavre
10*29a ~ 10*33d
10/40
29.35
Ottignies
10/40
10/49
43.95
Gembloux
10/52
11/02
51.15
Mazy
10/57
11/09
57.50
Y Jemeppe Froid
11/02
11/15
58.45
Jemeppe-sur-Sambre
11/04
11.18a ~ 11.20d
63.05
Auvelais
11/06
?
65.45
Tamines
11/08
11/27
73.55
Châtelet
11/15
11/39
78.45
0.00
Charleroi Sud Quai depot
11.29a ~ 12.15d
12.00 ~ 12.25
3.90
Charleroi Sud
12/19
12/32
6.30
Y La Sambre
12/21
12/35
13.00
Jamioulx
12p27a ~ 12p37d
12.42 ~ 12.48
19.60
Cour sur Heure
12p43a ~ 12p53d
12.56 ~ 13.01
25.80
Walcourt
12/58
13x08a ~ 13x31d
39.20
Phillipeville
13p09a ~ 13p19d
13/46
51.60
0.00
Mariembourg
13p31a ~ 14p05d
13.57 ~ 14.11
12.40
Phillipeville
14/16
14/25
25.80
Walcourt
14p29a ~ 14p39d
14.37a ~ 14.39d
30.00
Cour sur Heure
14/48
?
36.60
Jamioulx
14/57
15/01
45.30
Y La Sambre
15/08
15/06
45.90
Marchienne au Pont
15/10
15/10
48.40
Roux
15/21
15/12
56.10
Luttre
15/31
15/14
67.80
Nivelles
15/42
15/45
75.15
Braine l'Alleud
15*55a ~ 16*00d
15.56 ~ 16.09
89.20
Y Linkebeek
16/15 [16/14]
?
90.30
Y Linkebeek-Halle
16/17 [DIV]
DIV
95.65
Y Boondaal
16/23 [DIV]
DIV
97.25
Etterbeek
16/28 [DIV]
DIV
99.45
Brussels Luxembourg
16/32 [DIV]
DIV
103.85
Y Josaphat
16/37 [DIV]
DIV
-
Y Forest Est
[16/19]
16/23
-
Y Curegem
[16/22]
16/24
-
Brussels West
[16/25]
16/27
-
Y Pannenhuis
[16/30]
16/30
-
Y Bockstael
[16/31]
16/32
-
Y Zennebrug
[16/33]
16/34
105.05
Schaerbeek
16/40 [16/36]
16.37a ~ 16.39d
-
Schaerbeek Vorm
[16/40]
?
-
FSR BL2E
[16/44]
?
109.35
Y Haren Nord
16/48 [16/47]
16/44
110.75
Y Machelen
16/49 [16/49]
16/47
112.25
0.00
Vilvoorde
16.51a ~ 16.56d
16.48 ~ 16.54
1.50
Y Machelen
16/58
16/55
2.90
Y Haren Nord
16/59
16/56
7.30
0.00
Schaerbeek
17L04a ~ 17L35d
17.04 ~ 17.36
2.30
Brussels Nord
17/40
17/41
6.10
Brussels Midi/Zuid
17.47a ~ 17.52d
17.48 ~ 17.52
9.00
Brussels PI/KE
17/57
17/56
23.60
Y St Katherina Lombeke
18/09
18/07
29.70
Y Welle
18/14
18/12
48.80
Y Meulewijk
18/28
18/27
57.90
Gent Sint Pieters
18.35a
18.36
Times in [ ] brackets were very late alterations only advised two days before the tour.
Mileages do not allow for the diversions.



Back to "The Railtour Files"