23rd April 2005
Deltic Preservation Society
Thales Flyer
| | |
| --- | --- |
| Locos Used | 55019 & 67013 |
| Stock Used | 5341+5040+4902+1863+3140+3112+3122+3068+1692+3069+3066+17056 |
Route:
1Z50 : Kings Cross to Edinburgh Waverley
1Z55 : Edinburgh Waverley to Kings Cross
| | |
| --- | --- |
| Loco(s) | Route |
| 55019 | London Kings Cross - (via ECML, Darlington station) - Grantshouse (1) - Edinburgh Waverley |
| 67013 (2) | Edinburgh Waverley - (via ECML, Darlington station avoiding line) - London Kings Cross |
Notes :
(1) Comment from Simon Hartshorne (DPS engineer) posted on the DPS Website: "Around Grantshouse on the down trip the leading engine's governor developed a fault which resulted in the engine not being loaded up correctly. The fault continued and resulted in a severe loss of power by the time we arrived at Edinburgh. When leaving Edinburgh with the ECS the engine went seriously overload and was shut down to avoid any risk of damage". This resulted in the substitute motive power for the return leg.
(2) 55019 dead on rear.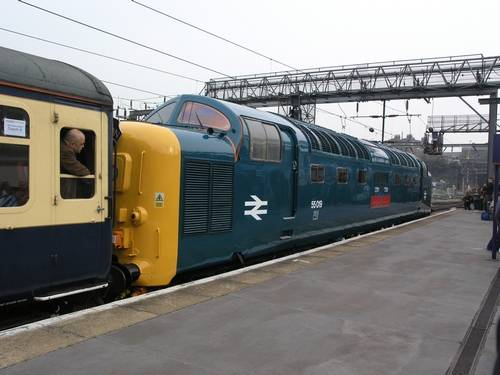 Re-skinned and immaculate - 55019 at Kings Cross (photo: Ralf Edge)
Sources : various including Ralph Barrett, David Russell & Martyn Brailsford



Tour Review
(from Ralph Barrett)
2004 was a very bleak year for Deltic haulage enthusiasts. For the first time since the return of D9000 to the mainline in 1996, there were no Deltic mainline railtours. It was worse than that Jim, as for the first time since 1982 there were no passenger runs behind a Deltic on the preserved railway circuit either. So all Deltic enthusiasts have been looking forward to the first DPS tour since the epic Deltic Preservation Society (DPS) Freedom-of-Scotland of 2003. Today's train was entitled the 'Thales Flyer', and the railtour ran from King's Cross to Edinburgh and back, behind the DPS's freshly TPWS-fitted Deltic 19 locomotive.
The 'Thales Flyer' railtour was organised by the DPS, using coaching stock provided by Riviera trains, and was run by the newly formed FM Rail Train Operating Company (an amalgamation of Fragonset and Merlin Rail). As this was the first of the DPS's out-and-back railtours to offer a posh-nosh option, I had decided to treat myself to the full meals option. Eating fine food at 100mph behind a Deltic on the ECML - about as close to heaven as I'm ever going to get in this lifetime. Life is short, make the most of it !
I travelled with a mate who lives in Datchett near Slough, so it was an early start and a long trundle along South-Western metals, then the Northern line to Euston for a brisk walk to the 'Cross. ECS had already arrived in platform 5? behind Class 50 'Hood' when we arrived, which was good. Coaching stock was not late arriving at King's Cross for a change. Late arrival of the carriages seems to occur more frequently since the charter stock was moved from Bounds Green depot to EWS's Old Oak Common depot.
Deltic 19 looked resplendent at the other end of the train, dressed in her new uniform to match the late BR period (sans regimental crests). Her bodywork was gleaming, and you could see reflections in her shiny new paintwork. This is what the public want!
Unfortunately for us, the posh-nosh carriages were at the back of the train at King's Cross, so we'd have to wait until the return journey, to actually get to hear that Napier 'music' from the Deltic locomotive once again (or so we thought :-( ) Departure from the 'Cross was just a minute late at 08:19, and we had a very firm start from the platform, and into gasworks tunnel. I could tell instantly that this was an experienced Deltic driver, who could show the world that a Deltic would start quickly with a heavy load in tow. For the record we were load 12, comprising (I think) 10 Mk1s, plus a Mk2 barrier carriage at each end to satisfy the health and safety zealots.
All mainline locomotives running on National Rail metals now have to be fitted with Train Protection and Warning System (TPWS) equipment. Deltic 19 was no exception, and the fitting of the TPWS equipment had recently been completed by a company called Thales. All passengers on the tour were given a Thales brochure, which contained an article briefly explaining the installation of the equipment in Deltic 19, and that Thales had themselves hired one of the posh-nosh carriages for their staff. Hence the name the 'Thales Express' (and not the 'Thames Express', as reported in a newspaper article in The Scotsman!).
Finsbury Park station was passed at 58mph in 4 minutes 32 seconds from the 'Cross, which is a very good start for load 12. Remember too that I was timing from the back of the train. Passing time at Finsbury Park for anyone timing at the front of the train would have been about 8-10 seconds faster at this speed.
We ran slow lines all the way to Sandy, stopping to pick up passengers at Potter's Bar and Stevenage. After Stevenage the Deltic power handle was pulled firmly back where it belongs, and a Deltic reached 100mph again for the first time in almost 2 years. And the sun was shining. Plus a full English Breakfast was being served for the posh-nosh passengers. Bliss.
For some reason Peterborough power box checked us on the approach to Peterborough, even though we were running very close to our booked time. I suspect that the panel just wanted to have better look at the Deltic, so were slowed to 45mph through the station, and exited on the fast lines on full power. Many thanks to Peterborough panel for allowing us have a run at Stoke bank, as the timings appeared to show that we had been booked to climb Stoke bank on the slow lines. Yuk !
Many people on the train were eager to record 19's performance climbing up Stoke bank, especially as she has just been load bank tested by the DPS volunteers at Barrow Hill. We passed Little Bytham at around 91mph and cleared Stoke summit at just over 85mph. From the figures published in a recent Deltic Deadline magazine for an almost identical climb by D9000, this indicates that Deltic 19 is now developing close to correct 3300bhp on full power. The trailing wind probably cancelled out the extra weight of an extra carriage on this train.
Fast running was shortlived, as were soon being checked by Doncaster panel to go into the loop at Claypole. The 09:00 Edinburgh and 09:05 Leeds were by now hard at our heels. Once these trains had passed, our quick exit from the loop at Claypole ensured that we caught up with the Leeds train, which was first stop Newark out of King's Cross. So we were stopped outside Newark station, awaiting the departure of the GNER train. However we were soon underway again and running at 100mph before Grove Road crossing. We were further checked approaching Doncaster, which is pretty normal as there are lots of trains that cross over the tracks on the level here. Again nice to see some of the box staff giving us a wave as we powered though the station, amidst the many photographers on the platforms.
After a check before Shaftholme Jcn, we then ran fast along the Selby deviation all the way to York, where we arrived 15 seconds before our booked time at 11:19. Standard of driving of Deltic 19 had been very good, and our driver appears to have slowed down slightly on this section, to avoid arriving at York too early ? At York we had the rare treat of getting the main platform under the main station roof - where many photographers were waiting to get a classic photograph. Indeed York seemed to be packed with railway photographers, as 71000 'The Duke of Gloucester' was also running along the ECML from York to Newcastle later that day.
Departure from York was a more subdued affair, as we had obviously changed drivers. New driver was of the more recent EWS school of Deltic driving, where you have to wait several minutes before applying full power:-( We departed York two minutes down at 11:24, and we never saw right time again for the rest of the railtour. We did reach 100mph before Thirsk, but most of the running was now in the 90s.
For some reason we were checked approaching Darlington, and were sent non-stop through the station via a platform road. Deltic 19 was opened up within the station, which must have made a wonderful sight for all of the GNER staff who had come out the watch. I've no idea why we were not routed via the avoiding lines, although this is at least the second time that this has occurred on the Deltic railtour recently.
Newcastle was reached 3 minutes late at 12:30, and many passengers departed for a day out in Geordieland. A good compliment of photographers were manning the castle keep, so I'm hopeful of a good photograph of Deltic 19 in one of the magazines. Upon leaving Newcastle us posh-noshers were served lunch - it's a hard life. We were later looped (as booked) just before Alnmouth, to allow the 09:30 KX-Edinburgh train to pass us. We should then have had a fast run to Edinburgh, and should have been able to arrive slightly early.
But something appeared to be wrong with Deltic 19 from now on. Either the driver was not pulling back the power handle far enough (perhaps his arm was too short ;-) ), or Deltic 19 was not developing full power for some reason ? Speed was subdued, and we started to lose time. Berwick-upon-Tweed station was passed at 13:45, 9 minutes late. The climb up to Granthouse only saw 68mph over the summit. We were certainly no longer running on full power. Further lacklustre running down the hills saw us being given the loop at Drem, to allow the 10:00 ex-KX to overtake. We should have been in Waverley 10 minutes in front of this train.
Once clear of Drem, we ran mostly at 70-80mph towards Edinburgh. This should mostly be 100mph running for a Deltic, even with our load. An additional stop outside Waverley station, saw us arrive at 14:50, 25 minutes down on schedule. Unusually we Deltic 19 arrived (fittingly) on Platform 19, which is very unusual for a terminating charter train. We later found out that the (so-called) suburban platforms had been closed due to a potential 'jumper' on George IVth bridge above. This potential suicide was causing havoc at Waverley, as several of the through platforms were temporarily 'out-of-use'.
Deltic 19 exited west, and took the suburban lines round to Craigentinny for servicing and re-fuelling. My mate and I decided to climb up Carlton Hill via the Jacob's Ladder path. This path climbs up the side of Carlton tunnel portal, and gives an excellent view of the station approach at the east-end. View from Carlton Hill was pretty good, although there was a stiff easterly wind now blowing in from the North Sea.
We'd been informed on the outward journey that the original booked departure time from the Waverley of 15:48, had been changed by National rail to 16:21. Departure time came and went, and rumours started to circulate that there might be something wrong with the locomotive. Indeed a post was made to the Rail-Gen group that we were to be taken back to London by EWS's 67013, the thunderbird locomotive that we'd already seen stabled at Craigentinny. So it was all eyes west on platform 19, would we see a Deltic or a 16 appearing out of the tunnels.
It was a Class 67 that met our gaze. Yuk. Deltic 19 was still attached to the other end of the train, but was to be towed back to King's Cross dead-in-tow. Once aboard the train, we were told that 19 had suffered a governor fault on one of her power units, which explained why she had not been able to develop full power after Alnmouth, and possibly before. We eventually departed Waverley station at around 18:00, seriously late, but we should still make the 'Cross before midnight.
67s seem to make a loud throbbing noise whilst idling, but this noise virtually disappears once the locomotive is under power. I was particularly interested in seeing how the 67 was able to cope with such a heavy load, 12 carriages plus an additional 100 tons of Deltic to get back to London. My heart sank for a second time, as the class 67 appeared to be struggling to accelerate with such a load. Was taking forever to reach 80mph, but the acceleration appeared to be pretty good from there onwards to 99mph.
the EWS 67s are currently geared for 125mph running, even though they have no 125mph diagrams, and I don't think that EWS have any 125mph vehicles at present ? In my opinion EWS need to re-gear the 67s for 100mph running - this would increase their pathetic tractive effort figures at slowish speeds, and be more in keeping with their current duties.
Still we had a nice run along the East Coast cliffs, drinking 55004 beer (until the beer ran out - bad omen). Newcastle was departed at 20:19, about two hours late on the already revised schedule. People in our carriage were starting to get very worried about what time they would be getting back into King's Cross, and whether they'd still be able to catch their last trains home.
DPS stewards and other DPS helpers then went through the train, taking details of where people were trying to get home to. DPS announced that they would consider paying taxi fares home, if an invoice was submitted within 14 days, which was warmly received in our carriage. It was also announced on the tannoy that were going to make additional stops at Doncaster, Retford, Newark, Grantham and Peterborough. My heart sank at this news.
Problem was that the 67 was able to run at close to 100mph for much of the ECML south of Darlington, but only if it were allowed to run without stopping. Other trains would not be a problem, as we should have the East Coast fast lines to ourselves, at this time of night. Every stop was going to cost a lot of extra running time, plus the extra time to get back to 100mph each time. These additional stops added approximately 40 minutes to the running time to King's Cross (we were stationary for about 11 minutes!), which meant that an expected arrival time of around midnight became an actual arrival time of 00:40.
Additional 40 minute delay would become critical for many of the passengers travelling home from London, as the last underground trains from King's Cross depart between 00:15 - 00:40 on a Saturday night. Passengers for Doncaster could actually have got home on the following GNER service train, which was 25 minutes behind us at York. Passengers for Peterborough could have travelled back from Stevenage, as many had presumably intended to do anyway. The tiny handful of passengers for Retford (3), Newark(2?) and Grantham (?) could have got taxis from Doncaster or Peterborough.
We were bumped onto the slow lines due to a track possession at Huntingdon, and finally crawled into King's Cross at 00:40. Three hours 15 minutes later than the timings I'd taken with me that morning. Many people on the train had already missed their last trains home, but many others were going to try and get the last trains out of Paddington (01:00) and Waterloo (01:05). In the event my mate and I legged it hard down the Euston road, and eventually managed to flag down a vacant taxi coming towards us. Taxi driver was excellent, and managed to drop us off at Paddington very close to our train, where we boarded with just seconds to spare. We were then able to get another taxi back from Slough to Datchett.
Verdict : Railtour had started off perfectly, but the ending was marred by the Deltic failure, and also the extreme late arrival back in London, which had been made worse by adding extra stops. That said, we had a very good day out, and the posh-nosh service by the Bounds Green crews was excellent.
Many thanks to all those who were involved with the running of this tour. I know that many people gave up lots of their free time to get the locomotive ready, and to act as stewards on the train etc.
Here's to the next DPS railtour on July 2nd, to Portsmouth.
Ralph Barrett
Oh, and the jumper at the Waverley didn't jump.



Timings (Booked & Actual)
(from various including Jonathan Wilcox)
Location
Booked
Actual
Booked (original)
Booked (amended)
Actual
Kings Cross
08.18d
08.19
21.25a
22.22a
00.40
Belle Isle
08/20
08/21
21/22½
22/19
00/35
Finsbury Park
08/22
08/24
21/18½
22/15
00/32
Alexandra Palace
08/24
08/26
21/17
22/14
00/29
Potters Bar
08.30½a ~ 08.33d
08.33 ~ 08.36
21.08a ~ 21.11d
22.05a ~ 22.08d
00.19 ~ 00.22
Welwyn Garden City
08/40
08/44
21/02½
21/59
00/09
Digswell Jn
08*42a ~ 08*50d
08/48
?
?
?
Woolmer Green
08/55
08/49
21/00½
21/57
00/07
Stevenage
08.58a ~ 09.00d
08.53 ~ 09.01
20.53½a ~ 20.56d
21.43a ~ 21.46d
23.59 ~ 00.02
Hitchin
09/04
09/04
20/50
21/40
23/55
Sandy
09/15
09/16
20/36
21/26
23/42
Huntingdon
09/25
09/26
20/24
21/14
23/30
Connington South Jn
20/17½
21/07
?
Holme LC
09/31
09/33
Peterborough
09/39
09/40
20/07
20/57
23.14
Helpston Jn
09/48
09/44
Tallington Jn
09/52
09/46
19/59½
20/47
23/05
Stoke Tunnel
10/08
09/56
19/50½
20/35
22/55
Grantham
10/12
09/59
19/47
20/32
22.48
Barkston South Jn
10/16
10/02
19/40
20/25
22/41
Newark Northgate
10/24
10/25
19/29
20/14
22.31
Retford
10/36
10/39
19/18
20/03
22.14
Loversall Carr Jn
10/49
10/47
19/10
19/55
22/01
Doncaster
10/52
10/52
19/07
19/52
21.57
Shaftholme Jn
10/56
10/56
19/03
19/48
21/44
Templehirst Jn
11/02
11/03
18/57
19/42
21/38
Hambleton North Jn
11/06
11/07
18/53
19/38
21/34
Colton Jn
11/11
11/13
18/47
19/32
21/29
York
11.19a ~ 11.22d
11.17 ~ 11.24
18.39a ~ 18.41d
19.24a ~ 19.26d
21.19 ~ 21.23
Skelton Jn
11/25
11/27
18/35
19/20
21/15
Tollerton
11/31
11/34
18/28
19/13
21/09
Thirsk
11/39
11/42
18/20
19/05
21/02
Northallerton
11/43½
11/47
18/15
19/00
20/57
Darlington
11/53
11/57
18/06
18/51
20/49
Ferryhill South Jn
12/02½
12/08
17/57
18/42
20/40
Tursdale Jn
12/04
?
17/55
18/40
?
Durham
12/09
12/15
17/50
18/35
20/33
Birtley
12/19
12/21
17/41
18/26
20/26
King Edward Bridge South Jn
12/22
12/26
17/37
18/22
20/21
Newcastle
12.27a ~ 12.30d
12.29 ~ 12.34
17.22a ~ 17.35d
18.18a ~ 18.20d
20.03 ~ 20.19
Heaton South Jn
12/33
12/38
17/17
18/13
19/59
Morpeth
12/43
12/51
17/05
17/54
19/46
Wooden Gate Jn
12*57a ~ 13*14d
13.09 ~ 13.17
Alnmouth
13/15
13/19
16/55
17/33
19/26
Belford
13/25
13/31
16/45
17/18
19/15
Berwick-upon-Tweed
13/36
13/43
16/35
17/08
19/03
Reston GSP
13/45
13/53
16/27
17/00
?
Grantshouse
13/50
13/57
16/22
16/55
18/51
Dunbar
13/59
14/06
16/12
16/45
18/42
Drem
14/07
14/24
16/04
16/37
18/34
Monktonhall Jn
14/19
14/34
15/56
16/29
18/09
Portobello Jn
14/21
14/38
15/53
16/26
18/06
Edinburgh Waverley
14.25a
14.48
15.48d
16.21d
17.59