20th April 2005
Steam Dreams
The Cathedrals Express
| | |
| --- | --- |
| Loco Used | steam: 34027 (running as 34045) |
| Stock Used | 5216+5171+1840+5222+13474+13440+9392+5236+1961+5237 |
Route:
1Z96 : London Victoria to Bristol Temple Meads
1Z97 : Bristol Temple Meads to London Victoria
| | |
| --- | --- |
| Loco(s) | Route |
| 34027 (1) | London Victoria - Stewarts Lane - Longhedge Jn - Clapham Junction - Hounslow - Feltham - Virginia Water - Woking - Basingstoke - Andover - Salisbury - Westbury - Bath Spa - Bristol Temple Meads |
| 34027 | Bristol Temple Meads - (reverse of outward route) - London Victoria |
Notes :
(1) banked by 47709 Victoria - Grosvenor Bridge.
(2) return was booked via Bathampton loop but omitted due to late running.
(3) Gordon Jakes comments: I seem to recall that this was 34027's last outing on the main line before expiry of its 10 year boiler certificate.
Sources : Richard Rooker & John Clifford



Photo Review
(all photos: Gordon Jakes)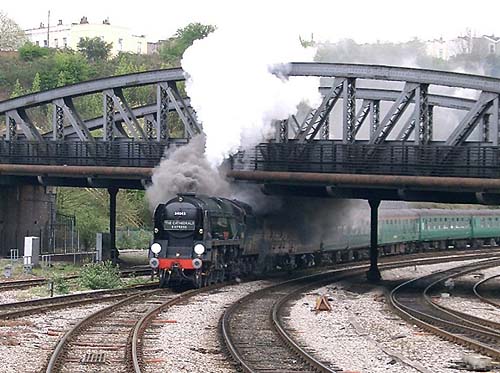 '34045' pulls into Bristol with the stock for the return journey.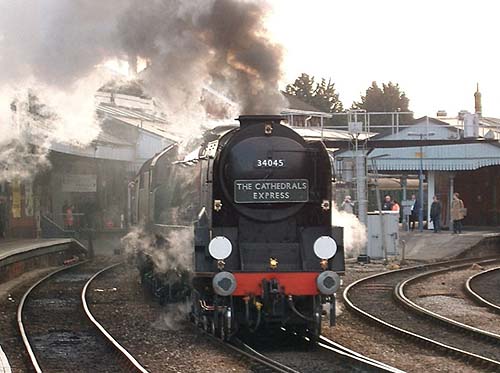 '34045' leaving Salisbury.


Timings (Booked & Actual)
(from John Clifford, Richard Rooker & Gordon Jakes)
| | | | | | | |
| --- | --- | --- | --- | --- | --- | --- |
| Miles | Location | Booked | Actual | | Booked | Actual |
| 0.0 | London Victoria | 08.45d | 08.46 | | 21.00a | 20.58½ |
| 0.9 | Grosvenor Bridge Jn | 08/48 | 08/49½ | | 20/57 | 20/54½ |
| 1.5 | Stewarts Lane Jn | 08/51 | 08/51½ | | 20/54 | 20/53 |
| 1.7 | Longhedge Jn | 08/55 | 08/53 | | 20/51 | 20/51½ |
| 2.9 | Clapham Junction | 08.59a ~ 09.01d | 09.01½ ~ 09.02½ | | 20.43a ~ 20.46d | 20.45 ~ 20.47 |
| 6.1 | Barnes | 09/07½ | 09/11½ | | 20/37 | 20/40 |
| 9.7 | Brentford | 09/13 | 09.19a ~ 09.20d | | 20/30 | 20/35 |
| 12.5 | Hounslow | 09/21 | 09/28 | | 20/25 | 20/32 |
| 13.5 | Feltham Jn | 09/23 | 09/32 | | 20/23 | 20/29½ |
| 14.9 | Feltham | 09/25 | 09/34 | | 20/21 | 20/29½ |
| 19.1 | Staines | 09.32a ~ 09.34d | 09.43 ~ 09.45½ | | 20.12a ~ 20.14d | 20.13½ ~ 20.19 |
| 23.2 | Virginia Water | 09/42½ | 09/55 | | 19/57 | 20/06 |
| 28.1 | Addlestone Jn | 09/50½ | 10/06½ | | 19/45 | 19/41½ |
| 29.2 | Byfleet & New Haw | 09/53 | 10/07½ | | 19/43 | 19/39 |
| 33.1 | Woking | 10/03½ | 10/12½ | | 19/36 | 19/33 |
| 33.5 | Woking Jn | 10/04 | 10/13 | | 19/35 | 19/32½ |
| 38.2 | Pirbright Jn | 10/12 | 10/17 | | ? | ? |
| 41.8 | Farnborough Main | 10/17 | 10/21 | | 19/26 | 19/25½ |
| 45.1 | Fleet | 10/20 | 10/24 | | ? | ? |
| 48.6 | Winchfield | 10w25a ~ 10w39d | 10.29 ~ 10.31½ | | ? | ? |
| 56.5 | Basingstoke | 10.53a ~ 10.55d | 10.55½ ~ 10.59 | | 18.51a ~ 19.09d | 18.52½ ~ 19.11 |
| 59.0 | Worting Jn | 10/59½ | 11/06 | | 18/44 | 18.45a ~ 18.45½d |
| 75.0 | Andover | 11/16½ | 11/24 | | 18.25 | 18/25½ |
| 91.2 | Tunnel Jn | 11/30 | 11/38½ | | 18/07 | 18/10 |
| 92.3 | Salisbury | 11.33a ~ 11.51d | 11.41½ ~ 11.55½ | | 17w46a ~ 18w04d | 17.46½ ~ 18.06 |
| 94.2 | Wilton Jn | 11/56 | 12/01 | | 17/42 | 17/42½ |
| 112.1 | Warminster | 12/16 | 12/19½ | | 17/23 | 17/23½ |
| 116.8 | Westbury | 12/27 | 12/26 | | 17/11 | 17/17 |
| 122.1 | Bradford Jn | 12/37 | 12/33 | | 17/01 | 17/10½ |
| 131.2 | Bathampton Jn | 12/49½ | 12/46½ | | 16*32 ~ 16*48 | 17/00 |
| 133.5 | Bath Spa | 12.53a ~ 12.56d | 12.50 ~ 12.55 | | 16.21a ~ 16.27d | 16.51 ~ 16.54 |
| 144.2 | North Somerset Jn | 13/08½ | 13/10 | | 16/08 | 16/38½ |
| 144.6 | Bristol East Jn | 13/09 | 13/11 | | 16/07 | 16/37 |
| 145.0 | Bristol Temple Meads | 13.11a | 13.13 | | 16.05d | 16.34½ |