2nd April 2005
Belfast City Council / Railway Preservation Society of Ireland
Titanic Special Steam Trains / Steam Over Belfast Lough
| | |
| --- | --- |
| Loco Used | steam: 186 |
| Stock Used | 181 (ex BR 13487) + 300 (ex NIR 822/934) + 301 (ex BR 5207) + 302 (ex BR 5135) + 460 (ex BR 9382) |
Route:
Train A : 1040 Belfast Central to Bangor
Train E1 : 1205 Bangor to Belfast Central
Train C : 1310 Belfast Central to Bangor
Train B : 1530 Bangor to Belfast Central
Train E2 : 1620 Belfast Central to Bangor
Train D : 1740 Bangor to Belfast Central
| | |
| --- | --- |
| Loco | Route |
| 186 | Lisburn – Belfast Central – Cultra - Bangor |
| 186 | Bangor – Cultra – Belfast Central [P1] |
| 186 | Belfast Central [P1] – Cultra – Bangor [P3] |
| 186 | Bangor [P3] – Cultra – Belfast Central [P1] |
| 186 | Belfast Central [P1] – Cultra – Signal 435 |
| 186 (1) | Signal 435 – Bangor [P3] |
| 186 | Bangor [P3] – Cultra – Belfast Central [P1] – Lisburn [P1] |
Notes :
(1) Propelling move.
Source : Janet & John Cottrell (on all trains from train C)



Tour Review
(from Janet Cottrell)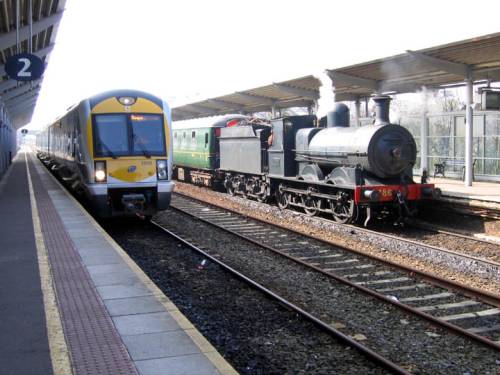 3008 & 186 share adjacent platforms at Bangor (photo: Janet Cottrell)
Up until the late 1990's the RPSI three day "International Railtour" was a regular fixture in our diaries but we have not taken part in recent years for a variety of reasons.
This May is a non starter again, but a series of trips between Belfast and Bangor coinciding with a visit to Ireland looked like a good idea for two reasons, namely the recently restored 186 was required for haulage and Bangor is one of the few lines in the whole of Ireland that we hadn't done behind steam.
Tickets were only being sold for two trains and included free entry to the Ulster Folk & Transport Museum at Cultra, but advance gen showed that there were in fact three return trips to Bangor plus a move to and from Lisburn at the start and end of the day to position the loco and stock. The latter was necessary as the RPSI's normal base at Whitehead was temporarily cut off due to major track work on the Larne line.
Our tickets were for the 1310 from Belfast and returning at 1740 from Bangor, we could not reach Belfast in time for the earlier trip as we had to get from Dublin, a move which involved a bus move to Drogheda due to yet more engineering work.
186 and it's train of five refurbished Mark 2 coaches arrived at Belfast Central in good time, so we bagged the leading compartment in order to enjoy the thrash up the hill. When the gripper came round we found that an "all day" ticket option was available so this was gratefully snapped up, might as well make the most of it now that we are here.
By the time this was sorted out 186 was romping along in fine style past the Harland and Wolff shipyard and Belfast City Airport, however this is the easy bit as the line gets quite a bit steeper beyond Holywood. The entertainment value was increased when we were brought to a dead stand here, having caught the all stations service train up – no problem for our intrepid steed as it set about the rising gradient with great vigour. Perhaps it should be pointed out that 186 is actually rather old – built in 1879 although it was reboilered in the 1930's– and is only a class 2 in steam engine terms, the Mark 2 coaches were appreciably bigger than the loco.
We stopped at Cultra for the museum and most people lingered to savour the departure to Bangor. We had decided to stay on the train, there being no contest between viewing some stuffed exhibits and experiencing some more thrash off this little beast of an engine. There were also ample photographic opportunities at Bangor including some comparisons of our piece of Victorian technology with a brand new CAF DMU on the regular service and there was time to take in the town and harbour on this sunny day.
Back at Belfast it was a quick run round and another hellfire run to the end, except this time we stopped outside the station to run round and propelled the coaches the last few yards into the platform.
To round the day off nicely we had discovered that what we thought was an empty stock move to Lisburn was available to passengers so we stayed on board. Unfortunately we had to follow a "stopper" from Central Junction which put paid to any thoughts of a quick romp up the main line. Just time for a couple more phots of the train as the loco ran round at Lisburn and shunted over to the yard – except it stopped halfway in, blocking the line to Belfast and holding up our train back to the city. It appeared that the crew had been running the fire down in readiness to dispose of the engine and they had just run out of steam at the crucial moment...
All in all an excellent afternoons entertainment and it made a change not having to get up at the crack of dawn or return in the dead of night as well.
Janet Cottrell



Timings (Booked & Actual)
| | | |
| --- | --- | --- |
| Location | Booked | Actual |
| Lisburn | 10.02d | ? |
| Belfast Central | 10.20a ~ 10.40d | ? |
| Cultra | 10.55a ~ 10.57d | ? |
| Bangor | 11.10a ~ 12.05d | ? |
| Belfast Central | 12.35a ~ 13.10d | 12.30 ~ 13.05 |
| Cultra | 13.25a ~ 13.27d | 12.30 ~ 13.05 |
| Bangor | 13w40a ~ 15w30d | 13.37 ~ 15.29 |
| Cultra | 15.45a ~ 15.47d | 15.47 ~ 15.49 |
| Belfast Central | 16.00a ~ 16.20d | 16.03 ~ 16.13 |
| Signal 435 | ? | 16.35a ~ 16.45d |
| Bangor | 16.50a ~ 17.40d | 16.47 ~ 17.34 |
| Cultra | 17.55a ~ 17.57d | 17.55 ~ 17.57 |
| Belfast Central | 18.11a ~ 18.20d | 18.10 ~ 18.15 |
| Lisburn | 18.45a | 18.47 |