19th March 2005
Pathfinder Tours
Western Lizard
| | |
| --- | --- |
| Locos Used | D1015 & 66248 |
| Stock Used | 6310+3127+3124+3148+3107+21272+1863+5322+4927+5009+5040+4902+5341 |
Route :
1Z52 : Ealing Broadway to Plymouth
1Z53 : Plymouth to Plymouth
1Z54 : Plymouth to Ealing Broadway
Route

D1015
Ealing Broadway - Slough - Slough West Jn (down relief to down main) - Reading - Swindon - Chippenham - Westbury - Frome - Taunton - Tiverton Parkway - Exeter St Davids - Dawlish Warren - Totnes - Plymouth
D1015 (1)
Plymouth - Liskeard - Lostwithiel - Fowey (281m 59ch)
66248 (2)
Fowey - Lostwithiel - east of Lostwithiel station level crossing
D1015 (1)
east of Lostwithiel station level crossing - Lostwithiel - Par - Luxulyan - Bugle - Newquay
66248 (2)
Newquay - Bugle - Luxulyan - Par - Lostwithiel - Liskeard - Plymouth
D1015
Plymouth - (reverse of outward route) - Blatchbridge Jn - (via Frome avoiding line) - Clink Road Jn - (reverse of outward route) - Ealing Broadway
Notes :
(1) 66248 on rear.
(2) D1015 on rear.
(3) Ran throughout the day with the headboard "Western China Clay" on D1015.
Sources : Alan Sheppard & Gary Thornton



Tour Review 1
(by Gary Thornton)
After about two years without, the prospect of D1015 on the mainline again was one well worth the wait. Since the transmission repairs were completed Champion has run two charters, one amid-week "normalex" to the Eden Project and the other a private charter so this was most enthusiasts first chance this year to sample D1015. The plan was relatively simple - London to Carne Point and Newquay and back, the Wizzo in charge throughout except for dragging back from Carne Point to Lostwithiel and from Newquay to Plymouth.
It almost didn't happen after a china clay freight came off the rails near St Blazey a couple of weeks before but NR did their bit and got the line re-opened and passed for our train so all was set. My alarm was set for a little after 5am and Mark, one of my colleagues, arrived bang on cue about 6am. After a quick diversion via a local Supermarket to refuel his car and colleague no.2 was collected from near the town centre and off we set to Didcot Parkway. We arrived with a margin that allowed for any minor unexpected hold-ups or a Mc D's breakfast, none of the former (though somewhat thick fog in places) so the latter was done though a sudden influx of punters seemed to confuse the counter staff and my breakfast...eventually after a very long wait...produced with two coffees. On rejecting the second one a 94p refund was offered though I am sure I paid the going rate for a standard meal. Eminently forgettable, but isn't all fast junk food? Parking at DP is still a reasonable £2 and we were on the platform in time for some chit chat before D1015 loomed out of the fog, roughly on time.
We were booked in coach A which turned out to be the rearmost vehicle, and we were tail-gunners for the outward leg being sat in the rearmost seating bay - so something to look forward to later...now would that be having the 66 on our end, or departure from Plymouth after D1015 was run-round - I'll leave you in suspense on that one...
Our final friend joined at Westbury, only just getting parked on account it was a rugby match day and the car park was wedged presumably with people heading for Cardiff. As I wasn't driving we soon got into some beer from the bar, followed by some of the supply I brought along. A crew change at Westbury saw our driver on to Plymouth, so the booked crew change in the timings at Exeter St Davids became a storming run through instead. Shortly after Dawlish Warren however and the anchors came on hard, seems we'd just had a repeat of the TPWS fault that D1015 suffered on her first run back after repairs. After a few minutes however we were on our way, Steve our driver doing his best to regain some of the lost time.
A pathing stop was taken at Totnes and whist there 67005 (with 67013 on the rear) hurtled through on a Hertfordshire Rail Tours posh-nosh outing to the Eden Project and other places. We followed but never caught it up.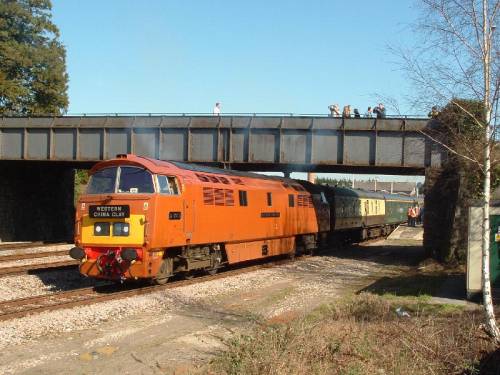 Nice weather at Totnes, during the pathing stop (photo: BadMonkey)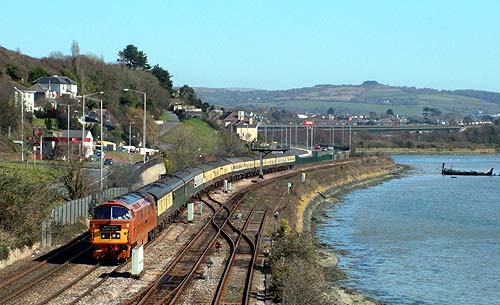 Still no complaints with the weather - Laira, Plymouth (photo: Roger Geach)
At Plymouth there was about an hour and a half break whist D1015 went to Laira depot for fuel and 66248 was bolted on to the back of the train as assisting engine for the run to Carne Point & Newquay. Goody, in our position on the train we'd have a faint yinging sound in our ears for a few hours...
Mark went to stock up on some beer (on account it was a long walk to the buffet) but came back with a bottle of Chilean red wine instead (the beer choice in the shop on the station was, well, cans only and crap). Between that and my supply of Hobgoblin and Duvel I was happy. We left about on time for Carne Point (Fowey) with the equivalent of about "load 17" for D1015 to play with. In the sunshine I guess we made a spectacular sight crossing the bridge over into Cornwall.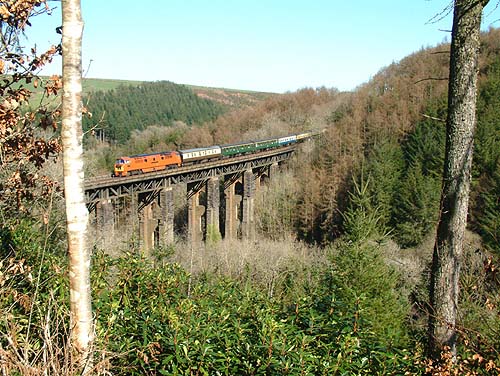 Beautiful weather at West Largin for our passing (photo: Roger Geach)
66248 did a bit of work returning us up the hill from Carne Point to Lostwithiel then D1015 took us to Newquay - first over the speed restriction where there had been the recent derailment then she did seem to struggle away on the rising grade.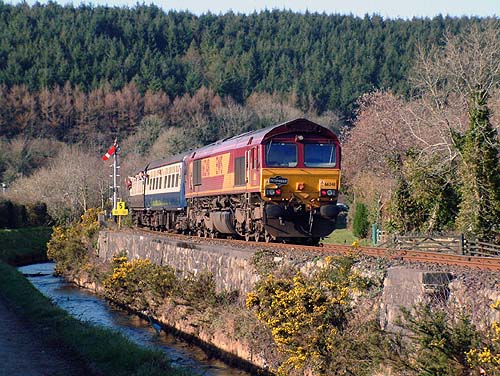 66248 brings up the rear at St Blazey (photo: Roger Geach)
The driver in 66248 was happy to sit back and have a cigarette and no assistance was given. Even 13 coaches back from the action we could hear D1015 from time to time and where the scenery permitted could see her working hard too, the distinctive wide "v" of exhaust confirming both engines were working hard. Steve Speck who was sat in coach M at this stage of the journey adds the following comments : Taking the equivalent of Load 17 (circa 700 tons) over Luxulyan Bank from a 5mph start and accelerating to 14mph was probably a first, and in my experience something very special, the loco working flat out for 25 minutes, and not missing a beat. Adrian Davies (the driver) described the performance as "stunning" afterwards at Newquay.
15 minutes were taken at Newquay. What a sad station it is compared to how it was many years ago when there were many holiday trains in and out. Guess road transport has been responsible for the decline as much as the complete apathy that seems to have pervaded the industry to make the outer reaches of our rail system work as a coherent transport system.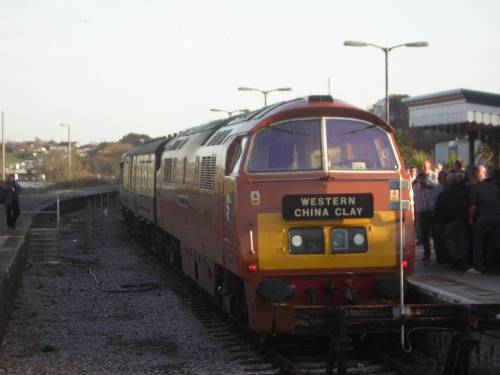 D1015 at the buffer stops at Newquay (photo: Nick Wason)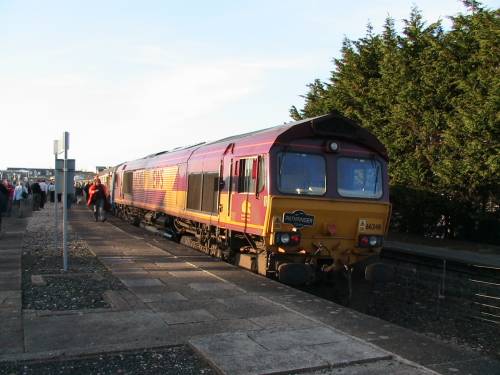 66248 on the other end (photo: Gary Thornton)
The run back to Plymouth was well, actually, not totally disinteresting. At the risk of the men in white coats paying me a visit I have to say 66248 put on a reasonable show. OK 66's are way too quiet and "ying" a lot, but when they work really hard (as 248 did a few times) the ying vanishes and the more familiar GM power unit sound those who have experienced GM's beyond our shores will recognise does come through. Give them a few more years and I think they will be sounding a bit rougher and better (well, I can but hope).
Back into Plymouth and it was all change, 66248 back to Tavistock Yard and D1015 on to our end of the train. Now the fun could begin for us at our end. The next three and a half hours were pure magic (and very loud!). After the blast away from the station the bottom of Hemerdon bank is soon reached and D1015 was probably heard quite some way away as she blasted up to the summit. At no time on the way home did D1015 seem troubled by the trailing load on the gradients, it was a superb performance. Funny though, one of our number managed to go into "stand-by" mode in the middle of it, even though it was all going on just a few feet ahead of us. How did he manage that?!?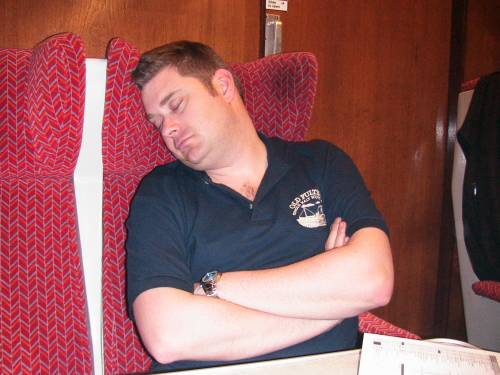 Click here to hear what Mark was missing! (n.b. this link is to a 1.2Mb avi
file approx 9 secs long - crank up the volume if you click on the link...enjoy!)
And, received in response to the above (I'm always happy to redress the balance!);
Dear Mr Thornton,
I refer to your photograph on your website in the diatribe regarding the 'Western Lizard' tour on the 19th March 2005. While the picture no doubt captures my good side, I would like to put you straight on a few points;
1/ I was not actually asleep, but merely 'resting my eyes'. I am not the heaviest sleeper in the world and how anybody is able to sleep through the racket made by two Maybachs is beyond me.
2/ Being in the first set of seats next to the carriage vestibule which was bolted directed to the loco meant that not only the racket would have kept anyone awake, but the copious amounts of fumes wafting in through all the windows (all of which were open) would have not have permitted proper sleep.
3/ I have tried to sleep (in vain) through many noisy locomotive performances. I have never been able to sleep through Deltic performances, or those of Class 37's. You will no doubt remember 37406+37427 on last year's 'Northern Lights' tour where I was in the same seat as the Western tour last Saturday. Most of Scotland couldn't sleep, let alone those in the front half of the carriage. I seem to recall that you managed to nod off when I was awake, but then you had consumed nearly a bottle of finest 12 year old single malt whisky. As a footnote, I have managed to drift off very quickly when Class 66's are on the front. How considerate of them to have silencers fitted so we can catch up on sleep between noisier locos.
4/ Talking of alcohol, I had drank a lot of red wine and Duval on the Western tour and was feeling quite content with the world – the acoustics of the Western just added to the ambience.
5/ The individual you mentioned who drifted into 'stand by mode' was actually xxxx (name withheld for fear of reprisals), who I believe suffers from a sleeping disorder, generally brought on by having to spend money on buying rounds of drinks for his fellow railtourers.
I would appreciate you publishing this on your website within the review of the tour to 'redress the balance'.
Yours truly,
Mark Honey
All too soon and we were back at Didcot. Worth the short wait to hear Champion blast off into the night, being heard for quite some time after the train had vanished into the distance. Another thoroughly wicked tour - roll on the next outing! Thanks as always go to everyone involved with the upkeep and mainline operation of D1015 - your work is very much appreciated.
Gary Thornton.
---
Tour Review 2
(by Dan Augood)
It should all have been so simple. Rounded up a few mates, a couple of whom are 'normals' for what I assured them would be 'a laugh'. Booked seats nice and early, arrange a cab to Ealing Broadway from Surbiton, and Bob's your auntie's live-in-lover, what could possibly go wrong? Aaaah - the best laid plans of mice and men, and all that. Fate intervenes, and two weeks before the off, I'm selected to row the Thames Head of the River race for my club. This had always been a risk, but given my inexperience at the sport, I felt it was an acceptable one. However, a shortage of novices (Of whom a certain number are required for a boat entered in our category to be legal), and a better than expected ergo score at the try-out got me a seat in the boat.
Now this puts me in an awkward position. On the one hand, I'm itching for some Western haulage, on the other, one simply does not turn down an invitation to row the Head of the River ('Just not done, old boy'). In the first instance I had to break the news to my travelling companions that they were now on their own. Then I had to work out what to do with a ticket I'd no chance of getting much of a refund on. I think it was the latter that gave me the idea to attempt the race and the tour in the same day
Firstly, I needed gen on where the tour would be and when. By sheer coincidence, the move was facilitated by the tides. The head is rowed at the fastest point of the ebbing tide, from Mortlake to Putney (The boat race course, the other way round). This year, that meant an early race, starting at ten thirty AM. Even allowing for the fact that we wouldn't get away until at least an hour after that, add on twenty or so minutes for the actual race, and a couple of hours to get the boat back in and dismantled, and something might just be possible. My initial thoughts would be to try Exeter or Westbury, as a 'better than nothing at all' option. So at the start of the week I started to pester Pathfinder in earnest for some gen. Now I'm no track basher, and the bit I least enjoy about the current railtouring scene is spending ages faffing around waiting to traverse a couple of miles of some obscure freight spur somewhere, but for once I had cause to be grateful. The gen, when it arrived, couldn't have been better - a booked stop at Plymouth with departure at 19:40 - result!
So here's how it worked out. Out of bed with the sunrise, put the chaps into a cab, and jump on my Trek-720 for a ride to Teddington to pick up the boats. From there to Putney with the boats on a trailer, and a couple of hours to grab a bacon butty and put the eight together. Then a nice gentle row down to the start at Mortlake. An hour's waiting around for our start slot (It's a rolling start, with boats started at ten second intervals. There are four hundred and twenty boats, so there's a bit of a queue to get going, especially when you're 349th on the grid!) and then we're away, building up the stroke rate, under Chiswick bridge and through the start. Now the next twenty minutes are best documented elsewhere, just suffice to say that pain found a new meaning, and I seemed to develop a bout of tourette's syndrome that got more acute with each stroke. I never thought I'd actually be glad to see Craven Cottage, but there's a first time for everything (and in this case, probably a last too!). Our time, a respectable 21.23
Now I have to say that all in all, we row a good race, and we come in a very creditable 323rd overall. It's a quite glorious day and before I know it, the boat's back on the trailer , and I'm showered, changed, and sipping a cool Guinness with the rest of the crew on the balcony of the London Rowing Club, it really doesn't get much better than this - and it's only 1PM! A couple of cold ones later, and it's time to concentrate on the job in hand and wobble off to Padders for the 15:05 to Plymouth (for those who are interested in that sort of thing, 43116 on the back - or was it 146? - I wasn't really paying attention to be honest - and I never made it to the front of the train at Plymouth to get the other car). The rest is pretty straightforward, Plenty of time (courtesy of Network Rail) to enjoy the Berkshire and Wiltshire countryside bathed in afternoon light . The sea wall has never looked better, high tide, late evening sunshine - stunning. And forty five minutes in Plymouth to respond to the increasingly desperate text messages I've been getting to 'Bring Beer, and plenty of it', as the train has run dry at Newquay - Poor show.
Then there's only one bit of uncertainty left - reservations in coach C, of a nice long train. Hmmmmm, what's it to be? A nice quiet trip back home at the back, straining to hear a thing, knowing my luck, more than likely. But no, in comes the flagged shed and there's coach A, right behind it - This really is the day that just keeps on giving! And then some. Now I'm relatively new to Westerns, my only previous experience being the same on the Paddington Penzance trip in 2003 (And how good was that?), but even to my untrained ear, this is a bit special. It, of course, helps when you've got a driver who is clearly prepared to flout several EU directives on emissions and do some serious damage to the ozone layer, but in terms of engine noise, you're talking Pavarotti at La Scala here, and if you've got it, flaunt it, as I always say.
And there you have it. business and pleasure, agony and ecstasy, Guinness and, er, More Guinness. A plus forty eight at Plymouth is hardly Men of Steel stuff, but I think we can judge this move on its own merits. Bikes, knackered old Toyotas, Boats, The district line, knackered old Trams. The only move ever to go under as well as over Putney bridge? The only time I've ever been the motive power as well as been hauled by it. Most satisfying moment - rowing down, passing and leaving the RAF floundering in our wake under Hammersmith Bridge, or D1015 Thundering up Hemmerdon - You decide. Life is short - live large. Bushido!
Dan Augood



Timings (Booked & Actual)
(From Alan Sheppard, Gary Thornton & Stephen Harper)
M.C

Location

Booked
Actual
Booked
Actual

M.C

0.00

Ealing Broadway
07.04d [RL]
07.05 [P4]
23.57a
00.10
234.01
3.30
Southall
07/10
07/10
23/51
?
230.51
5.38
Heathrow Airport Jn
07/12
07/12
23/48
?
228.43
12.60
Slough
07.19a ~ 07.22d
[ML] from Slough West]
07.19 ~ 07.22 [P4]
23.38a ~ 23.40d
23.50 ~ 23.52 [P3]
221.21
18.43
Maidenhead
07/30
07/29 [P1]
23/32
23/45 [P2]
215.38
25.25
Twyford
07/35
07/34
23/27
23/40 [P2]
208.56
30.22
Reading
07.41a ~ 07.43d [P4]
07.42 ~ 07.44 [P4]
23.18a ~ 23.20d [P8] [RL]
23.32 ~ 23.34 [P5]
203.59
47.34
Didcot Parkway
07.58a ~ 08.00d [P1]
08.01 ~ 08.04 [P1]
23.01a ~ 23.03d [P2] [ML]
23.14 ~ 23.15 [P2]
186.47
54.46
Wantage Road
08/08
08/12
22/55
23/06
179.35
58.24
Challow
08/11
08/15
22/52
23/04
175.57
60.63
Uffington
08/13
08/17
22/50
23/02
173.18
71.47
Swindon
08.23a ~ 08.25d [P4]
08.27 ~ 08.34 [P3]
22.39a ~ 22.41d [P3]
22.47 ~ 22.50 [P3]
162.34
77.31
Wootton Bassett Jn
08/32
08/43
22/33
22/40
156.50
88.20
Chippenham
08.40a ~ 08.42d
08.53 ~ 08.57
22.19a ~ 22.21d
22.27 ~ 22.28
145.61
90.34
Thingley Jn
08/47
09/02
22/16
22/23
143.47
98.64
Bradford Jn
08/58
09/11
22/05
22/12
135.17
104.08
Westbury
09.06a ~ 09.08d [P2]
09.19 ~ 09.21 [P2]
21.54a ~ 21.56d [P3]
22.00 ~ 22.03 [P2]
129.73
105.42
Fairwood Jn
09/12
09/24
21/51
21/53
128.39
108.64
Clink Road Jn
09/16
09/30
21/48
21/49½
125.17
109.68
Frome
09/19
09/36
111.01
Blatchbridge Jn
09/22
09/39
21/45
21/48
123.15
123.70
Castle Cary
09/35
09/56
21/33 [P1]
21/37½
110.26
146.30
Cogload Jn
09/53
10/07
21/16
21/18
87.66
151.33
Taunton
09/59 [P3]
10/11 [P3]
21/12 [P4]
21/14½
82.63
165.47
Tiverton Parkway
10/13
10/22
21/00
21/03
68.49
180.73
Cowley Bridge Jn
10/25
10/32
20/46
20/50
53.23
182.13
Exeter St Davids
10c28a ~ 10c30d [P4]
10/36 [P4]
20c41a ~ 20c43d [P5]
20.44 ~ 20.48 [P5]
52.03
192.55
Dawlish Warren
10/42
10/45 [DM]
20/31
20/34 [UM]
41.41
202.27
Newton Abbot
10/58 [P2]
11/02
20/21 [P3]
20/21 [P3]
31.69
211.04
Totnes
11*14a ~11*33d
11.13 ~ 11.35 [P1]
20/10
20/14 [UM]
23.12
222.48
Ivybridge
11/52
11/52
19/57
20/03
11.48
227.31
Hemerdon
11/57
11/57
19/53
19/57
6.65
232.56
Lipson Jn
12/02
12/02
19/45
19/50
1.40
234.16
Plymouth
12L05a ~ 13L32d [P4]
12.05 ~ 13.33 [P5]
19L02a ~ 19L42d [P8]
19.18 ~ 19.47 [P8]
0.00
55.24
M.C

Booked

Actual

237.08
St Budeaux Jn
13/39
13/40
238.34
Saltash
13/43
13/45
243.32
St Germans
13/49
13/51
251.74
Liskeard
14/00
14/02
256.34
St Pinnock Viaduct East
14/07
14/07
257.09
Largin
14/08
14/09
264.42
Lostwithiel
14*17a ~ 14*18d
14.19 ~ 14.19½ [P2]
268.65
0.00
Fowey NR Limit
14.30a ~ 14.40d
14.34 ~ 14.42
4.23
Lostwithiel
14.52a
15.02a ~ 15.05d
?
Lostwithiel (east of station LC)
?
15.06a ~ 15.12d
0.00
Lostwithiel
15.12d
15/13
4.35
Par
15/22
15/22
4.65
St Blazey Signal Box
15*26a ~ 15*40d
15.25 ~ 15.51
10.09
Goonbarrow Jn Imerys
15t59a ~ 16t00d
16.16 ~ 16.17
24.78
0.00
Newquay
16.45a ~ 17.00d
17.05 ~ 17.22
14.69
Goonbarrow Jn Imerys
17t45a ~ 17t46d
18.08 ~ 18.09
20.13
St Blazey Signal Box
18.04a ~ 18.05d
18.28 ~ 18.29
20.43
Par
18/09
18/31
24.78
Lostwithiel
18/17
18/39 [P1]
32.31
Largin
18/27
18/48
33.06
St Pinnock Viaduct East
18/28
18/49
37.46
Liskeard
18/35
18/54
46.08
St Germans
18/45
19/03
51.06
Saltash
18/52
19/09
52.32
St Budeaux Jn
18/56
19/12
Timings continue in first table.



Back to "The Railtour Files"