4th - 7th March 2005
Pathfinder Tours
The Monarch of the Glen
| | |
| --- | --- |
| Loco Used | 50031 & 50049 |
| Stock Used | 5341+21272+3122+1692+3112+3140+3107+1699+5322 |
Route:
1Z32 : Swindon to Fort William
1Z23 : Fort William to Mallaig
[5Z24 : Mallaig (via Arisaig) to Mallaig] (4)
1Z23 : Mallaig to Fort William
1Z24 : Fort William (via Dundee) to Dalmuir
1Z26 : Dalmuir to Swindon
| | | |
| --- | --- | --- |
| Date | Loco(s) | Route |
| 04/03 | 50049 + 50031 | Swindon - Chippenham - Bath Spa - Dr Days Jn - Stapleton Road - Bristol Parkway - Westerleigh Jn - Yate - Standish Jn - Cheltenham Spa - Ashchurch - Norton Jn - Worcester Shrub Hill - Droitwich Spa - Bromsgrove - Kings Norton - Selly Oak - Birmingham New Street - Proof House Jn - Landor Street Jn - Castle Bromwich Jn - Park Lane Jn - Ryecroft Jn - Walsall - Pleck Jn - Darlaston Jn - Portobello Jn - (3) Wolverhampton (3) - Bushbury Jn - Stafford - (via WCML) - Motherwell - Braidhurst DGL |
| 04/03 | 50031 (1) | Braidhurst DGL - Mossend South Jn - Mossend West Jn - Uddingston Jn - Newton - Rutherglen East Jn - Rutherglen - Glasgow Central LL - Hyndland - Westerton - Dalmuir - Craigendoran Jn - Crainlarich - Fort William |
| 05/03 | 50049 (2) | Fort William - Mallaig |
| 05/03 | 50031 (1) | (4) Mallaig - Arisaig |
| 05/03 | 50049 (2) | Arisaig - Mallaig (4) |
| 05/03 | 50031 (1) | Mallaig - Fort William |
| 06/03 | 50049 (2) | Fort William - Crianlarich - Craigendoran Jn - Dalmuir - Westerton - Cowlairs North Jn - Cowlairs East Jn - Lenzie - Falkirk High - Winchburgh Jn - Dalmeny Jn - Inverkeithing - Burntisland - Kirkaldy - Leuchars - Dundee |
| 06/03 | 50031 (1) | Dundee - Perth - Dunblane - Stirling - Larbert Jn - Garnqueen North Jn - Springburn - Cowlairs West Jn - Cowlairs North Jn - Westerton - Dalmuir |
| 07/03 | 50031 + 50049 | Dalmuir - (reverse of outward route) - Rutherglen |
| 07/03 | 50031 (5) | Rutherglen - Newton - Uddingtson Jn - Motherwell |
| 07/03 | 50031 + 50049 | Motherwell - (reverse of outward route) - Bushbury Jn (6) Wolverhampton - Sandwell & Dudley - (6) Birmingham New Street - Proof House Jn - St Andrews Jn - Bordesley Jn - Kings Norton - (reverse of outward route) - Swindon |
Notes :
(1) 50049 on rear.
(2) 50031 on rear.
(3) Booked route was direct from Portobello Jn to Bushbury Jn.
(4) Additional run, reported with headcode 5Z24, but ran with passengers on board. This was to allow those who alighted longer in Mallaig, but as the train was too long to fit in the station and let anther train arrive as well the move to Arisaig and back was made.
(5) 50031 with 50049 "inside", not in multiple. "A quick wiggle of the jumpers resumed normal service" at Motherwell according to Neil Morgan.
(6) Booked route was Bushbury Jn - (direct route) - Portobello Jn - Bescot Stadium - Perry Barr North Jn - Soho South Jn - Birmingham New Street.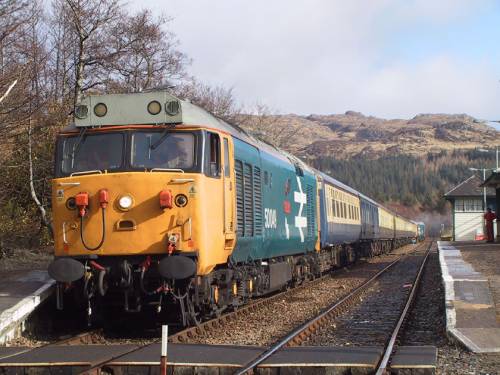 50049 waits to head back from Arisaig to Mallaig on the Saturday.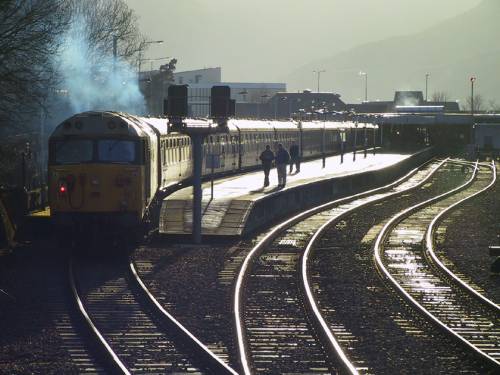 50049 closes to camera at Fort William. Deltics, 50's...whatever next..?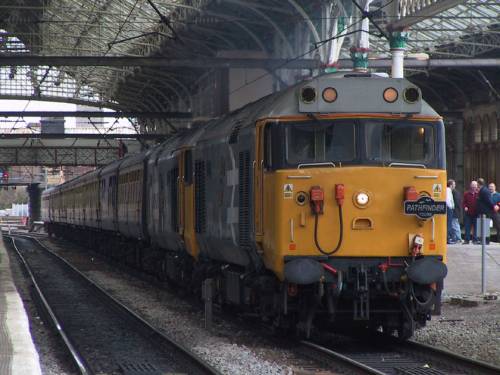 50031 leads 50049 at Preston on the return south.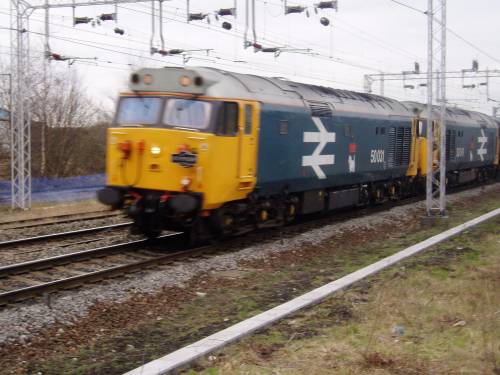 A study in fading light and speed at Bushbury Jn! (photo: Simon Edwards)
Sources : Alan Sheppard, Simon Edwards, 'Lycra', Pip Dunn & Neil Morgan



Timings (Booked & Actual)
(from various including Alan Sheppard)
Table 1 : 04/03 (out) & 07/03 (back)
Location
Booked
Actual
Booked
Actual
Swindon
06.35d
06.38
21.38a
19.34
Wootton Bassett Jn
06/42
06/44
21/31
19/21
Chippenham
06.51a ~ 06.53d
06.53 ~ 06.56
21.15a ~ 21.18d
19.05 ~ 19.07
Thingley Jn
06/57
06/59
21/12
19/00
Bathampton Jn
07/04
07/06
21/05
18/55
Bath Spa
07.07a ~ 07.10d
07.09 ~ 07.11
20.58a ~ 21.01d
18.50 ~ 18.52
North Somerset Jn
?
?
20/47
?
Dr. Days Jn
07/42
07/40
20/45
?18/17
Stapleton Road
07/43
07/43
20/44
18/14
Filton Abbey Wood
07/47
07/47
20/41
18/12
Bristol Parkway
07.49a ~ 07.52d
07.49 ~ 07.51
20.36a ~ 20.39d
18.07 ~ 18.10
Westerleigh Jn
07/58
07/57
20/30
18/02
Yate
08/01
08/01
20/27
17/58
Charfield
08/08
08/06
20/22
17/55
Standish Jn
08/17
08/14
20/12
17/45
Gloucester Yard Jn
08/22
?
19*47a ~ 20*05d
?
Barnwood Jn
08/24
08/20
19/43
17/40
Cheltenham Spa
08.31a ~ 08.34d
08.25 ~ 08.35
19.34a ~ 19.37d
17.34 ~ 17.35
Ashchurch
08/41
?
19/22
17/27
Abbotswood Jn
08/51
08/48
19/14
17/18
Norton Jn
08/53
?
19/10
?
Worcester Shrub Hill
08.59a ~ 09.06d
09.01 ~ 09.06
19.01a ~ 19.06d
17.07 ~ 17.08
Worcester Tunnel Jn
09/08
?
18/58
?
Droitwich Spa
09/14
09/15
18/52
16/59
Stoke Works Jn
09/20
09/19
18/45
16/48
Bromsgrove
09/22
?
18/41
16/41
Barnt Green
09/28
09/31
18/33
16/36
Longbridge
09/30
09/35
18/28
16/34
Kings Norton
09/34
09/39
18/18
16/30
Selly Oak
09/38
?
Bordesley Jn
18/02
16/23
St. Andrews Jn
18/01
16/22
Proof House Jn
17/57
16/19
Birmingham New Street
09.48a ~ 09.59d
09.54 ~ 09.58
17.48a ~ 17.54d
16.05 ~ 16.17
Proof House Jn
10/02
?
Landor Street Jn
10/03
10/02
Castle Bromwich Jn
10/08
10/08
Park Lane Jn
10/10
10/11
Ryecroft Jn
10/36
10/32
Walsall
10/38
10/35
Pleck Jn
10/40
10/37
Soho South Jn
17/44
16/00
Soho East Jn
17/43
DIV
Perry Barr West Jn
17/38
DIV
Perry Barr North Jn
17/36
DIV
Bescot Stadium
17/32
DIV
Darlaston Jn
10/45
?
17/31
DIV
Portobello Jn
10/50
10/46
17/28
DIV
Wolverhampton
DIV
10/52
DIV
15/48
Bushbury Jn
10/57
10/56
17/24
15/44
Stafford No.4
11/11
?
17/11
?
Stafford
11.12a ~ 11.30d
11.10 ~ 11.31
17.07a ~ 17.10d
15.30 ~ 15.53
Stafford No.5
?
?
17/06
?
Norton Bridge
11/39
11/37
17/02
15/19
Madeley Jn
11/50
?
16/52
15/10
Basford Hall Jn
11/57
?
16/47
15/05
Crewe
12.01a ~ 12.03d
11.57 ~ 12.03
16.39a ~ 16.41d
14.59 ~ 15.01
Crewe Coal Yard Jn
12/06
?
16/37
?
Winsford Signal Box
12/12
?
16/29
14/44
Weaver Jn
12/17
12/24
16/24
14/39
Acton Grange Jn
12/31
?
16/18
14/33
Warrington Bank Quay
12/33
12/34
16/15
14/32
Dallam Jn
12/34
?
16/03
?
Winwick Jn
12/36
?
16/00
14/31
Golborne Jn
12/39
12/38
?
?
Springs Branch Jn
12/45
?
15/47
14/24
Wigan South Jn
12/45
?
15/47
?
Wigan North Western
12/46
12/46
15/46
14/22
Balshaw Lane Jn
12/59
?
15/40
?
Euxton Jn
13/13
12/55
15/38
14/17
Preston
13.21a ~ 13.58
13.11a ~ 13.58d
14.48a ~ 15.32d
13.50 ~ 14.12
Lancaster
14/19
14/22
14/28
13/33
Morecambe South Jn
14/21
?
14/24
13/29
Carnforth North Jn
14/26
14/27
14/21
13/26
Oxenholme
14/36
14/37
14/12
13/17
Tebay
14/48
14/58
14/02
13/07
Penrith
15/04
15/13
13/46
12/51
Carlisle
15.20a ~ 15.22d
15.29 ~ 15.33
13.01a ~ 13.27d
12.29 ~ 12.37
Gretna Jn
15/32
15/41
12/37
12/20
Quintinshill
15/36
?
12/33
?
Lockerbie
15/47
15/53
12/18
12/08
Beattock
16*00a ~ 16*29d
?
12/08
11/58
Beattock Summit
16/45
16/29
12/01
11/50
Abington
16/52
?
11*28a ~ 11*51d
11/44
Carstairs South Jn
17/07
16/47
11/12
11/32
Carstairs
17/08
16/48
11/12
11/32
Lanark Jn
17/10
16/49
11/10
?
Law Jn
17/16
16/55
11/00
11/17
Shieldmuir
17/20
?
10/54
?
Motherwell
17/23
17/03
10/52
11/12
Braidhurst DGL
17L26a ~ 17L52d
?
Mossend South Jn
17/56
17/58
Mossend West Jn
18/02
18/00
Uddingston Jn
18/07
18/04
10/45
?
Newton
18/13
18/07
10/39
11/00
Rutherglen East Jn
18/15
18/10
10/34
10/56
Rutherglen
18/17
18/13
10/30
10/54
Glasgow Central LL
18/33
18/20
10/22
10/46
Finnieston Jn
18/43
?
10/15
10/42
Hyndland East Jn
18/50
?
10/10
?
Westerton
18/53
18/40
10/03
10/35
Dalmuir
18/59
18/55
09.56d
10.30
Continued in Table 2
Table 2 : 04/03 (out) & 06/03 (back)
Location
Booked
Actual
Booked
Actual
Continuation of Table 1
Continued in Table 4
Dumbarton Central
19.08a ~ 19.10d
19.06 ~ 19.12
14/33
14/47
Dalreoch
19/11
19/14
14/32
14/47
Craigendoran Jn
19/22
??.?? ~ 19.47
14/23
14/40
Helensburgh Upper
19.27a ~ 19.29d
?
14.14a ~ 14.16d
?
Garelochhead
19.41 ~ 19.43
20.06 ~ 20.08
14.00a ~ 14.02d
14.17 ~ 14.19
Glen Douglas
19/58
?
13/48
?
Arrochar & Tarbet
20.06a ~ 20.09d
?
13.36a ~ 13.38d
?
Ardlui
20.25a ~ 20.59d
?
13.19a ~ 13.21d
?
Crianlarich
21.19a ~ 21.34d
21.19 ~ 21.24
12.59a ~ 13.01d
13.10 ~ 13.15
Upper Tyndrum
21.45a ~ 21.51d
?
12.45a ~ 12.48d
?
Bridge of Orchy
22.05a ~ 22.06d
?
12.28a ~ 12.30d
?
Rannoch
22.31a ~ 22.32d
22.21 ~ 22.32
11.53a ~ 12.05d
12.07 ~ 12.15
Corrour
22.45a ~ 22.46d
?
11.41a ~ 11.41d
?
Tulloch
23.05a ~ 23.06d
?
11.18a ~ 11.20d
?
Roy Bridge
23.16a ~ 23.17d
?
11.07a ~ 11.17d
?
Spean Bridge
23.23a ~ 23.24d
?
10.45a ~ 11.00d
?
Fort William Jn
23/35
?
10/33
?
Fort William
23.38a
23.38
10.30d
10.30
Table 3: 05/03

| | | | | | | |
| --- | --- | --- | --- | --- | --- | --- |
| Location | Booked | Actual | | Booked | Revised Booked | Actual |
| Fort William | 10.20d | 11.03 | | 14.40a | 16.37a | 15.33 |
| Fort William Jn | 10/23 | ? | | 14/37 | ? | ? |
| Banavie | 10/26 | 11/08 | | 14/34 | ? | ? |
| Loch Eil Outward Bound | 10.37a ~ 10.39d | ? | | 14.18a ~ 14.20d | 15/28 | ? |
| Glenfinnan | 10.57a ~ 11.24d | 11.40 ~ 11.41 | | 13.59a ~ 14.01d | 15.20a ~ 15.22d | ? |
| Arisaig | 11.55a ~ 11.57d | ? | | 13.00a ~ 13.16d | ? | ? |
| Morar | ? | ? | | 12.42a ~ 12.46d | 14.16a ~ 14.20d | ? |
| Mallaig | 12.16a ~ 12.36d | 13.07 ~ 13.27 | | 12.36d | ??.??a ~ 14.10d | ? |
| Morar | ? | ? | | - | ? | ? |
| Arisaig | 13.00a | ? | | - | 13.35d | ? |
Table 4 : 06/03/05

| | | |
| --- | --- | --- |
| Location | Booked | Actual |
| Dalmuir | 14/45 | 14/55 |
| Westerton | 14/54 | 15/04 |
| Cowlairs North Jn | 15/00 | ? |
| Cowlairs East Jn | 15/07 | ? |
| Lenzie | 15/11 | 15/18 |
| Greenhill Upper Jn | 15/21 | 15/26 |
| Falkirk High | 15/25 | ? |
| Polmont Jn | 15/32 | 15/52 |
| Linlithgow | 15/39 | 15/55 |
| Winchburgh Jn | 15/45 | 16/01 |
| Dalmeny Jn | 15/55 | 16/08 |
| Inverkeithing | 16/03 | 16/16 |
| Burntisland | 16/12 | ? |
| Kirkcaldy | 16/19 | 16/34 |
| Thornton South Jn | 16/24 | 16/39 |
| Thornton North Jn | 16/24 | ? |
| Ladybank | 16/32 | 16/48 |
| Cupar | 16/44 | ? |
| Leuchars | 16/49 | ? |
| Tay Bridge South | 16/55 | ? |
| Dundee Central Jn | 17/00 | ? |
| Dundee | 17.01a ~ 17.17d | 17.14 ~ 17.30 |
| Dundee Central Jn | 17/18 | ? |
| Errol | 17/27 | ? |
| Barnhill | 17/36 | ? |
| Perth | 17/39 | 18/00 |
| Hilton Jn | 17/43 | ? |
| Blackford | 17/59 | 18/18 |
| Dunblane | 18/06 | 18/27 |
| Stirling | 18/17 | 18/31 |
| Larbert Jn | 18/25 | 18/40 |
| Carmuirs West Jn | 18/26 | 18/42 |
| Greenhill Lower Jn | 18/30 | 18/45 |
| Garnqueen North Jn | 18/39 | 18/58 |
| Gartcosh Jn | 18/41 | 19/00 |
| Springburn | 18/51 | 19/09 |
| Cowlairs West Jn | 18/53 | 19/10 |
| Cowlairs North Jn | 18/56 | ? |
| Westerton | 19/02 | 19/17 |
| Dalmuir | 19.07a | 19.23 |