26th February 2005
Vintage Trains
The Lickey Incliner
| | |
| --- | --- |
| Locos Used | D6961 & steam: 6024 |
| Stock Used | 9101+5198+5191+5157+5177+99361+35470 |
Route:
1Z53 : Tyseley Warwick Road to Newport
1Z54 : Newport to Tyseley Warwick Road
| | |
| --- | --- |
| Loco(s) | Route |
| D6961 (1) | Tyseley Warwick Road - Bordesley Jn - St Andrews Jn |
| 6024 | St Andrews Jn - Bordesley Jn - Kings Norton - Barnt Green - Bromsgrove - Cheltenham Spa - Gloucester - Chepstow - Severn Tunnel Junction - Newport |
| 6024 | Newport - (reverse of outward route) - Bromsgrove |
| 6024 (2) | Bromsgrove - (reverse of outward route) - Bordesley Jn - St Andrews Jn |
| D6961 (1) | St Andrews Jn - Bordesley Jn - Tyseley Warwick Road |
Notes :
(1) 6024 on rear.
(2) D6961 on rear.
(3) Originally booked for steam 6024 + 4965.
The The Lickey proved popular location for photographers (I wonder why?). Here's a selection;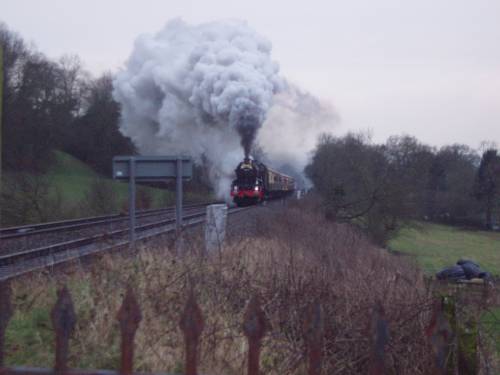 Simon Morgan caught the King blasting up The Lickey.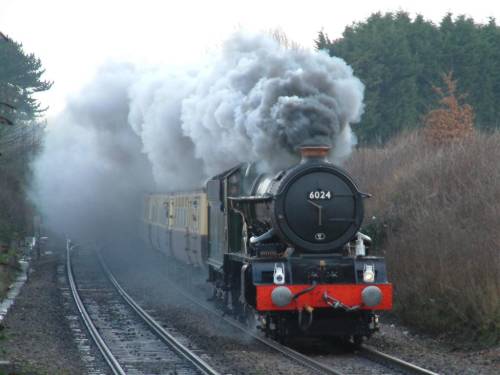 Clive Hanley however caught the King at Bromsgrove in the morning...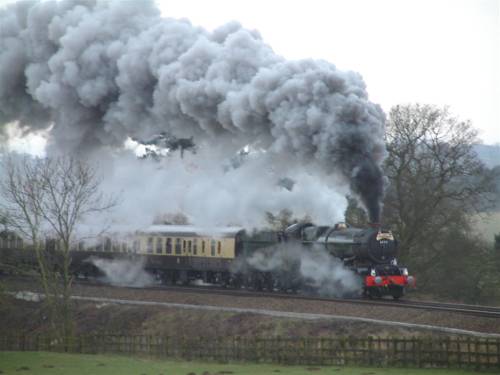 ...and on The Lickey in the afternoon!
Sources : Simon Morgan, Clive Hanley & Richard Rooker



Timings (Booked & Actual)
| | | | | | |
| --- | --- | --- | --- | --- | --- |
| Location | Booked | Actual | | Booked | Actual |
| Tyseley Warwick Road | 08.04d | 08.12 | | 17.16a | 17.11 |
| Small Heath South Jn | 08/10 | 08/16 | | 17/07 | 17/07 |
| Bordesley Jn | 08/17 | 08/20 | | 16/58 | ? |
| St Andrews Jn | 08*20 ~ 08*32 | ??.?? ~ 08.21 | | 16*42 ~ 16*55 | ??.?? ~ 16.44 |
| Bordesley Jn | 08/35 | ? | | 16/37 | 16/35 |
| Kings Norton | 08/53 | 08/53 | | 16/27 | 16/27 |
| Longbridge | 08/57 | 08/59 | | 16/21 | 16/23 |
| Barnet Green | 09/01 | 09/03 | | 16/18 | 16/20 |
| Bromsgrove | 09/07 | 09/06 | | 15.55a ~ 16.06d | 15.54 ~ 16.14 |
| Stoke Works Jn | 09/09 | 09/08 | | 15/50 | 15/50 |
| Abbotswood Jn | 09/19 | 09/17 | | 15/39 | 15/40 |
| Ashchurch For Tewkesbury | 09/29 | 09/28 | | 15/29 | 15/31 |
| Cheltenham Spa | 09/39 | 09/35 | | 15/21 | 15/21 |
| Barnwood Jn | 09/45 | 09/42 | | 15/15 | 15/14 |
| Horton Road Jn | 09/48 | ? | | 15/13 | ? |
| Gloucester | 09.50a ~ 10.35d | 09.51 ~ 10.42 | | 14.30a ~ 15.11d | 14.20 ~ 15.11 |
| Awre Jn | 10/51 | 10/59 | | 14/15 | 14/06 |
| Lydney | 10/55 | 11/04 | | 14/10 | 14/00 |
| Chepstow | 11/05 | 11/12 | | 14/00 | 13/52 |
| Severn Tunnel Junction | 11/14 | 11/22 | | 13/45 | 13/40 |
| Newport | 11.37a | 11.39 | | 13.18d | 13.18 |