19th February 2005
Pathfinder Tours
The Buffer Puffer - Volume 3
| | |
| --- | --- |
| Locos Used | 37406 & 37416 |
| Stock Used | 21272+3107+4927+4902+5009+5322 |
Route :
1Z37 : London Blackfriars to Shoeburyness
1Z38 : Shoeburyness to London Fenchurch Street
1Z39 : London Fenchurch Street to Hertford East
1Z40 : Hertford East to London Liverpool Street
1Z41 : London Liverpool Street to Chingford
1Z42 : Chingford to London Liverpool Street
1Z43 : London Liverpool Street to Enfield Town
1Z44 : Enfield Town to London Bridge
| | |
| --- | --- |
| Loco(s) | Route |
| 37416 (1) | London Blackfriars [P1] - Loughborough Jn - Canterbury Road Jn - Factory Jn - Kensington Olympia [P2] - Willesden Junction High Level - Gospel Oak - Blackhorse Road - Barking - Upminster - Ockendon - (via Third Line) - Grays - Pitsea - Shoeburyness [P1] |
| 37406 (2) | Shoeburyness - Pitsea - Laindon - Upminster - Barking - London Fenchurch Street [P3] |
| 37416 (1) | London Fenchurch Street - Bow Jn - Channelsea North Jn - Temple Mills East Jn - Cheshunt - Hertford East [P1] |
| 37406 (2) | Hertford East - Cheshunt - Seven Sisters - Stoke Newington - Hackney Downs (Up Sub to Up Fast) - Bethnal Green (Up Fast to Up Main) - London Liverpool Street [P9] |
| 37416 (1) | London Liverpool Street - (via Down Suburban) - Bethnal Green [P2] to Down Fast - Clapton - Chingford [P3] |
| 37406 (2) | Chingford - Clapton - London Liverpool Street [P8] |
| 37416 (1) | London Liverpool Street - Bethnal Green (Down Main to Down Fast) - Clapton - South Tottenham - Seven Sisters - Enfield Town [P1] |
| 37406 (2) | Enfield Town - Seven Sisters - South Tottenham - Temple Mills East Jn - Lea Jn - Highbury & Islington - Camden Road Jn - Primrose Hill Jn - Camden Jn - (via Down Slow) - Willesden West London Jn (4) - Harlesden Jn - (via Up & Down High Level Goods Line) - Wembley Yard South Jn - signal WM828 (Sudbury Jn) (4) |
| 37416 (1) | (4) signal WM828 (Sudbury Jn) - (via Up Willesden Relief Line) - 'F' Sidings Jn - Acton Branch Jn - (via Up & Down Acton Branch Line) - Acton Canal Wharf Jn - (via Down Cricklewood Line) - (4) Acton Wells Jn - Kew East Jn - Barnes - Clapham Junction - Kensington Olympia |
| 37406 (2) | Kensington Olympia - Clapham Junction - Streatham Hill - Crystal Palace - Sydenham - New Cross Gate - London Bridge |
Notes :
(1) 37406 on rear.
(2) 37416 on rear.
(3) Tour postponed from 15th January 2005.
(4) Booked route was Willesden West London Jn - South West Sidings - Acton Wells Jn but the diversion via Wembley Yard was made due to a line possession on the Up Fast and Down Fast Lines between Camden Jn and Kings Langley from 20:00, thus preventing the train taking the booked route from Willesden West London Jn to Acton Wells Jn via South West Sdgs (the booked path crossed the blocked fast lines at Willesden West London Jn).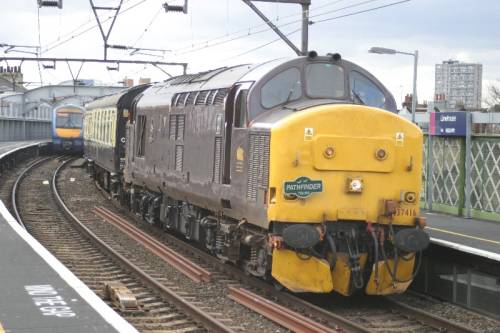 37416 leads passing through Limehouse (photo: Steve Trillwood)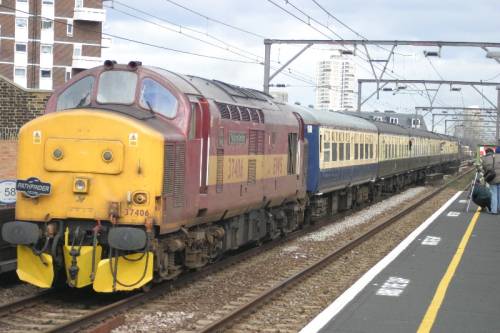 37406 brings up the rear through Limehouse (photo: Steve Trillwood)
Sources : Alan & Lisa Sheppard, Janet & John Cottrell, 'Geordie' & Rob Fraser



Tour Review
(from Janet Cottrell)
We had been on the two previous Buffer Puffer tours so had no hesitation in booking this one as well. Another reason for not prevaricating was that the train was to be only formed of six coaches so was likely to book up quickly.
Following a change of date, we duly presented ourselves at Blackfriars, not without some difficulties caused by a signalling blackout on the West Coast Mainline. When we finally made it to the start point, we were greeted by the news that the stock had left Old Oak Common around an hour late. Despite this, departure was only a couple of minutes late thanks to cutting the Greenford Loop from the ECS move and the fact it was booked to arrive at Blackfriars some 30 minutes before the booked departure time.
It was not long before we hit the first bit of "rare" track between Loughborough Junction and Brixton – although there were several bits of freight only track in the itinerary, this was arguably the most sought after. The trundle round under Clapham Junction and wait at Latchmere Junction set the scene for most of the day, as the lines that we were covering have frequent suburban services which we would have to fit round. The climb up onto the North London did produce a fair bit of thrash from 37416, which was clearly audible from our position at the back of the train. A personal milestone was passed around Kensington for myself, 1,000 miles behind 416 – the tour that we did last June with it left me 9 miles short. Can we bring down 37417 for the next tour as I am 9 miles short on that as well!
For some reason, we managed to lose a few minutes going across to Barking where we stopped briefly to change guards. A C2C unit was noted in an adjacent platform going to Shoeburyness with which we made a parallel departure, surely it would go first but in the event we shot off in the lead with a triumphant bellow from the tractor. This was all very well until we got to Upminster where we had to wait for the unit that we should have crossed at Ockendon to come off the branch. A peek out of the window revealed the C2C unit patiently waiting behind for us to vacate the platform Oops…. Any further embarrassment was saved by us taking the scenic route via Grays and Tilbury, I wonder how late the unit was when it got to Shoeburyness?
Two weeks ago we visited Southend Victoria, today it was the route through Southend Central, so today we could view the coast from the comfort of the train rather than having to walk down!
There was an excellent photo opportunity at the end of the line giving everybody a chance to get pictures of both locos and for us to experiment with our new digital camera – we still took some pics on film just in case though.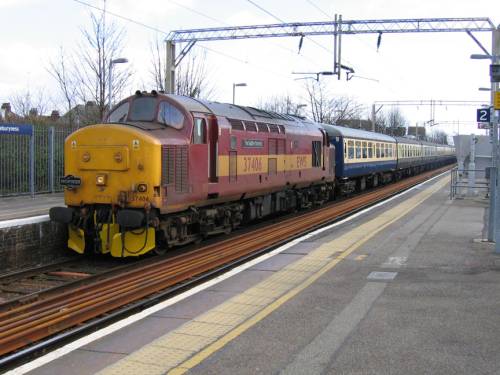 Johns Cottrell's first digital photos - the train at Shoeburyness - nice!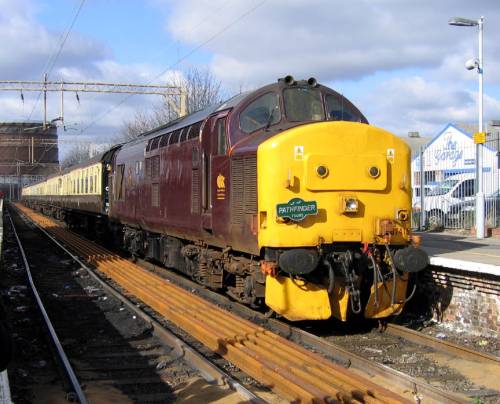 The run back to London proved a bit disappointing as 37406 did not sound as good as 416, the reason for this might have been the presence of a traction inspector who was assessing our driver but having said that 416 is a bit of a beast.
The traction inspector also caused some minor entertainment when his glasses fell from his nose as he alighted from the footplate at Fenchurch Street, falling neatly into the gap between engine and platform. One of the platform ladies rushed off to get a long handled litter picking device but the errant glasses were retrieved minus a lens. I hope that the missing lens was found after the train had left the platform.
Next port of call was Hertford East via some more "red bits" in Mr Baker's atlas. It had been very cold all day with a biting wind, but I think everybody was surprised when it started snowing during our stop here. Fortunately it was only a few brief flurries, which had stopped by the time we boarded the train for our next port of call of Liverpool Street where we had an hours break. Most people went in search of food, but we contented ourselves with a cup of tea which we took back to the train to consume whilst we had a chat to one of our drivers who I know. If you are reading this Phil, here is the report and thanks for the entertainment, I think most of East London were made aware of our passage!
The flip side of having an hours break at this stage was that Chingford and Enfield Town were visited in the dark, personally I would have preferred to start a little earlier and forego the break in order to complete most of the route in daylight. There were ample opportunities for leg stretching at our reversing points, although I do suspect that the hour at Liverpool Street might have been for train crew PNB purposes in which case it would be unavoidable without utilizing another set.
Apart from this minor quibble the tour was thoroughly enjoyable and we reluctantly departed at Highbury & Islington. Much as we would have like to stay to the end, this would have meant a bus ride home as the last train north of Hemel Hempstead on a Saturday is 2204 from Euston, thanks to Silverlink and Network Rail destroying our local service at weekends. Hopefully there will still be some interesting traction available for "Buffer Puffer Volume 4", these tours would not even be half as much fun with sheds or skips.
Janet Cottrell



Timings (Booked & Actual)
(from the Sheppards, Cottrells, Steve Trillwood, John Clifford & Rob Fraser)
Booked

Actual

0.00
Blackfriars
09.16d
09.19
1.17
Elephant & Castle
09/20
09/23
3.07
Loughborough Junction
09/23
09/26
5.12
Factory Jn
09/34
09/35
5.51
Longhedge Jn
09/36
09/37
6.36
Latchmere Jn
09/40
09.38 ~ 09.40
9.19
Kensington Olympia
09/48
09/48
11.44
Mitre Bridge Jn
09/58
09/58
12.16
Willesden Junction High Level
10.04a ~ 10.07d
10.05 ~ 10.08
16.43
Gospel Oak
10/20
10/22
17.56
Upper Holloway
10/25
10/24
20.45
South Tottenham
10/30
10/33
26.65
Woodgrange Park
10/40
10/47
28.27
Barking
10*44 ~ 10*47
10.53 ~ 10.55
36.05
Upminster
10/57
11.06 ~ 11.10
39.16
Ockendon
11*03 ~ 11*08
11/15
43.54
Grays
11/17
11/23
50.25
Thames Haven Jn
11/27
11/33
56.21
Pitsea
11/40
11/39
62.22
Leigh-on-Sea
11/47
11/46
65.34
Southend Central
11/56
11/55
69.19
0.00
Shoeburyness
12.05 ~ 12.29
12.03 ~ 12.28
3.65
Southend Central
12/37
12/37
6.77
Leigh-on-Sea
12/42
12/41
12.78
Pitsea
12/49
12/47
16.51
Laindon
12/54
12/54
24.20
Upminster
13/02
13/03
31.78
Barking
13/15
13/13
36.63
Gas Factory Jn
13/23
13/23
39.40
0.00
Fenchurch Street
13.29 ~ 13.45
13.29 ~ 13.44
2.57
Gas Factory Jn
13/53
13.51 ~ 13.52
3.39
Bow Jn
14/02
14/00
4.20
Carpenters Road South Jn
14/05
14/01
4.51
Channelsea Jn
14/11
14/04
5.30
Temple Mills East Jn
14/14
14/08
7.78
Copper Mill Jn
14/19
14/16
9.04
Tottenham Hale
14/21
14/19
13.65
Brimsdown
14/26
14/26
17.05
Cheshunt
14/34
14/38
20.21
Broxbourne
14/39
14/41
25.22
Ware
14/51
14/51
27.23
0.00
Hertford East
14.56 ~ 15.15
14.55 ~ 15.15
2.01
Ware
15/19
15/19
7.02
Broxbourne
15/31
15/32
10.18
Cheshunt
15/35
15/37
15.36
Bury Street Jn
15/42
15/43
19.08
Seven Sisters
15/51
15/50
21.58
Hackney Downs
15/59
15/58
23.46
Bethnal Green
16/05
16/02
24.56
0.00
Liverpool Street
16.08a ~ 17.12d
16.07 ~ 17.22
1.10
Bethnal Green
17/16
17/26
2.78
Hackney Downs
17/20
17/29
4.38
Clapton Jn
17/23
17/32
6.16
Walthamstow Central
17/27
17/35
10.33
0.00
Chingford
17.35 ~ 17.45
17.42 ~ 17.51
4.17
Walthamstow Central
17/53
18/00
5.75
Clapton Jn
17/55
18/05
7.35
Hackney Downs
17/58
18/08
9.23
Bethnal Green
18/05
18/13
10.33
0.00
Liverpool Street
18.08 ~ 18.19
18.17 ~ 18.20
1.10
Bethnal Green
18/24
18/24
2.78
Hackney Downs
18/27
18/28
4.74
Copper Mill Jn
18/32
18/32
6.07
South Tottenham
18/48
18/40
6.30
Seven Sisters
18/50
18/45
10.02
Bury Street Jn
18/57
18/54
11.37
0.00
Enfield Town
19.02 ~ 19.20
19.00 ~ 19.19
1.35
Bury Street Jn
19/26
19/21
5.07
Seven Sisters
19/40
19/30
5.30
South Tottenham
19/42
19/31
6.43
Copper Mill Jn
19/49
19/35
9.11
Temple Mills East Jn
19/54
19/41
9.69
Lea Jn
20/01
19/46
13.68
Highbury & Islington
20.16a ~ 20.19d
19.58 ~ 20.01
15.41
Camden Road Jn
20/26
20/06
16.31
Camden Jn
20/40
20/17
20.10
Willesden West London Jn
20/45
20/24
[21.72]
sig WM828 (Sudbury Jn)
DIV
20.30a ~ 20.34d
[22.76]
Willesden No.7
DIV
20/38
[23.30]
Acton Canal Wharf Jn
DIV
20/41
[23.62]
21.36
Acton Wells Jn
20/49
20/45
24.02
Kew East Jn
20/57
20/50
24.41
New Kew Jn (sig F128)
21/01
20.51a ~ 20.56d
26.68
Barnes
21/09
21/08
30.01
Clapham Junction
21/17
21/20
30.47
Latchmere Jn
21/20
21/23
33.30
0.00
Kensington Olympia
21.27 ~ 21.33
21.28 ~ 21.33
2.63
Latchmere Jn
21/39
21/37
3.29
Clapham Junction
21*41 ~ 21*45
21.39 ~ 21.44
6.29
Streatham Hill
21/54
21/54
7.54
West Norwood
21/58
21/58
9.28
Crystal Palace
22/04
22/04
10.40
Sydenham
22/07
22/08
14.60
Bricklayers Arms Jn
22/15
22/18
16.72
London Bridge
22.20a
22.23