29th January 2005
Past Time Rail
The Barmouth Barker
| | |
| --- | --- |
| Locos Used | 37427, 37669 & 67016 |
| Stock Used | 4996+5008+4946+4949+3110+3131+1671+3132+35469 |
Route:
1Z52 : Northampton to Pwllheli
1Z53 : Pwllheli to Northampton
| | |
| --- | --- |
| Loco(s) | Route |
| 67016 | Northampton - Long Buckby - Rugby - Coventry - Birmingham International |
| 37427 + 37669 | Birmingham International - Stechford - Proof House Jn - Birmingham New Street - Soho South Jn - Galton Jn - Dudley Port - Wolverhampton - Telford Central - Abbey Foregate Jn - Sutton Bridge Jn - Newtown - Machynlleth (down main, just short of platform) |
| 37427 | Machynlleth (down main, just short of platform) - Dovey Junction - (2) Barmouth - Pwllheli |
| 37427 | Pwllheli - (reverse of outward route) - Machynlleth |
| 37669 + 37427 | Machynlleth - (reverse of outward route) - Birmingham International |
| 67016 | Birmingham International - (reverse of outward route) - Northampton |
Notes :
(1) Train delayed shortly after departure from Northampton due to an external door being found open. Arrival back into Northampton delayed due to awaiting free platform.
(2) First loco-hauled train over Barmouth Bridge for many years.
(3) Off-train option of the Welsh Highland Railway at Porthmadog was available (paid directly to the railway), with haulage by diesel loco "Kinnerley" and shed tours.
(4) For the return journey coach 35469 was shunted to the rear of the train, making 3132 the leading passenger vehicle.
Source : Gary Thornton (on the train throughout)



Tour Review
(by Gary Thornton)
Figured it was about time I did a tour review again (trying to keep up with SBJ, other interests & commitments, life in general etc has taken its toll recently...)! This tour, starting from my home station, was to mark the first loco-hauled train over Barmouth Bridge in quite a number of years. Quite what we were going to do with 4 hours in Pwllheli on a late-January Saturday afternoon was a bit of a mystery and something best not contemplated in case it meant not booking on the tour (but more about that later).
The 05.52 departure meant a reasonably early start despite the local point of commencement. I arrived just as 67016 rolled in with the tour stock, consisting 9 mark 1's. I was sat with 5 others, near the front of coach F, the second in the formation. The skip was thrashing away nicely confirming a healthy supply of therms into the coaches, good to fight off the cold damp wet morning.
Progress away from Northampton was very soon halted...at a green signal...where we sat for 10 minutes or so. Word soon came through, an open external door had been found. Once the problem was sorted (leaving it for the following train to check for any fallen bodies etc) we carried onwards to Birmingham International.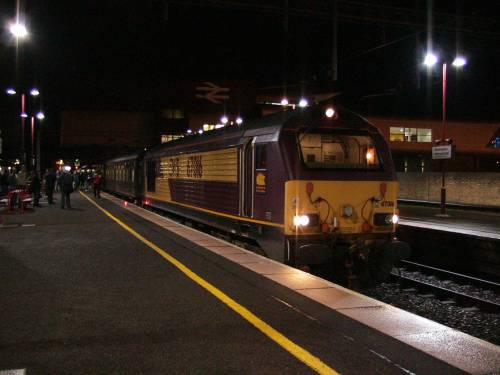 67016 on arrival into Birmingham International (photo: Gary Thornton)
We need not have rushed, on arrival we were informed the tractors were only just leaving Bescot! Though 40 minutes delay was estimated but they (37669 & 37427) appeared a lot quicker and were soon hooked on. Lots of debate about what would happen at Barmouth Bridge as it was only cleared for single locos, not pairs.
After Birmingham Black Hole we took the direct route (i.e. via Dudley Port) to Wolverhampton, then headed off past Oxley and the Shrewsbury avoiding curve to Wales. Amazingly Wales was arrived at...in sunshine, usually I get there only find it wet.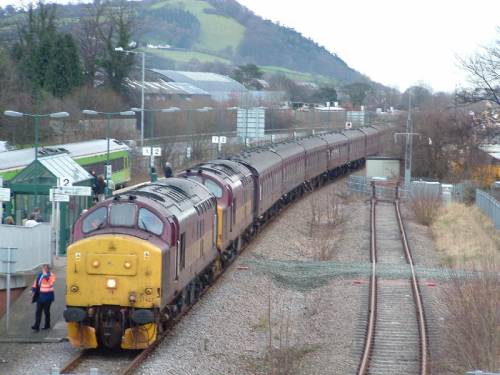 A short pause at Welshpool to cross a scud (photo: Badmonkey)
At Machynlleth we stopped short of the platform and the 37's were removed (37669 to a siding and 37427 back on the train) and we set of for Pwllheli. 37427 was the engine of choice for this train as this was one of a pair used on the railtour on 13th April 1986 when the bridge was last re-opened to loco-hauled traffic. A good turn-out of photographers were noted all along the route, helped no doubt by the sunny morning. Crossing Barmouth Bridge it was a trifle worrying to hear so much creaking of the wooden structure but, as a colleague commented, only worry of you start to hear sharp cracking noises. Quite!
Stope were made at various stations to Pwllheli, including Porthmadog where it was possible to take in a journey on the Welsh Highland Railway (diesel hauled we noted).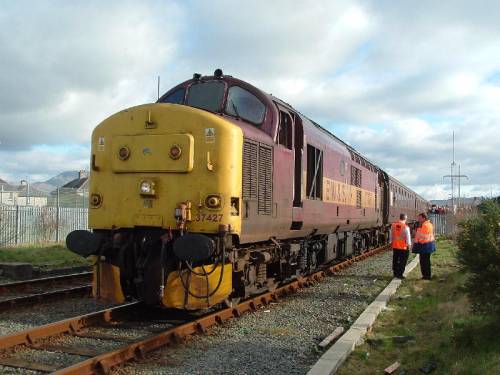 37427 waits a path on the single line at Porthmadog (photo: Badmonkey)
We pulled into Pwllheli bang on time for a 4 hour 11 minute stay - the question now was what to do with the remaining 4 hours after we had exhausted the entertainment on offer! To be fair there was stuff to do, see, eat and drink but it has to be said Pwllheli in late January is not the most lively location....at least it wasn't cold and wet...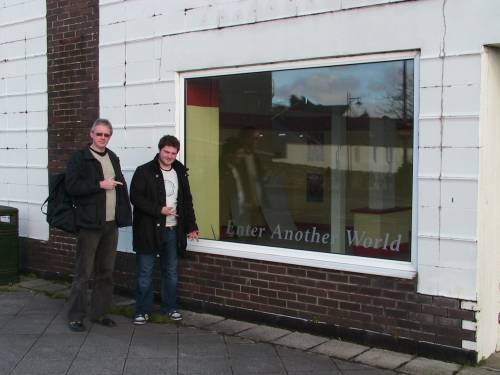 Pwllheli in winter - never a truer word said! (photo: Gary Thornton)
After a quick tour round (including checking out the beer shop we found) we walked across to the beach and stood a few minutes taking in the warm sunny weather (yes, in January!) before retracing our steps as far as the Queen Victoria Hotel where we killed an hour or two over a couple of drinks and a meal. Back via the beer shop for supplies then back on to the train to start a serious depletion exercise on the beer supply obtained.
Being at the back of the train the return journey was fairly quiet. 37669 rejoined us at Machynlleth and the pair swapped back to 67016 at Birmingham International. An early arrival back into Northampton looked on the cards, until Northampton - we were held outside the station for about 15 minutes due to...station congestion...at 11pm?!?
Verdict: Superb day out. Some may have questioned the sense in running a tour such as this in January but in the event the weather was kind, in particular for the crossing of the bridge at Barmouth, so it was a really good day out. Thanks should go on record to those involved to get 37427 positioned for this day out.
Gary Thornton.



Timings (Booked & Actual)
| | | | | | |
| --- | --- | --- | --- | --- | --- |
| Location | Booked | Actual | | Booked | Actual |
| Northampton | 05.52d | 05.54½ | | 23.00a | 23.06 |
| Long Buckby | 06/04 | 06/14 | | 22/49 | 22/45 |
| Rugby | 06/14 | 06/24 | | 22/36 | 22/36 |
| Coventry | 06/26 | 06/34 | | 22/25 | 22/24½ |
| Birmingham International | 06L38a ~ 06L58d | 06.46 ~ 07.19 | | 21L54a ~ 22L12d | 21.57 ~ 22.15 |
| Stechford | 07/04 | 07/24½ | | 21/48 | 21/48 |
| Proof House Jn | 07/09 | 07/27½ | | 21/41 | 21/41 |
| Birmingham New Street | 07.12a ~ 07.14d | 07.31 ~ 07.36 | | 21.34a ~ 21.39d | 21.30 ~ 21.39 |
| Soho South Jn | 07/18 | 07/40½ | | 21/30 | 21/25½ |
| Galton Jn | 07/20 | 07/42½ | | 21/28 | 21/23½ |
| Dudley Port | 07/24 | 07/45½ | | 21/25 | 21/20½ |
| Wolverhampton | 07.31a ~ 07.32d | 07.51½ ~ 07.53 | | 21.16a ~ 21.18d | 21.12 ~ 21.13½ |
| Wolverhampton North Jn | 07/34 | 07/54½ | | 21/14 | 21/11 |
| Cosford | 07/46 | 08/02 | | 21/02 | 21/05 |
| Madeley Jn | 07/53 | 08/06 | | 20/55 | ? |
| Telford Central | 07.57a ~ 08.00d | 08.10 ~ 08.12 | | 20.48a ~ 20.52d | 20.53 ~ 20.55 |
| Wellington | 08/05 | 08/14½ | | 20/40 | ? |
| Abbey Foregate Jn | 08/19 | 08/24 | | 20/27 | 20/39 |
| Sutton Bridge Jn | 08.24a ~ 08.25d | 08.26½ ~ 08.28 | | 20.20a ~ 20.22d | 20.35 ~ 20.36 |
| Welshpool | 08.45a ~ 08.55d | 08.49 ~ 08.54 | | 19.55a ~ 20.00d | 20.12½ ~ 20.13 |
| Newtown | 09.15a ~ 09.16d | 09/09 | | 19.34a ~ 19.35d | 19/56½ |
| Caersws | 09/26 | 09/17½ | | 19/24 | 19/48 |
| Talerddig | 09.36a ~ 09.37d | 09.27½ ~ 09.28 | | 19.13a ~ 19.14d | ? |
| Machynlleth | 09.53a ~ 09.54d | 09.45 ~ 10.02 | | 18.53a ~ 18.54d | 19.08½ ~ 19.19 |
| Dovey Junction | 10.01a ~ 10.02d | 10/09½ | | 18.45a ~ 18.46d | 18.59 ~ 18.59 |
| Aberdovey | 10/12 | 10/21 | | 18/33 | 18/46 |
| Tywyn | 10.22a ~ 10.23d | 10/28 | | 18.24a ~ 18.25d | 18/40 |
| Fairbourne | 10/38 | 10/44 | | 18/06 | 18.19 ~ 18.21 |
| Barmouth | 10.48a ~ 10.57d | 10.54½ ~ 11.01 | | 17.37a ~ 17.58d | 17.23½ ~ 18.10 |
| Harlech | 11.17a ~ 11.18d | 11.19 ~ 11.20 | | 17.15a ~ 17.17d | 17.13½ ~ 17.14½ |
| Penryndeudraeth | 11/24 | 11/29 | | 17/07 | 17/03½ |
| Minfford | 11.29a ~ 11.32d | 11.32 ~ 11.34 | | 16.58a ~ 17.02d | 16.59½ ~ 17.00 |
| Porthmadog | 11.38a ~ 11.59d | 11.42 ~ 12.00 | | 16.50a ~ 16.52d | 16.51 ~ 16.53 |
| Criccieth | ? | ? | | 16/40 | 16/44 |
| Penychain | 12/10 | 12/13½ | | 16/36 | ? |
| Pwllheli | 12.19a | 12.19 | | 16.30d | 16.32 |