29th December 2004
Vintage Trains
End of Year Special - with City of Truro
| | |
| --- | --- |
| Loco Used | steam: 3440 |
| Stock Used | 9101+5198+5191+5157+5177+99361+35470 |
Route:
1Z52 : Tyseley Warwick Road - Stratford-Upon-Avon
1Z53 : Stratford-Upon-Avon - Leamington Spa
1Z54 : Leamington Spa - Tyseley Warwick Road
| | |
| --- | --- |
| Loco | Route |
| 3440 | Tyseley Warwick Road - Birmingham Moor Street - Birmingham Snow Hill |
| 3440 | Birmingham Snow Hill - Birmingham Moor Street - Tyseley - Henley-In-Arden - Stratford-Upon-Avon |
| 3440 | Stratford-Upon-Avon - Hatton - Leamington Spa |
| 3440 | Leamington Spa - Kenilworth - Coventry - Bedworth - Nuneaton - Abbey Jn - Water Orton - Landor Street Jn - Bordesley Jn - Small Heath South Jn - Tyseley Warwick Road |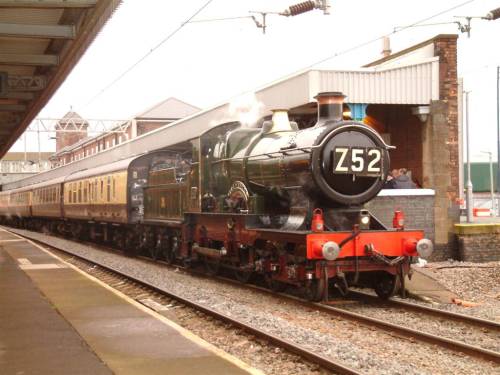 3440 during the break at Nuneaton (photo: Clive Hanley)
Sources : Simon Morgan & Richard Rooker



Tour Review
(from Simon Morgan)
The day started off cold and overcast, but dry. People were already gathering at the wooden gate out side TLW at 9:00 where we waited for the ok to proceed from the train manager. Once on the train, it was colder still, as the steam heating could only be turned on when the loco was running chimney first due to the absence of a steam heat pipe at the front of the loco – we would have to wait till B'ham Snow Hill when 'Truro' had run around.
Leaving 9 minutes late due to a Central trains unit going into the MainTrain depot, we embarked up the small but steep bank out of TLW where 'Truro' coped well with a fully complemented 7 coach train. As we sailed past Small Heath and Bordseley Green, 3440 struggled up the tunnel to Snow Hill.
After running round, and leaving 10 minutes late, 3440 made good progress down the old 'North Warwick' line where we went straight through Shirley (where a pathing stop was timed) because we were now about 5 minutes late. After a thrash down Bishopton bank we arrived into Stratford where the fun was just about to begin. A good hour and a half was allowed whilst 'Truro' ran the stock into platform 2, watered, and ran around. By now it had started to rain very lightly, and railhead conditions were clearly deteriorating.
The departure from Stratford upon Avon was not one that would be forgotten in a hurry. After we got the 'off' 3440 set off with a large wheelslip, well controlled by driver Ray Churchill, but the rails were against him as 'Truro' did exactly the same every time he opened the regulator. The sound of the loco vibrating as the wheels span out of control was xxxxxxxx. For a moment the wheels bit into the rails and everyone thought that the worst was over, but 3440 seemed to have trouble going over the points just ahead of the platform, this was when, once again, the wheels spun. Ray let the train roll back down the hill a few metres, for now he had gone past the hand sanded piece of track. Then tried again, but this was doomed with failure. With getting as far as possible, the decision was taken to roll the train back into the platform as far back as possible, to get more of a run at the hill. Whilst doing this, the sanders were pouring out. At first, the same happened, but then contact was made and we ascended up the bank. Ray Churchill eventually got the chance to open up, and good progress was made up Bishopton. Full congratulations to him for his efforts on a particularly difficult start, even for the most experienced of drivers. Opening up through Claverdon and Bearley, a nice descent down Hatton bank was made, as we were met by dozens of photographers along the way. Met by a red just outside of Leamington Spa whilst the platform was cleared by another train, 'Truro' headed into the station where, again the train ran around.
Once again we left late as we were held up by a late running 'Super Voyager' bound for Manchester Victoria. Running along past Kenilworth into Coventry we were stopped for a couple of minutes whilst the road was given to cross over towards Bedworth, and arriving into Nuneaton, where a good 40 minutes was given to top up the tender with water and an opportunity to look at 3440 before it got dark.
Upon leaving Nuneaton it was now getting dark and cold. Good time was made past Water Orton, and after a small pause at Saltley, then Small Heath, 'Truro' made its way back into TLW, where we arrived 5 minutes early.
A brilliant tour to end 2004, and full credit given to Driver, Fireman and Vintage trains for an excellent trip.
Simon Morgan



Timings (Booked & Actual)
(from Richard Rooker)
| | | |
| --- | --- | --- |
| Location | Booked | Actual |
| Tyseley Steam Trust | 10.00d | 10.09 |
| Small Heath South Jn | 10/08 | 10/13 |
| Birmingham Moor Street | 10/13 | 10/22 |
| Birmingham Snow Hill | 10.16a ~ 10.39d | 10.24 ~ 10.50 |
| Birmingham Moor Street | 10/42 | 10/52 |
| Small Heath South Jn | 10/47 | 10/58 |
| Tyseley | 10.49a ~ 10.51d | 11.01 ~ 11.02 |
| Shirley | 10.59a ~ 11.02 | 11.10 ~ 11.10½ |
| Henley-In-Arden | 11/18 | ? |
| Bearley Jn | 11/25 | 11/29 |
| Stratford-Upon-Avon | 11.33a ~ 13.15d | 13.17 |
| Bearley Jn | 13/24 | 13/35 |
| Hatton West Jn | 13/30 | ? |
| Hatton | 13/32 | 13/44 |
| Leamington Spa | 13.41a ~ 14.28d | 14.00 ~ 14.47 |
| Milverton Jn | 14/35 | 14/49 |
| Kenilworth | 14/42 | 14/56 |
| Coventry Park Jn | 14/48 | 15/01 |
| Coventry | 14.54a ~ 14.55d | 15.03 ~ 15.09 |
| Bedworth | 15/08 | ? |
| Nuneaton | 15.20a ~ 16.10d | 15.27 ~ 16.10 |
| Abbey Jn | 16/13 | 16/13 |
| Whitacre Jn | 16/27 | 16/28 |
| Water Orton | 16/34 | 16/32 |
| Landor Street Jn | 16/42 | 16/43 |
| St Andrews Jn | 16/46 | ? |
| Bordesley Jn | 16/50 | 16/45 |
| Small Heath South Jn | 16/55 | 16/55 |
| Tyseley Warwick Road | 17.05a | 16.59 |