15th December 2004
Steam Dreams
The Cathedrals Express (Carol Concert Special)
| | |
| --- | --- |
| Locos Used | 33202 & Steam : 73096 |
| Stock Used | 5222+5237+5236+1961+5249+9392+13440+13474+5171+1105+5200+35329 |
Route:
1Z86 : London Victoria to Canterbury West
1Z87 : Canterbury West to London Victoria
| | |
| --- | --- |
| Loco(s) | Route |
| 73096 (1) | London Victoria - Voltaire Road Jn - Cambria Jn - Nunhead - Shortlands Jn - St Mary Cray Jn - Swanley - Maidstone East - Ashford International - Canterbury West - Minster - Dover Priory - Folkstone West - Ashford International - Tonbridge - Sevenoaks - Orpington - Shortlands Jn - Herne Hill - Voltaire Road Jn - London Victoria |
Notes :
(1) Banked by 33202 from Victoria to Grosvenor Bridge.
Sources : various including Richard Rooker & John Clifford



Photo Review
(all photos: Gordon Jakes)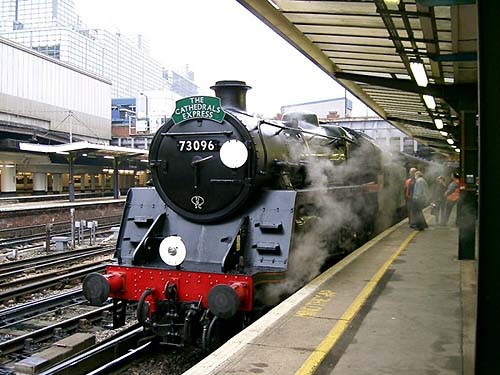 73096 waits to leave Victoria in the morning.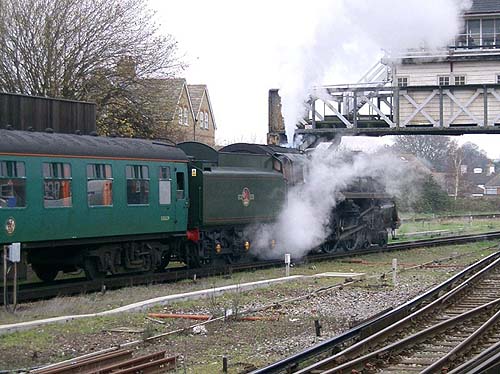 73096 at Canterbury West after arrival from London.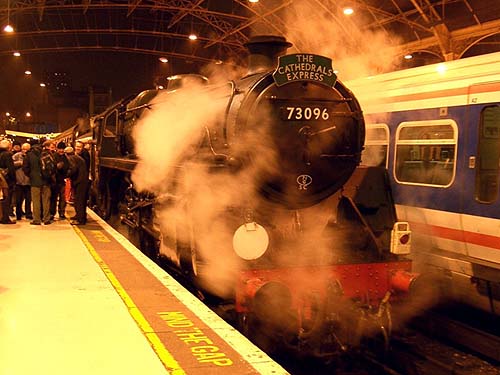 Tour over - 73096 back at London Victoria.


Timings (Booked & Actual)
(from Richard Rooker & Gordon Jakes)
M.C
Location
Booked
Actual
0.00
London Victoria
10.55d
10.55
2.05
Voltaire Road Jn
11/01
11/01
3.08
Brixton
11/04
11/04
3.68
Cambria Jn
11/08
?
4.67
Crofton Road Jn
11/10
?
5.77
Nunhead
11/13
11/09
10.73
Shortlands Jn
11/22
11/17
13.56
Bickley Jn
11/27
11/26
14.33
St Mary Cary Jn
11/28
11/27
18.47
Swanley
11/33
11/32
25.70
Otford Jn
11/43
11/42
41.12
Maidstone East
12/02
12/02
50.05
Lenham Passenger Loop
12w15 ~ 12w28
12.17½ ~ 12.29
50.25
Lenham
12/29
?
54.27
Charing
12/34
?
60.35
Ashford International
12/42
12/44
64.55
Wye
12/49
?
74.50
0.00
Canterbury West
13.00a ~ 17.12d
13.01 ~ 17.14
2.31
Sturry
17/16
?
11.37
Minster
17/27
17/34
16.19
Sandwich
17/35
17/41½
20.29
Deal
17/41
17/46
28.58
Buckland Jn
17/53
?
29.52
Dover Priory
17/55
18/03
37.02
Folkstone Central
18/07
18/18
37.53
Folkstione West
18w10 ~ 18w24
18.20 ~ 18.28
40.32
Saltwood Jn
18/29
18/34
50.63
Ashford International
18/40
18/47
61.58
Headcorn
18/51
19/01
72.08
Paddock Wood
19/01
19/18
77.33
Tonbridge
19/08
19/25
84.66
Sevenoaks
19/18
19/37
93.10
Orpington
19/28
19/46
94.51
Petts Wood Jn
19/30
19/49
95.43
Bickley Jn
19/34
19/50
98.24
Shortlands Jn
19/44
19/55
100.44
Beckenham Junction
19/46
19/57
105.21
Herne Hill
19/51
20/02
106.03
Brixton
19/53
20/04
106.27
Shepherds Lane Jn
19/54
?
107.12
Voltaire Road Jn
19/55
20/06
107.29
Factory Jn
19/56
?
107.59
Stewarts Lane Jn
19/59
?
108.26
Grosvenor Bridge Jn
20/02
?
109.17
London Victoria
20.09a
20.12