11th December 2004
Pathfinder Tours
The Anglian Angel
| | |
| --- | --- |
| Locos Used | 37669, 37692, 60010, 66547, 66717 & 92043 |
| Stock Used | 6310+3122+3112+3140+3098+21272+1863+5322+5341+5009+4902+4927+5275 |
Route :
1Z37 : Birmingham New Street to Harlow Town
1Z38 : Harlow Town to Birmingham New Street
| | |
| --- | --- |
| Loco(s) | Route |
| 37669 + 37692 | (1) Birmingham New Street - Water Orton - Burton-on-Trent - Derby (2) |
| 66717 | Derby - Trent - Nottingham - Bingham - Grantham [Up & Down Goods Loop] - Stoke Jn - New England North Jn - Peterborough New England Yard [by Eastfield SB] |
| 66547 | New England Yard - Peterborough - (3) - March - Ely - Cambridge - Bishops Stortford - Harlow Town (4) - Broxbourne - Tottenham Hale - Coppermill North Jn - Temple Mills East Jn - High Meads Jn - Lea Jn - Canonbury West Jn - Finsbury Park - Ferme Park Sidings [no.5 road] |
| 92043 | Ferme Park Sidings - Potters Bar - Stevenage - Peterborough - New England Yard [south down arrival - north down departure] |
| 60010 | New England Yard - Stamford - Melton Mowbray - Syston South Jn - Leicester North Jn [signal LR432] |
| 37669 + 37692 | Leicester North Jn [signal LR432] - Leicester Up & Down Slow - Hinckley - Nuneaton - Water Orton - Landor Street Jn - Proof House Jn - Birmingham New Street (1) |
Notes :
(1) Tour originally booked to start at Gloucester, picking up at Cheltenham Spa & Barnt Green. A road connection had to be provided due to shortage of on-train staff, due to the ongoing EWS/RMT dispute.
(2) Original spec was for train to travel via Stenson Jn to Sheet Stores Jn and have loco change at Toton.
(3) It was planned that the tour would visit the recently re-opened Whitemoor yard, this was omitted due to "signalling problems".
(4) It was originally planned to have a one hour break at Harlow Town, this was reduced because of a need to reach Peterborough New England Yard ahead of an engineering possession.
(5) AN extra stop was arranged at Stamford to allow passengers originally alighting at Peterborough to have the class 60 for haulage.
Sources : Alan Sheppard & Gary Thornton



Tour Review
(from David Clarke)
Originally this tour was to start at Gloucester calling at Cheltenham Spa, Barnt Green to Birmingham New Street, the first loco change was to be at Toton and Not Derby, and the tour was to also feature a delightful visit to March Whitemoor Yard (watch out for prisoners though). However, like most railtours these days the itinerary was to change due to one reason or another!
An early planning problem arose in giving the charter access to March Whitemoor Yard. So due to anticipated congestion the yard was hit on the head. Pity. A few days before the tour was due to run, advice was given by Pathfinder that the tour was now to start at Birmingham New Street and road coaches were to be provided from the station's missed out. Also it was told that Derby would now be the location of the loco change.
On the Thursday it was found out it was a 8.20 departure out of Birmingham New St and a 20.20 arrival back in to Birmingham New St! So a full 12 hours on the charter. Anyway it meant a trip up to Scunthorpe which involved 170110 Cardiff Central to Nottingham, 43050 / 43075 Nottingham to Leicester, 43064 / 43157 Leicester to Loughborough, 43193 / 43059 Loughborough to Leicester, 43073 / 43082 Leicester to Doncaster, and 158781 Doncaster to Scunthorpe.
Saturday morning saw my dad drive down the M180, M18, M1, and A (M) 42 in order to get to Hampton in Arden. However, we had to endure a little diversion before getting to the quaint little village. We waited for our train and saw a Pendolino and a 57, before 321412 / 321424 (0646 ex Hampton in Arden to New St) rolled in and took us to Birmingham New St. At Birmingham International two people joined and we were to be together for the rest of the day!
At Birmingham New Street we took a delightful walk around an empty shopping centre before taking in Breakfast at Mc Donald's. And no sooner had we got ours, more and more cranks turned up! Obviously a well-known location for breakfast! Back on the platform an 87 rolled in to New Street with a Wolverhampton Train and numerous Voyagers were seen. Word came round that the ECS off Bescot was late due to congestion on the main line (All West Coast Trains to Scotland / Manchester / Liverpool were diverted via Bescot due to the Trent valley line being shut – A well known West coast Diversion!!!)
However, 37669 / 37692 (both required) rolled in to platform 9 and we departed at 0839 19 late. So not a bad start to the day! The train was delightful and warm, and also busy. We set off for Derby passing through Landor Street Jn, Water Orton where are deficit was down to 5" due to quite an amount of pathing time at Castle Bromwich Jn. The final pick up was made at Burton on Trent and we departed there at 0910 and then past Stenson Jn and arrived Derby platform 4 at 0929.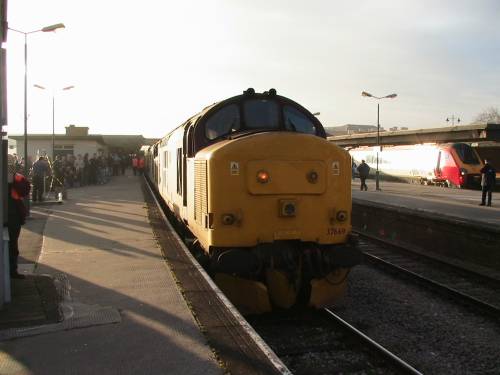 37669 & 37692 on arrival at Derby (photo: Gary Thornton)
At Derby 66717 was sat on the goods lines ready to pop on to our train and take it forward to Peterborough Yard. While we were there 156402 popped in to the station resplendent in Scotrail undercoat. And also a FL 66 went through on it way towards Birmingham.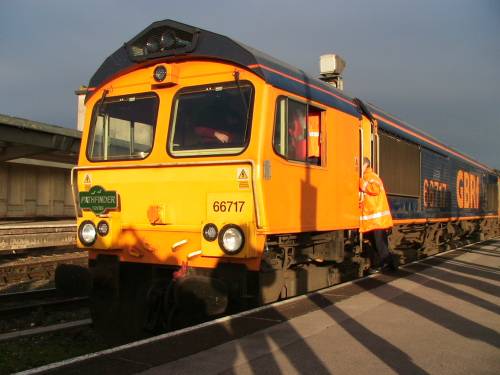 66717 waits to leave Derby (photo: Gary Thornton)
The Shed was duly attached and we departed Derby 5 late at 0953 for our 2nd leg down to Peterborough Yard. We past Meridians galore at Etches Park along with numerous Fragonset locomotives sat on the Old RTC Depot.
We made our way from Trent to Nottingham and past through the Up Middle Road before heading to Netherfield Jn and taking the route past Rectory Jn, Bottesford before seeing the new East Coast Main Line chord at Allington Jn and we rolled in to Grantham at 1059 to Witness an aptly named Class 91 "Grantham" sat on a mark 4 set.
While we were there 66547 past down to Peterborough, another few 91's and a Hull Trains 170. So we departed Grantham on the goods lines and headed up the East Coast Main Line through to Stoke Tunnel, and from there we were on the slows to new England Jn. At New England Jn we were held for a few mins before getting access to the yard.
Here, we arrived at 1157 and had the GBRF 66 swapped for Freightliner Heavy haul 66547. This was done, and we started off at 1226, but got held at Eastfield at 1229 to 1234 before heading through Peterborough Station platform 4 down in to Anglia. The Weather was quite delightful has we headed across the fens to March (12/59 4 early), but were held at Ely North Jn for a succession of Anglia 170's and a Class 365 unit before gaining access to the station.
I have to admit I have never been in to Ely before, but it looks quite quaint when viewed from the train with the Cathedral and the water running nearby. A bit like Worcester perhaps! Anyway we were now heading to Cambridge and we duly past there at 13/45 (4 early) obviously we were the beneficiaries of some good running by our driver. However, from this early running it was clear we were following something as we were regulated at regular intervals and our driver slowed down. We were held at Stansted South Jn for a pair of 317's to head in to Stansted before we were moving away again. Well we finally got to Harlow Town our final destination at 1431 (5 early).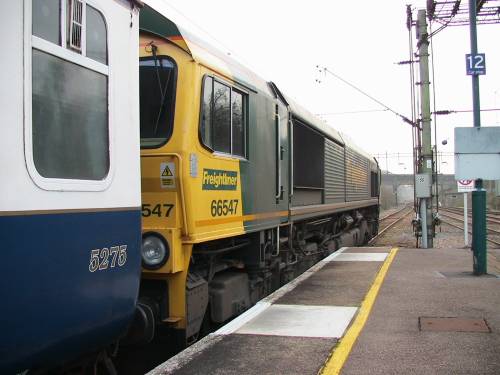 Leg-stretch at Harlow Town - with 66547 in charge (photo: Gary Thornton)
We had 17 mins to explore Harlow. Or was it more of a pathing stop???
So we were now 1Z38 Harlow Town to Birmingham New St. We departed on time and headed down to Tottenham South Jn, Coppermill Jn, but on the approach to Temple Mills West Jn we were shown by the signalman to go in to the yard! The driver duly consulted with the signalman and we departed on our right route round High Meads Curve (required track) in to Dalston Kingsland (where the signalman had shown us as running along the DC lines to Camden road east Jn). So again the driver had to question the signalman and we departed again! And this time via the goods lines through Finsbury Park (which were dud) and went in to Ferme Park sidings carriage road no5 (well that's what everyone else said!". Here we saw 92043 wait to join our train.
We departed here at 1615 before going from the Down Carriage line to the down slow, and at Wood Green South Jn going from the Down Slow to Down Fast! We were running slightly late due to problems on earlier. And we were put on to the slows just before Biggleswade. We arrived at Peterborough at 1728 / 1731 before heading in to the yard at 1735 (North Down Departure).
We saw 60010 our next loco as it past us on the next road!!! I think someone set the wrong road for the loco. However, we departed Peterborough Yard at 1759 knowing that Everton had beaten Liverpool and Scunthorpe had beaten Swansea. Up the Iron !!!!
60s are great. Well I would say that having heard quite a number stood on Scunthorpe station storming through with tanker trains. We dropped off people at Stamford, before coming to a stop at Humberstone Road Jn (1905) for the final loco change.
It was the return of 37669 / 37692. They were duly attached and we departed at 1926. We took the Up and down slow through leicester, the Nuneaton Flyover at Nuneaton and past through Landor Street Jn at 2013, Proof House Jn 20/17 and stormed through the Tunnels in Birmingham New Street and arrived on to platform 8 at 2022. Just 2 late.
Our next move was to find out how to get back to Hampton in Arden. So my dad, Stuart Clarke and I decided to do the 390034 (2030 to Euston) along with a fair number of 390 cranks! (not really, it was a convenient way to get back to New St). And when we got to New Street there were quite a few more there having got on our train!
321406 was our last train and it took us to Hampton IN Arden. We got back to Scunthorpe at 23.15
Sunday saw me head back to Wales with 158774 to Sheffield, 220010 to Derby, and 170633 to Cardiff Central before 142002 / 142076 took me to Dinas Rhondda. And a superb weekend had been made complete.
Verdict:
It was nice to get on a tour that wasn't cancelled. A great big thank you to all involved in the running of the charter and also the person who booked the tickets!!!
My next Railtour: We shall have to wait and see !!!
David Clark (2004)



Timings (Booked & Actual)
(booked courtesy of Pathfinder Tours & Solomon Riley,
actuals from Gary Thornton & Alan Sheppard)
M.C
Location
Booked
Actual
0.00
Birmingham New Street
08.20d
08.39 [P9]
0.54
Proof House Jn
08/22
08/43
1.45
Landor Street Jn
08/24
08/45
6.11
Castle Bromwich Jn
08/32
08/49
7.51
Water Orton
08/45
08/51
11.46
Kingsbury Jn
08/48
08/54
17.27
Tamworth HL
08/53
08/58
24.55
Wichnor Jn
09/00
09/03
30.18
Burton-on-Trent
09.07a ~ 09.10d
09.08 ~ 09.11
35.71
North Stafford Jn
09/20
09/17
36.35
Stenson Jn
09/21
09/17˝
41.19
0.00
Derby
09L28a ~ 09L48d
09.29 ~ 09.53 [P4]
2.50
Spondon
09/55
10/05
8.69
Sheet Stores Jn
10/02
10/07
9.30
Trent
10/04
10/08
15.27
Mansfield Jn
10/15
10/18
16.10
Nottingham
10/18
10/20
18.61
Netherfield Jn
10/23
10/27
24.66
Bingham
10/32
10/34
30.27
Bottesford West Jn
10/38
10/41
35.35
Allington Jn
10/49
10/46
38.17
Nottingham Branch Jn
10/54
10/51
38.67
Grantham U&D Goods Line
10*59a ~ 11*18d
10.55 ~ 11.18
44.44
Stoke Jn
11/25
11/26 [US]
59.41
Tallington Jn
11/39
11/38
66.19
New England North Jn
11/49
11.44a ~ 11.53d
67.23
0.00
Peterborough West Yard
11L54a ~ 12L37d
11.57 ~ 12.27
0.53
Peterborough
12/40
12/37
1.41
Peterborough East Jn
12/42
12/40
6.62
Whittlesea
12/49
12/47
15.47
March
12/59
12/56
29.51
Ely North Jn
13/26
13/26
31.13
Ely
13/29
13/30
44.72
Coldham Lane Jn
13/44
13/43
45.71
Cambridge
13/49
13/45
48.40
Shepreth Branch Jn
13/54
13/49
59.68
Audley End
14/06
13/59
67.13
Stansted North Jn
14/18
14/11
68.15
Stansted Mountfitchet
14/22
14/15
71.16
Bishops Stortford
14/26
14/19
78.64
Harlow Town
14*36a ~ 14*49d
14.31 ~ 14.50 [P1]
84.26
Broxbourne
14/55
14/56
87.42
Cheshunt
14/59
14/59
90.62
Brimsdown
15/03
15/02
95.43
Tottenham Hale
15/07
15/06
96.49
Coppermill Jn
15/09
15/08
99.17
Temple Mills East Jn
15/15
15/21
99.75
Lea Jn
15/18
15/25
102.59
Dalston Jn
15/25
15/30
103.49
Canonbury West Jn
15/30
15/41
104.71
Finsbury Park
15/33
15/43
106.24
0.00
Ferme Park
15L42a ~ 16L06d
15.49 ~ 16.16
1.21
Alexandra Palace
16/10
16/24
9.00
Potters Bar
16/18
16/31
16.48
Welwyn Garden City
16/24
16/37
20.11
Woolmer Green Jn
16/27
16/40
23.68
Stevenage
16/30
16/43
28.17
Hitchin
16/33
16/46
40.33
Sandy
16/43
16/58
55.13
Huntingdon
16/55
17/10
66.35
Holme Jn
17/03
17/18
73.52
Peterborough
17.09a ~ 17.11d
17.28 ~ 17.32
74.25
0.00
Peterborough West Yard
17L14a ~ 17L36d
17.35 ~ 17.59
1.04
New England North Jn
17/41
18/03
4.69
Helpston SB
17/46
18/09
11.49
Stamford
17/54
18.18˝a ~ 18.19d
15.00
Ketton SB
17/57
18/23
21.60
Manton Jn
18/04
18/30˝
25.18
Oakham
18/08
18/34
26.43
Langham Jn
18/09
18/35
36.59
Melton Mowbray
18/18
18/48 [P2]
46.41
Syston East Jn
18/27
18/55
46.65
Syston South Jn
18/35
18/58 [UDS]
51.33
Leicester North Jn
18/40
19L05a ~ 19L26d
51.56
0.00
Leicester U&D Goods
18L42a ~ 19L12d
19/28
0.51
Leicester South Jn
19/14
19/30
3.16
Wigston North Jn
19/19
19/34
14.45
Hinckley
19/42
19/44
18.64
Nuneaton
19/50
19/49 [P6]
19.49
Abbey Jn
19/54
19/51
29.29
Whitacre Jn
20/06
20/02
32.14
Water Orton
20/12
20/07 [P1]
38.20
Landor Street Jn
20/17
20/14
39.11
Proof House Jn
20/18
20/16
39.65
Birmingham New Street
20.20a
20.22 [P8]