11th December 2004
First Great Western
F.G.W. Class 47 Farewell
| | |
| --- | --- |
| Locos Used | 47811 & 47815 |
| Stock Used | 9481+5737+5679+5710+3232+5669+6722+3241 |
Route:
1Z30 : London Paddington - Penzance
1Z31 : Penzance - London Paddington
| | |
| --- | --- |
| Loco(s) | Route |
| 47815 (1) | London Paddington - Slough - Maidenhead - Reading - Didcot Parkway - Swindon - Chippenham - Trowbridge - Westbury - Fairwood Jn - Castle Cary - Taunton - Tiverton Parkway - Exeter St Davids - Newton Abbot - Totnes - Plymouth (2) |
| 47811 + 47815 | Plymouth - Liskeard - Par - Truro - Penzance |
| 47815 + 47811 | Penzance - (reverse of outward route) - Castle Cary - Fairwood Jn - Bedwyn - Newbury - Reading - Maidenhead - Slough - London Paddington |
Notes :
(1) 47811 on rear.
(2) 47815 developed an AWS fault.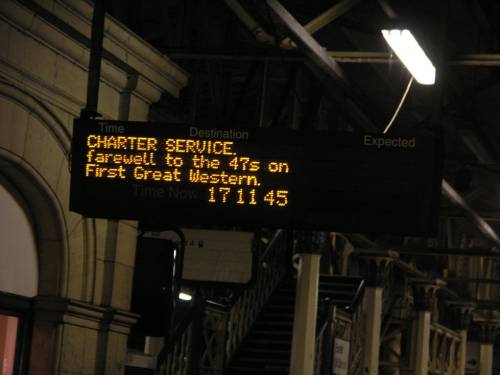 The departure board at Reading (photo: Ralf Edge)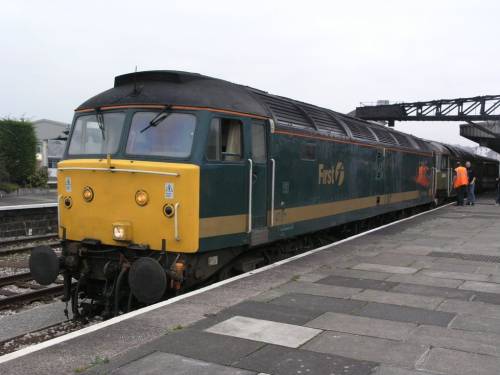 The pair wait to leave Plymouth for Penzance, led by 47811 (photo: Ralf Edge)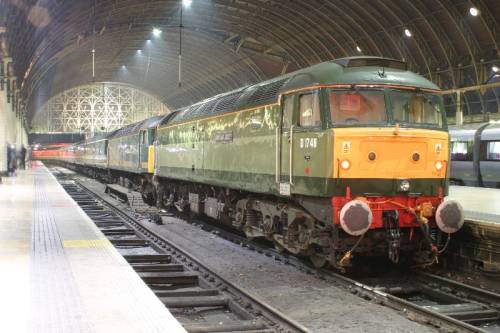 The tour on arrival back into London Paddington
(photo: Steve Trillwood - www.railway-images.co.uk)
From the First Great Western Website on the lead-up to the tour:
"Can't get enough Duff? First Great Western will shortly be replacing its last class 47 locomotive. The class has been a mainstay of the region for over thirty years and as a tribute, First Great Western will be running a special London Paddington - Penzance return service. The introduction of the class 57 fleet on First Great Western services will see the last of the company's class 47s replaced. To celebrate the class 47s long history in the Great Western region, on Saturday December 11 there will be one last opportunity to pay tribute to the sterling service they have given. The train operates from London Paddington to Penzance and return. The outward journey will be via Swindon and Melksham and return direct via the Berks and Hants route. The train is planned to be formed of 8 coaches topped and tailed by two class 47s*. Celebrity two-tone green 47 815 should lead from Paddington, with 47 813, supplied courtesy of Cotswold Rail, at the rear. The service is strictly reservation only. If you do not have a reservation you will not be allowed on the train. Due to the huge popularity of these locomotives, tickets are selling very fast for this train. The only tickets left are Super Advanced tickets costing £53 return. These can be purchased using all normal methods.
Timings: For the many of the keen photographers who have contacted First Great Western requesting detailed timings, please see below. Please note, these are the booked timings for the service, but diversions and alterations to timings may occur. Please use these as a guide only. The composition that you had calculated with military precision of a class 47 rounding Horseshoe Cove to the backdrop of the sun setting over Teignmouth may become a class 47 headlight piercing complete darkness, half obscured by a down Voyager."
Sources : various including Richard Rooker



Tour Review
(from Ralf Edge)
The day started early at Paddington noticing that the departure board said to go to the "waiting area" on platform 8. So we did, collected our boarding cards (#1 and #2!) and waited in the fenced off area so they could control boarding as they assured us it'd be VERY busy. Anyway the train arrived into platform 4 so everyone wandering about went to get on and couldn't without collecting a boarding card!! So we left our waiting area and wandered over to the train. A few photos and onto the train.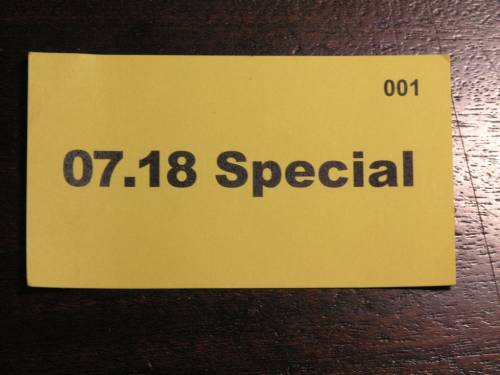 Boarding Pass No.1 (photo: Ralf Edge)
BUT FGW hadn't labelled the coaches or put out the seat reservations - results CHAOS!! Anyway as the train was only around 1/3 full finding seats wasn't a problem. Despite FGW later coming round with a reservation for every seat!!! But not checking who was sitting where!
A pleasant run to Plymouth followed under mainly overcast skies. 47815 providing the power, which developed an AWS (or was it DSD - both rumoured) fault it was announce the fitter was on the job but they might need to run 811 round (as it was dead on the rear) and pilot with 811. Which they did after and we got away only 44 minutes late.
47811 then powered the train over the Devon hills to Penzance where we arrived sadly 'on top' of a 150 DMU being a nuisance for photographs. We arrived 36 late leaving 24 to eat a Cornish pasty and grab some photos. The train was then propelled back to Long Rock, both locos were run round together and they propelled back into the station in time for departure. Although we left 7 late awaiting the arrival of a 158 DMU. A good run back powered by 815 lead us to Paddington with 811 behind, possibly applying power?? As it was rumoured there was a 2nd driver available... - Does anyone know??
On the whole the tour was a good day out on the train to say good-bye to the FGW 47s, although it was run as a train not a railtour. No timing / commerative booklet or souveneirs and no headboard!!! So it felt like a 'real train' rather than a railtour.
All in all a good day, shame there was little / no sunshine en-route.
Ralf Edge



Timings (Booked & Actual)
(from Richard Rooker & Ralf Edge)
Location
Booked
Actual
Booked
Actual
Paddington
07.18d
07.20
20.10a
20.09
Ladbroke Grove
07/21
07/24
20/07
20/07
Acton West
07/24
07/27
20/02
20/03
Southall
07/27
07/30
19/58
20/01
Heathrow Airport Jn
07/29
07/31
19/58
19/59
Slough
07/34
07/36
19/52
19/53
Maidenhead
07/38
07/40
19/47
19/43
Twyford
07/43
07/45
19/41
19/35
Reading
07.47a ~ 0750d
07.49 ~ 07.52
19.25a ~ 19.36
19.22 ~ 19.27
Didcot Parkway
08/06
08/09
Wantage Road
08/11
08/15
Challow
08/14
08/17
Uffington
08/17
08/19
Swindon
08/26
08/27
Wootton Bassett Jn
08/30
08/33
Chippenham
08/39
08/39
Thingley Jn
08/40
08/58
Bradford Jn
08/52
09/07
Westbury
09/05
09/13
Southcote Jn
19/19
19/17
Newbury
19/07
19/06
Bedwyn
18/56
18/56
Woodborough
18/46
18/47
Lavinton
18/38
18/41
Heywood Road Jn
18/33
18/36
Fairwood Jn
09/07
09/17
18/31
18/31
Clink Road Jn
09/09
09/21
18/28
18/29
Blatchbridge
09/10
09/22
18/26
18/25
East Somerset Jn
?
09/25
?
18/24
Castle Cary
09/20
09/31
18/15
18/16
Cogload Jn
09/37
09/45
17/55
17/59
Taunton
09/40
09/47
17/55
17/55
Tiverton Parkway
09/52
10/00
17/43
17/43
Cowley Bridge Jn
10/03
?
17/30
17/31
Exeter St Davids
10.07a ~ 10.07½d
10.11 ~ 10.14
17.28a ~ 17.28½d
17.10 ~ 17.28
Dawlish Warren
10/18
10/26
17/02
16/59
Newton Abbot
10/27
10/36
16/46
16/45
Totnes
10/39
10/47
16/28
16/33
Ivybridge
10/55
11/00
16/15
16/21
Hermerdon
11/00
11/05
16/08
16/16
Lipson Jn
11/05
11/11
16/01
16/11
Plymouth
11.07a ~ 11.09d
11.13 ~ 11.53
15.55a ~ 15.58d
16.04 ~ 16.07
St Budeaux Jn
11/14
11/59
15/50
?
Saltash
11/18
12/02
15/46
15/55
St Germans
11/24
12/08
15/39
15/49
Liskeard
11/34
12/18
15/30
15/40
St Pinnock Viaduct East
11/40
12/23
15/25
?
Largin
11/41
12/24
15/15
?
Lostwithiel
11/49
12/31
15/15
15/22
Par
11/55
12/36
15/10
15/17
St Austell
12.04a ~ 12.06d
12.42 ~ 12.43
15.00a ~ 15.02d
15.00 ~ 15.12
Burngullow Jn
12/10
12/47
14/57
15/07
Probus
12/17
12/53
14/57
15/00
Truro
12.24a ~ 12.26d
13.00 ~ 13.01
14.40a ~ 14.42d
14.49 ~ 14.51
Penwithers Jn
12/27
13/03
?
14/48
Camborne
12/41
13/17
14/26
14/35
St Erth
12/49
13/25
14/17
14/25
Long Rock
12/56
13/28
14/13
?
Penzance
12.59a
13.35
14.10d
14.17