13th November 2004
Mercia Charters Limited
The New Ground
Locos Used
SNCB: 2551
TUC: 5302 & 5318
TVM: 5501
Stock Used
21008+21017+21023+21030
Train Reporting Codes :
Z18146 : Brussel Zuid to Gent Sint Pieters
Z18147 : Gent Sint Pieters to Antwerpen Noord TW
Z18148 : Antwerpen Noord TW to Turnhout
Z18149 : Turnhout to KP 19.500
Z18150 : KP 19.500 to Zittaart Kp 19.620
Z18151 : Zittaart Kp 19.620 to Sasspoor HC2
Z18152 : Sasspoor HC2 - Lommel Maatheide
Z18153 : Lommel Maatheide - Mol
Z18154 : Mol to Schaarbeek TW
Z18155 : Schaarbeek TW to Gent Sint Pieters
| | |
| --- | --- |
| Loco(s) | Route |
| 2551 | Brussels Midi - (via line 50A) - Gent Sint Pieters |
| 2551 | Gent Sint Pieters - Gent Dampoort - Lokeren - Sint Niklaas - Puurs - Willebroek - Mechelen - Y Duffel - Kontich - Y Krijgsbaan - Antwerpen Berchem - Y Oost Berchem - Y Holland - Y Schijn - Antwerpen Noord TW |
| 5318 (1) | Antwerpen Noord TW - Y Schijn - Y Holland - Y Oost Berchem - Antwerpen Berchem - Y Krijgsbaan - Lier - Herentals - Turnhout - end of line |
| 5302 (2) | end of line - Turnhout - Herentals - Y Albertkanaal - Y Wolfstee - Sasspoor HC2 - KP 19.500 |
| 5318 (1) | KP 19.500 - Sasspoor HC2 - Y Wolfstee - Zittaart Kp 19.620 |
| 5302 (2) | Zittaart Kp 19.620 - Y Wolfstee - Sasspoor HC2 |
| 5318 (1) | Sasspoor HC2 - Y Wolfstee - Y Albertkanaal - Herentals - Y Kruisberg - Olen - Mol - Lommel Maatheide |
| 5302 (2) | Lommel Maatheide - Mol |
| 5318 (1) | Mol - Zolder - Hasselt - Alken - Landen - Leuven - Y Dijlebrug - Y Hever - Y Prinsenhoek - Vilvoorde - Y Machalaen - Y Haren Noord - Schaarbeek Bl. 2E - Schaarbeek Vorm - Schaarbeek TW |
| 5501 | Schaarbeek TW - Schaarbeek - Brussel Noord - Brussel Zuid - Y St Katherina Lombeke - Y Welle - Y Meulewijk (via L50A/4) - Y Melle - Merelbeke - Gent Sint Pieters |
Notes :
(1) 5302 on rear.
(2) 5318 on rear.
(3) Routing through Schaerbeek area unsure (it was dark!). Believed from Vilvoorde line 26B was taken. The planned depot visit was abandoned and the loco change took place on a running line close to line 25 (leading loco close to the new flyover being built just north of the carriage shed). Lack of shunter delayed our departure somewhat.
Source : Gary Thornton (on the train from Gent Sint Pieters)



Tour Review
(from Janet Cottrell)
For a big collection of photos of this tour a visit Paul Biglands Fotopic Website is well recommended.
Another day, another tour, but a lot earlier start this morning. We had planned to catch the 0710 down to Gent until it was announced yesterday that the stock would be available to passengers from Brussels. As we had covered all the class 13's out yesterday there was no contest, give me the old stuff any day. It turned out, the "old stuff" was dud anyway, but it was required for Belgium – my previous trip with 2551 had been in Holland six years ago on the short – lived Lovers Rail service between Amsterdam and Haarlem.
Despite the loco being normally restricted to freights, the ETH was working a treat and had warmed the carriages up nicely, hopefully this would last for some time as once we collected the diesels at Antwerp there would be no heat again.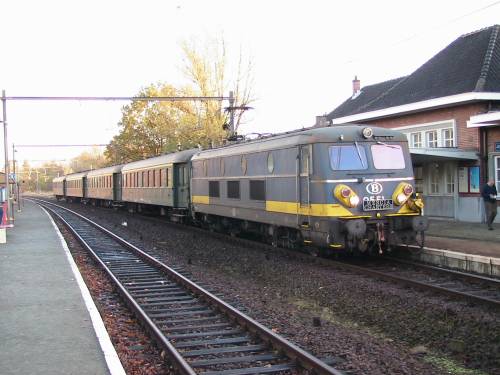 2551 at Temse (photo: Gary Thornton)
The day was shaping up to be nice and sunny as we meandered our way to Antwerp Nord Depot via St. Niklaas and Mechelen and we eventually arrived in full sunshine, perfect for photographing the many engines stabled there.
The spotters on board must have been delighted with the amount of class 77's on hand including brand new 7849 to 7851. Personally, I could not see the point of buying brand new engines and having so many sitting around idle, even if it was Saturday morning. There were also plenty of older shunters on hand, all neatly lined up by class number, as well as a reasonable collection of electrics and one each of class 55 and 62. There was also a row of withdrawn class 25/0's (including 2504, the only one I've not had for haulage) and, rather worryingly, preserved 201 010 and 204 004 which surely deserve better care than being left outside.
Whilst we were taking in the delights of this large depot, 2551 was replaced by 5302 and 5318 in top & tail mode – that's three new Nohabs for me this year.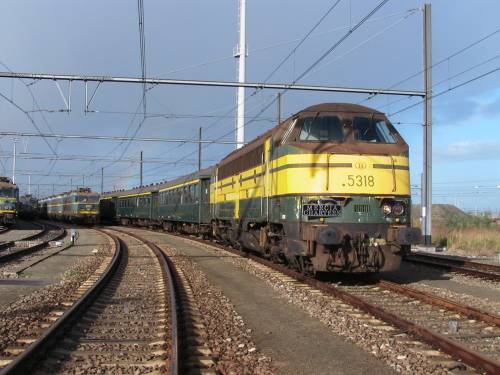 5318 in Antwerpen Noord yard (photo: Gary Thornton)
Just as we were boarding the train to continue it started to rain, it did not amount to much but it did hint that we might not be blessed with sunshine all day. Onwards to Turnhout where many of us leapt out, some with designs on a quick visit to the bar across the road, but we were ushered back onto the train for a trip down the carriage sidings north of the station. These extended for some way and I have since found out that the line once continued over the border into Holland. Today, we did manage to get to the current limit of the head shunt at the far end of the sidings, attracting the attentions of some interested locals in the process.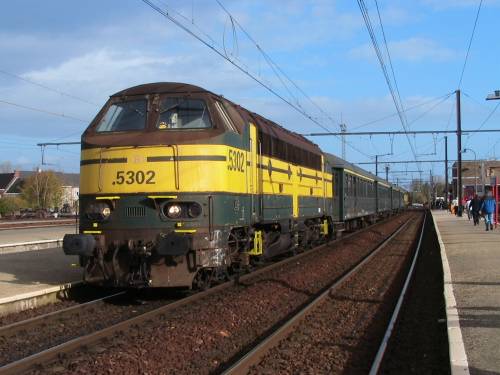 5302 at Herentals (photo: Gary Thornton)
Back to Herentals and onwards to the freight only line to Zittaart which is accessed via a reversal at Y Wolfstee. Of course we were booked to the southbound limit of Line 29 at KP 19.5 where there was meant to be a photo stop, but by now we were a bit late so this was foregone. It was no loss as it was now raining and the line was totally enclosed in the undergrowth which scraped along the sides of the coaches.
We made up for this with a stop alongside the canal en route to Zittaart, where some good pictures were obtained from a handy road over bridge. It wasn't until later that I found out we were all meant to go to the front of the train for a PFT style photo stop, unfortunately by the time the message had got down to the back of the train the careful instructions had been condensed merely to "photo stop here, get out on the canal side". By the time we had reached the end, had another photo stop and returned to Herentals we were about 30 minutes early, giving people a chance to invade the station café for hot drinks (the PFT buffet car was sadly absent on this trip).
The last freight line of the day was Lommel Maatheide which we reached just as dusk was falling although there was enough light for a couple of pictures. We retraced our steps to Mol for the final reversal of the day before setting off to Schaerbeek and our final loco change. By now it was dark, the rain showers had increased in frequency and the temperature was dropping but the company was good so there was plenty to talk about and discuss on the way back.
Eventually, we landed in the vicinity of the carriage sidings at Schaerbeek and were advised that the loco change would be taking place here, the planned depot visit being cancelled. By now it was pitch dark and raining heavily so I would be very surprised if anybody minded greatly about this. After standing here for some time, somebody deigned to appear to change the engines over and news filtered through that it was 5501, another winner. For some reason we remained standing until nearly twenty minutes after our booked departure time before carefully threading our way past the depot and back out onto the main line. The train rolled sedately into the tunnels and past Congres station then 5501 was opened up for the usual "thrash" though Centraal except, on this occasion, there was more clag than noise.
It had been a long day so I got off at Brussels Midi, we were staying there in any case, and bade farewell to yet another enjoyable tour.
Janet Cottrell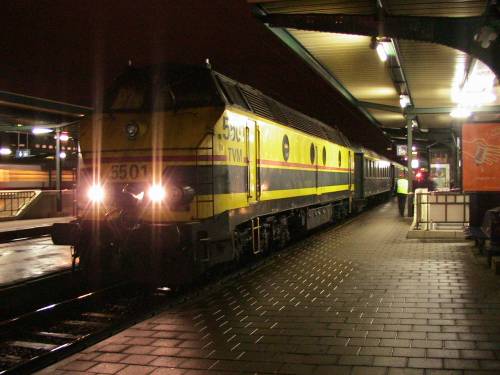 5501 at Gent Sint Pieters (photo: Gary Thornton)



Timings (Booked & Actual)
(from Gary Thornton & Janet Cottrell)
| | | |
| --- | --- | --- |
| Location | Booked | Actual |
| Gent Sint Pieters | 08.08d | 08.08 |
| Y W dr Ledeberg | 08/11 | 08/12 |
| Y Nd dr Ledeberg | 08/12 | 08/13 |
| Gent Dampoort | 08/16 | 08/16 |
| Lokeren | 08/31 | 08/28 |
| St Niklaas | 08.42a ~ 08.48d | 08.38 ~ 08.48 |
| Temse | 08p55a ~ 09p05d | 08.56 ~ 09.06 |
| Bornem | 09/08 | ? |
| Puurs | 09/12 | 09/12 |
| Willebroek | 09.21a ~ 09.27d | 09.18 ~ 09.26 |
| Y Heike | 09/32 | 09/33 |
| Mechelen | 09/37 | 09.38a ~ 09.39d |
| Y Otterbeek | 09/40 | 09/42 |
| Y St Kat Waver | 09/41 | 09/43 |
| Y Duffel | 09/46 | 09/47 |
| Kontich | 09/47 | 09/48 |
| Y Liersesteenweg | 09/50 | 09/51 |
| Y Krijgsbaan | 09/51 | 09/52 |
| Y Zuid Groenenhoek | 09/53 | 09/53 |
| Antwerpen Berchem | 09.54a ~ 09.55d | 09.54 ~ 09.56 |
| Y Oost Berchem | 09/56 | 09/58 |
| Y Antwerpen Schijnpt | 09/59 | 10/00 |
| Y Holland | 10/00 | ? |
| Luchtbal Bl.8 | 10/06 | ? |
| Y Driehoekstraat | 10/10 | ? |
| Y Schijn | 10/12 | ? |
| Antwerpen Noord TW | 10L18a ~ 11L16d | 10.11 ~ 11.23 |
| Y Schijn | 11/22 | 11/26 |
| Y Driehoekstraat | 11/24 | 11/28 |
| Luchtbal Bl.8 | 11/28 | 11/33 |
| Y Holland | 11/35 | 11/36 |
| Y Antwerpen Schijnpt | 11/36 | 11/38 |
| Y Oost Berchem | 11/42 | 11/41 |
| Antwerpen Berchem | 11/43 | 14/42 |
| Y Zuid Groenenhoek | 11/45 | 11/43 |
| Y Krijgsbaan | 11/47 | 11/45 |
| Y Aubry | 11/49 | 11.46a ~ 11.49d |
| Lier | 11/55 | 11/59 |
| Y Nazareth | 11/57 | 12/01 |
| Herentals | 12.11a ~ 12.26d | 12.14 ~ 12.26 |
| Y Kruisberg | 12/27 | 12/29 |
| Turnhout | 12p36a ~ | 12.41 ~ 12.49 |
| end of line | - | 12.55a ~ 13.03d |
| Turnhout | ~ 12p50d | 13/09 |
| Y Kruisberg | 13/00 | 13/21 |
| Herentals | 13/01 | 13.23a ~ 13.24d |
| Y Albertkanaal | 13/06 | 13/27 |
| Y Wolfstee | 13/08 | 13/28 |
| Sasspoor HC2 | 13/09 | ? |
| KP 19.500 | 13p11a ~ 13p21d | 13.31 ~ 13.39 |
| Sasspoor HC2 | 13/24 | ? |
| Y Wolfstee | 13/25 | 13/41 |
| Zittaart Kp 19.620 | 14p10a ~ 14p20d | 14.28 ~ 14.39 |
| Y Wolfstee | 15/11 | 15/11 |
| Sasspoor HC2 | 15.12a ~ 15.42d | 15.12 ~ 15.19 |
| Y Wolfstee | 15/43 | 15/20 |
| Y Albertkanaal | 15/47 | 15/20 |
| Herentals | 15/52 | 15.23a ~ 15.55d |
| Y Kruisberg | 15/53 | 15/57 |
| Olen | 15/58 | 16/04 |
| Geel | 16/04 | 16/10 |
| Mol | 16.10a ~ 16.14d | 16.17 ~ 16.19 |
| Balen Werkpl | 16/20 | 16.28a ~ 16.30d |
| Lommel Maatheide | 16p40a ~ 16p50d | 16.46 ~ 16.55 |
| Balen Werkpl | 17.10a ~ 17.17d | 17.08 ~ 17.19 |
| Mol | 17p23a ~ 17p33d | 17.23 ~ 17.35 |
| Leopoldsburg | 17/46 | 17/48 |
| Beringen mijn | 17/52 | 17/57 |
| Zolder | 18/02 | 18/06 |
| Y Zonhoven | 18/10 | 18/12 |
| Y Noord dr Hasselt | 18/11 | ? |
| Hasselt | 18.14a ~ 18.20d | 18.17 ~ 18.19 |
| Alken | 18/25 | ? |
| St Truiden | 18.33a ~ 18.40d | 18.37 ~ 18.44 |
| Landen | 18/49 | 18/57 |
| Tienen | 19/00 | 18/06 |
| Leuven | 19/13 | 19/22 |
| Y Dijlebrug | 19/16 | 19/26 |
| Y Hever | 19/28 | ? |
| Y Prinsenhoek | 19/30 | ? |
| Y Weerde | 19/32 | ? |
| Vilvoorde | 19/39 | 19/45 |
| Y Machelen | 19/40 | ? |
| Y Haren Noord | 19/42 | ? |
| Schaarbeek Bl.2E | 19/44 | ? |
| Schaarbeek Vorm. | 19/50 | ? |
| Schaarbeek TW | 19L52a ~ 20L25d | 19.57 ~ 20.41 |
| Schaarbeek | 20/30 | 20.49a ~ 20.50d |
| Brussel Nord | 20/35 | 20/58 |
| Brussel Zuid | 20.42a ~ 20.44d | 21.07 ~ 21.15 |
| Y Brussel Pl/KE | 20/47 | 21.18a ~ 21.22d |
| Y St Katherina Lombeke | 20/55 | 21/34 |
| Y Welle | 20/58 | 21/38 |
| Y Meulewijk | 21/08 | 21/48 |
| Y Melle | 21/11 | 21/54 |
| Y Bi.27 | 21/12 | ? |
| Merelbeke | 21/15 | 21/57 |
| Y Oost dr Ledeberg | 21/16 | ? |
| Y West dr Ledeberg | 21/17 | ? |
| Gent Sint Pieters | 21.20a | 22.02 |