12th October 2004
GBRailfreight
(No Tour Name)
| | |
| --- | --- |
| Locos Used | 73204 'Janice', 73205 'Jeanette', 73206 'Lisa' & 73209 'Alison' |
| Stock Used | 1699+3122+3112+21272 |
Route: 1Z84 throughout
| | |
| --- | --- |
| Loco(s) | Route |
| 73205 + 73209 (1) | London Victoria - Voltaire Road Jn - Brixton - Herne Hill - Beckenham Junction - Bickley Jn - (2) St Mary Cray Jn - Swanley - Eynesford (2) - Sevenoaks - Tonbridge |
| 73204 + 73206 (2) | Tonbridge - Godstone - Redhill - Purley - East Croydon - Selhurst - Streatham Common - Balham - Clapham Junction - Latchmere Jn - Kensington Olympia - Mitre Bridge Jn - Willesden Junction HL - Gospel Oak - Dalston Jn - Channelsea Jn - Carpenters Road Jn - Bow Jn - Bethnal Green - London Liverpool Street |
Notes :
(1) 73204 + 73206 on rear.
(2) Train diverted from booked route (via Orpington) due to a bridge strike.
(4) 73205 + 73209 on rear.
(4) Train run in conjunction with naming ceremony for the four 73's (being named after female employee's of GBRf). Tour ran with headboard "Electric Bluebirds on Tour".
Sources : various including John Clifford, Mark Herriott & David Morgan



Tour Review
(from Mark Herriott)
The Story starts when GBRf won a couple infrastructure contracts on the southern region of Network Rail and GBRf's parent company had then purchased some Class 73/2 from Gatwick Express.
GBRf decided that these locos could be used for this work and to enable it to bid for further work around the southern where it class 66's are to heavy to run. To cut a long story short 4 x Class 73/2's were refurbished at Fragonset in Derby and are now avaliable traffic.
To give the locos additional identity it was decided to name the locos after girls working for GBRf. Names were drawn by lot and the names affixed to the locos at Ludgershall a couple of days before the event.
A surprise invitation saw me standing at Victoria Eastern side awaiting the train to arrive. Sure enough after a few minutes the familiar site of a slab sided class 73 hove into view. The train was for invited staff & guests of GBRf only and consequently was a short one, the number of coaches equalling the locos!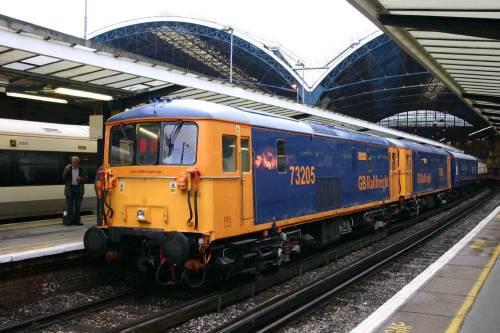 73205 leads 73209 at Victoria (photo: Mark Herriott)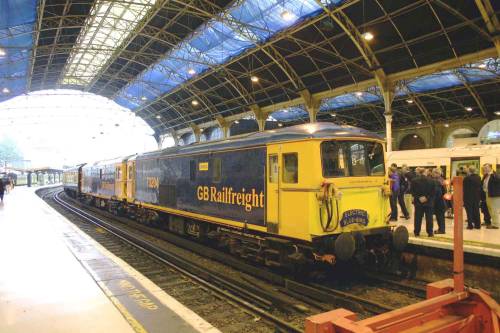 At the rear, 73204 & 73206 (photo: Mark Herriott)
After photographs of the girls besides their respective locomotives it was time for the off. Departure was on time and a little jerky, apparently one girl wouldn't talk to the other! This was soon sorted out by changing over the jumper cables and off we trundled down the south eastern towards Bickley where we stopped. After five minutes we departed towards Swanley our booked route via Orpington being blocked by a bridge bash.
A further delay was encountered at Otford Junction before finally arriving at Tonbridge about 15 late. Here we had to wait 25 minutes for a path across to Redhill. Departure here was superb with a 4 locos working on diesel power. There are power restrictions on the line to Redhill so we stay on diesel all the way across. Due to slack timings we were only 8 minutes late passing Redhill where the rear locos (73209+205) dropped their shoes and swiftly accelerated us north up the line through East Croydon to Clapham Junction.
Here we headed to Kensington Olympia for a the start of a slow trundle around North London. We lost the juice again at North Pole Junction and the ED's then burbled there way through Willesden Junction High Level and along the North London Line. The enthusiast grapevine had worked well and various photographers were out for us and the North London Line was no exception. At Carpenters Road Junction we turned sharp right and joined the Great Eastern Lines into Liverpool Street.
Arrival at Liverpool Street was on time at 15.00 in Platform 7. We were surprised to be bought in on top of a stabled class 317. Here the train terminated and more photographs were taken. 4 ED's in Liverpool Street was pretty rare after all ! Some of the staff then waited for the ECS to depart back to Old Oak Common and at 15.21 the train burbled its way out of Liverpool Street after a fitting start to GBRf's use of Class 73's.
Mark Herriott



Timings (Booked & Actual)
(from various including Mark Herriott)
| | | |
| --- | --- | --- |
| Location | Booked | Actual |
| Victoria | 11.21d | 11.20 |
| Voltaire Road Jn | 11/25 | 11/28 |
| Brixton | 11/27 | 11/30 |
| Herne Hill | 11/28 | 11/32 |
| Beckenham Junction | 11/33 | 11/38 |
| Shortlands Jn | 11/35 | 11/40 |
| Bickley Jn | 11/38 | 11/48 |
| Petts Wood Jn | 11/40 | DIV |
| Orpington | 11/48 | DIV |
| Swanley | DIV | 11/56 |
| Sevenoaks | 11/59 | 12/20 |
| Tonbridge | 12.10a ~ 12.15d | 12.30 ~ 12.54 |
| Godstone | 12/32 | 13/09 |
| Redhill | 12.55a ~ 13.08 | 13.15 ~ 13.17 |
| Stoats Nest Jn | 13/19 | 13/23 |
| Purley | 13/22 | 13/24 |
| East Croydon | 13/26 | 13/28 |
| Windmill Bridge Jn | 13/27 | ? |
| Selhurst | 13/33 | 13/30 |
| Streatham Common | 13/40 | 13/36 |
| Balham | 13/44 | 13/40 |
| Clapham Junction | 13/49 | 13/45 |
| Latchmere Jn | 13/56 | 13/47 |
| Kensington Olympia | 14/01 | 13/52 |
| North Pole Jn | 14/05 | 13/55 |
| Mitre Bridge Jn | 14/06 | 13/56 |
| Willesden Junction HL | 14/08 | 14/06 |
| Kensall Green Jn LL | 14/09 | 14/08 |
| Gospel Oak | 14/19 | 14/21 |
| Camden Road | 14/24 | ? |
| Dalston Jn | 14/33 | 14/33 |
| Channelsea Jn | 14/43 | ? |
| Carpenters Road Jn | 14/46 | 14/45 |
| Bow Jn | 14/52 | 14/51 |
| Bethnal Green | 14/56 | 14/55 |
| Liverpool Street | 15.00a | 15.01 |