9th October 2004
Irish Traction Group
The Suir Thing
| | |
| --- | --- |
| Locos Used | IE: 085, 159 & 186 |
| Stock Used | 3158+1545+1518+1508+1544+1528 |
Route:
B500 : Dublin Heuston to Waterford
B441 : Waterford to Limerick Junction
B200 : Limerick Junction to Cork
B201 : Cork to Dublin Heuston

| | |
| --- | --- |
| Loco(s) | Route |
| 085 | Dublin Heuston [P5] - Clondalkin - Kildare - Cherryville Jn - Carlow - Lavistown North Jn - Lavistown South Jn - Waterford West Jn - Waterford |
| 085 | Waterford - Waterford West Jn - Carrick on Suir - Tipperary - Keane's Points |
| 085 (1) | Keane's Points - Limerick Junction [P1] |
| 085 | Limerick Junction [P4] - Reversing siding |
| 085 (1) | Reversing siding - (via "back road") - Keane's Points |
| 085 | Keane's Points - Limerick Junction [P1] - Mallow - Cork |
| 186 + 159 | Cork - Mallow - Charleville (loop line) - Limerick Junction (up fast) - Thurles [P2] - Portarlington - Cherryville Jn - (reverse of outward route) - Dublin Heuston [P3] |
Notes :
(1) 085 propelling.
Source : Gary Thornton (on the train throughout)



Tour Review
(by Mark Honey)
Ireland. It means different things to different people. Many know it as a place awash with Guinness, others see it as a place where time has stood still and things aren't in too much of a hurry. I know it for other reasons, the 'Celtic Tiger' economy which has transformed this quiet country into a bit of a force to be reckoned with. I'm bound to say that, aren't I, as a transportation consultant, the good old EU has flooded the country with cash – and the gravy train has flowed in my direction more than once as Ireland tries to bring it's transport infrastructure up to scratch to match the economy. Funny that, we've been trying to do the same in the UK for about 40 years…Anyhow, there are EU Development Project boards everywhere around Ireland. Even the last pint of Guinness I bought in Temple Bar was part funded by EU money…
But I digress. I have inadvertently 'bashed' in Ireland when working over there and have had the odd 071 and 201 class on business journeys. But – try telling the suited client from some Irish public agency that you're working for that you need to just make a quick detour to look at the 071 throbbing on the front AND you've got to stop the conversation because you fancy a fail when it opens up....
So – novice here took the advice from a certain Mr Thornton and took the plunge. I won't bore you with the details about getting to and from Dublin, suffice to say that (a) I drove from Rugby to Holyhead (and back) and (b) spent two nights trying to sleep on the couches in the bar of the ferry – which apparently I 100% succeeded in doing. Amazing what a drop of the black stuff does innit? In the words of the erstwhile Mr Cowe – 'do I do the mileage on the ferry in nautical miles or proper miles?' Cue losing will to live and resisting the 'man overboard' cry.
Holyhead at 1 in the morning. Because I'm a flash git, I'm watching a dodgy Clint Eastwood film on my car's TV. Why? Because I can – only to fall out of the driver side door when Mr Thornton opens it and cries 'that's not really a TV is it?' No Gary, it's a bowl of soup…The following questions about how it works (!) and do you need a licence are pushed to one side as I herd everybody to the shuttle bus and then spend 30 minutes wandering round a deserted Holyhead station looking at 47839 and a two car Class 175. Beats looking at Mr Thornton and Mr Cowe.
A few familiar faces were glimpsed at the ferry terminal where we eventually were put on a bus and driven right onto the ferry. Exchanges were made as to how the bus was actually going to turn round and get off. The fact that it was 2.30 in the morning after a heavy week at work meant I really, really didn't care. Mr Cowe also wanted to know the mileage in the bus from the terminal to the ferry. I mentally made a note to buy him a pint once aboard and put some form of heavy sedative in it…
So to a bleary, cold Dublin Heuston station. Apparently we were supposed to use Connolly station, but it was closed for weekend engineering works. Now to the best bit. Iarnrod Eirrean (or Irish Rail) is best summed up by reproducing the good old BR of 20 years ago. I'm talking locomotives in abundance, steam heat, light loco moves, propelling, shunting, chaos and lots of it! It was wonderful to see and standing at the platform edge watching stock being propelled into the station by a filthy looking 141 and one by one, the 201's coming off Inchicore and backing on to their trains, reminded me of a main line terminus like King's Cross or St. Pancras where locos would one by one back on to services heading out. Another typical Irish Rail trait was not cleaning anything they ran – especially the locos. I think I saw one clean machine all day.
The Cravens stock was already in the platform being heated very efficiently by the steam generator van at the front and it wasn't long before 071 Class 085 backed on. We had seats at the end of coach A, so although we were at the back, the large number of reversals en route would mean we would be able to savour the racket for parts of the journey. We departed pretty speedily to the south, heading for Waterford, the line being double track as far as Cherryville Junction where we turned off the main Cork Line to Waterford. Progress was rapid and after a journey without incident, we arrived, passing a pair of scruffy looking 141's in the yard and NIR 071 class 112 on a cement train. After a short while it became obvious that 085 was going to run round as the two 141's had a problem – namely 166 which had apparently failed. Excessive dirt and grime could be a contributing factor….
The Irish Rail pattern of speedy uncoupling and run-rounds was admirably demonstrated as we had no sooner stopped that 085 was off running round and hitching on to our end of the train. I timed this at 25 seconds, but Pete Wilcox reckons 26….Anyhow, it was smiles all round and we lifted off and GM power was unleashed as it should be - unharnessed, unchained and unsilenced as it two-stroked it's way up the climb towards Carrick-on-Suir and Limerick Junction. After the usual 'hellfire', My Lords' and 'Baldheaded' comments had been done to death, talked turned to whether the Class 66's would sound as good with their silencers removed. By the way 'hellfire' in Irish is 'hellfoyre', 'My Lords' translates into 'Muy Lards' and 'Baldheaded' just needs a 'fockin' placed between the 'bald' and the 'headed'. It was amazing how quickly we all got into the Irish accent – especially after a few pints of the draught Guinness that was readily available.
We rolled into Carrick a few minutes late – to find another 071 waiting with a sugar beet train to cross us on this backwater of a line. Once in the loop, the beet train accelerated away, spraying the line with beet lumps. We were then able to wander around the station and shed sites at leisure and guess what? Nobody got killed, maimed or disfigured as they took their photos and milled about, criss-crossing the lines and signal wires.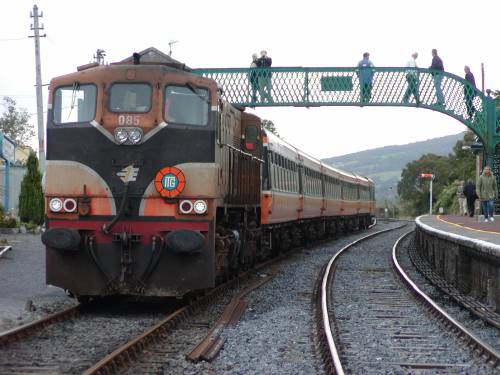 085 at Carrick on Suir (photo: Gary Thornton).
Off again, were we late away as we waited to cross the unit from Limerick Junction (sign of the changing times) and listened to the rise and fall of the 071 as we made our way to Limerick Junction. Limerick Junction is probably not that well named, being miles away from Limerick and being a junction on account of it's crossing with the Dublin – Cork line. It was here that the HSE would have a heart attack, what with all the propelling and shunting. No top and tail here! As we crossed from south to north, we had to reverse to the left into Limerick Junction. It was here that someone decided that we should have been in the Limerick bay and not in the main platform – but there was a unit in the way….
So, once the unit had gone, it was everybody out (apart from a protesting passenger who was the worse for wear on the black stuff – idiot) and the loco ran round to the front (this time it took 24 seconds, but Pete Wilcox says 25) and propelled the stock out. The avoiding line goes through the car park round the station (don't ask), but we got a picture of the fly by and then watched the train propel into the bay at the other end of the station.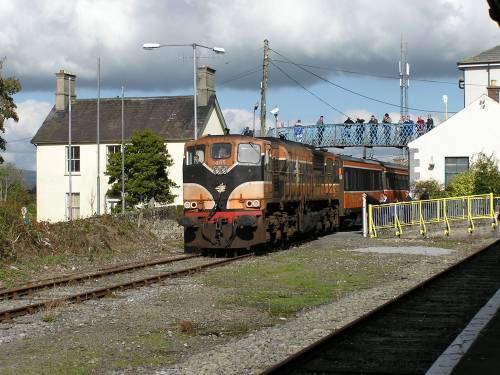 The ECS move at Limerick Junction (photo: Fraser Thornton)
By the way, anybody ever been to Cambridge station? That's Limerick Junction (or as near as dammit). Then we all piled back on again, our coach being nearest the buffer stops and viewed the inevitable track scratchers standing in the vestibule. No, no, no! I can put up with ferry mileage and maybe tolerate bus mileage after 12 pints, but walking to the end of the train to max the bay trackwise is hospitalisation and a serious course with a therapist. 'Tell me about your mother,' 'Well she has done all the bays at Limerick Junction and I haven't…..why are your hands closing round my throat, doctor?'
So, we pulled out, shunted through the car park to get the avoider, propelled up the curve towards Limerick proper and then pulled forward into Limerick Junction through lines and off towards Cork. That took 23 seconds, but Pete Wilcox says 24. I hope you're following all of this – I had a job and I was there! 085 was at the far end of our train now which meant that whatever took us north would be bolted onto our carriage for the thrash back from Cork to Dublin, the best bit being the virtual full power standing start uphill from Cork station through the tunnel (the longest on the network) and the acoustics would therefore be magnificent. This was probably the best speed run of the day from 085 – we were limited to 75mph by the stock, but – well you know the rest I'm sure.
So it was everybody out and photographing the 071 on the opposite platform which then roared out of Cork with it's train for Tralee (reverse at Mallow) comprised of a rake of Cravens and a old BR Mk1 BSK converted to a steam generator. Very evocative and I realised then I felt like a relapsed junkie having had his first fix after years of cold turkey. This was further epitomised by Pete Wilcox's son Jon praying for 159 and 186 that were sat on the shed to fire up and take over – 186 is one of his last 181's. Watching the agony and the biting of nails really brought it all back to me. I have been there many times many years looking at some massive, monstrous machine that might just drop and the 'get in!' cry as they trundled past to take over was, well, emotional.
The 141/181 combination are a little underpowered, but sound pretty good and gave a good account of themselves on the way back to Dublin. The sure-footed climb through the tunnel out of Cork was great and the constant opening up throughout the journey gave us a chance to listen properly to these gusty little machines. One of the highlights was Daffy (dud, dud and – dud!) wandering round to our table with a mammoth pile of photos from his trips round Europe. Daffy must have been everywhere by now. I had to travel from Guangzhou to Hong Kong by train earlier this year and I couldn't get on the usual electric hauled double deck service train as it was rammed. So Guangzhou Control ran a relief (hellfire) with a Romanian Class 232 clone (even bigger hellfire) to Hong Kong. I swear Daffy was driving (don't know the language, the route or the traction – I'll take it!).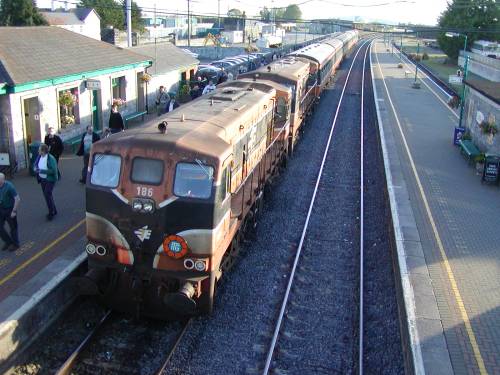 186 & 159 at Thurles (photo: Gary Thornton).
So, back to Heuston (where we didn't have a problem apart from arriving a few minutes late) after traversing a few weird loops and station platforms that I was told were pretty rare and the end of an absolutely cracking day. It was just left to get the bus back to the ferry terminal, score the same 'Ulysses' ferry back to Holyhead and an uneventful overnight drive back to Rugby. Apart from the Coupe car that tried to overtake a horsebox on a roundabout in Chester and ended up hanging precariously over the A55, that is…
Three points to add. (1) Yes, you bet I'm going back to do more. (2) Next time I'm going to fly as I'm getting FAR too old to do two overnights back to back. (3) Why did it take at least 2 hours to catch up with the Irish artics when they got let off the ferry only 15 minutes before us?
Irish traction Group – we salute you.
Mark Honey



Timings (Booked & Actual)
M.C
Location
Booked
Actual
0.00
Dublin Heuston
08.10d
08.17
0.53
Islandbridge Jn
08/13
08/19
1.60
Inchicore
08/17
08/20
10.00
Hazelhatch & Celbridge
08/24
08/28
17.72
Sallins & Naas
08/30
08/34
25.38
Newbridge
08/37
08/41
27.40
Curragh
08/38
08/44
30.00
Kildare
08.41a ~ 08.43d
08.48 ~ 08.50
32.25
Cherryville Jn
08/45
08/54
44.64
Athy
08.59a ~ 09.08d
09.07 ~ 09.09
55.68
Carlow
09.21a ~ 09.30d
09.21 ~ 09.31
66.00
Muine Bheag
09.42a ~ 09.50d
09.42 ~ 09.50
77.73
Lavistown North Jn
10/02
10/03
78.42
Lavistown South Jn
10/04
10/05
86.36
Thomastown
10/12
10/14
90.70
Ballyhale Loop
10/16
10/21
106.41
0.00
Waterford
10.35a ~ 10.50d
10.41 ~ 10.59
14.15
Carrick on Suir
11.15a ~ 12.00d
11.27 ~ 12.19
28.01
Clonmel
12/23
12/41
38.75
Cahir
12.42a ~ 12.51d
12/59
52.38
Tipperary
13/13
13.18a ~ 13.18d
55.45
Keane's Points
??.??a ~ ??.??d
13.24a ~ 13.24d
55.78
0.00
Limerick Junction
13.23a ~ 13.50d
13.28 ~ 13.55
?
Reversing Siding
??.??a ~ ??.??d
13.57a ~ 13.57d
0.33
Keane's Points
??.??a ~ ??.??d
14.02a ~ 14.02d
0.66
Limerick Junction
??/??
14/05
23.02
Charleville
14/11
14/24
38.23
Mallow
14/24
14/38
55.17
Rathpeacon
14/38
?
59.06
0.00
Cork
14.48a ~ 15.35d
15L02a ~ 15L35d
3.69
Rathpeacon
15/43
15/43
20.02
Killarney Jn
15/57
16/02
20.63
Mallow
15/58
16/03
36.04
Charleville
16.12a ~ 16.22d
16.23 ~ 16.30
58.20
Limerick Junction
16/45
16/53
78.65
Thurles
17.06a ~ 17.16d
17.18 ~ 17.25
86.40
Templemore
17/24
17/33
92.66
Lisduff
17/29
?
98.48
Ballybrophy
17/34
17/44
114.28
Portlaoise
17/44
18/08
123.50
Portarlington
17/57
18/17
132.65
Cherryville Jn
18/05
18/27
135.20
Kildare
18.08a ~ 18.10d
18.32 ~ 18.33
137.60
Curragh
18/14
18/36
139.62
Newbridge
18/15
18/38
147.28
Sallins & Naas
18/22
18/45
155.20
Hazelhatch & Celbridge
18/29
18/52
163.40
Inchicore
18/42
19/01
164.47
Islandbridge Jn
18/45
19/04
165.20
Dublin Heuston
18.50a
19.06