18th September 2004
Pathfinder Tours
The Industrial Invader
| | |
| --- | --- |
| Locos Used | 37047, 37109, 37410, 37418 & MRL "120" |
| Stock Used | 5278+5275+4902+4927+5009+5341+5322+1863+3098+3107+3140+21272 |
Route:
1Z37 : Crewe to Whatley Quarry
1Z38 : Whatley Quarry to Crewe

| | |
| --- | --- |
| Locos | Route |
| 37047 + 37109 | Crewe - Norton Bridge - Stafford - Bushbury Jn - Portobello Jn - Bescot Stadium - Perry Barr North Jn - Soho South Jn - Birmingham New Street [P3] - Bordesley Jn - Kings Norton [P4] - Barnt Green - Worcester Shrub Hill - Ashchurch - Cheltenham Spa - Gloucester U&DGL |
| 37047 + 37109 (1) | Gloucester U&DGL - Standish Jn - Berkeley Road Jn - Sharpness NR Limit |
| 37410 + 37418 (2) | Sharpness NR Limit - Berkeley Road Jn - Standish Jn - Gloucester U&DGL |
| 37047 + 37109 (1) | Gloucester U&DGL - Standish Jn - Kemble - Swindon (3) - Highworth NR Limit |
| 37410 + 37418 (2) | Highworth NR Limit - Swindon - Chippenham - Westbury (Down Reception Line) - Clink Road Jn - Whatley Reception Sidings |
| 120 (4) + 37410 + 37418 | Whatley Reception Sidings - Whatley EOL |
| 37047 + 37109 (1) | Whatley EOL - Whatley Reception Sidings - Clink Road Jn - Westbury Down Reception Line (5) |
| 37047 + 37109 | Westbury Down Reception Line - Bradford Jn - Bath Spa - North Somerset Jn - Dr Days Jn - Clifton Down - Avonmouth - Filton West Jn - Bristol Parkway (Up Goods Loop) (6) - Westerleigh Jn - Yate - Cheltenham Spa - Ashcurch - Abbotswood Jn - Stoke Works Jn - (reverse of outward route) - Soho South Jn - Dudley Port - Wolverhampton - Bushbury Jn - (reverse of outward route) - Crewe |
Notes :
(1) 37410 + 37418 on rear.
(2) 37047 + 37109 on rear.
(3) Train delayed at Swindon owing to "paperwork issue" regarding traversal of the Highworth branch.
(4) MRL no. 120 is an ex-US switcher (shunting) loco (type SW1001, EMD serial No. 37903, originally sold to Boke Trading, Guinea with running no. 204 in 1972). 37047 & 37109 on rear. Switcher only powering, 37's on tick-over.
(5) Was booked to traverse the Up Reception Line but this was occupied.
(6) Train delayed awaiting driver.
Sources : Gary Thornton (joined/left the train at Barnt Green) & Alan Sheppard



Tour Review
(from David Clark)
This tour was due to run earlier on in the year but to MOD Caerwent. However, due to the state of the track / and a weak bridge this was cancelled, and no passenger trains were to run over the branch until the bridge had been fixed. This meant two charter trains had to be cancelled (one from pathfinder and one from Hertfordshire).
The amended tour was to feature:
Sharpness (Network Rail limit) (Required track)
Highworth (Swindon Austin Rover Group / NR Limit)
Whatley Quarry (end of the line) (required track)
Plus on the return going via the Severn Beach line as far as Hallen Marsh Jn, a little treat as very few loco hauled trains traverse this line.
So a few days before the tour 37047 / 37057 (both required) were quoted for the tour. On the Thursday the timings had appeared for the tour and all looked well.
By Friday things were all set, 047 / 057 were the main train pair, 410 / 418 (418 required) the assisting pair. They had been sent all the way from Scotland to do the tour.
I travelled from Cardiff Central to Scunthorpe via Manchester Piccadilly (158834), Manchester Picc to Sheffield (170104) and Sheffield to Doncaster (43048 / 43157) before taking 158774 to Scunthorpe. On the journey from Manchester to Sheffield, gen came through that the EWS 37 would be now 109 (dud – Salt'n'Vinegar Sept 2002) vice 057. This came with great joy from a certain individual who kept moaning to me about the loco never working a tour.
Saturday morning saw my dad and I drive (well sorry my dad did the driving) to Barnt Green (the alternative drive to Crewe was explored but cancelled due to too early departure!). We got to Barnt Green in plenty of time and chatted to a number of enthusiasts. However, while on the M1 we saw 170630 fly over with the 0636 Nottingham to Liverpool Service.
At 0830 two Class 37's were seen approaching Barnt Green. By 0835 we departed right time down Lickey and At Stoke Works Jn turned right through to Droitwich Spa and Worcester Shrub Hill.
We rejoined the main line at Abbotswood Jn (0913 right time) and were held outside Cheltenham Spa (Alstone LC) to allow 0933 Cheltenham Spa to Paddington with 180102 to depart. We duly arrived at 0937 and departed at 0943. Next stop for us was Gloucester yard for the two assisting locos to be attached i.e. 37410 / 37418. This was done and we were on our way at 1012.
Berkeley Road Jn was past at 1030 and the branch to Sharpness was not exactly inspiring. But most of them aren't are they? For most of us, its just a case of filling in the Atlas!!! The Nuclear Power station discharge was facility was past, and we stopped at the Run Round loop. This is where DRS do their shunting for the Berkeley Nuclear Power station moves (in fact should this paragraph be in for the sake of national security?).
Back at Gloucester Yard, we reversed and set off for Swindon at 1153 (14 early) but was held at Standish Jn for the train we were following to clear the section. Passing through the tunnel's to Swindon the 37s roared. And a few strange noises were heard too from them!!!
We arrived Swindon at 1251 (4 early) and dropped off people who didn't fancy going to Swindon Rover Group yard. Sounds exciting doesn't it? The weather was appalling. However, lots of HST's came and went, Adelante's came and Went, but we didn't leave Swindon till 1345 (some 50" late). This was due to EWS failing to provide Staff for the branch who actually knew the branch. So discussions were held between EWS, Network Rail and Charles Paget as to what to occur.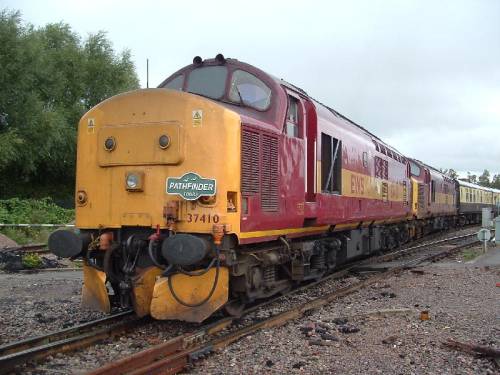 37410 & 37418 at Swindon (photo: Badmonkey)
Well we got in to Swindon yard. The Quail did not match the actual yard layout which brought much annoyance from our BLS man. Speaking of BLS, just as we departed Swindon yard, the BLS top man walked through our coach.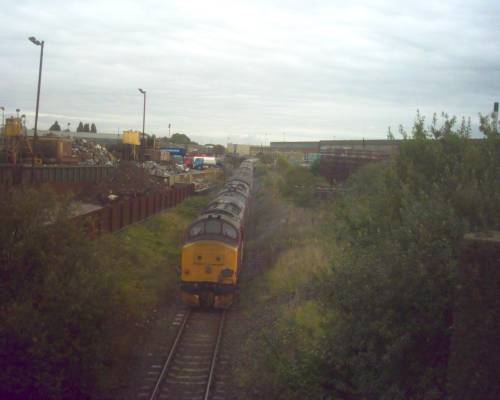 37410/418 bring up the rear into Highworth (photo: Melvin Teale)
Back at Swindon station it was clear a possession was being taken on the Down Main and the former down goods (the new down platform for FGW). This meant capacity through the station was constrained.
Once we departed Swindon the rear two 37's (047 / 109) powered up and powered all the way To Whatley Quarry. At Swindon works City of Truro was seen giving rides to all the kids (and the grown ups too).
At Wootton Bassett Jn, Mr loveday shouted a big hello to his boy and his wife who had come to view the tour, before we took the line to Melksham and Trowbridge. By this point we were over an hour late.
We past through Westbury at 1536 on the down reception with 60054 / 66049 all noted. Plus a few units too. We came off the main line at Clink Road jn and took the line down to Whatley Quarry. At the reception sidings, the resident American shunter attached to our train, and guided us right down through the complex until the buffer stops were reached. In the complex was: 59005 / 59103 / 08757 / MRL No4.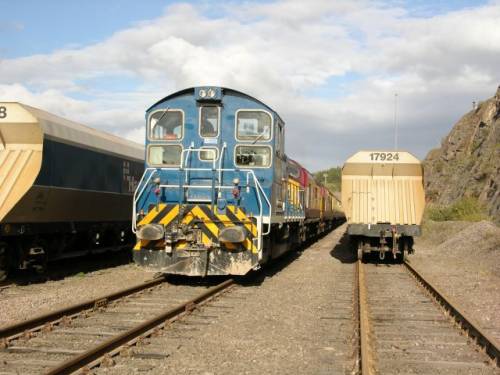 MRL 120 leads the 37's in Whatley Quarry (photo: Rob Fraser)
The buffer's were reached at 1622.
Well it was now time to go home. We departed the Whatley Quarry at 1637, past through the reception at 1648, and came back on the Main Line in to Westbury.
Noted again:
60068 / 60064 / 60054 / 66143 / 60007 / 59203 / 66049.
However, we were booked to go on the up reception (this was due to drop off the two 37/4s), however due to a freight train being there, we took the down reception. This caused a bit of a huff from quite a few people, and rightly so!!
We departed Westbury at 1724 (now 34 late), and dropped off the Whatley Quarry manager at Trowbridge (1732 / 1733) Cheers mate!! And made our way to Bath Spa (36 late), Dr Days JN (30 late), Stapleton Road (30 late), Clifton Down, Avonmouth with plenty of coal wagons on view. This line was regularly used in June when Filton Jn was being remodelled causing lots of trains between Bristol and Cardiff / Birmingham to be diverted this way.
We arrived Bristol Parkway at 1847 just 17 late, and sat there………………… Voyager's departed, Wessex trains departed, 37410 / 37418 departed. But not us!! We were held because the driver taking on our train was having a cup of tea because he was informed the train was running late!!!
At 1913 (now 32 late) we departed bristol Parkway for our final journey to Cheltenham spa (1954 / 1957) where most of our party got off, but the noise in coach A increased considerably due to certain individuals getting on. You know who you are !!!!!!!
The bottom of Lickey was taken at 2022 and hit the top of Lickey at a respectable 34mph. We arrived at Barnt Green at 2027 (31 late).
We viewed them departing and then drove back to Scunthorpe. Arrival at Scunthorpe was at 23.00. Marvellous. Time for bed!!
Verdict: A quite brilliant tour, most of the track was done that was advertised, motive power was advertised. And the timekeeping in general was OK. A big thanks to everyone concerned i.e. Network Rail, Pathfinder, EWS, Riviera Trains and a very special thank you to the manager of Whatley Quarry for allowing our train to go down in to the heart of the complex. Any chance of Merehead please?
Sunday saw me return to Cardiff from Scunthorpe via Manchester Piccadilly (158737), Manchester to Stafford (221115), Stafford to Birmingham New St (220021) via Soho North To East Jn's (Required track!) Birmingham New St to Gloucester (170510), Gloucester to Cheltenham Spa (158957), Cheltenham Spa to Newport (158862) and 150267 on the final leg from Newport to Dinas Rhondda.
David Clark (2004)



Timings (Booked & Actual)
(booked courtesy of Pathfinder Tours, actuals from various
including Gary Thornton, Alan Sheppard, David Clark & Simon Cross)
M.C
Location
Booked
Actual
0.00
Crewe
06.28d
06.28
8.06
Madeley Jn
06/40
?
19.08
Norton Bridge
06/53
?
24.37
Stafford
07.02a ~ 07.05d
06.56 ~ 07.05
38.14
Bushbury Jn
07/18
?
40.62
Portobello Jn
07/23
?
44.79
Bescot Stadium
07/35
07/30
49.75
Perry Barr West Jn
07/45
?
52.27
Soho South Jn
07/51
?
54.28
Birmingham New Street
07.56a ~ 07.59d
07.52 ~ 07.59
56.25
Bordesley Jn
08/07
08/07
61.40
Kings Norton
08/22
08/22
66.48
Barnt Green
08.33a ~ 08.35d
08.31 ~ 08.35
72.24
Stoke Works Jn
08/43
08.43a ~ 08.45d
76.39
Droitwich Spa
08/54
08/53
82.18
Worcester Shrub Hill
09/02
09/03
85.23
Norton Jn
09/07
09/08
86.05
Abbotswood Jn
09/13
09.11a ~ 09.14d
96.72
Ashchurch
09/23
09/23
103.46
Alstone SB
09*30a ~ 09*38d
09.31 ~ 09.35
104.03
Cheltenham Spa
09.41a ~ 09.43d
09.37 ~ 09.43
109.46
Barnwood Jn
09/50
09/51
109.79
Gloucester U&DGL
09L53a ~ 10L13d
09.53 ~ 10.12
110.33
Gloucester Yard Jn
10/15
10/15
116.43
Standish Jn
10/21
10/21
124.45
Berkeley Road Jn
10/30
10/33
128.35
0.00
Sharpness NR Limit
10.47a ~ 11.02d
10.52 ~ 10.56
3.70
Berkeley Road Jn
11/27
11.17a ~ 11.26d
11.72
Standish Jn
11/43
11/36
18.02
Gloucester Yard Jn
11/54
11/43
18.36
0.00
Gloucester U&DGL
11.57a ~ 12.07d
11.44 ~ 11.54
0.34
Gloucester Yard Jn
12/09
11/56
6.44
Standish Jn
12/16
12.05a ~ 12.12d
14.54
St Marys LC
12/25
12/25
22.39
Kemble
12/34
12/35
36.15
Swindon
12.55a ~ 12.57d
12.51 ~ 13.45
36.31
Cocklebury Yard
13*00a ~ 13*02d
13.50 ~ 13.56
37.04
0.00
Highworth NR Limit
13.07a ~ 13.17d
14.05 ~ 14.13
0.53
Cocklebury Yard
13*22a ~ 13*29d
14.22 ~ 14.40
0.69
Swindon
13.27a ~ 13.29d
14.44 ~ 14.51
6.53
Wotton Bassett Jn
13/36
15/00
17.42
Chippenham
13/45
15/10
19.56
Thingley Jn
13/47
15/13
28.06
Bradford Jn
13/59
15/25
33.30
Westbury (Down Reception Line)
14/08
15/36
34.64
Fairwood Jn
14/13
15/42
38.06
Clink Road Jn
14/17
15/47
42.63
0.00
Whatley Reception Sidings
14L36a ~ 15L21d
16.02 ~ 16.11
0.60
0.00
Whatley EOL
15L06a ~ 15L21d
16.22 ~ 16.37
5.37
Clink Road Jn
15/55
17/02
8.59
Fairwood Jn
16/00
17/07
10.13
Westbury Up Reception Line
16L04a ~ 16L50d
17.14 ~ 17.24 (DRL)
15.37
Bradford Jn
16/59
17/37
24.59
Bathampton Jn
17/10
17/49
26.75
Bath Spa
17/15
17/51
37.54
North Somerset Jn
17/33
18/04
37.77
Dr Days Jn
17/35
18/05
41.16
Clifton Down
17/49
18/17
46.26
Avonmouth
18*02a ~ 18*06d
18/30
48.18
Hallen Marsh Jn
18/15
18/36
53.62
Filton West Jn
18/26
18/43
54.78
Bristol Parkway (UGL)
18*30a ~ 18*41d
18.47 ~ 19.13
59.48
Westerleigh Jn
18/49
19/21
61.20
Yate
18/52
19/24
67.61
Charfield
18/58
19/29
81.06
Standish Jn
19/09
19/39
87.16
Gloucester Yard Jn
19/14
19/44
88.03
Barnwood Jn
19/15
19/45
93.46
Cheltenham Spa
19.22a ~ 19.24d
19.54 ~ 19.57
100.57
Ashchurch
19/32
20/04
111.44
Abbotswood Jn
19/40
20/14
122.61
Stoke Works Jn
19/49
20/20
128.37
Barnt Green
19.56a ~ 19.58d
20.28 ~ 20.30
133.45
Kings Norton
20/05
20/38
138.60
Bordesley Jn
20/14
20/48
140.57
Birmingham New Street
20.23a ~ 20.30d
20.54 ~ 21.00
142.58
Soho South Jn
20/35
21/04
144.36
Galton Jn
20/38
21/06
148.01
Dudley Port
20/43
21/10
153.41
Wolverhampton
20/48
21/18
155.15
Bushbury Jn
20/52
21/20
168.72
Stafford
21.10a ~ 21.18d
21.34 ~ 21.36
174.21
Norton Bridge
21/26
21/42
185.23
Madeley Jn
21/35
21/51
193.29
Crewe
21.46a
22.01