27th - 28th August 2004
Pathfinder Tours
The Northern Lights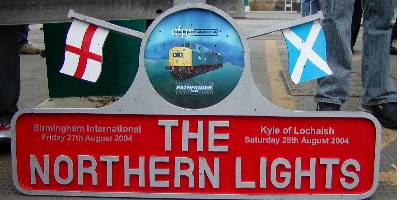 (...the one that got away...)
| | |
| --- | --- |
| Locos Used | 37406, 37427, 40145, 50031 & 66229 |
| Stock Used | 21272+3122+3112+3140+3107+3098+1863+5341+5322+5419 |
Route:
1Z50 Birmingham International to Inverness
1Z22 : Inverness to Kyle of Lochalsh
1Z23 Kyle of Lochalsh to Inverness
1Z26 : Inverness to Birmingham New Street

| | | |
| --- | --- | --- |
| Date | Loco(s) | Route |
| 27/08 | 50031 | Birmingham International - Stechford - Aston - Perry Barr North Jn - Bescot Stadium - Portobello Jn - Bushbury Jn - Stafford - (via WCML) - Preston |
| 27/08 | 40145 | Preston - (via WCML) - Carlisle (1) |
| 27/08 | 66229 | Carlisle - (via WCML) - Motherwell - Braidhurst Loop |
| 27/08 | 37427 + 37406 | Braidhurst Loop - Mossend - Coatbridge Central - Larbert Jn - Stirling - Perth - Aviemore - Inverness |
| 28/08 | 37427 + 37406 (2) | Inverness - Millburn Jn |
| 28/08 | 37427 + 37406 | Millburn Jn - Rose Street - Muir of Ord - Dingwall - Achnasheen - Kyle of Lochalsh |
| 28/08 | 37406 + 37427 | Kyle of Lochalsh - (reverse of outward route) - Millburn Jn |
| 28/08 | 37406 + 37427 (2) | Millburn Jn - Inverness |
| 28/08 | 37406 + 37427 | Inverness - (reverse of outward route) - Carlisle |
| 28/08 | 50031 | Carlisle - (reverse of outward route) - Perry Barr North Jn - Soho South Jn - Birmingham New Street |
Notes :
(1) 40145 failed at Carlisle with a turbocharger problem.
(2) Locos propelling.
Source : Gary Thornton (on the train throughout)



Tour Review
(by Gary Thornton)
In service days there were very few occasions when a class 40 reached Kyle of Lochalsh so it was not difficult to predict that this tour, taking 40145 to Kyle, would be popular. As with many tours these days the route changed several times and it ended up as a straight thrash out and back from Birmingham to Kyle (which was a bit of a shame as we lost the Forth & Tay Bridges and a run via Aberdeen). A Fifty Fund class 50 doing the honours between Birmingham and Preston both ways would make this an "all preserved" railtour.
A check on the 'Net on the Thursday night confirmed I could get to Birmingham International by public transport, the first bus at 06.15 from my local stop to the railway station for the 06.40 Central Trains service to Lincoln. Being used to a staple diet of 321's out of Northampton having 158858 to Birmingham International was quite a strange experience! A colleague who joined us at Rugby confirmed that 50031 had passed through a few minutes ahead of us with the tour stock.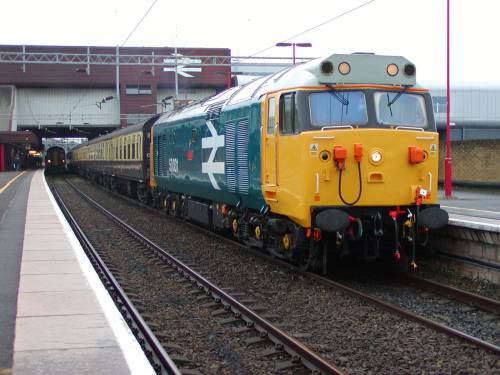 50031 prior to departure at Birmingham International.
My booked seats were in the rear coach so it was a quiet journey north, 50031 doing a good job on the mix of 10 mark 1's and mark 2's. Arrival into Preston was early (usual lax timings to blame) and 40145 was in ready for us. Not the best lighting to get photos of each loco on the train as it was right into the sun, but we did our best anyway.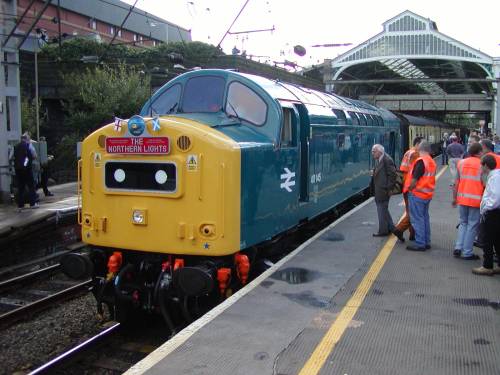 40145 being readied for the "off" at Preston.
With 40145 safely bolted on the front we sat back with the prospect of 900 miles of 40 haulage over the two days (Friday/Saturday) of the tour. Departing Preston saw the time-warp view of 40145 storming out, passing 50031 on one side and 20309+20311 on the other!
A look through the timing sheet confirmed that we could expect to visit quite a number of loops en-route north. It looked like the NR signallers wanted to get in the spirit as we were looped at both of the first two we arrived at! It also was noticeable that 40145 wasn't too sprightly and acceleration was fairly sluggish which was a bit of a surprise on only 10 coaches. A short while later and I found out the reason for 145's apparent poor performance - one of the recently overhauled turbochargers had cracked a casing. Despite the best efforts of the on-board CFPS fitters the decision was reluctantly made that 145 should be pulled from the train. 90 miles from Preston and we arrived into Carlisle in the knowledge our 900 miles of 40 haulage was over for this tour after just a tenth of the distance.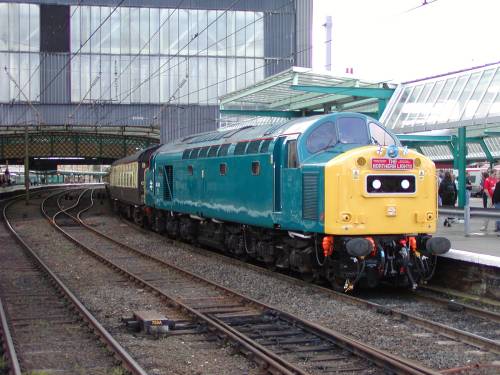 40145 at Carlisle.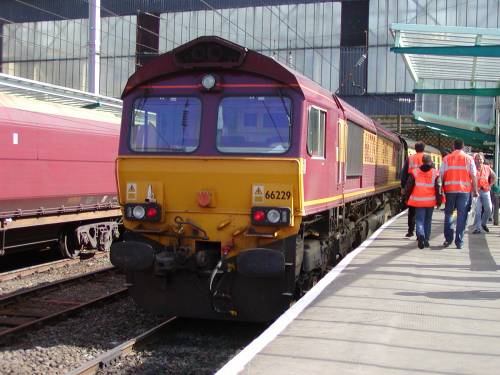 ...less said the better I think...even the headboard wouldn't fit!
While 40145 headed back light engine for repairs, 66229 backed on to the train and we set off northwards, quite a subdued atmosphere on board as I am sure you can imagine! 66229 was to take us as far as Motherwell (Braidhurst loop). A stop at Quintinshill allowed 90015 to pass on a Euston to Glasgow service, the penultimate day of Virgin class 90's working and possibly last working of a Virgin class 90 to Glasgow?
Our motive power from Braidhurst loop was 37406 & 37427 - better than a shed but not a 40... A 90 minute layover at Perth gave the opportunity to sample a bar (or two) and to stock-up on provisions.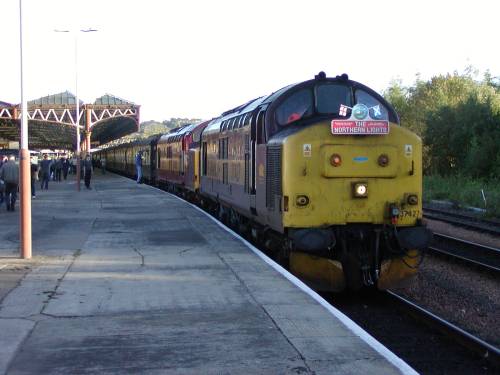 The tractors, at Perth.
A two hour break at Inverness gave a further chance for liquid refreshments before we settled in for the overnight run to Kyle (leaving Inverness at 00.17, returning 08.11). I opted for the cubbyhole under the shelf at the blocked-off middle doors in our coach. A bit of a squeeze but I did manage a reasonable amount of kip. A few photos were taken at Kyle before the tractors propelled the stock back a bit in order to run round. From here on in we would be in the leading coach so things got a bit more entertaining.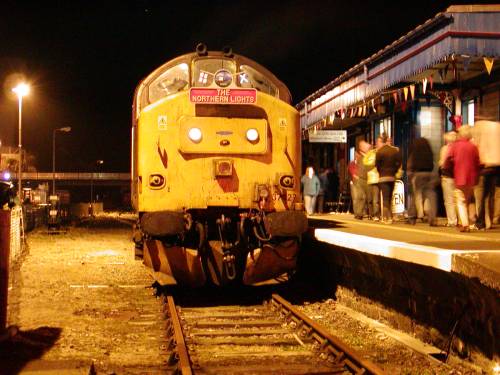 The tractors at Kyle of Lochalsh...I know, it really should have been 40145!
It was a wet journey back to Inverness, much of which I don't however remember. After reversing at Millburn Jn the train propelled back into Inverness station where we had a "breakfast break" of nearly three hours. Inverness seemed ill-prepared for 400-odd cranks all after a cooked breakfast! Two of us ended up in the Lemon Tree Café which was soon full (with other railtourers) and turning punters away. The cook was overheard asking where everyone had come from. The nearby Safeway restaurant was also reported to be full and overflowing.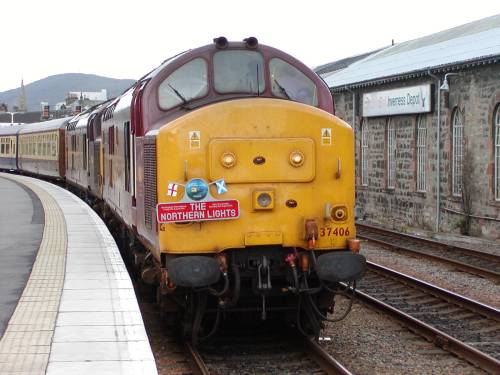 Waiting to leave Inverness for home.
The run southwards was absolutely superb - 37406/427 being worked very hard at every opportunity. Being sat in the front half of the front coach added somewhat to the enjoyment factor. News soon filtered through that 50031 was heading north to intercept us at Carlisle and we arrived to find "Hood" waiting for us. As with the southbound run we had just experienced from the tractors, 50031 did not disappoint and I have to say it was probably the best run I have ever had off a single class 50 on the mainline. With lax timings and a good run south it was somewhat frustrating to still be looped at Carnforth.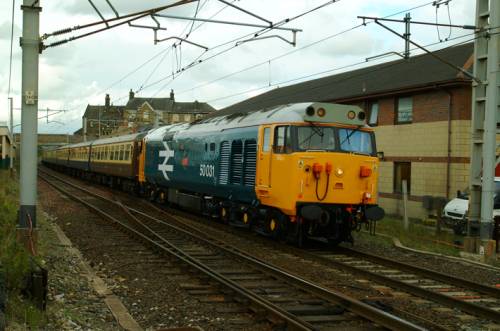 50031 rolls into Carnforth (photo: Alan Johnstone)
Even more annoying to then be let out after 14 minutes as NOTHING had passed us during our wait! Rounding the corner however a series of single yellows suggested we were now behind a train out of Morecambe. At Preston we had half an hour booked for the loco change but not now needing it we hoped for a speedy getaway. Wrong! A seemingly endless stream of red/silver plastic passed us before we eventually got the road.
All too soon we were in the black hole that is Birmingham New Street (couldn't make International due to engineering works) and the end of the two day tour. A lift home from a friend was all that was left to finish off the two days.
Verdict: Gutted (obviously!) that 40145 had to be taken off the train at Carlisle - at the end of the day however it was the responsible thing to do to prevent damage to the loco, a failure on the mainline and reputations and it was therefore the right decision. Some people gave up the tour at this point but I have to say I think actually they lost out on a very good tour as a result. The sound of 37406/427 thrashing up to the summit at Slochd will remain vivid in my memory for a long time to come, as will the return leg with 50031.
Gary Thornton.
...and finally....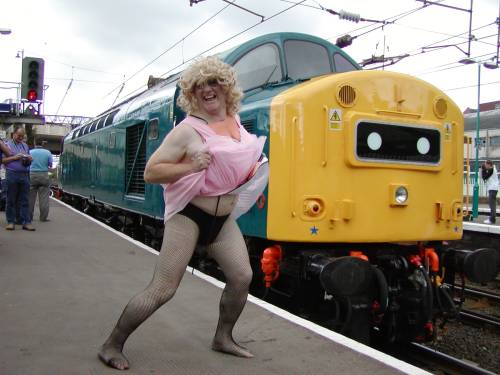 John Stephens a.k.a. "Kyle" Minogue had to produce somewhat earlier than
anticipated and is seen here "waving" 40145 goodbye at Carlisle.



Timings (Booked & Actual)
(booked courtesy of Pathfinder Tours, actuals from Gary Thornton/Ralf Edge)
M.C
Location
Booked
Actual
Booked
Actual
M.C
0.00
Birmingham International
08.15d
08.16
4.33
Stechford
08/25
08/23
7.26
Aston
08/38
08/41
-
Birmingham New Street
21.30a
21.23a
104.40
-
Soho South Jn
21/25
21.16a ~ 21.17d
102.39
-
Soho East Jn
21/24
21/14
102.06
-
Perry Barr West Jn
21/20
21/10
100.07
9.48
Perry Barr North Jn
08/45
08/45
21/18
21/09
99.58
13.06
Tame Bridge Parkway
08.48a ~ 08.50d
08.51 ~ 08.52
21.11a ~ 21.14d
21.00 ~ 21.02
96.20
14.05
Bescot Stadium
08/52
08/54
21/08
20/57
95.21
15.23
Portobello Jn
08/57
09/03
21/02
20/42
94.03
20.70
Bushbury Jn
09/01
09/08
20/59
20/38
88.36
34.47
Stafford
09.12a ~ 09.14d
09.20 ~ 09.23
20.43a ~ 20.46d
20.20 ~ 20.23
74.59
39.76
Norton Bridge
09/20
09/29
20/34
20/14
69.30
50.78
Madeley
09/29
09/38
20/24
20/04
58.28
59.04
Crewe
09.40a ~ 09.48d
09.47 ~ 09.49
19.53a ~ 20.13d
19.43 ~ 19.53
50.22
67.70
Winsford SB
09/58
10/00
19/42
19/32
41.36
75.45
Weaver Jn
10/04
10/06
19/33
19/26
33.61
80.49
Acton Grange Jn
10/08
10/10
19/28
19/22
28.57
82.36
Warrington Bank Quay
10/10
10/11
19/26
19/21
26.70
85.72
Winwick Jn
10/13
10/13
19/23
19/18
23.34
94.16
Wigan North Western
10/30
10/22
19/17
19/12
15.10
101.67
Balshaw Lane Jn
10/36
10/29
19/10
19/04
7.39
103.70
Euxton Jn
10/42
10/31
19/08
19/02
5.36
109.26
0.00
Preston
10L47a ~ 11L18d
10.37 ~ 11.21
18L32a ~ 19L01d
18.26 ~ 19.53
0.00
359.46
20.78
Lancaster
11/37
12/03
18/13
18/09
333.48
22.70
Morecambe South Jn
11/44
12/05
18/11
18/07
336.56
27.06
Carnforth North Jn / UPL
11/54
12/09
17*42a ~ 18*06d
17.48 ~ 18.02
332.40
40.06
Oxenholme
12/06
12/20
17/31
17/36
319.40
53.19
Tebay
12/18
12/34
17/22
17/28
306.27
72.18
Penrith
12/36
12/51
17/04
17/03
287.28
90.07
Carlisle
12.54a ~ 13.09d
13L07a ~ 14L11d
16.40a ~ 16.43d
16.26 ~ 16.45
269.39
98.64
Gretna Jn
13/19
14/22
16/31
16/18
260.62
115.73
Lockerbie DPL
13*37a ~ 13*50d
14/48
16/13
16/06
243.53
129.47
Beattock
14/05
14/59
16/03
15/55
229.79
139.71
Beattock Summit
14/22
15/09
15/56
15/48
219.55
147.77
Abington DPL
14*31a ~ 14*37d
15/18
15/49
15/41
211.49
163.60
Carstairs
14/58
15/31
15/35
15/28
195.66
166.15
Lanark Jn
15/00
15/32
15/33
15/26
193.31
174.16
Law Jn DPL
15*08a ~ 15*29d
15/39
15/22
15/18
185.30
177.46
Shieldmuir Jn
15/35
15/45
15/16
15/14
182.00
179.45
Motherwell
15c38a ~ 15c40d
15/50
15c09a ~ 15c11d
15.06 ~ 15.11
180.01
?
Braidhurst Loop
?
15L53a ~ 16L10d
-
-
-
181.49
Mossend North Jn
15/51
16/13
15/02
15/02
177.77
184.69
Coatbridge Central
15/58
16/17
15/00
14/57
174.57
187.12
Garnqueen North Jn
16/02
16.20a ~ 16.25d
14/57
14/54
172.34
196.62
Greenhill Lower Jn
16/30
16/36
14/40
14/39
162.64
199.48
Larbert Jn
16/35
16/39
14/35
14/36
159.78
208.31
Stirling
16/45
16/47
14/25
14/35
151.15
213.26
Dunblane
16/57
16/58
14/16
14/25
146.20
223.35
Blackford
17/07
17/08
14/08
14/10
136.11
239.24
Hilton Jn
17/22
17/21
13/50
13/56
120.22
241.32
Perth
17c28a ~ 19c05d
17.25 ~ 19.23
13c36a ~ 13c47d
13.42 ~ 13.52
118.14
248.45
Stanley Jn
19/16
19/35
13/26
13/26
111.01
256.74
Dunkeld & Birnam
19/25
19/46
13x11a ~ 13x15d
13.06 ~ 13.21
102.52
269.64
Pitlochry
19/37
19/59
12/57
12/51
89.62
276.52
Blair Atholl
19/47
20/08
12/49
12/42
82.74
300.10
Dalwhinnie
20x20a ~ 20x30d
20.38 ~ 20.40
12/24
12/20
59.36
313.06
Kingussie
20x46a ~ 20x51d
20/53
12x00a ~ 12x09d
12/06
46.30
318.66
Kincraig
20x59a ~ 21x05d
21.01 ~ 21.13
11/54
11/58
40.50
325.05
Aviemore
21x13a ~ 21x26d
21.21 ~ 21.36
11/46
11/52
34.41
331.43
Carrbridge
21/36
21/36
11/41
11/46
28.03
336.63
Slochd
21/44
21/51
11x31a ~ 11x34d
11.28 ~ 11.40
22.69
340.30
Tomatin
21/48
21/55
11/26
11/20
19.23
344.38
Moy
21/51
21/59
11/21
11/16
15.31
352.73
Culloden Moor
21/58
22/06
11/07
11/04
6.55
358.63
Millburn Jn
22/06
22/11
10/53
10/54
0.63
359.46
0.00
Inverness
22.08a ~ 00.17d
22.14 ~ 00.19
08.11a ~ 10.50d
08.15 ~ 10.53
0.00
83.34
0.50
Millburn Jn
00.20a ~ 00.25d
00.22 ~ 00.23
08.04a ~ 08.08d
08.09 ~ 08.10
82.64
1.08
Rose Street
00/28
00/25
08/01
08/07
82.26
2.39
Clachnaharry
00/33
00/28
07/57
08/01
80.75
8.40
Clunes IB
00/40
?
07/51
07.50a ~ 07.52d
74.74
13.73
Muir of Ord
00t49a ~ 00t51d
00.45 ~ 00.45
07t15a ~ 07t41d
07.30 ~ 07.41
69.41
19.47
Dingwall
01t00a ~ 01t03d
00.56 ~ 01.00
07t06a ~ 07t09d
07.18 ~ 07.20
63.67
31.35
Garve
01t29a ~ 01t30d
01.27 ~ 01.29
06t40a ~ 06t42d
06.49 ~ 06.50
51.79
47.42
Achnasheen
02t00a ~ 02t02d
02.00 ~ 02.01
05t51a ~ 06t11d
06.05 ~ 06.16
35.72
65.34
Strathcarron
02t32a ~ 02t33d
02.39 ~ 02.42
05t19a ~ 05t20d
05.31 ~ 05.33
18.00
83.34
Kyle of Lochalsh
03.11a
03.29
04.40d
04.42
0.00