21st August 2004
Hertfordshire Rail Tours
The King Canute
| | |
| --- | --- |
| Locos Used | 66131 & 66245 |
| Stock Used | 5027+5023+5007+1832+4925+5037+3121+1680+3123+3120+1679+3147+21269 |
Route:
1Z94 : Waterloo to Southampton East Docks
1Z95 : Southampton East Docks to Waterloo
| | |
| --- | --- |
| Loco(s) | Route |
| 66131 (1) | London Waterloo - Clapham Junction - Barnes - Richmond - Twickenham - Feltham - Staines - Virginia Water - Addlestone Jn - Woking - Basingstoke - Winchester - Eastleigh - Southampton Central - Totton - Marchwood - Fawley Ground Frame "C" |
| 66245 (2) | Fawley Ground Frame "C" - Marchwood - Totton Yard |
| 66131 (1) | Totton Yard - Brockenhurst - Bournemouth - Poole - Hamworthy Goods |
| 66245 (2) | Hamworthy Goods - Poole - Bournemouth - Redbridge - Southampton Central - Eastleigh - Eastleigh East Yard |
| 66131 (1) | Eastleigh East Yard - Eastleigh Jn - Northam Jn - Southampton East Docks |
| 66245 (2) | Southampton East Docks - Northam Jn - Fareham - Chichester - Arundel - Horsham - Dorking - Epsom - Raynes Park Jn - Wimbledon - Clapham Junction (3) - London Waterloo |
Notes :
(1) 66245 on rear.
(2) 66131 on rear.
(3) Train delayed due to person falling between the train and platform edge. Reported not seriously hurt.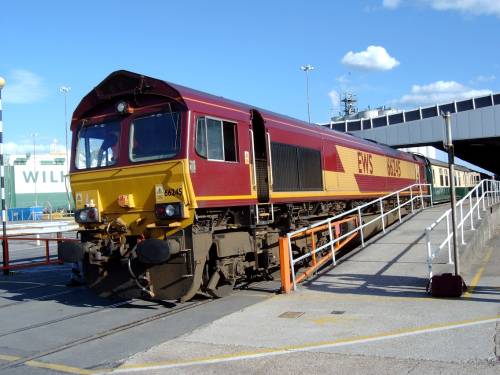 66245 at Southampton Docks (photo: "Brillo")
Sources : various including "LASERman"



Tour Review
(by "Brillo")
This tour appealed to me as it covered three freight branches that I had never done before with a couple of required passenger 'bits' thrown in for good measure so I booked it for myself and two friends (good move as it sold out a few days later!). I was also hoping for two new sheds but as I don't chase sheds I wasn't too concerned about the scratches. Gen on Friday suggested 66245 (new) and 66131 (very dud) with 66245 leading out of London so that the shed desperado militia could have 66245 'in the book' from Waterloo to Clapham Junction and then get off and go do other desperate things that shedmen do. Bumf from HRT that came with the tour tickets said departure was from platform 19 so I wandered over, saying hello to people that I knew, on the way. There was an empty SWT unit in the way and I learned that there had been a points failure somewhere south of Waterloo and everything had gone to pot (what's new!). John Farrow was constantly on his phone by this time and must have been ringing his particular God as shortly after the unit moved off and the ECS trundled into the station with about 5 minutes to spare. 66245 was leading into the station which meant 66131 would be leading out of Waterloo and the shedmen had been totally bowled and utterly withered!
The earlier points failure meant that the stock had been turned/reversed somewhere to get round the problem.
I wandered up the platform to find coach 'H' and wandering the other way were the shedmen, I said hello to them as I passed them but all I got was a blank, vacant, despondent stare. They would have to do the whole tour and bale off somewhere en route or come back that night when 66245 'should' be leading back into London.
We left about 5 late due to an inordinate number of Bert & Ada's using various metal and wooden walking implements being assisted from the rear into the poshnosh carriages, I was told that someone even arrived on a disabled persons scooter contraption but they were obviously genned up about the quickest way to get through central London!
The tour got back to time after some good uninterrupted running and we eventually slowed down to traverse the Fawley branch, my first requirement. The tannoy burst into life and John Farrow spoke about the history of the line and what traffic now used it. He said the farthest point any railtour could now reach was Groundframe 'C' due to the dreaded Health and Safety Regulations restricting passenger trains from accessing oil/chemical installations. We passed the single line to Marchwood MOD which had an unidentified shed hidden by the trees on a military train waiting to go north and we finally ended up at Groundframe 'C', as predicted. The red pens could now come out as we reversed and 66245 took over for the run back north. We were booked to go back to Totton Yard to reverse but in fact we reversed in the goods loop as shown in Baker and then we departed via the other connection to the main line, which was a bonus, and not expected by me. We arrived in the loop about 5 minutes early but left about 10 down for the run to Hamworthy due to waiting for passing trains to clear. We passed Poole and Bournemouth but continued to lose time (now 20 down) and we took the line at the back of Hamworthy station on the branch to the Quay. The tannoy crackled into life and again we were given history of the line. Some of the curves on this branch were very tight and we traversed it at walking pace until we reached New Quay level crossing. This was our proposed reversal point but I was hoping we might go past it and run on the Quay itself but this was not to be.
With 66245 in charge again we reversed and headed back to Eastleigh Yard, which would be our next reversal point for our trip down to Southampton Eastern Docks. Approaching Southampton Central we were roughly 30 minutes down but the train suddenly started to slow down and we had an unscheduled stop in the station. An announcement was made for any trained First-Ada's (sic) to go to Coach 'E' so it was evident that a person had been taken ill, then a further announcement said we would wait until an ambulance crew arrived before continuing with the tour. I wandered down the platform to stretch my legs and was looked through the window of Coach 'E' to see what was happening and I was shocked to see it was a chap I had been talking to that morning who had been taken ill. He had told me previously that he was a diabetic but that he managed his condition very well and had just started on some new experimental tablets. The ambulance men were shoving glucose sachets into his mouth and forcing him to swallow them as he was unconscious and it was clear he had suffered a 'hypo' whilst he was dossed out.
He was eventually carted off and we continued on our way at about RST. We were fearing that the Eastern Docks branch would be caped due to the lateness but an announcement decreed we would still do the branch but we couldn't reverse short of Eastleigh Yard however due to the old favourite 'operational reasons'. We arrived in the yard at RST+7 and yinging away on the next track to us was 66143. We were hoping that 66143 would replace one of our engines and that this was the 'operational reasons' that had been quoted but we were sadly disappointed. We waited for a short while and 66131 finally pulled us out of the yard at RST+15. We should have had approximately one and a half break at Eastern Docks but obviously this was now out of the question unless a later departure time had been hastily arranged with control. We finally arrived at 17.26 and according to the HRT booklet we were due to depart at 17.59 but a hasty announcement said 18.06 which was the time that we had from TRUST several days previously. This photo stop was excellent as you could get off the train at the official platform and then wander up the other side of the train from the dock taking photos at leisure. We now had just 40 minutes here due to the late running and I was now glad we had been late as there were no shops, cafes etc just the train and a ship to photograph. We departed bang on time and by Northam Junction we were actually a couple of minutes early although after this we started to lose time again but it was only by a few minutes. We covered, as booked, my required passenger track of Horsham to Leatherhead and Epsom to Motspur Park so it had been a fruitful tour for me. We arrived at Clapham Junction about 8 minutes late and I noticed another anomaly in that TRUST timings gave arrival time in Waterloo at 20.49 whereas the brochure gave it as 20.56. Are you adding 'charter minutes' to your schedules Mr Farrow to make it appear to the normal punters that the train has arrived back early or on time?
I left the train at Clapham Junction as I wanted to get to Victoria for my bus back home but as I was walking up the platform another medical incident had occurred as a person who was also getting off at Clapham Junction had not 'minded the gap' and had fallen down the gap between platform and train. The train was still there when my unit departed at 21.02 for Victoria but I am told the tour departed shortly after and happily the person was not severely injured just a few cuts and bruises. I arrived in Victoria and later on that night I met the chap who had been carted off at Southampton Central. He said he was now fine and he had sat in the back of the ambulance at Southampton Central until he was fit to travel and then SWT had put him on one of their trains back to Waterloo. He said he had suffered the Friday overnight bus from Durham and had to suffer the Saturday overnight bus back and all he required on the tour was Northam Junction to Southampton Eastern Docks, all one ******* mile of it, and he had been sat in a ******* ambulance chewing ******* glucose!
Verdict
An excellent day out generally although it would have been nice to have a leg stretch and short photo stop around lunchtime. The tour did everything it was supposed to do with a little bonus of the other side of Totton loop. The announcements just before traversing a branch were informative and helpful. Timekeeping was reasonable until the medical delay at Southampton and it was fortunate that the fester at Eastern Docks could be curtailed to get back to booked time. Perhaps HRT could set up a fully staffed mobile casualty unit in the brake van for their next 'Forgotten Tracks' tour.

Timings (Booked & Actual)
(from "LASERman" & John Clifford)
| | | | |
| --- | --- | --- | --- |
| M.C | Location | Booked | Actual |
| 0.00 | Waterloo [P19] | 08.44d | 08.51 |
| 1.78 | Nine Elms Jn | 08/49½ | 08/55½ |
| 2.50 | Queenstown Road | 08/50½ | 08/57 |
| 3.74 | Clapham Junction | 08.54a ~ 08.56d | 09.00 ~ 09.03½ |
| 7.07 | Barnes | 09/01 | 09/08½ |
| 9.57 | Richmond | 09/04½ | 09/12 |
| 11.22 | Twickenham | 09/06½ | 09/14 |
| 13.35 | Feltham Jn | 09/10 | 09/16 |
| 14.68 | Feltham | 09/12½ | 09/17½ |
| 19.02 | Staines | 09/21½ | 09/23½ |
| 23.15 | Virginia Water | 09/30½ | 09/36½ |
| 28.06 | Addlestone Jn | 09/42½ | 09/44 |
| 28.77 | Byfleet & New Haw | 09/44½ | 09/46 |
| 33.01 | Woking | 09/51½ | 09/51½ |
| 33.36 | Woking Jn | 09/52½ | 09/52½ |
| 38.22 | Pirbright Jn | 09/57½ | 09/57½ |
| 71.71 | Farnborough (Main) | 10/01½ | 10/01½ |
| 45.12 | Fleet | 10/04½ | 10/04½ |
| 56.35 | Basingstoke | 10/22½ | 10/26 |
| 58.75 | Worting Jn | 10/30 | 10/31 |
| 75.13 | Winchester | 10/44 | 10/46½ |
| 77.64 | Shawford Jn | 10/47 | 10/48 |
| 82.09 | Eastleigh | 10/53 | 10/52 |
| 83.40 | Southampton Airport | 10/54½ | 10/53 |
| 85.64 | St Denys | 10/58 | 10/56 |
| 87.73 | Southampton Central | 11.02½a ~ 11.04½d | 11.00 ~ 11.03½ |
| 90.44 | Redbridge | 11/08½ | 11/07 |
| ? | Totton | 11/09½ | 11/09 |
| 91.36 | Totton Yard | 11/10½ | 11/11½ |
| 94.62 | Marchwood | 11/23½ | 11.24a ~ 11.24d |
| 100.16 | Fawley Ground Frame "C" | 11.45½a ~ 12.01½d | 11.47 ~ 11.55 |
| 105.50 | Marchwood | 12/24½ | 12/20 |
| 108.76 | Totton Yard | 12.39½a ~ 12.54½d | 12.32½ ~ 13.04½ |
| 119.00 | Brockenhurst | 13/10½ | 13/17½ |
| 134.16 | Bournemouth | 13/36½ | 13/51½ |
| 136.65 | Branksome | 13/41½ | 13/56½ |
| 139.76 | Poole | 13/48 | 14/05 |
| 142.15 | Hamworthy Jn | 13*53a ~ 13*54d | 14.13 ~ 14.13 |
| 144.19 | Hamworthy Goods | 14.03a ~ 14.18d | 14.24 ~ 14.33 |
| 146.23 | Hamworthy Jn | 14*27a ~ 14*32d | 14.41 ~ 14.46 |
| 148.52 | Poole | 14/37 | 14/57½ |
| 151.53 | Branksome | 14/42 | 15/03 |
| 154.22 | Bournemouth | 14/48½ | 15/08 |
| 169.38 | Brockenhurst | 15/05½ | 15/30½ |
| 180.34 | Redbridge | 15/15½ | 15/44½ |
| 183.05 | Southampton Central | 15/22 | 15.49 ~ 16.24½ |
| 184.09 | Northam Jn | 15/24½ | 16/27 |
| 185.14 | St Denys | 15/26½ | 16/29 |
| ? | Eastleigh | 15/31 | 16/40½ |
| 189.25 | Eastleigh East Yard | 15.33a ~ 15.43d | 16.40 ~ 16.58 |
| ? | Eastleigh | 15/45 | 17/00 |
| 193.36 | St Denys | 15/50 | 17/05½ |
| 194.14 | Northam Jn | 15/52 | 17/08 |
| ? | Southampton Dock Gates | 15*57a ~ 15*58d | ? |
| 195.28 | Canute Road Crossing | 16*05a ~ 16*09d | 17.12 ~ 17.13 |
| 196.17 | Southampton Eastern Docks | 16.11a ~ 18.06d | 17.26 ~ 18.06 |
| 197.06 | Canute Road Crossing | 18*15a ~ 18*19d | 18/20 |
| ? | Southampton Dock Gates | 18*19a ~ 18*20d | 18.11½ ~ 18.18½ |
| 197.73 | Northam Jn | 18/25 | 18/23½ |
| 198.78 | St Denys | 18/27 | 18/27 |
| 211.45 | Fareham | 18/53 | 18/53½ |
| 217.60 | Cosham | 19/02½ | 19/04 |
| 218.33 | Farlington Jn | 19/04½ | 19/05 |
| 221.30 | Havant | 19/08 | 19/09½ |
| 230.20 | Chichester | 19/17 | 19/18 |
| 236.42 | Barnham | 19/23½ | 19/23½ |
| 239.16 | Ford | 19/26½ | 19/27 |
| 239.70 | Arundel Jn | 19/28 | 19/28 |
| ? | Arundel | 19/30 | 19/30½ |
| 249.65 | Pulborough | 19/40 | 19/45½ |
| 254.74 | Billingshurst | 19/46 | 19/52 |
| 262.09 | Horsham | 19/54½ | 20/00 |
| 275.52 | Dorking North | 20/12½ | 20/16 |
| 279.58 | Leatherhead | 20/17½ | 20/22 |
| 283.42 | Epsom | 20/22 | 20/28½ |
| ? | Motspur Park | 20/28 | 20/34½ |
| 289.09 | Raynes Park | 20/30½ | 20/37 |
| 290.41 | Wimbledon | 20/33½ | 20/40 |
| 293.66 | Clapham Junction | 20.37½a ~ 20.39½d | 20.45½ ~ 21.04 |
| 295.10 | Queenstown Road | 20/43 | 21/09½ |
| 295.65 | Nine Elms Jn | 20/44 | 21/11 |
| 297.60 | Waterloo [P10] | 20.49a | 21.17 |