31st July 2004
Pathfinder Tours
The Moorlander
| | |
| --- | --- |
| Locos Used | 37669, 37689, 66555, 66714 & 92033 |
| Stock Used | 17056+3069+3068+3066+3148+1842+5292+5366+5276+5376+5365+5850+5307 |
Route:
1Z86 Crewe to Dollands Moor
1Z87 Dollands Moor to Crewe

| | |
| --- | --- |
| Loco(s) | Route |
| 37689 + 37669 | Crewe - Stafford - Portobello Jn - Bescot - Perry Barr North Jn - Soho South Jn - Birmingham New Street - Hinckley - Nuneaton - Leicester - Nottingham - Grantham |
| 66555 | Grantham - Peterborough - Stevenage - Hertford North - Kings Cross Freight Terminal Jn - Camden Road - Willesden West London Jn - Wembley European Freight Operating Centre (No.7 Recp./Dep. Line) |
| 92033 (1) | Wembley EFOC - Willesden West London Jn - Mitre Bridge Jn - Kensington Olympia - (wrong line to Latchmere Jn) - Factory Jn (Atlantic Line) - Denmark Hill - Crofton Road Jn (cross to Catford Loop) - Shortlands Jn (2) - Swanley - Maidstone East - Ashford International - Dollands Moor, No.3 Export Siding |
| 66714 | Dollands Moor - Ashford International - Tonbridge - Redhill - East Croydon - Selhurst - Clapham Junction - Kensington Olympia - Mitre Bridge Jn - Acton Wells Jn - Acton Reception (Up & Down Loop No.2) |
| 37669 + 37689 | Acton Reception - Acton Wells Jn - Dudding Hill Jn - Brent Curve Jn - Luton - Bedford - Sharnbrook Jn - Kettering - Kilby Bridge Jn - Wigston South Jn - (3) Wigston North Jn (Up & Down Goods) |
| 37689 + 37669 | Wigston North Jn (Up & Down Goods) - Glen Parva Jn - Hinckley - Nuneaton - Landor Street Jn - (4) Lifford East Jn - Selly Oak - (4) Birmingham New Street - (5) Aston - Perry Barr North Jn - Bescot Stadium - Portobello Jn - (5) Bushbury Jn - Stafford - Crewe |
Notes :
(1) 66714 on rear.
(2) Booked via Shortlands Diveunder but went via Down Chatham Slow.
(3) Tour was booked Kilby Bridge Jn - Wigston South Jn - Glen Parva Jn but wrongly routed, necessitating a run round in the U&DL between Wigston North Jn and Knighton Jn.
(4) Booked route was in via Proof House Jn.
(5) Booked route was via Galton Jn and Wolverhampton.
Sources : various including Alan Sheppard & "Geordie"



Tour Review
(from Andrew Wilson)
Nearly a full days railtouring (18 hours) was promised as the tour tickets arrived. Crewe depart 6.10 and return at 00.06, it was going to be a long, hot, steamy day with not many opportunities to stretch your legs or take photos as most of the engine changes were booked to change engines in yards to avoid blocking platforms for 20 – 30 minutes.
I arrived at approximately 5.55 and although the stock was in the platform the engines were still on the other end so I dumped my bag in the coach and got the camera out and waited and waited. I cannot understand why it now takes so much time to perform a simple run-round when there is minimal traffic in the station. I have since found out that there was no train person to unhook the engines (why? they knew the time that the train was coming!).
The engines finally arrived and were hooked on and we were finally ready to depart at 6.30. After a few minutes Chris Brooks voice was heard over the tannoy announcing that the booked EWS guard hadn't turned up but they had procured a female guard from Arriva Trains Northern to work the tour to Birmingham. We waited some more and the tannoy burst into life again informing us that the ATN guard had arrived but needed a refresher on locos + stock therefore she couldn't now work the tour. The feeling in our coach was that the tour was now in grave danger of being cancelled (although if we could have swapped our loco + stock for 7 x Class 142's we would have at least got to Birmingham!!).
Finally, after stealing the guard from the Preston – Paignton Class 67 hauled holiday train (67014) we departed at exactly RST (1 hour late) with 37669 + 37689 at the sharp end thrashing well. Bescot was passed and it was sad for me to see the multitude of characterless Class 66's on shed that had replaced the beloved older traction. We traversed the 'new' Nuneaton Flyover, which was new track for me. In their wisdom Railtrack closed the flyover a few years ago and ripped the track up but some bright spark obviously realised that this would eliminate conflicting movements on the WCML so they put it back again but it only cost a few million. There was a 10 minute pathing stop at Nottingham but we were booked centre road so couldn't get out for some fresh air.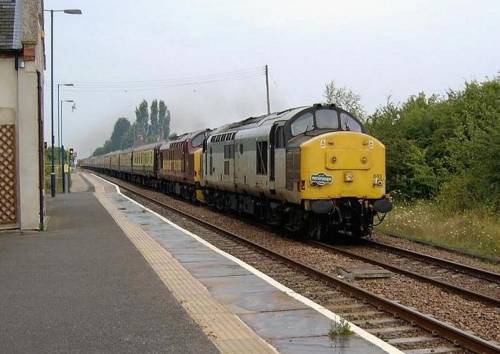 37689 & 37669 pass Bottesford en-route to Grantham (photo : Dave Burton)
We arrived at Grantham, where we expected our first engine change to take place in the goods loop, but we were platformed which gave everyone a chance for a leg stretch and chance for a photograph of our next engine 66555.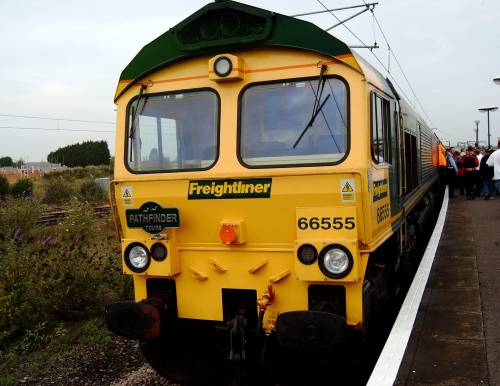 66555 at Grantham (photo: Andrew Wilson)
The leg stretch was short however as the engine change was accomplished in just 10 minutes, which was very impressive, and we left shortly after. We were now just forty late passing Stevenage and as there was some slack in the timings people weren't unduly worried about the lateness. We traversed the Hertford Loop and at Finsbury Park our two tractors were noted being held at a signal. These would run light to Acton Yard ready to pick the tour up in the evening as another fresh pair was out of the question with only 24 examples now left in service with EWS. After a stagger around North London we reached Wembley Yard where 92033 and 66714 were waiting to take over. The gen on Tuesday was that 92010 was assigned N/SPT (Special Tests) which sometimes means that the loco has been pencilled in for a railtour. By Thursday night it had lost it's assignment and I was worried that a dud would appear. 92010 had in fact gone to France on the morning of the tour and I was relieved to hear that 92031 had also arrived at Wembley that morning but had been sent back to Mossend pronto. 92033 is an SNCF owned engine and was therefore a big bonus to the disappointment of 92010. 92033 was bolted on the front and 66714 was bolted onto the back but there seemed to be a problem with 66714 as it was surrounded by orange jackets and the train kept shunting back slightly towards 66714 so it may have been a brake/coupling problem. I was more than happy that it was clawback 66714 as I missed it at Barrow Hill last year as it was due to work at the end of the day but Barrow Hill were testing the crashworthiness of Class 66's and Class 37's that day so unfortunately I didn't get it. We were finally under way at about RST again and later I was anticipating more new track at the new Shortlands dive under. We missed it however and went normal line and Chris Brooks apologised over the tannoy saying that there was a points failure which meant that we couldn't use it. I was considering going to Dollands Moor but I didn't require any track so I decided to bale at Ashford for a break as the conditions on the train with the heat was not good.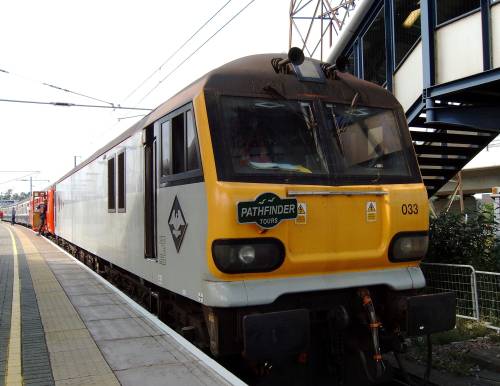 92033 at Ashford (photo: Andrew Wilson)
I had lost a few cups of tea due to the erratic DC mode of the engine and I bet there were also a few gallons of beer on the floor. The tour was retimed 15 minutes later than booked to compensate for the earlier delays therefore I had time for a wander round Ashford town centre which was surprisingly like a ghost town on what should have been a busy Saturday afternoon. The journey back to Acton with 66714 was quite uneventful as we perambulated the London suburbs and it was now crash out time. We crawled into Acton TC after several red signals and more lost time and 37669 + 37689 were waiting to take over the train. The rostered EWS guard had again not appeared at Acton and it was extremely lucky that a person was found from the railtour who signed the route and big thanks must go to him for volunteering on his day 'off'. In the event he wasn't needed however as he only signed the route as far as Bedford and it would have been impossible to acquire a further guard late on a Saturday night. The Yard Supervisor at Acton agreed to act as trainman as far as Kettering where he could be relieved for another trainman forward. When we departed Acton we were late again but there was some hope as there were a few pathing stops later in the journey that could be eliminated. I got into track basher mode at Brent Curve Junction as I needed the Hendon freight only flyover which we did and this made up for the disappointment of missing the Shortlands diveunder earlier. Due to the lateness Pathfinder had organised an SSO (special stop order) at Bedford for punters to alight at, if they wished, and quite a few took advantage of this. A one minute crew change at Kettering then what came next was classic railtour farce what we have all experienced (not for a few years though!)
I was just dozing when the chap opposite who had a Quail shouted that we had taken the wrong road at Wigston Junction and were now travelling towards Leicester. I didn't take much notice and thought he must have his book upside down but then the brakes suddenly slammed on. The tannoy burst into life again and Chris Brooks announced that we had taken the wrong road due to either the wrong road being set by the panel or a track circuit failure of our booked route to Hinckley. We could have propelled back to save time if it was the wrong road set but I think this is not permitted. He said we would now travel to Leicester and 37669 + 37689 would run round and we could regain our booked route at Glen Parva Junction. Some EWS/NR head scratching must have occurred after this however as the next announcement was that we would run round where we were and continue our journey from there. It wasn't the fastest run round however and we were edging towards RST again but finally the tractors were coupled and we were on our way home again. Tannoy announcement said that people who wanted to get back to Leicester but would miss the last unit from Hinckley due to our lateness, could bale at South Wigston station, as another SSO had been issued, to pick the last train up from there instead. We stopped and the passengers alighted and we watched them walking over the bridge but just as we departed the unit shot past us leaving the passengers stranded on the bridge and stranded at South Wigston!
We were at this point about RST again and we hoped that there wouldn't be any further problems. Some passengers left the train at Nuneaton and we proceeded towards Birmingham but at Landor Street Junction we diverged left instead of right and the relative short distance to New Street. We found out that the line from Landor Street Junction to the Black Hole was now closed for an engineering possession. We were diverted via the Lifford Curve but when we arrived at New Street we would have had to run round again in order to regain our booked path via Wolverhampton but the decision was taken to send us via Bescot again but lines would start closing soon for engineering possessions that couldn't be delayed. We trundled past Bescot and I was very surprised to see that there wasn't an engine in sight on the depot therefore there must be a lot of engineering work tonight (Due to our lateness it was now tomorrow though!)
We got to Stafford and word went round that the direct route to Crewe was now closed and we would have to go via Stoke. If Stoke was closed when we reached it the only route still open was back to Wolverhampton then via Shrewsbury or failing that buses back to Crewe from Stafford! Happily the rumours were unfounded and we took the direct route from Stafford and arrived at Crewe approximately one hour nine minutes late.
Verdict
It was disappointing that Rolling Riot couldn't get much hot water therefore tea and coffee were in short supply. It was worrying however that they ran out of soft drinks after Ashford on a blistering hot day with nowhere for patrons to get off and buy a drink if they wished, perhaps in future they should anticipate this and take on large stocks on the morning of the tour.
The planning was absolutely shambolic by EWS regarding train crew rostering/cover and it was extremely fortunate that certain individuals helped out with this or the train was in great danger of being cancelled or held for a long time awaiting cover. Perhaps instead of the six months notice that they require advance notice for planning railtours they should now change this to five years notice!
Pathfinder did exceptionally well at keeping passengers aware of the delays and planning cock-ups and also arranging special stops. Chris Brooks should now be on a 'stress relief' course hopefully paid for by the EWS charter department or Network Rail.
It was generally a very good day out despite the events and I was extremely pleased to score three engines and a few bits of track and if things didn't wrong there would be nothing to talk/laugh/rant about.
Andrew Wilson



Timings (Booked & Actual)
(booked timings courtesy of Pathfinder Tours,
actuals from various including Alan Sheppard)
M.C
Location
Booked
Actual
Booked
Actual
M.C
0.00
Crewe
06.10d
07.11
00.06a
01.11
183.45
1.64
Basford Hall Jn
06/16
07/14
00/02
01/08
181.61
8.06
Madeley Jn
06/23
07/22
23/55
01/02
175.39
19.08
Norton Bridge
06/32
07/31
23/46
00/53
164.37
24.37
Stafford
06.42a ~ 06.44d
07.37 ~ 07.40
23.38a ~ 23.40d
00.46 ~ 00.47
159.08
38.14
Bushbury Jn
06/57
07/54
23/22
00/33
145.31
40.62
Portobello Jn
07/07
07/58
DIV
?
?
43.61
Darlaston Jn
07/10
08/00
DIV
?
?
44.79
Bescot Stadium
07/11
08/06
DIV
?
?
49.36
Perry Barr North Jn
07/17
08/16
DIV
00/20
?
-
Wolverhampton
23/18
DIV
143.57
-
Dudley Port
23/10
DIV
138.17
-
Galton Jn
23/03
DIV
134.52
52.27
Soho South Jn
07/23
08/21
23/01
DIV
132.74
54.28
Birmingham New Street
07.28a ~ 07.33d
08.26 ~ 08.33
22.52a ~ 22.56d
00.07 ~ 00.10
130.73
55.73
Landor Street Jn
07/39
08/37
22/47
23/43
129.28
61.79
Water Orton
07/45
08/45
22/41
23/35
123.22
64.64
Whitacre Jn
07/51
08/49
22/36
23/30
120.37
74.43
Nuneaton Abbey Jn
08/03
09/01
22/25
23/14
110.58
75.28
Nuneaton
08.06a ~ 08.08d
09.02 ~ 09.07
22.20a ~ 22.22d
23.10 ~ 23.13
109.73
79.47
Hinckley
08.15a ~ 08.17d
09.13 ~ 09.14
22.08a ~ 22.10d
23.02 ~ 23.03
105.54
?
Narborough
?
?
21/58
22/49
97.70
M.C
Location
Booked
Actual
90.76
Wigston North Jn
08/30
09/25
94.12
Leicester [P2]
08/34
09/30
99.03
Syston South Jn
08/39
09/34
102.05
Sileby Jn
08/41
09/36
106.50
Loughborough
08/44
09/40
114.72
Trent
08/51
09/46
121.52
Nottingham (down middle)
09.02 ~ 09.12
10.00 ~ 10.02
124.23
Netherfield Jn
09/18
10/08
130.28
Bingham
09/27
10/19
135.69
Bottesford West Jn
09/33
10/25
140.77
Allington Jn
09/40
10/31
143.59
Nottingham Branch Jn
09/43
10/34
144.29
0.00
Grantham
09L45 ~ 10L05
10.37 ~ 10.52
5.57
Stoke Jn
10/11
11/00
20.48
Tallington Jn
10/32
11/12
29.09
Peterborough
10/41
11/20
38.35
Connington South Jn
10/49
11/27
46.48
Huntingdon
10/56
11/34
61.28
Sandy
11/08
11/45
73.44
Hitchin
11/18
11/58
77.73
Stevenage
11/22
12/03
78.72
Langley Jn
11/23
12/05
87.25
Hertford North
11/32
12/13
97.04
Gordon Hill
11/41
12/23
101.75
Alexandra Palace
11/48
12/30
104.32
Finsbury Park
11/55
12/33
105.30
Holloway South Jn
11/59
12/36
106.09
Kings Cross Freight Jn
12/02
12/38
106.43
Camden Road East Jn
12/05
12/41
107.58
Camden Jn
12/10
12/48
111.27
Willesden West London Jn
12/15
12/53
112.05
Harlesden Jn
12/20
12/59
113.01
0.00
Wembley Euro Freight
Ops Centre
12L30 ~ 13L00
13.07 ~ 13.40
0.71
Willesden No.7
13/10
13/46
1.54
Willesden West London Jn
13/13
13/49
2.16
Mitre Bridge Jn
13/15
13/50
2.53
North Pole Jn
13/16
13/51
4.41
Kensington Olympia
13/21
13/54
7.24
Latchmere Jn
13/26
14/01
8.09
Longhedge Jn
13/28
14/03
8.46
Factory Jn
13/30
14/04
11.07
Denmark Hill [P2]
13/35
14/10
12.62
Nunhead
13/39
14/14
17.51
Shortlands Jn
13/50
14/23
20.32
Bickley Jn
13/55
14/26
21.21
St. Mary Cray Jn
13/56
14/27
25.35
Swanley
14/01
14/31
32.57
Otford Jn
14/12
14/40
48.00
Maidstone East
14/30
14/59
61.15
Charing
14/49
15/13
67.21
Ashford International [P6]
14.58a ~ 15.02d
15.30 ~ 15.35
77.47
Saltwood Jn
15/18
15/49
78.20
0.00
Dollands Moor Sidings
15L20 ~ 16L15
15.51 ~ 16.23
0.53
Saltwood Jn
16/17
16/27
10.79
Ashford International [P2]
16.30a ~ 16.33d
16.46 ~ 16.50
21.68
Headcorn
16/45
17/08
32.23
Paddock Wood
17/01
17/16
37.46
Tonbridge [P1]
17/09
17/24
51.49
Godstone
17/26
17/39
57.22
Redhill
17/33
17/49
63.58
Stoats Nest Jn
17/42
17/58
64.49
Purley [P3]
17/43
17/59
66.57
South Croydon [P3]
17/47
18/02
67.50
East Croydon [P4]
17/49
18/06
68.59
Selhurst [P2]
17/53
18/09
71.42
Streatham Common [P2]
18/00
18/16
73.38
Balham [P2]
18/04
18/21
75.33
Clapham Jn [P16]
18/10
18/25
75.79
Latchmere Jn
18/13
18/27
78.62
Kensington Olympia
18/20
18/33
80.50
North Pole Jn
18/24
18/37
81.07
Mitre Bridge Jn
18/25
18/39
82.25
Acton Wells Jn
18/32
18.44 ~ 18.46
83.14
0.00
Acton T.C.
18L38 ~ 19L17
18.56 ~ 19.28
0.69
Acton Wells Jn
19/22
19/35
1.29
Acton Canal Wharf
19/25
19/36
3.66
Dudding Hill Jn
19/32
19/43
4.70
Brent Curve Jn
19/36
19.45 ~ 19.50
5.65
Hendon
19/41
19/53
18.57
St. Albans
19/56
20/09
29.05
Luton [P3]
20/05
20/17
39.10
Flitwick [P2]
20/13
20/26
47.46
Bedford South Jn
20/21
20/34
48.51
Bedford [P3]
20/22
20.37 ~ 20.39
49.21
Bedford North Jn
20/23
20/40
55.32
Sharnbrook Jn
20*32 ~ 20*55
20.48 ~ 21.13
63.77
Wellingborough
21/07
21/23
69.46
Kettering South Jn
21/16
21/31
70.67
Kettering [P4]
21.18 cc 21.27
21.32 ~ 21.36
72.66
Kettering North Jn
21/30
21/37
81.60
Market Harborough
21/42
21/48
92.56
Kilby Bridge Jn
21/53
21/59
94.27
Wigston South Jn
21/55
22.04 ~ 22.08
?
Wigston North Jn
DIV
22.11 ~ 22.34
?
South Wigston Station
DIV
22.42 ~ 22.42
94.77
Glen Parva Jn
21/56
22/43
Timings continue in first table.
Recalculated return mileages (courtesy of Alan Sheppard/Andrew Wilson):
...as shown to Wigston South Jn 94m 27ch then:
Wigston North Jn 94m 74ch // 0m 00ch
Glen Parva Jn 0m 54ch
Landor St. Jn 35m 08ch
Lifford West Jn 40m 62ch
Birmingham New Street 45m 58ch
Perry Barr North Jn 50m 55ch
Crewe 100m 11ch