26th June 2004
Steamy Affairs
Shopping, Sightseeing and the National Railway Museum
&
"Princess Elizabeth" on the East Coast Main Line
| | |
| --- | --- |
| Locos Used | 67019, 67025, 67029 & steam: 60009 |
| Stock Used | 5278+4946+1813+3110+3100+3131+3133+3132+1671+3144+3127+21245+99405 (3) |
Route:
1Z52 : Northampton to Newcastle
1Z53 : Newcastle to Northampton
| | |
| --- | --- |
| Loco(s) | Route |
| 67029 + 67025 (2) | Northampton - Bletchley - Watford Junction - Wembley Central - Willesden WL Jn - Camden Jn - Camden Road - Freight Terminal Jn - Finsbury Park - (via ECML) - York |
| 60009 | York - (via ECML) - King Edward Bridge South Jn - (via High Level Bridge) - Newcastle - (via King Edward Bridge & ECML) - York |
| 67019 + 67029 | York - (reverse of outward route) - Northampton |
Notes :
(1) Originally booked for 6201 "Princess Elizabeth", failure forced its replacement by 4472 "Flying Scotsman" then in turn this was replaced by 60009 "Union of South Africa".
(2) Train loco 67025 was declared a failure before departure from Northampton (faulty TPWS). Train finally left Northampton at 08.28 (2h 55min late) with 67029 and 67025, both powering.
(3) 99405 only in formation when 60009 was on the train.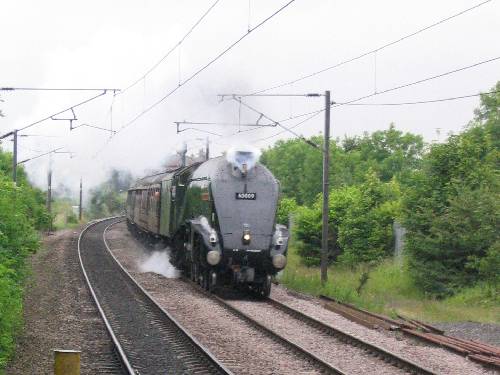 Guy Carr caught 60009 on camera passing through Chester-le-Street.
Source : various including Jonathan Cowe & the Steamy Affairs Website



Timings (Booked & Actual)
Location
Booked
Actual
Booked
Actual
Northampton
05.33d
08.29
22.36a
22.41
Hanslope Jn
05/44
08/38
22/21
22/28
Milton Keynes Central
05.52a ~ 05.55d
08.50 ~ 08.53
22.10a ~ 22.13d
22.19 ~ 22.23
Bletchley
05/59
08/59
22/03
22/16
Ledburn Jn
06/12
09/09
21/56
22/08
Tring
06/18
09/13
21/47
22/03
Bourne End
06/23
09/24
21/42
21/56
Hemel Hempstead
06.30a ~ 06.33d
09.25 ~ 09.28
21/32a ~ 21.35d
21.52 ~ 21.55
Watford Junction
06.45a ~ 06.48d
09.36 ~ 09.37
21.23a ~ 21.26d
21.42 ~ 21.44
Harrow & Wealdstone
06/56
09/47
21/17
21/37
Wembley Central
06/59
09/52
21/12
21/34
Willesden West London Jn
07/01
09/55
21/10
21/32
Camden Jn
07/04
09/59
21/07
21/27
Camden Road
07/08
10/10
21/04
21/23
Camden Road East Jn
07/10
?
21/02
?
Freight Terminal Jn
07/17
?
20/59
?
Holloway South Jn
07/19
?
20/57
?
Finsbury Park
07.21a ~ 07.23d
10.23 ~ 10.26
20.51a ~ 20.55d
21.09 ~ 21.16
Alexandra Palace
07/33
10/29
20/45
21/07
Potters Bar
07/38
10/36
20/34
21/02
Welwyn Garden City
07/43
10/41
20/28
20/58
Woolmer Green
07/45
10/45
20/26
20/56
Stevenage
07/48
10/53
20/23
20/53
Hitchin
07/51
10/59
20/20
20/51
Sandy
07/59
11/08
20/13
20/44
Huntingdon
08/10
11/16
20/04
20/36
Connington South Jn
19/59
?
Holme LC
08/19
11/22
Peterborough
08.29a ~ 08.32d
11.28 ~ 11.37
19.49a ~ 19.52d
20.18 ~ 20.23
Tallington Jn
08/40
11/43
19/42
20/12
Stoke Tunnel
08/51
11/52
19/33
20/04
Grantham
08/57
11/58
19/29
19/59
Barkston South Jn
09/01
12/02
19/26
19/53
Claypole Loop
09*07a ~ 09*17d
?
-
-
Newark Northgate
09/23
12/09
19*01a ~ 19*17d
19/46
Retford
09/36
12/20
18/44
19/33
Loversall Carr Jn
09/49
12/28
18/28
19/25
Doncaster
10.01a ~ 10.04d
12.32 ~ 12.32
18.06a ~ 18.09d
19.18 ~ 19.21
Arksey Loop
10*08a ~ 10*28d
?
-
-
Shaftholme Jn
10/32
12/35
18/02
19/12
Temple Hirst Jn
10/38
12/41
17/56
190/7
Colton Jn
10/46
12/50
17/44
18/58
York
10L51a ~ 11L17d
12.57 ~ 13.22
17L08a ~ 17L38d
18.21 ~ 18.51
Skelton Jn
11/20
13/26
17/05
18/14
Tollerton
11/27
13/34
16/58
18/07
Thirsk
11/38
13/46
16/48
17/58
Northallerton
11/44
13/55
16/41
17/51
Darlington
11/55
14/37
16/30
17/38
Ferryhill South Jn
12/05
14/42
16/17
17/28
Tursdale Jn
12/07
?
16/13
?
Durham
12/12
14/50
16/05
17/20
Birtley
12/22
?
15/57
17/12
Low Fell Jn
12/37
?
?
?
King Edward Bridge South Jn
12/42
15/07
15/52
17/06
Newcastle Central
12.46a
15.11
15.50d
17.04