19th June 2004
Saltley Welfare Fund
(A Day Out To Aberystwyth)
| | |
| --- | --- |
| Locos Used | 37114 & 37308 |
| Stock Used | 21245+4949+4996+5008+4946+1813+5005+4998+4959+4956+4991+21246 |
Route:
1Z37 : Birmingham International to Aberystwyth
1Z38 : Aberystwyth to Birmingham International
| | |
| --- | --- |
| Locos | Route |
| 37308 + 37114 | Birmingham International - Stechford - Aston - Perry Barr North Jn - Bescot Stadium - Darlaston Jn - Portobello Jn - Wolverhampton - Cosford - Abbey Foregate Jn - Sutton Bridge Jn - Welshpool - Dovey Junction - Aberystwyth |
| 37114 + 37308 | Aberystwyth - (reverse of outward route) - Birmingham International |
Source : Gary Thornton (on the train throughout)



Tour Review
(by Gary Thornton)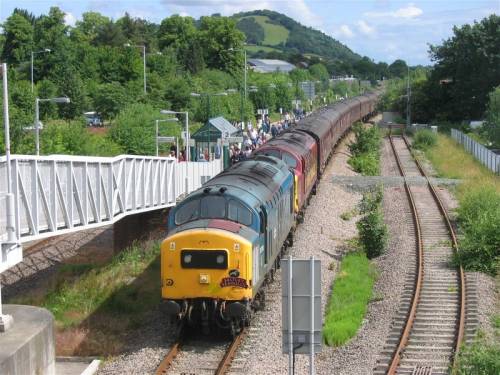 37308 & 37114 pause at Welshpool on the outward leg (photo: Neil Aitken)
Every so often a tour comes along that is simple, but most enjoyable. This was one such example. I only became aware of this trip about a week before it ran - on the same evening one friend e-mailed me the details as he was on it, and the same evening I had another e-mail asking me to add the details to the Mercia Charters Website (of which I am Webmaster) to bring in some more potential passengers. It was originally organised solely as a train for Saltley depot staff and ex-staff and their families, but it had been decided to open it up to the public as the organisers realised the train had quite a number of spare seats available. Proceeds from the sale of these seats going to the Saltley Welfare Trust.
My day didn't get off to too good a start though, having arranged to meet a colleague at 7am by 7.10 he hadn't appeared and a call to his mobile confirmed he was still in bed dossed-out. Had I known in advance then I could have had an extra half-hour in bed myself!! The late start was not a problem however as we were aiming to get to Birmingham International well in advance of departure time as we were part of the Mercia Charters group who had agreed to assist on the day with ticket checks, general policing (if required) and general assistance as required. We arrived at Birmingham International on the approach to 8am and got straight into a ticket-check/sell at the top of the stairs to platform 1. The stock was already in and before long we knew that tractors 37114 & 37308 were on the front and ready to go (nice, as I needed 37308 for haulage - yes, I know what you're thinking, how can anyone need 308, but I did!!). At £30 a head the tickets went well to pay-on-the day'ers, only one passenger (Jed!) who wanted to do a short-leap with the tractors to Aston deciding against paying-up because, as advertised, there were no part-fares available.
We were away a couple of minutes down and ran through the Midlands with pick-ups at Aston and Wolverhampton. Ticket-checks were made after each but I'm not aware if anyone did get off at either, I think all the cranks were on for the day (well, Except for my colleague as he was working in the afternoon, so a swap to a service train at Welshpool was required!). The atmosphere on board was very different depending on which half of the train you were in - the front half was reserved for the Saltley Welfare Fund so was full of families, railwaymen and retired railwaymen. The other half was predominantly populated with enthusiasts so had the feel more of a railtour as I am used to. Mention should be made of the buffet, which was run by SWF members. An excellent choice of food and drink was on offer, all credit to those involved in getting it organised - well done! They also managed a trolley service through the train which seemed to do good business. In terms of train running we lost some time at Shrewsbury on account the service train to Aberystwyth was running late, arrival ourselves into Aberystwyth being about 10 minutes late.
Most of the Saltley Welfare Fund headed for a seafront hotel where a meal had been organised. Some of us headed for the cliff railway...
....it was shut!
Plan B then, do the 14.00 VoR steam railway departure to the first stop (about a mile out) then walk back. On our way back however we bumped into a couple of the SWF organisers and they invited myself and another colleague who was also stewarding to join them for the meal in the hotel. I'm not usually one to pass on an offer of food so we let the 14.00 go in favour of a nice meal and some very pleasant company on the table we were sat at. Quite a few amusing railwaymans tales were told during the meal. It proved to be a good move as it began to rain quite heavily (well, we were in Wales after all!). We left to go exploring shortly after (just as the rain eased off), passing the pier and doing a lap of the castle ruins. Back to the station then and only a short wait for the stock to be shunted back from the siding to the platform.
Might have been my imagination but the return journey seemed to be more entertaining than the outward one (which was quite rateable anyway) with the 37's being roundly thrashed at every opportunity. The highlight for me was the run up Talerdigg, absolutely superb, possibly helped in some part by the fact it was raining. Despite that the 37's took the gradient in their stride. The train manager had asked us to keep a particular eye on the behaviour of the enthusiasts but we were pleased to find it was very good and no reason was seen to cause us to intervene at any time. Everyone was simply enjoying the thrash!
Good running saw us early back the West Midlands at the end of what was a really enjoyable day out. We were a little surprised not to see anyone trying for a short-leap on the way back, maybe all the other tractor bashers were on the Pathfinder outing to Holyhead. Arriving back into Birmingham International before 8pm also saw it not too late or long a day out. A final job was to unload the beer that hadn't been sold - I left at the point the beer was all on the platform so I'm not sure how it was got to the organisers cars (though even during the unloading process the odd crate was getting sold!).
SWF are hoping to run a train again next year - if so then Mercia Charters will hopefully be involved again so watch this space and the MCL Website for details.
Gary Thornton



Timings (Booked & Actual)
| | | | | | |
| --- | --- | --- | --- | --- | --- |
| Location | Booked | Actual | | Booked | Actual |
| Birmingham International | 08.30d | 08.32 | | 19.55a | 19.43 |
| Stechford | 08/38 | 08/42 | | 19/46 | 19/36 |
| Aston | 08.50a ~ 08.53d | 08.54 ~ 08.55 | | 19.38a ~ 19.40d | 19.28 ~ 19.31 |
| Perry Barr North Jn | 09/00 | 09/00 | | 19/26 | 19/18 |
| Bescot Stadium | 09.07a ~ 09.09d | 09/11 | | 19.18a ~ 19.20d | 19/10 |
| Darlaston Jn | 09/11 | 09/13 | | 19/15 | 19/08 |
| Portobello Jn | 09/14 | 09/17 | | 19/12 | 19/05 |
| Wolverhampton | 09.22a ~ 09.25d | 09.24 ~ 09.26 | | 18.58a ~ 19.00d | 18.57 ~ 19.01 |
| Wolverhampton North Jn | 09/28 | 09/27 | | 18/56 | 18/55 |
| Oxley SB GL | 09/30 | 09/29 | | 18/53 | 18/54 |
| Cosford | 09/38 | ? | | 18/45 | 18/47 |
| Madeley Jn | 09/44 | ? | | 18/40 | ? |
| Wellington | 09/51 | ? | | 18/33 | 18/38 |
| Abbey Foregate Jn | 10/02 | 10/07 | | 18/22 | ? |
| Sutton Bridge Jn | 10.05a ~ 10.07d | 10.08 ~ 10.20 | | 18.16a ~ 18.17d | 18/21 |
| Welshpool | 10.27a ~ 11.04d | 10.48 ~ 11.03 | | 17.53a ~ 17.56d | 17.41 ~ 18.00 |
| Newtown | 11.24a ~ 11.25d | 11/18 | | 17.32a ~ 17.33d | 17/25 |
| Caersws | 11/33 | 11/27 | | 17/22 | ? |
| Talerdigg | 11.44a ~ 11.45d | 11/37 | | 17.11a ~ 17.12d | 17.06 ~ 17.08 |
| Machynlleth | 12.03a ~ 12.09d | 11.55 ~ 12.19 | | 16.49a ~ 16.53d | 16/49 |
| Dovey Jn | 12.14a ~ 12.15d | 12/25 | | 16.42a ~ 16.43d | 16/42 |
| Aberystwyth | 12.35a | 12.46 | | 16.20d | 16.22 |