29th May 2004
???
(Football Specials)
| | |
| --- | --- |
| Loco(s) Used | at least 66249 |
| HST's Used | ????? |
Route:
1Z80 : Norwood Junction to Cardiff Central
1Z81 : Cardiff Central to Norwood Junction
| | |
| --- | --- |
| Loco | Route |
| 66249 | Norwood Junction - Crystal Palace - Balham - Clapham Junction - Kensington Olympia - Mitre bridge Jn - Acton Wells Jn - Acton Main Line - Slough - Reading - Didcot Parkway - Swindon - Wotton Bassett Jn - Bristol Parkway - Patchway - Severn Tunnel Junction - Newport - Cardiff Central |
| 66249 | Cardiff Central - (reverse of outward route) - Patchway - Filton Jn - Dr Days Jn - Bath Spa - Chippenham - Wotton Bassett Jn - (reverse of outward route) - Norwood Junction |
Notes:
(1) For Crystal Palace v. West Ham United 1st Division play-off final at the Millennium Stadium, Cardiff (final score was 1:0 to Crystal Palace).
(2) Brian Halford comments: There was also a number of other additional trains from Paddington one such being per the ticket below. I went there outward by car and returned by rail on one of the many semi-fast additional relief trains that left Cardiff Central between 17.00 and 19.00 to Paddington. The train I was on left around 17.50 formed of a HST set.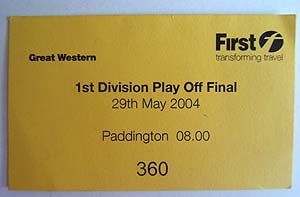 From Brian Halford's ticket collection.
Sources : various including Brian Halford



Timings (Booked & Actual)
Location
Booked
Actual
Booked
Actual
Norwood Junction
08.15d
08.21
22.35a
23.37
Crystal Palace
08/19
08/25
22/32½
23/34
Streatham Hill
08/26½
08/33
22/23
23/25
Balham
08/28½
08/35
22/21½
23/21
Clapham Junction
08/30½
08/40
22/17
23/15
Latchmere Jn
08/32
08/41
22/16
23/12
Kensington Olympia
08/38
08/47
22/10
23/06
North Pole Jn
08/42
08/49
22/07
23/05
Mitre Bridge Jn
08/43
08/51
22/06
23/03
Acton Wells Jn
08/51
08/56
21/58
22/57
Acton West
08/57½
09/02
21/53½
22/51
Southall
09/03
09/10
21/47
22/47
Airport Jn
09/08
09/15
21/45
22/26
Slough
09/20½
09/28
21/40
22/18
Maidenhead
09/26
09/34
21/36½
22/13
Twyford
09/32
09/40
21/30
22/08
Reading
09/38
09/45
21/23
22/03
Didcot Parkway
10/00½
10/01
21/08
21/48
Challow
10/18
10/10
21/00½
21/38
Uffington
10/20½
10/14
20/59
21/36
Swindon
10.33a ~ 11.00d
10.25 ~ 10.39
20.48a ~ 20.50d
21.23 ~ 21.25
Wotton Bassett Jn
11/07
10/48
20/42½
21/13
Hulavington
11/15
10/58
Westerleigh Jn
11/26
11/12
Bristol Parkway
11/38
11/17
Chippenham
20/34½
21/02
Thingley Jn
20/33
21/01
Bathampton Jn
20/26
20/52
Bath Spa
20.21a ~ 20.23d
20.49 ~ 20.49
Dr Days Jn
20/08
20/29
Stapleton Road
20/06½
20/26
Filton Jn
20/01
20/24
Patchway
11/42
11/28
19/51½
20/21
Pilning
11/45
11/34
19/47
20/18
Severn Tunnel Junction
11/51
11/40
19/41
20/07
Newport
12/01
11/51
19/31½
19/54
Marshfield
12/07
11/59
19/26
19/49
Cardiff Central
12.19a
12.15
19.18d
19.41