22nd May 2004
Pathfinder Tours
The Western Whistler II
| | |
| --- | --- |
| Locos Used | 09013 & 40145 |
| Stock Used | 5364+5307+5365+5378+5376+5292+1842+3068+3069+17056 |
Route:
1Z40 : Crewe to Plymouth North Road
1Z41 : Plymouth North Road to Crewe
| | |
| --- | --- |
| Loco | Route |
| 40145 | Crewe - Madeley - Norton Bridge - Stafford - Bushbury Jn - Portobello Jn - Bescot Stadium - Perry Barr West Jn - Soho South Jn - Birmingham New Street - Bordesley Jn - King's Norton - Barnt Green - Bromsgrove - Stoke Works Jn - Abbotswood Jn - Cheltenham Spa - Standish Jn - Yate - Westerleigh Jn - Bristol Parkway - Filton Jn - Dr Days Jn - North Somerset Jn - Bath Spa - Bradford Jn - Westbury - Clink Road Jn (1) - Blatchbridge Jn - Castle Cary - Cogload Jn - Exeter St Davids - Dawlish Warren - Newton Abbot - Totnes - Hemerdon - Laira Jn - Mount Gould Jn - Plymouth Friary |
| 09013 | Plymouth Friary - Mound Gould Jn - Lipson Jn - Plymouth (North Road) |
| 40145 | Plymouth (North Road) - Hemerdon - (reverse of outward route) - Cogload Jn - Bridgwater - Bristol Temple Meads - Dr Days Jn - (reverse of outward route) - Abbotswood Jn - Worcester Shrub Hill - Droitwich Spa - Stoke Works Jn - (reverse of outward route) (2) - Crewe |
Notes :
(1) Was booked to go via Frome station but went mainline for reason(s) unknown.
(2) Booked route from Birmingham New Street was via Dudley Port and Wolverhampton.
Sources : Gary Thornton (on the train throughout)



Tour Review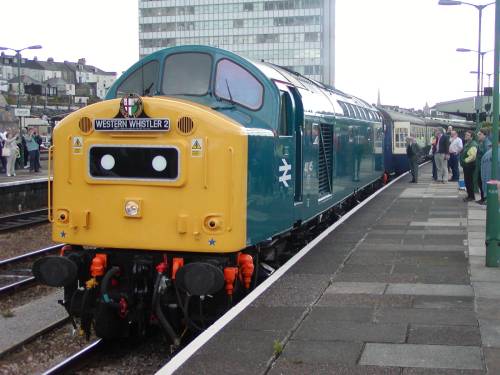 40145 waits to leave Plymouth on the return journey (photo: Gary Thornton)
On 19th September 1982 F&W Tours ran the "Western Whistler" railtour which took 40164 from Crewe to Birmingham New Street where 40025 took over for a run to Plymouth. On that occasion a pair of 37's (37206 & 37299) also participated, hauling the train from alongside Plymouth Laira depot to Carne Point and back to Plymouth. 40025 then worked the train back to Crewe. Wind the clock forward 22 years and it seems almost impossible to imagine the same railtour operator offering a tour spec which was almost a carbon-copy of the original "Western Whistler" in 1982….yet Pathfinder Tours (ex-F&W Tours) managed to do just that i.e. take a class 40 from Crewe to Plymouth and back, by-and-large following the same route too!
A 3.30am start was required to get myself and a fellow traveller from Northampton to Crewe for the start of the tour. Slack to cater for any unexpected motorway problems was well used as the M42 was closed for roadworks between junctions 4 & 3A, part of our route collecting colleagues for the trip, and a hefty diversion was required as our Birmingham route knowledge wasn't up to much. Arrival into Crewe in time was never in doubt though and there was time to watch the stock for various Manchester – Cardiff football specials head off to Manchester with 67's at both ends before 40145 appeared with the stock for our tour. A relatively late arrival into the station meant a few minutes late departure by the time 145 was run-round to the other end of the stock. Not much chance to admire the loco (which had to be done, she was absolutely gleaming and a credit to the volunteers who had cleaned and polished her prior to the tour!)
Our route south was via Stafford (pick-up), Bescot, Soho South Jn, Birmingham New Street (pick-up but no loco change from 40 to 40 on this occasion), Camp Hill, Barnt Green (pick-up), Cheltenham Spa (pick-up) and Bristol Parkway (pick-up). The last of my group booking didn't appear until Bristol Parkway though he'd joined the train at Birmingham New Street – that was on account that he was our driver to Bristol Parkway!!
40145 performed faultlessly. Any deviations from the 1982 tour route had been relatively minor so far (the original running via Colwich, Hednesford & Walsall rather than Bushbury Jn and in and out of Gloucester) but from Dr Days Jn we got to Cogload Jn via Bath Spa and Westbury, the original tour going direct via Bridgwater.
The only place to be for Dainton and Rattery banks was towards the front of the train, a standing start from Totnes (crew change) giving 40145 something to work at in the case of Rattery. Neither climb proved a problem and we were soon running down towards Plymouth. At Laira we turned left and ran to Friary goods. Here 09013 backed on to the other end of the train as we reversed to get to Plymouth (North Road) station. 40145 was left at Friary to go to Laira depot for fuelling – the full round trip being just shy of 600 miles so a drink was well advised.
With just 74 minutes to see Plymouth I opted for a chat with a few passengers whist waiting for 145 to reappear ready for the run home. An on-time departure and within minutes 40145 was at full bellow as Hemerdon bank was put behind us in fine style. A good high-speed run back to Bristol was achieved though early running forced a bit of a crawl on the approaches to Temple Meads station. A non-stop run was made, with 145 being opened up on the way through to the cheers of many on board.
The highlight of the day was, without any shadow of a doubt, the assault on Lickey bank. Routed via Worcester we were turned off the Droitwich line at Stoke Works Jn at about 30mph with only a short distance before hitting the bottom of the 1:37 climb. We started at about 45mph but the speed soon fell away, primarily as the driver shut off power for some reason (wheelslip?) a couple of times in succession. No fears of stalling though, 40145 simply buckled down and got on with the task of lugging the 10 coaches up to the top, the slowest speed being about 18mph. Slow but sure is the best description! The line-up of photographers raised a cheer that did the vocal equivalent of a Mexican Wave down the train as each carriage passed their position half way up the climb!
After the thrash to the top of the Lickey the rest of the tour was almost an anti-climax. For some reason we took the reverse route north from New Street even though we had been booked via Dudley Port and Wolverhampton. This put us a bit behind time but eh slack schedule meant we ended up back at Crewe just two minutes late.
Verdict: As a Management Committee member of the CFPS I am obviously biased so I'll simply pass on the comment I heard given by several other passengers – "probably 145's best outing yet!".
Gary Thornton.



Timings (Booked & Actual)
(booked timings courtesy of Pathfinder Tours, actuals from Gary Thornton, Andy Carey & Martyn Brailsford)
M.C
Location
Booked
Actual
Booked
Actual
M.C
0.00
Crewe
07.00d
07.05
22.05a
22.07
277.19
8.06
Madeley Jn
07/11
07/17
21/52
21/57
269.13
19.08
Norton Bridge
07/22
?
21/41
?
258.11
24.37
Stafford
07.33a ~ 07.37d
07.33 ~ 07.37
21.31a ~ 21.34d
21.40 ~ 21.42
252.62
38.14
Bushbury Jn
08/00
07.52a ~ 07.56d
?
21/25
?
-
Wolverhampton
21/16
DIV
237.31
-
Dudley Port
21/09
DIV
231.71
44.79
Bescot Stadium
08/12
08/05
DIV
21/16
?
49.75
Perry Barr West Jn
08/22
08/13
DIV
21/09
?
52.27
Soho South Jn
08/30
08/18
21/00
21/04
226.48
54.28
Birmingham New Street
08.35a ~ 08.39d
08.23 ~ 08.40
20.50a ~ 20.55d
20.50 ~ 20.57
224.47
56.25
Bordesley Jn
08/47
08/48
20/42
20/40
222.50
61.40
King's Norton
08/55
08/56
20/29
20/32
217.35
66.48
Barnt Green
09.02a ~ 09.05d
09.05 ~ 09.07
20.19a ~ 20.22d
20.22 ~ 20.24
212.27
70.11
Bromsgrove
09/10
09/12
20/11
20/14
208.64
72.24
Stoke Works Jn
09/12
09/12
20/09
20/10
206.51
-
Droitwich Spa
20/04
20/03
202.36
-
Worcester Shrub Hill
19/58
19/54
196.57
83.41
Abbotswood Jn
09/21
09/20
19/48
19/46
192.70
94.28
Ashchurch
09/28
09/27
19/39
19/38
182.03
101.39
Cheltenham Spa
09.37a ~ 09.45d
09.37 ~ 09.46
19.27a ~ 19.30d
19.26 ~ 19.30
174.72
107.69
Gloucester Yard Jn
09*55a ~ 10*04d
09/52
19/18
19/19
168.42
113.79
Standish Jn
10/12
09/58
19/12
19/14
162.32
127.24
Charfield
10/24
10/06
19/01
19/06
149.07
135.37
Westerleigh Jn
10/35
10.15a ~ 10.30d
18/52
18/56
140.74
140.07
Bristol Parkway
10.40a ~ 10.43d
10.39 ~ 10.43
18.43a ~ 18.46d
18.45 ~ 18.48
136.24
141.26
Filton Jn
10/45
10/48
18/40
18/40
135.05
145.23
Dr Days Jn
10/52
10/55
18/34
18/34
131.08
-
Bristol Temple Meads
18/32
18/32
130.42
-
Worle Jn
18/12
18/08
110.64
-
Uphill Jn
18/10
18/04
107.71
-
Bridgwater
17/58
17/55
94.28
145.46
North Somerset Jn
10/57
10/57
156.25
Bath Spa
11/08
11/09
167.63
Bradford Jn
11/26
11/26
173.07
Westbury
11/34
11/33
177.63
Clink Road Jn
11/41
11/39
178.67
Frome
11/44
DIV
180.00
Blatchbridge Jn
11/54
11/41
192.69
Castle Cary
12/07
11/51
215.29
Cogload Jn
12/25
12/07
17/53
17/50
87.66
220.32
Taunton
12/30
12/11
17/50
17/46
82.63
234.46
Tiverton Parkway
12/43
12/23
17/37
17/34
68.49
251.12
Exeter St Davids
12/59
12/35
17/20
17/17
52.03
261.54
Dawlish Warren
13/09
12.48a ~ 12.58d
17/10
17/07
41.41
271.26
Newton Abbot
13/20
13/11
17/00
16/57
31.69
280.03
Totnes
13c35a ~ 13c37d
13.26 ~ 13.28
16/49
16/46
23.12
291.47
Ivybridge
13/56
13/45
16/36
16/35
11.48
296.30
Hemerdon
14/02
13/50
16/31
16/30
6.65
301.22
Laira Jn
14/07
13/56
?
?
?
301.65
Mount Gould Jn
14/11
14/00
302.76
0.00
Plymouth Friary Sidings
14L18a ~ 14L38d
14.05 ~ 14.41
1.11
Mount Gould Jn
14/45
14/49
1.45
Lipson Jn
14/59
14.50a ~ 14.53d
3.05
Plymouth (North Road)
15L04a
15.05
16L18d
16.18
0.00