15th May 2004
Green Express Railtours
The Fenland Cathedral and Seaside Express
(G.E.R. train no. 209)
| | |
| --- | --- |
| Loco Used | 57601 |
| Stock Used | 5487+5032+4905+4984+4951+99311+4960+21266+3136+3143+99121+99192 |
Route:
1Z72 : Mills Hill to Ely
1Z73 : Ely to Great Yarmouth
1Z74 : Great Yarmouth to Mills Hill
| | |
| --- | --- |
| Loco(s) | Route |
| 57601 | Mills Hill - Rochdale - Todmorden - Hebden Bridge - Milner Royd Jn - Brighouse - Mirfield East Jn - Horbury Jn - Wakefield Kirkgate - Calder Bridge Jn - Hare Park Jn - Adwick - Doncaster - (via ECML) - Peterborough - Whittlesea - March - Ely West Jn - Ely North Jn - Ely |
| 57601 | Ely - Thetford - Wymondham - Trowse Jn - Trowse Swing Bridge Jn - Wensum Jn - Brundall - Reedham - Berney Arms - Great Yarmouth |
| 57601 | Great Yarmouth - (reverse of outward route) - Ely North Jn - Ely West Jn - (reverse of outward route) - Mills Hill |
Notes :
(1) Route confirmation required.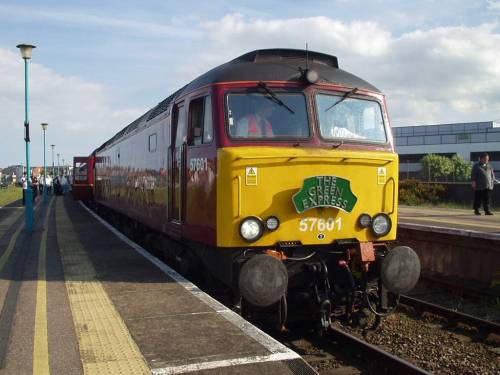 57601 at Great Yarmouth (photo: Steve Perryman)
Sources : various including David Garnett & Steve Perryman



Tour Review
(from Steve Perryman)
The cancellation of the "Caerwent Cavalier" gave me another opportunity to try out one of our "local" operators (q.v. MCRUA on the 15th).
This time I had some company, the traction was unlikely to be required although I suppose renumbered, rebuilt provides an element of new. The new track was going to be the Mid Norfolk railway at Wymondham and a local pick up; set down should take the heat of being out of bed to early.
Well two out of three isn't bad. The tour left Littleborough where I joined prompt at 05.46 through the Calder Valley picking up at Todmorden 05.58, Hebden and Sowerby Bridges 06.06-06.18, Brighouse 06.32 and Wakefield Kirkgate 07.08 then through Hare Park junction to Doncaster for an East Coast thrash to Peterborough. At Peterborough we passed the Nenta tour from Dereham to Canterbury diverted off it's booked route due to a suicide near Cambridge and top n tailed by 47709 and 47355. Ely was reached at booked time 10.09 and the wrinklies departed for a walking tour of the town.
I hadn't noticed when I booked that a two hour fester in Ely was envisaged so as the Mid Norfolk was only offering a D.M.U. run I abandoned that option for an Anglia day ranger to take in some of the last 86's and E.W.S 90's before they depart for Immingham. (86230,32,46 were out with 90011,18,24,29,39,40,) A unit to Great Yarmouth for an excellent fish supper then join the train home via the Wensum curve (a consolation new bit of track).
Once again time was kept with a slightly early arrival in the Calder valley. I can see why G.W. went for an up rated version because 601 whilst competent seemed through out the day slower accelerating than a Class 47 and early on we did note some wheel slip.
The stock on this train was beautifully turned out, decorated with posters of the destinations and other regular "Green", destinations. Stewarding was efficient, friendly and unobtrusive with a very regular trolley service and reasonable buffet. For the market it is aimed at I would describe this as an above average offering. For me I was winsome at Wensum.
Steve Perryman



Timings (Booked & Actual)
Location
Booked
Actual
Booked
Actual
Mills Hill
05.30d
05.30
23.06a
23.06
Rochdale
05.40a ~ 05.42d
05.39 ~ 05.42
22.54a ~ 22.56d
22.53 ~ 22.57
Rochdale Jn
05/43
?
22/52
?
Littleborough
05.47a ~ 05.49d
05.47 ~ 05.50
22.46a ~ 22.48d
22.46 ~ 22.48
Todmorden
05.56a ~ 05.58d
05.57 ~ 05.59
22.37a ~ 22.39d
22.37 ~ 22.39
Hall Royd Jn
06/00
06/00
22/36
22/36
Hebden Bridge
06.04a ~ 06.09d
06.06 ~ 06.07
22.28a ~ 22.31d
22.28 ~ 22.30
Sowerby Bridge
06.15a ~ 06.20d
?
22.19a ~ 22.22d
?
Milner Royd Jn
06/22
06/20
22/18
22/17
Greetland Jn
06/24
?
22/14
?
Brighouse
06.28a ~ 06.33d
?
22.01a ~ 22.09d
?
Bradley Wood Jn
06/40
06/33
21/57
21/57
Heaton Lodge (East) Jn
06/46
06/34
21/54
21/55
Mirfield East Jn
06/50
?
21/50
?
Thornhill LNW Jn
06/51
?
?
?
Horbury Jn
07/00
06/45
21/40
21/43
Wakefield Kirkgate
07.07a ~ 07.09d
06.51 ~ 07.08
21.34a ~ 21.36d
21.37 ~ 21.39
Calder Bridge Jn
07/14
?
21/32
?
Crofton West Jn
07/19
?
21/30
?
Hare Park Jn
07/24
07/18
21/28
21/29
Hemsworth D&UPL
21.10a ~ 21.23d
?
South Kirkby Jn
07/29
07/24
21/08
21/09
Adwick Jn
07/32
?
21/04
?
Adwick
07/33
07/28
21/03
21/04
Doncaster
07.40a ~ 07.42d
07.35 ~ 07.35
20.55a ~ 20.58d
??.?? ~ 20.58
Decoy South Jn
07/47
?
?
?
Loversall Carr Jn
07/50
07/49
20/50
20/45
Retford
07/59
08/05
20/39
20/36
Newark Northgate
08/13
08/21
20/24
20/23
Barkston South Jn
08/23
08/28
20/17
20/15
Grantham
08/28
08/32
20/14
20/11
Stoke Tunnel
08/35
08/37
20/10
20/07
Tallington Jn
09/08
08/50
19/54
19/54
Helpston Jn
19/51
19/49
Peterborough
09/25
09/25
19/46
19/41
Peterborough East Jn
09/27
?
19/40
?
Whittlesea
09/33
?
19/32
?
March
09/44
09/40
19/24
19/25
Ely West Jn
?
?
19/08
?
Ely North Jn
10/05
09/56
Ely
10.09a ~ 12.34d
09.59 ~ 12.34
Ely North Jn
12/39
12/36
19/04
19/06
Brandon
12/53
?
18/45
18/47
Thetford
13/00
?
18/37
?
Attleborough
13/15
?
18/23
?
Wymondham
13.21a ~ 13.23d
?
18.14a ~ 18.16d
?
Trowse Jn
13/35
13/36
18/05
18/08
Trowse Swing Bridge Jn
13/36
?
18/04
?
Wensum Jn
13/44
?
?
?
Whitlingham Jn
13/46
13/47
17/58
17/59
Brundall
13/50
?
17/52
?
Reedham
13/58
?
17/43
?
Great Yarmouth
14.13a
14.13
17.30d
17.30