8th May 2004
Mid Cheshire Rail Users Association
The Thames Valley Express
| | |
| --- | --- |
| Locos Used | 67007 & 67022 |
| Stock Used | 5376+5378+5365+5307+5364+1842+17056+3261+3148+????+????+????+3188 |
Route:
1Z67 : Chester to Reading
1Z29 : Reading to Chester
| | |
| --- | --- |
| Loco | Route |
| 67022 | Chester - Mouldsworth - Northwich - Knutsford - Altrincham - Skelton Jn - Northenden Jn - Hazel Grove HL Jn - New Mills South Jn - Chinley - Edale - Dore South Jn - Chesterfield - Ambergate Jn - Derby - Burton-on-Trent - Tamworth HL - Water Orton - St Andrews Jn - Bordesley Jn - Tyseley - Dorridge - Hatton - Leamington Spa - Banbury - Oxford - Didcot Parkway - Reading |
| 67007 | Reading - (reverse of outward route) - Chester |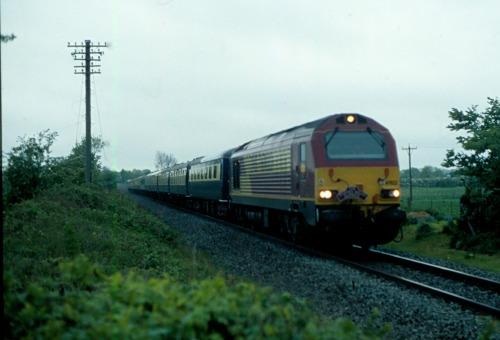 67022 passes Plemstall, east of Mickle Trafford Jn (photo: John Cowlishaw)
Sources : various including Steve Perriman



Tour Review
(by Steve Perryman)
"The Loneliness of the long distance basher".
I first booked on this tour because it had all the elements I am looking for in a good day out.
A bit of required track (Northenden Junction-Hazel Grove)

A required loco with the strong possibility of a second one later (so chance of a surprise) given their fuel constraints.

A required destination, rail linked and with scope for a bit of bashing (3 Great Western power cars required), and the steam centre at Didcot to take a Kettle out of my steam loving colleague Andy.
Unfortunately I must have been the only Basher in the world to see these benefits as apart from two youngsters who came specially for the 67's the rest were wrinklies.
A shame as the tour ran well to time with the locos proving to be up to some smart timings. Both 67's were scratched and because of the tour Didcot operated a tank engine 4144 on a coach on what would ordinarily be a non operating day. 08604 was operating as well providing air for a test on the brakes of support coach but although it did shunt and I asked for a ride, Health and Safety and liability etc nowadays defeat us all.
All in all a good day out where the tour did what it said on the tin and we arrived back in Altrincham ½ an hour early. But boy Oh boy was I lonely.
Steve Perryman



Timings (Booked & Actual)
| | | | | | |
| --- | --- | --- | --- | --- | --- |
| Location | Booked | Actual | | Booked | Actual |
| Chester | 07.04d | 07.04 | | 23.23a | 22.51 |
| Mickle Trafford Jn | 07/10 | ? | | 23/13 | ? |
| Mouldsworth | 07.17a ~ 07.19d | ? | | 23.04a ~ 23.06d | ? |
| Cuddington | 07.29a ~ 07.31d | ? | | 22.52a ~ 22.54d | ? |
| Greenbank | 07.36a ~ 07.38d | 07.35 ~ 07.38 | | 22.45a ~ 22.47d | 22.14 ~ 22.15 |
| Northwich | 07.43a ~ 07.45d | ? | | 22.37a ~ 22.40d | ? |
| Plumley SB | 07/50 | ? | | 22/32 | ? |
| Plumley | 07.52a ~ 07.54d | ? | | 22.28a ~ 22.30d | ? |
| Knustford | 07.59a ~ 08.01d | ? | | 22.21a ~ 22.23d | ? |
| Mobberley | 08.06a ~ 08.08d | ? | | 22.14a ~ 22.16d | ? |
| Hale | 08.13a ~ 08.15d | ? | | 22.07a ~ 22.09d | ? |
| Altrincham | 08.18a ~ 08.20d | 08.18 ~ 08.21 | | 22.01a ~ 22.04d | 21.28 ~ 21.33 |
| Navigation Road | 08/21 | ? | | 22/00 | ? |
| Skelton Jn | 08/22 | ? | | 21/59 | ? |
| Northenden Jn | 08/28 | ? | | 21/46 | ? |
| Hazel Grove HL Jn | 08/40 | ? | | 21/15 | ? |
| New Mills South Jn | 08/47 | ? | | 21/03 | ? |
| Chinley North Jn | 08/53 | 08/59 | | ? | ? |
| Chinley | ? | ? | | 20.57a ~ 20.59d | ? |
| Edale | 08/59 | ? | | 20/46 | ? |
| Earles SB | 09/03 | 09/10 | | 20/41 | 20/35 |
| Grindleford | 09/08 | ? | | 20/35 | ? |
| Totley Tunnel | 09/13 | 09/17 | | 20/30 | 20/22 |
| Dore West Jn | 09/14 | ? | | 20/29 | ? |
| Dore South Jn | 09/15 | ? | | 20/28 | ? |
| Chesterfield | 09.22a ~ 09.24d | 09.35 ~ 09.36 | | 20.14a ~ 20.16d | 20.12 ~ ??.?? |
| Clay Cross South Jn | 09/28 | 09/41 | | 20/10 | 20/08 |
| Ambergate Jn | 09/36 | 09/49 | | 20/00 | 19/58 |
| Derby | 09/47 | 09/58 | | 19.32a ~ 19.48d | 19.26 ~ 19.36 |
| Stenson Jn | 09/54 | 10/04 | | 19/22 | 19/16 |
| North Stafford Jn | 09/54 | 10/05 | | 19/21 | 19/16 |
| Burton-on-Trent | 09/59 | 10/09 | | 19/10 | 19/08 |
| Wichnor Jn | 10/05 | 10/14 | | 19/05 | 19/03 |
| Tamworth HL | 10/11 | 10/56 | | 18/57 | 18/58 |
| Kingsbury Jn | 10/19 | 11/05 | | 18/53 | 18/54 |
| Water Orton | 10/22 | 11/09 | | 18/49 | 18/51 |
| Landor Street Jn | 10.28a ~ 10.30d | 11.16 ~ 11.18 | | 18.39a ~ 18.41d | 18.40 ~ 18.44 |
| St Andrews Jn | 10/41 | ? | | 18/33 | 18/37 |
| Bordesley Jn | 10/43 | 11/21 | | 18/32 | 18/36 |
| Small Heath South Jn | 10/46 | 11/24 | | 18/28 | 18/34 |
| Tyseley | 10/50 | 11/25 | | 18/27 | 18/33 |
| Dorridge | 11/05 | 11/37 | | 18/20 | 18/19 |
| Hatton | 11/10 | 11/44 | | 18/11 | 18/09 |
| Leamington Spa | 11/19 | 11/54 | | 18/00 | 17/57 |
| Fenny Compton | 11/33 | 12/04 | | 17/48 | 17/46 |
| Banbury | 11.50a ~ 12.23d | 12.13 ~ 12.13 | | 17/40 | 17/39 |
| Aynho Jn | 12/29 | 12/20 | | 17/33 | 17/35 |
| Heyford | 12/35 | 12/25 | | 17/28 | 17/31 |
| Wolvercot Jn | 12/43 | 12/31 | | 17/20 | 17/24 |
| Oxford | 12.49a ~ 12.52d | 12.52 ~ 12.57 | | 17.13a ~ 17.16d | 17.15 ~ 17.19 |
| Didcot North Jn | 13/02 | 13/06 | | 17/02 | 17/02 |
| Didcot Parkway | 13.04a ~ 13.07d | 13.09 ~ 13.15 | | 16.57a ~ 17.00d | 16.57 ~ 17.00 |
| Didcot East Jn | 13/08 | ? | | 16/56 | ? |
| Reading | 13.24a | 13.31 | | 16.40d | 16.39 |