17th April 2004
Pathfinder Tours
The Minstering Monk
| | |
| --- | --- |
| Locos Used | 47150, 60096, 66552, 66563, 66612, 66618 & 92004 |
| Stock Used | 5376+5378+5365+5307+5373+5292+1842+17056+3148+3066+3069+3068+6310 |
Route:
1Z86 : Birmingham International to York
1Z92 : York to Birmingham International
| | |
| --- | --- |
| Loco(s) | Route |
| 47150 | Birmingham International - Stechford - Aston - Bescot Stadium - Bushbury Jn - Stafford - Norton Bridge - Madeley - Crewe |
| 60096 | Crewe - Alsager - Kidsgrove - Stoke-on-Trent - Uttoxeter - North Stafford Jn - Stenson Jn - Sheet Stores Jn - Trent - Toton Centre |
| 60096 (1) | Toton Centre - Trowell Jn - Pye Bridge Jn - Mansfield - Shirebrook - Whitwell - Shireoaks - Brancliffe East Jn - Firbeck West Jn - St Catherines Jn - Decoy South Jn - Doncaster (3) - Shaftholme Jn - Knottingley South Jn - Pontefract Monkhill - Crofton East Jn - Oakenshaw South Jn - Monk Bretton (NR limit) |
| 66612 + 66618 (2) | Monk Bretton (NR limit) - Oakenshaw South Jn - Crofton East Jn - Pontefract Monkhill - Ferrybridge Jn - Milford Jn - Church Fenton - Colton Jn - York |
| 66552 | York - Colton Jn - Church Fenton - Milford Jn - Castleford - Altofts Jn - Wakefield Kirkgate - Horbury Jn - Mirfield - Heaton Lodge Jn - Greetland Jn - Hebden Bridge - Copy Pit - Rose Grove - Blackburn - Lostock Hall Jn - Farington Jn (4) - Wigan North Western - Warrington Bank Quay |
| 92004 | Warrington Bank Quay - (via WCML) - Crewe |
| 66563 | Crewe - (reverse of outward route) - Birmingham International |
Notes :
(1) 66612 + 66618 on rear.
(2) 60096 on rear.
(3) Was booked to traverse the 2 Way Goods line, but was platformed.
(4) Loco change to class 92 was booked at Farington Jn, but was changed to Warrington Bank Quay due to "operational difficulties".
Source : Gary Thornton (on the train throughout)



Tour Review 1
(from Mark Honey)
This tour had been planned quite well in advance as there were a number of us who wanted to get together to celebrate a colleague's birthday. As we are all spread far and wise geographically, we honed in on this 'spinner' for the sheer variety value.
Initially faced with a 05.XX start time from Birmingham International, I was pleased to see that a few days before the tour; it had been re-timed for an 07.10 kick-off. Having been travelling most of the week, I was happy with this! What was not such good news was that the prescribed 86/6 was not going to materialise for the first leg of the journey to Crewe - and it wasn't looking good for the return back form Crewe to Birmingham International either.
To be fair, I am old enough (and lucky enough?) to be in the fortunate position of having cleared all 100 86's for haulage. I had the 86/6's when they were numbered in the 86/0, 86/3 and 86/4 categories. For example, 86622 which I believe turned out on the last tour to feature an 86/6, I had as 86322 on the Bristol-Glasgow sleeper all those years ago - and we moaned even then that it wasn't roaring. We tended to avoid them like the plague, but fill-in and positioning moves got them in the book. How time change!
So - it wasn't a big deal for me. I wasn't interested in the prescribed 'duff' for the day which had long since had a line drawn underneath it, so it would be the 60 and whatever GM stuff which would be a score for me.
Turned up at International to see the Generator car cough into life - and see 47150 on the other end! As the 86/6 had been originally swapped for a 66, what was it doing here now? It transpired that Freightliner wanted it for use on the Felixstowe branch, so it would be making it's way to Ipswich later in the day. As to how would become clearer during the day as it ended up working two separate tours that day! Good to see us in coach A behind the 47, so we would be able to hear it cough.
So - we got underway and headed via Tame Bridge to Stafford. The 'duff' didn't appear to be in the best of health and made heavy weather of the run to Stafford. We were held for a few minutes outside the station to free up a platform as we were running a few minutes early (again, the timings were slack) and drew up alongside the rest of our party. They had driven up from points in the south and brought 2 casks of beer with them to celebrate the birthday.
As you can imagine, the tour went downhill from here as at 08.30 we were drawing pints off the casks! We pulled into Crewe and reversed here, 60096 backing onto the other end. There wouldn't be much to hear, but it would be better that the GM stuff we would be faced with later in the day. We made progress via Stoke & Uttoxeter to Sheet Stores Junction to access the line to Toton where we would collect not one but two 66/6's. 66612 and a gleaming 66618 backed on to the other end for a perambulation via Mansfield & Shirebrook to the South Yorkshire Joint where we would race a few tortoises - and lose. We were in top and tail mode with the 60 doing the work, but we needed locos at both ends for the trip down the Monk Bretton branch. What a sad shadow of its former self it was. Hard to believe that it was once a Midland Railway premier trunk route. In the recent past it had been used to test Voyagers and to prove a point the new 'Meridians' were seen on the sheds on test. Here lies a question - today loco haulage is considered expensive. Is it really that cost effective to operate a 9 car 'Meridian' with 9 lots of engines, alternators, and cooler groups etc, than a train with 'head end' power?
We managed to get quite a way down the branch (getting scraped by many trees and bushes) before starting the 2 66's and reversing back the way we came. Considering our slack timings we were nearly an hour late! However, after arriving in York, the departure was retimed for 30 minutes later and I used the opportunity to meet up with a couple of old friends for an hour. This quickly passed and it was time to head south - well only for a while as we turned westwards following much of the same route that 56078 took on the farewell tour a few weeks back. As if to prove the 'grid' point, it was sad to see so many of them parked up at Healey Mills (and other stabling points and depots on the way round).
After passing through Wakefield Kirkgate, I decided to get some shut-eye and woke up around the Blackburn area. What a place to wake up. Yet more 'operational' changes beckoned as our requested class 92 was now to come on at Warrington, not Farington Curve. Doing really well here! By the time we got there, it was raining heavily and I was bowled out with yet another change of loco. Rumoured to be 92031, it had changed to 003 and now to 004 - which I didn't need.
We went up to the front to listen to it as 92's are noisy beasts at the best of times, but the genny car drowned it out. So - we trooped back the rear carriage and back to more beers!
We arrived at Crewe and the 92 came off here. Yet more GM 'entertainment' was provided as the requested 86/6 could not be supplied. 66563 took us south and we parted company with most of our party who were staying in Stafford at the ubiquitous 'Stafford Arms' where no doubt more beers were consumed. For me and one or two of the others, it was back to Birmingham International for an on time arrival.
Verdict? The riot value for me was being with a group of old cronies who were using the tour as an excuse to celebrate. This was much more the reason for going than how many locos I could score. So, you could say that if we had been on one of the other day's tours we would have had just as good a time. As it transpired, 2 37/0's ran to Minehead that day, the 'posh nosh' tour to Bristol and Bath got 3 67's on its outward journey and the Norwich-Manchester 'Mancunian' got 3 duffs after 47712 blew up. The Ipswich-Norwich leg was handled by - 47150. Let us hope it performed better than it did for us.
Spinners aren't really going to be the same in future, are they?
Mark Honey.
Tour Review 2
(from Gary Thornton)
As I only need four class 86's to clear the class for haulage (86501 & 3x86/6's), any railtour advertising Freightliner 86/6's just has to be done! The state of the remaining examples is such however that getting one (or more) on a tour seems to be asking the impossible these days. Sure enough, on the days leading up to the tour I began to hear rumours that the morning 86(s) had been replaced by a 66 and the evening example(s) were in danger of going the same way. With a dud 92 being quoted on the Friday evening I nearly sold my ticket on when I got an e-mail from a colleague who was aware of someone needing a ticket. I stuck with it however as I clung on to the vain hope that I might walk away from the railtour with another 86/6 under my belt...
Arriving at Birmingham International to the amusing sight of the generator car thrashing away and clagging superbly we wandered up the platform to find the replacement morning traction to be 47150 rather than a class 66 - seems Freightliner wanted the 47 used earlier rather than later (was advertised traction from York). OK, at least it was a winner for me.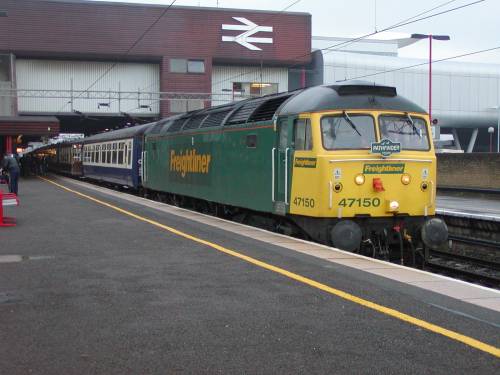 47150 waits time before leaving Birmingham International.
Located in coach B we got caught some of 47150's efforts to get us to Crewe - loads of clag and noise but not so much fast forward movement. At Crewe 60096 was waiting to take over, being bolted on the the rear of the train as we were headed via Stoke-on-Trent to Toton. Our group was up to full strength from Crewe, having chosen to join at the last pick-up point as the 47 was not required. At Toton we passed 66612 "Forth Raider" & newly-named 66618 "Railways Illustrated Annual Photographic Awards - Ian Lothian" and the pair were then attached to the rear of the train. We continued with 60096 in charge, via the SYJ line (stands for South Yorkshire Joint but it felt more like Stagger, Yawn & Joke line). Despite timings that a garden snail could have maintained whilst dragging 13 mark 1's we still managed to lose time!
A booked crew change was made at Doncaster, but in the platform rather than 2 way goods as given in the timing sheet. Onwards now to Monk Bretton, via Knottingley & Crofton. It was commented just how many class 56's we were viewing as we passed the various depot en-route, not sure we've yet got used to them being out of service. 56078 looked particularly smart as we passed Knottingley depot. Three Meridian (class 222's) greeted us as we passed the Bombardier test facility at Crofton. The plastic age has well & truly arrived I fear.
Per pervious visits I wasn't expecting too much of the run to Monk Bretton - in the past I'd only ever got to the loop on the former Midland line and not down the branch itself. The timing sheet gave the reversal point as the loop once again and we duly stopped at the points at the start of the loop. The time of arrival was however then scrubbed out as we continued forward after a couple of minutes. Pleasing then to report that we made it to the Network Rail limit on this occasion, though the state of the trackside vegetation was such the stock & locos suffered somewhat in our quest to reach further than previously!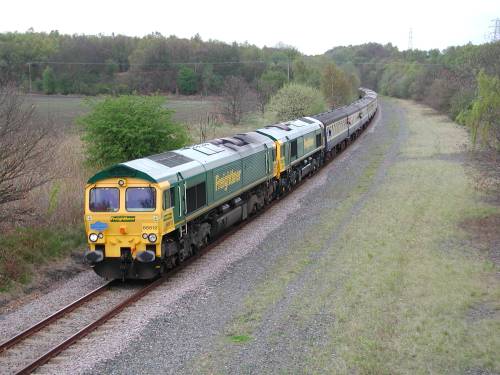 Niger Keer captured the train on it's way to York with the 66's in charge.
The SYJ stagger plus stagger on the branch put us approaching an hour late as 66612 & 66618 powered us on to York. An announcement was however made that the departure time was put back 35 minutes to still give a break of a reasonable time in York.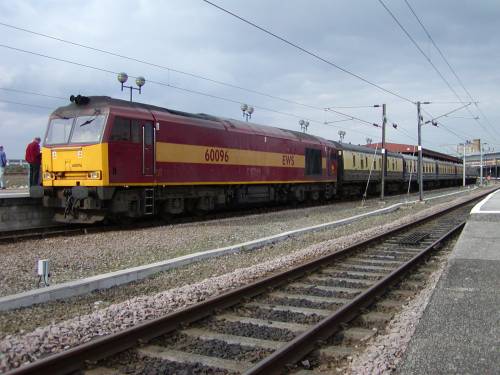 60096 brings up the rear of the train upon arrival into York.
Credit to one of my travelling colleagues, Stuart, for searching out a kebab-house during our break in York and coming back to the train suitably armed with two chicken kebabs!
66552 (yawn, to much corrugated piffle me thinks) now took over the train as we headed home over the Pennines. Four of us killed most of the next couple of hours playing "Super Trumps" with the UK loco set - go on, I'll bet a few of you remember the "Super Trumps" card games that were all the rage in the late 1970's/early 1980's! Having lost his original set years ago, David has purchased his latest set via Ebay at something around £13, just showing how some stuff that was once ten-a-penny can actually be valued these days! Think we all one a game each, but it was good fun anyway whatever the outcome. There was even talk about digging out a selection of old board games for a future railtour - Risk, Escape from Colditz, etc...
The booked loco change at Farington Jn was abandoned "due to operational difficulties", 66552 giving up the train to 92004 at Warrington Bank Quay instead. Oh, I guess I should mention at this point I'm now on six required loco haulages out of six!
92004 did what all 92's do on a railtour and absolutely stormed away back to Crewe (punch in the required speed, hit the "go for it" button and just sit back...not really so much for the driver to do on a 92). Negotiations to get an 86/6 had failed and 66563 was waiting to take us the remainder of our way home. A problem for my colleagues who'd joined at Crewe as this was a winning loco for them all - a run to Stafford for a service train back therefore beckoned! I almost volunteered myself to drive their car to Stafford but decided this was not clever as I could end up missing out on the haulage if the M6 wasn't free-moving!
Arrival back into Brum International was a few minutes early. A disappointment that I didn't get an 86/6 (required or not required) but pleasing to report a full house with seven required out of seven). Not exactly a "thrash day" with mostly silent piffle in charge, but a nice sociable day out anyway so worth me going on it despite my almost selling my ticket on!
Gary Thornton.



Timings (Booked & Actual)
(from Gary Thornton & Martyn Brailsford)
M.C
Location
Booked
Actual
Booked
Actual
M.C
0.00
Birmingham International
07.13d
07.13
22.25a
22.18
59.04
4.33
Stechford
07/20
07/20
22/18
22/10
54.51
7.26
Aston
07/32
07/27
22/14
22/05
51.58
9.48
Perry Barr North Jn
07/37
07/30
22/08
22/01
49.36
13.06
Tame Bridge Parkway
07.40a ~ 07.43d
07.38 ~ 07.41
22.02a ~ 22.04d
21.56 ~ 21.58
45.78
14.05
Bescot Stadium
07/48
07/45
21/59
21/54
44.79
18.22
Portobello Jn
07/52
07/49
21/52
?
40.62
20.70
Bushbury Jn
07/58
07/52
21/43
21/45
38.14
34.47
Stafford
08.15a ~ 08.18d
08.13 ~ 08.18
21.27a ~ 21.29d
21.27 ~ 21.29
24.37
39.76
Norton Bridge
08/24
08/25
21/20
21/20
19.08
50.78
Madeley
08/33
?
21/10
?
8.06
59.04
0.00
Crewe
08L47a ~ 09L17d
08.45 ~ 09.17
20L38a ~ 20L58d
20.40 ~ 21.01
48.21
0.00
M.C
Location
Booked
Actual
8.52
Kidsgrove
09/38
09/32
15.03
Stoke-on-Trent
09/45
09/41
31.68
Uttoxeter
10/12
10/08
45.49
North Stafford Jn
10/31
10.25a ~ 10.28d
46.13
Stenson Jn
10/32
10/30
58.47
Sheet Stores Jn
10/54
10.50a ~ 10.54d
59.10
Trent
10/55
10/56
61.05
Toton Centre
11L05a ~ 11L25d
11.05 ~ 11.19
64.30
Trowell Jn
11/32
11/24
73.10
Pye Bridge Jn
11/42
11/36
77.48
Kirkby Lane End Jn
11/59
11.51a ~ 11.56d
87.01
Shirebrook East Jn
12/19
12/23
95.55
Shireoaks West Jn
12/34
12/39
96.76
Brancliffe East Jn
12/37
12/43
100.13
Dinnington Jn
12/46
12/53
106.27
Maltby Colliery SB
13/00
13/10
112.13
St Catherines Jn
13/13
13/24
112.67
Decoy South Jn
13/15
13/30
114.21
Doncaster
13c20a ~ 13c22d
13.36 ~ 13.38
118.40
Shaftholme Jn
13/26
13/46
129.15
Knottingley West Jn
13/41
14/03
130.67
Pontefract Monkhill
13/45
14/07
137.12
Crofton East Jn
13/53
13.21a ~ 13.23d
144.21
0.00
Monk Bretton Loop
14.10a ~ 14.22d
14.44 ~ 14.55
(NR limit)
7.09
Crofton East Jn
14/39
15/24
13.34
Pontefract Monkhill
14/51
15/36
15.08
Ferrybridge North Jn
14/55
15/39
19.17
Milford Jn
15/03
15/49
23.46
Church Fenton
15/08
15/54
28.63
Colton Jn
15/15
16/00
34.24
0.00
York
15L20a ~ 16L40d
(re-timed 17.15d)
16.08 ~ 17.16
5.41
Colton Jn
16/46
17/22
10.58
Church Fenton
16/53
17/27
15.07
Milford Jn
17/02
17/31
20.79
Castleford
17/10
17/40
23.57
Altofts Jn
17/18
17/44
27.50
Wakefield Kirkgate
17/35
17/50
29.75
Horbury Jn
17/40
17/53
38.04
Heaton Lodge Jn
18/04
18/05
44.36
Greetland Jn
18/19
18/15
46.11
Milner Royd Jn
18/24
18/20
51.57
Hebden Bridge
18/38
18/28
55.52
Hall Royd Jn
18/40
18/35
60.04
Copy Pit
18/50
18/43
65.23
Gannow Jn
18/59
18/51
70.38
Accrington
19/06
19/00
75.64
Blackburn
19c14a ~ 19c16d
19.10 ~ 19.11
84.64
Lostock Hall Jn
19/27
19/26
85.61
Farington Jn
19L31a ~ 19L50d
19/28
2.56
Euxton Jn
19/54
19/34
4.59
Balshaw Lane Jn
19/56
19/36
12.30
Wigan North Western
20/02
19/42
20.54
Winwick Jn
20/10
19/51
24.10
Warrington Bank Quay
20/13
19L56a ~ 20L14d
25.77
Acton Grange Jn
20/15
20/17
31.60
Weaver Jn SB
20/21
20/22
39.35
Winsford SB
20/27
20/28
Timings continue in first table.



Back to "The Railtour Files"